Why Elvis Presley's Style is Still Influential
Top Elvis tribute artist Brendon Chase shares his love of The King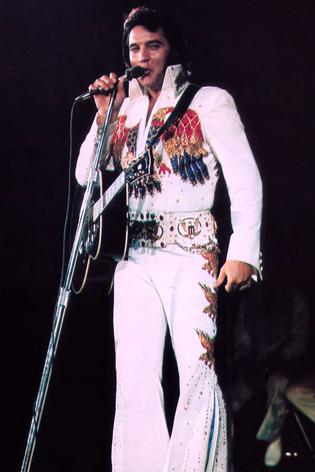 It has taken Brendon Chase more than two decades to perfect the distinctive look of one of rock 'n' roll's most-loved artists but the hard work has paid off, with the entertainer named Australasia's Ultimate Elvis Tribute Artist in 2017. It wasn't his first award either — Brendon's dedication to Elvis has seen him win several awards over the years, and play major venues throughout Australasia. Next month he will make the journey to the Ocean City Elvis Festival in Maryland in the United States.
"Elvis was always a step ahead of the game with his music and style" says Brendon. "He certainly wasn't shy to test the boundaries and never got knocked back when criticised. He set trends and changed attitudes about a lot of things, but at the end of the day he was just a guy doing what he loved."
Whether its early Elvis with his sleek 50s tailoring, Cuban collared shirts and loafers (a style currently being revived by Harry Styles) or his 70s suits and leathers (an era Brendon has focused on), there's no doubting his influence in fashion lives on. Here, we quiz Brendon about his love of The King. 
Why Elvis?
I went to watch New Zealand's first Elvis Tribute Artist contest in 1995. I was always a big Elvis fan but never sang in any public setting. I was sure I could possibly do it, and consequently I won the New Zealand contest the following year in 1996.
READ: Spring 2017 Menswear Trends to Try
What about Elvis do you love personally?
Oh, where does one start? If I had to choose one thing it would have to be his pure voice. In my opinion, no one comes close, past or present.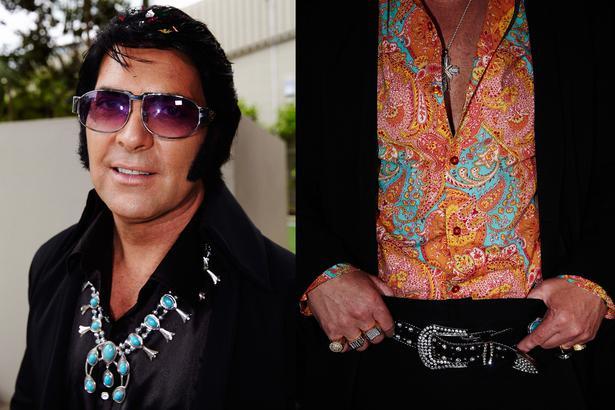 You wear some distinctive pieces in our shoot. Tell us how you source your outfits.
My suits are made by a company in Indiana, US, called B&K Enterprises. They have the rights to Elvis's original pattern designer Mr Gene Doucette, and they're as authentic as you can get to his real suits. It's a distinctive look — high collars, flares and full-on bling.
Accessories were such a big part of Elvis' wardrobe. What are some of your special pieces?
It has to be the bling rings — big heavy and over the top. For me, it's all about the wow factor.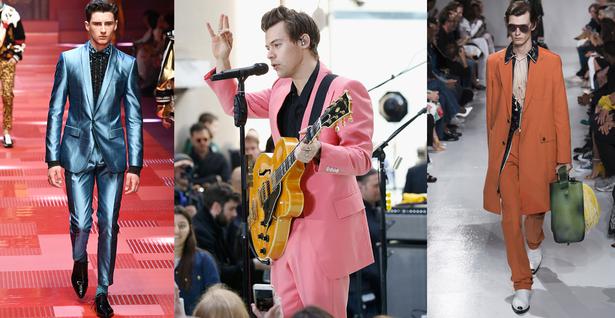 How do your fashion choices as Elvis help enhance your performances?
By keeping it as near and real to The King as possible. And it's also about creating a brand, separating me from others who want to be in this profession.
READ: How Las Vegas is Reinventing Itself
Where are some of your favourite places to pick up pieces to update your Elvis wardrobe?
Going to the US competitions is the perfect place, as all the jewellers come out of the woodwork. It gives me a better chance to size things up and try it all on.
How do you like to dress in everyday life?
Good old jeans, a skull print T-shirt, and a heap of bracelets.
What are your favourite looks from Elvis?
Definitely the White American Eagle jumpsuit he wore at the 1973 Aloha from Hawaii concert and the 1968 black leather outfit he wore for his Comeback Special.
WATCH: Elvis' Aloha from Hawaii concert (1973)
What is you main goal when performing, and what do you hope people get out of seeing your shows?
Just to be true to someone who I consider to be the greatest entertainer that ever was.

What are your plans for the rest of 2017 and next year?
I've been invited to the Ocean City Elvis Festival near New York in the middle of October, then I have a few shows in Australia. When I was a young fella I used to go the Caroline Bay Christmas shows in Timaru at the Soundshell. Now on December 27 and 28 I'm doing my own shows there. Very exciting stuff. But best you just follow my journey on Facebook and see what I'm doing next.
• Visit Elvis2u.co.nz
Share this: