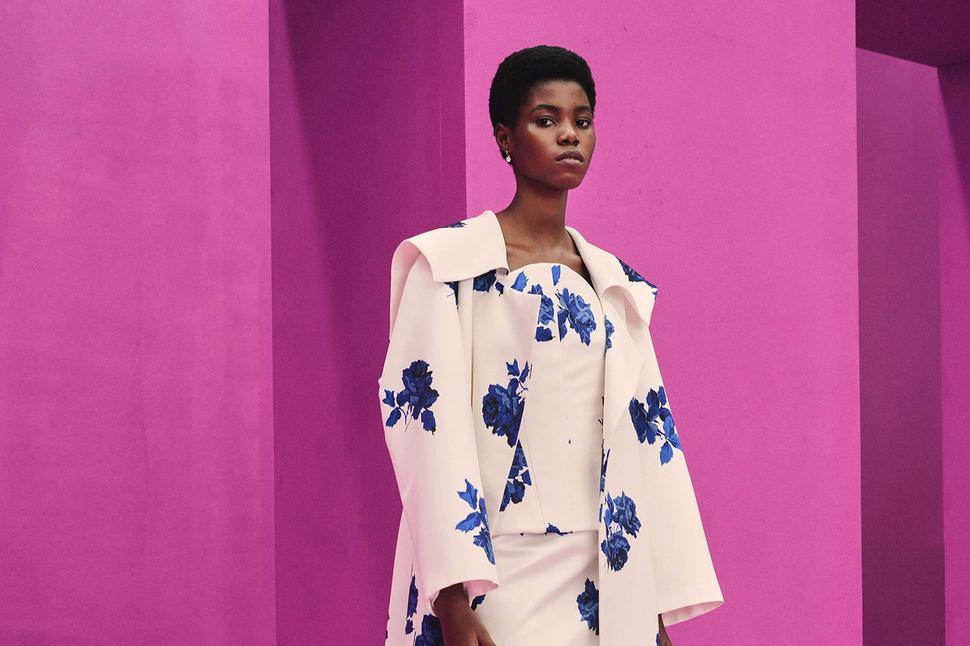 Emilia Wickstead Turns To Grace Kelly For Her Autumn/Winter 2021 Collection
The ever-elegant designer and New Zealand export is reimagining how we dress up, at home and at heart
Wednesday Feb. 24, 2021
Classic films as a salve for long winter evenings in lockdown and the strange feeling of only seeing others through screens or windows are two experiences most of us can relate to right now.
For Emilia Wickstead, they've formed the foundation of her autumn/winter 2021 collection.
Refined elegance is always a hallmark of Wickstead's offerings, and this season she's taken one of the most elegant of them all, Grace Kelly, as inspiration.
Specifically, Kelly as Lisa Fremont in Rear Window.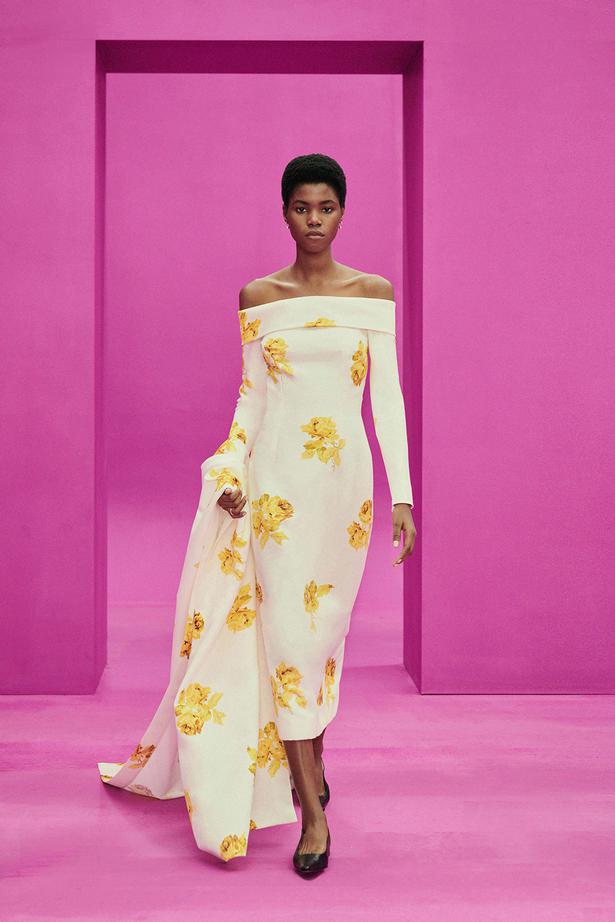 Shirley lemon rose and ivory taffeta faille dress, Alora lemon rose and ivory taffeta faille scarf, Valentina black leather flats. Photo / Supplied

"I asked myself, how do I see our women this season? She's dramatic, she's really romantic," said Wickstead ahead of releasing her collection in film form on Monday.

"There's a quote from Hitchcock where he says that when he was thinking about the wardrobe for Grace Kelly, he was wanting her to look like a piece of Fifties china. I love that."

READ: Emilia Wickstead Returns To Her New Zealand Roots For Her Latest Passion Project

It's a long time since many of us have dressed up enough to feel that decorative but Kelly, who mostly only appears in her boyfriend Jeff's flat throughout proceedings, is surely the posterwoman for making an effort wherever and whenever in her parade of Edith Head-designed costumes, just as I'm sure Wickstead's clientele are doing in the midst of a pandemic.

It wasn't just Grace Kelly herself, but the whole Hitchcockian idea of gazing into the lives of others; "In Rear Window, he [Jeff] looks out into these different homes. He sees a woman entertaining at home, the way that she dresses up and dresses herself. And then there's another woman who's very casual, there's another that has parties every night."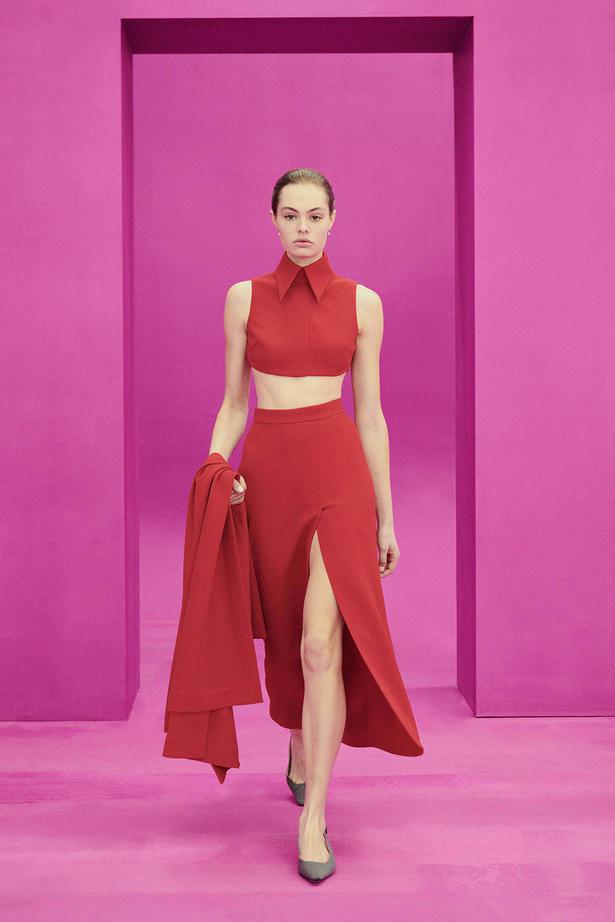 Amidst the Kelly-esque overblown "whimsical" rose prints (just the thing for a post-lockdown party or wedding), the designer has created ideas for modern at-home dressing too, with sleek stirrup leggings and charcoal jumpsuits which she says you could curl up in to watch television.
The 1968 film Theorem and 2009's I am Love, both set amidst the grandeur of the Milanese bourgeoisie, were also on Wickstead's moodboard.
It was the "finer details" of those worlds which appealed, especially the opulent fabrics used in the interiors.
In the more dressed-up sections of Wickstead's collection, ochre jacquards and tinsell-y olives are a sumptuous contrast to those fresh white florals.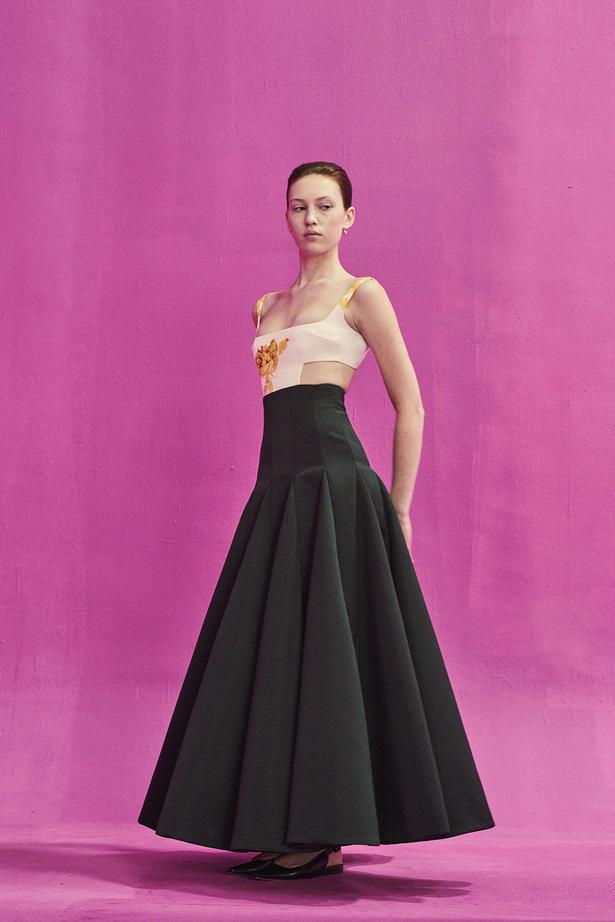 Dressing up may be non-negotiable in the world of Wickstead but she's reimagining how we might be doing it.
So while party dresses remain very much on the agenda, suiting fabrics are redeployed to create sleek 90s eveningwear with architectural cut-outs or used to create giant throws as an upscale alternative to the pashmina.
READ: Emilia Wickstead On Her Elegant Pre-Fall Collection & The Nostalgia Of Dressing Up
Wickstead laughs at the memory of carrying those scarves, explaining that her new take "is the elevated way of matching it to your outfit."
Another cover-up solution which works no matter what life is throwing at you?
An oversized houndstooth coat with sailor collar which could be styled with the pointed flats and high-waisted black skirt seen in the show or "thrown on over your athleisure".
Not that Wickstead predicts too much of this offering will be dressed-down.
"There's this build up of desire in us wanting to dress up. I think that's our DNA," she reflects. "You've got silhouettes that we would wear to go to someone's house for a dinner party. And the florals are the ultimate back to partying, back to celebrating love pieces. It feels very optimistic."
– The Daily Telegraph
Share this: