Emilia Wickstead on Style and Growing up in NZ
Emilia Wickstead is homeward bound to show her spring 2016 collection in Dunedin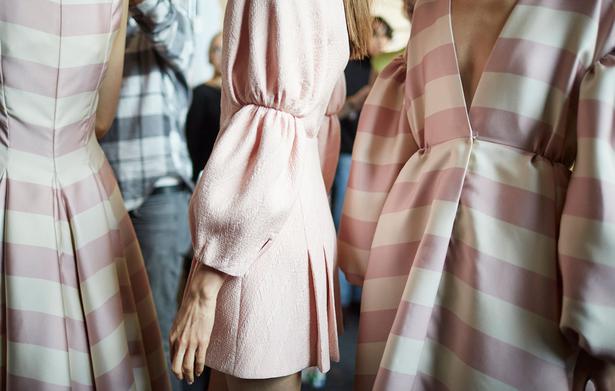 Wednesday Feb. 10, 2016
Emilia Wickstead had a very good 2015. Earlier in the year she gave birth to her second child, a son. Her designs are distinctive, ladylike, worn by everyone from Gigi Hadid to Pippa Middleton.
It is set to be another year of growth for the London-based, New Zealand-born designer. Emilia was announced as one of five designers on the shortlist for the 2016 BFC/Vogue Designer Fashion Fund in January. The prestigious fashion business award offers high-level mentoring and a £200,000 grant, and is judged by a panel including editor of British Vogue Alexandra Shulman, head of the British Fashion Council Caroline Rush and Victoria Beckham.
Emilia will fly to New Zealand in March to showcase her spring 2016 collection as this year's international guest at iD Dunedin. She last visited New Zealand two years ago at the same time as her most famous client, the Duchess of Cambridge, who wore a custom Emilia Wickstead dress to visit Dunedin.

Talk us through your typical day?
Family time in the morning and being at my design studio during the day. Evenings are for bedtime stories with my children, dinner out or dinners at home, which are my favourite! Watching films — a guilty pleasure — I always find old films inspiring, and overall the best way to switch off and relax.
Define 2015 — what were your highlights?
My SS16 collection shown at London Fashion Week and giving birth to my son Gilberto.
What are your goals for this year?
My goal is always to create better collections.
What are you proudest of?
My family and feeling grounded.
What have been three key moments for the Emilia Wickstead brand?
Taking the plunge and feeling the fear of starting a business. Failing and succeeding.
You've named Diana Vreeland as one of your style icons — do you have a favourite Vreeland quote?
Two of my favourites are: "There's only one very good life and that's the life you know you want and you make it yourself." "You're not supposed to give people what they want, you're supposed to give them what they don't know that they want yet."
READ: Pippa Middleton Wears NZ Designer to Royal Christening
What is your ethos around beauty?
To be happy, exercise — more for your mind than for your body yet benefiting both! A touch of oil mixed with your face moisturiser every morning, plenty of water, five a day of fruit and vege and I swear by a glass of freshly squeezed orange juice every day.
We loved your show at London Fashion Week in September, and that dreamy pink carpet. Tell us about the inspiration behind that?
The collection was inspired by George Cukor's 1939 film The Women. The venue's concrete walls and pink carpet mirrored the statement of defiance found in the characters of the film, which was very much played upon when it came to designing the collection. It was a take on sports apparel and sportswear from the 1950s. I focused on modern volume, was charmed by a Dorothy Draper-type print and experimented with the art of gathering.
Your work has been described as very British, but that is pretty broad. How do you define British style?
High-brow, heritage and ladylike are three words that spring to mind when I think of "very British". I definitely think that my work can sit perfectly next to this description yet what gives my work a home of its own is that it mixes traditional with contemporary. Contemporary for me is about being fashion-forward and evolving as a designer; never keeping to one definition or someone's description, but keeping people guessing while staying true to what the Emilia Wickstead customer wants to wear.
What is behind your interesting use of colour?
I am very visual and I document things like a photograph.
What's your favourite colour, personally?
Mustard, at the moment.
You've had some incredible red carpet moments. How important is the red carpet to your brand?
It is incredibly influential and can be your best and most publicised advertisement. What makes that incredible is the exposure it creates for a growing brand.
How do you make something simple like a gown look complex and instantly recognisable as "Emilia Wickstead?
I try not to be too predictable yet I stay true to less being more, sophistication feeling sumptuous and never playing too safe.You offer both ready-to-wear and made-to-measure. What do you like most about each? That we are giving our customer design options, not only a selection.
How does your made-to-measure process work — how long does it take?
Designs in an existing collection can be made in any fabric and colour choice that a client would like. The design is fitted to a client's measurements in person and the entire process takes approximately 40 working days — 20 days before a first fitting and 20 days for a second fitting and completion.
Has your New Zealand childhood had an influence on your aesthetic?
New Zealand is the most grounding place I know and is a place where I have felt most nurtured and confident to be whomever I wanted to be. I 100 per cent mark growing up in New Zealand as being the time when I experimented with trends, fashion tastes, second-hand clothing, very short hair cuts… the list goes on... I didn't feel I had to conform to be like anyone else and I was having fun and experimenting with fashion. At 14 I left New Zealand and I became very influenced by my surroundings and expectations. I feel very lucky to have experienced both types of cultural influences.
• The iD Dunedin Fashion Show, with Emilia Wickstead and others is March 18. Tickets from $75, from ticketdirect.co.nz

SHOP IT
For the first time, Emilia Wickstead's designs will be available to purchase in New Zealand, with an elegant trunk show set for Auckland following iD Dunedin in March. It will be hosted by the designer's mother, Angela Wickstead, and Emilia will also meet and greet guests. For more details on the show and to express your interest, contact viva@nzherald.co.nz
Share this: