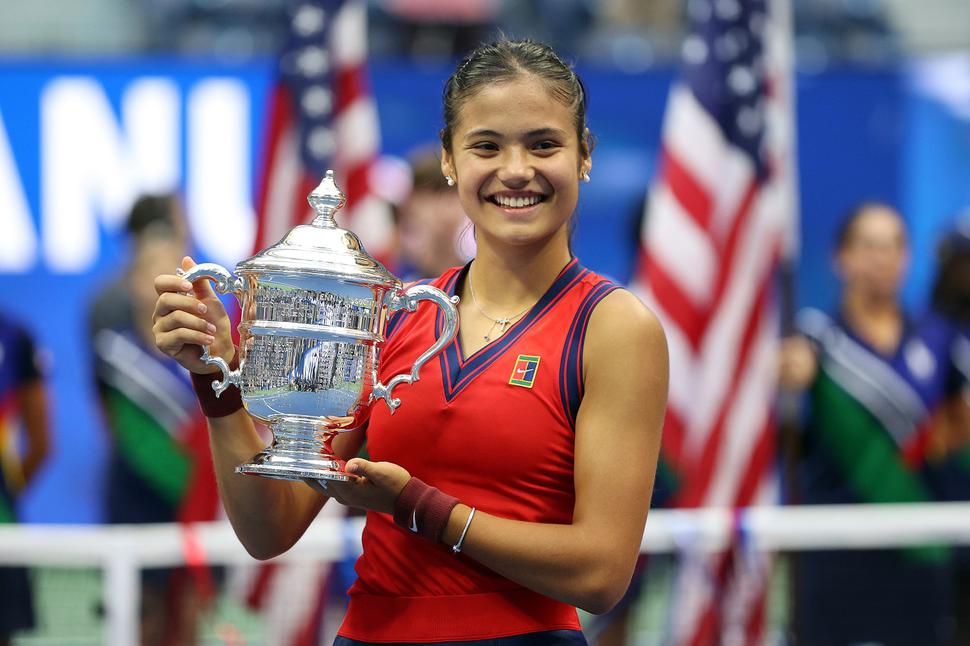 The Girl With The Diamond Earrings: What Emma Raducanu's Deal With Tiffany Means
The tennis sensation's fairy tale rise has now seen her become an ambassador for the luxury jeweller, and that's not where her matches will end
Wednesday Sept. 29, 2021
If you had followed the sparkling trail of diamonds, the clues that Emma Raducanu was set to announce a lucrative deal with Tiffany & Co. were all there.
The American luxury jeweller's courtship of the tennis star began, fittingly, on court. As Raducanu swept to her historic victory at the US Open final, the 18-year-old tennis star from Bromley wore a pair of gifted £4,475 pearl and diamond earrings (the "Victoria" style), an £8,500 bangle and a £2,750 crucifix pendant.
The brand proudly fired details for those who might afford to "get the look" to the fashion press, in the way that they typically do when they lend jewels to celebrities to wear on the red carpet.
At the Met Gala, days later, the stakes (and the price tags) were raised. Raducanu was the talk of the New York social scene, experiencing a whirlwind of glamour alongside Rihanna and Jennifer Lopez while wearing £17,000 earrings from the jeweller.
By Monday night, back home in Britain, it was clear Raducanu had won the fashion match of the year. The teenager attended a London Fashion Week party hosted by Vogue and Tiffany & Co. wearing jewellery worth around £100,000, including a £37,000 pair of earrings and a bangle designed in collaboration with artist Daniel Arsham that is not even available yet in stores.
Tiffany & Co. announced that the deal was done, Raducanu posted about her ambassadorship on Instagram and an ongoing partnership — rumoured to be worth seven figures — with the company known for its signature baby blue boxes is now underway.
"Being able to wear these special jewellery pieces over the past few weeks has been an honour," Raducanu wrote on social media, before telling Vogue that she was "incredibly excited" about her appointment. "I wore the ring, bracelet, earrings and cross necklace throughout the [US Open] tournament," she added. "These pieces will always be very special to me."
So aside from the money and the jewels (as if that wasn't enough) what's in it for Raducanu, and where does it all go from here?
The choice to team up with Tiffany & Co. is entirely strategic for both parties. Raducanu, who less than six months ago was sitting her A-levels in maths and economics, is by association catapulted to the same level of upper echelon celebrity as fellow ambassador Beyoncé. Other A-list Tiffany & Co. endorsers and alumni include The Queen's Gambit actress Anya Taylor-Joy, actress Tracee Ellis Ross and supermodel Kendall Jenner.
A Tiffany & Co. deal is considered a prized contract for any celebrity – not only is it incredibly lucrative, and guarantees access to priceless jewellery for any occasion, but it also opens the door for negotiations with other ready-to-wear designers (after she wore one of their dresses to the Met Gala, Raducanu has reportedly also received interest from Chanel).
READ: What Athletes Wear: Marathon Runner Brodie Kane
Raducanu's only two existing endorsement deals are with sporting brands and are set to be eclipsed, quickly. Raducanu is signed to one-year rolling contracts with Nike and racket supplier Wilson, worth "only" £100,000-a-year when combined. After the status elevation from Tiffany & Co., these are expected to swiftly be replaced by rival brands or renewed for at least 10 times their previous value.
So far, so fairy tale for the 18-year-old. On the other side of the table, you might wonder, why would Tiffany & Co., recently sold to luxury conglomerate LVMH in a $15.8billion deal, be so keen to pursue a star so fresh and new that she was still in class at Newstead Wood School in Bromley just a few weeks back? It is a risk, certainly, to invest in a celebrity so early in their career – how do we know that she can sustain her success in the long term?
"Emma's grace and strength of character make her a natural brand partner for us," Alexandre Arnault, executive vice president at Tiffany & Co. tells The Telegraph of why Raducanu was the perfect choice. "Tiffany has had long-standing roots in celebrating champions through our sports trophy making, including those presented at the US Open. We are thrilled to be partnered with the most recent champion."
In short, the company has both hitched a ride on and greased the wheels of what is set to be a fast trajectory to stardom. Raducanu's Instagram following has jumped from 500,000 to two million people since she won the US Open — by comparison, her competitor in the US Open final, Canadian Leylah Fernandez, 19, has just over 300,000 followers.
Raducanu's following is also global. Owing to her mother's Chinese heritage, she speaks fluent Mandarin and has garnered a huge fanbase in Asia already. "I am very sorry that I can't visit China this year, but I'm sure I can come to play next year," Raducanu told her audience in a recent video. "I hope you all come to cheer for me."
For Tiffany & Co., and in fact any other luxury fashion brand, being multilingual and having an East-West appeal is an incredible asset. Despite the pandemic, Tiffany's reported a sales uptick in China over the last year — soaring 20 per cent in the Asia-Pacific region while mainland China posted a growth of over 50 per cent.
READ: What Athletes Wear: NZ Black Sticks Hockey Player Rose Keddell
Since being acquired by LVMH, the heritage brand has also refreshed its lineup of talents, hiring Beyoncé and Jay-Z, as well as younger, new talents in the hope of becoming more edgy and appealing to younger audiences.
Raducanu's potential to become an international name was noticed early — she has been signed with talent management company IMG since she was on the tennis juniors circuit, but now is being managed by its vice-president, Max Eisenbud, the man behind Maria Sharapova's career worth a reported £200million.
Tennis stars, in recent years, have benefited hugely from deals with jewellers and accessories labels — items that can all be showcased on court as well as off.
Luxury brands from Rolex to Cartier also, famously, court sports stars and sponsor tournaments — Roger Federer's deal with Rolex earned him a reported $15million over 10 years, before the champion renewed it for an estimated $9million per year.
The competition between brands to back talents at the top of their game is fierce and a manager like Eisenbud knows how to get the best of the deals for his clients.
Also new to the Raducanu team, as of Monday, is Nicky Yates — the Australian celebrity stylist to Jessica Chastain and Claire Foy, and former Evening Standard fashion director. Yates styled Raducanu in an Erdem dress and the aforementioned Tiffany & Co. jewels for her red carpet appearance — a fashion fixer, she ensures her clients get first pick of the new season dresses.
But that's just a surface-level description of her job as a celebrity image maker. With each strategically chosen outfit for the red carpet, she helps her clients to communicate their fashion credibility (Erdem, for example, won't lend to just anyone). In turn she is able to secure yet more sponsorship deals with more fashion houses for the client and boost public perception of them as a stylish person.
Yates' other recent success stories include Great Gatsby actress Carey Mulligan (never not seen in Prada) and Normal People actress Daisy Edgar Jones (a Chanel partner). Her specialism is taking stars with other talents such as acting, or sports, and turning them into fashion world stars.
Fashion is something of a sporting game in Hollywood these days, and it's only the A-list who are really invited to play. With Raducanu tipped to make £20million in the next two years alone, the match is, truly, hers for the taking.
The Daily Telegraph
Share this: