Why It's The End Of An Era For Cult New Zealand Brand Miss Crabb
Designer Kristine Crabb speaks to Noelle McCarthy about the difficult next step for her beloved 15-year-old business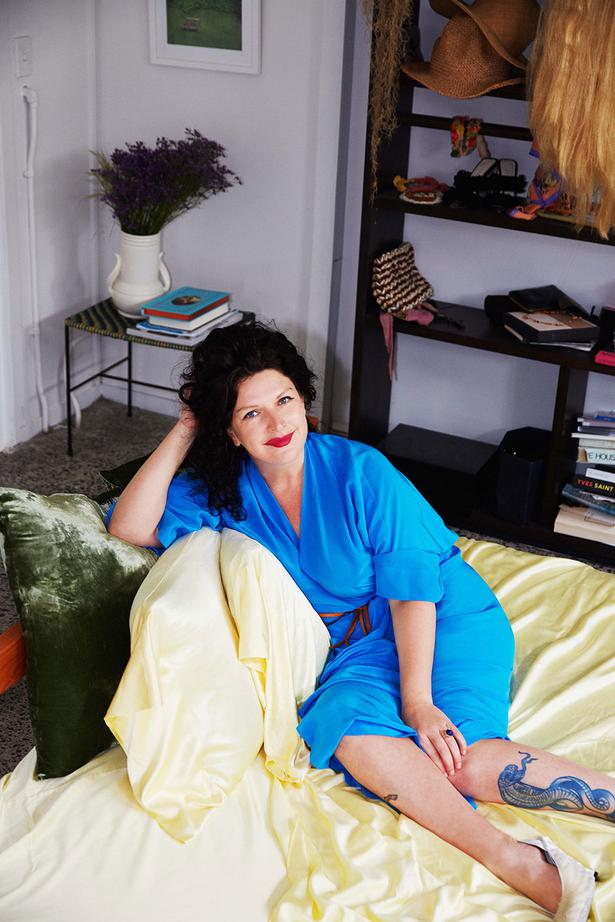 Wednesday Dec. 5, 2018
"I know I could take it to the next level if I wanted to. But I don't want to," Kristine Crabb says with quiet certainty. "It's amazing that Miss Crabb existed for this long, but now I've made all the clothes that I need to make. My project is finished."
Her voice is as calm and melodious as ever, but the imminent end of her business is a big deal. Miss Crabb, the label she founded in 2004, is a pioneering local brand, synonymous with intelligent, seemingly simple designs refined to a point of subversive elegance, untouched by trends and possessed of an unconventional, fluid sexiness.
Over the years it's been worn and loved by some of the most recognisable women in the country. The Prime Minister wore Miss Crabb to meet Barack Obama. Lorde wore a maroon Miss Crabb dress for one of her first publicity photos. Anika Moa was resplendent in a Crabb gown last month when she picked up Best Presenter at the TV awards.
READ: Looking Back At Miss Crabb's Greatest Hits
Originally from a Matamata farming family, Kristine has dedicated nearly 15 years to building a business she always said was inspired by her grandmother, a free-spirited motorbike-riding aviatrix who was one of the first women to fly across the Tasman.
That sense of adventure has always been part of the label; "I've always thought of this as an art project, rather than just fashion. The way we make the clothes is deliberately fluid and that comes across in terms of the sizing, the styles, the versatility and the relationship to convention. That's always been the most exciting thing about it."
Come March 31 next year, however, the 'project' is winding down in its current format. Kristine will close the doors of her flagship store and the neon pink Miss Crabb sign from the window will become part of the history of Ponsonby Rd. Sitting opposite me in her Grey Lynn studio wearing a jade green dress from her latest collection, Kristine is as serene as ever.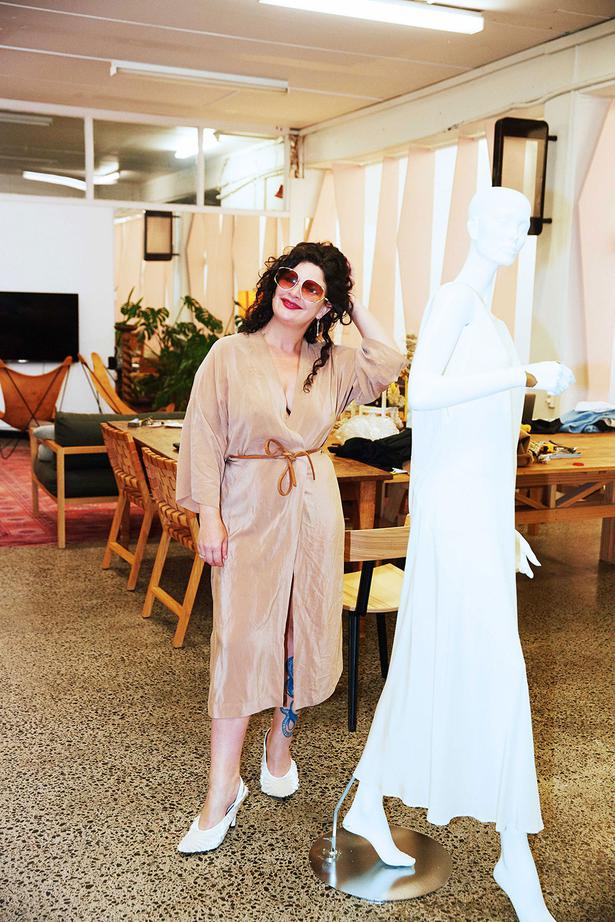 "It just feels like the right thing to do. When we started, I had no idea the business was going to go on for this long, but it has. Now I'm just ready to do something different with my life and put my energy into my children, into my family and friends, and eventually a new career path as well," she says.
As for me, my first thought was 'what am I going to do?', to be honest. For more than a decade, Miss Crabb has been at the heart of my wardrobe. Full disclosure — and sorry if it sounds name-droppy — Kristine is my friend. We got to know each other just after her store opened, when — in a gesture of generosity I've come to know as characteristic of her — she gave me a dress to wear for a radio awards show.
My knees were knocking on stage that night, my first MC gig, but that red silk Miss Crabb dress transformed me into the best, strongest version of myself and turned a challenge into an adventure. She's dressed me for every significant event since, I was married in Miss Crabb a few months ago. I'm gutted at this news, but it's not as much of a bombshell as it could be.
Back in October, the long table where we are sitting was set for a banquet for Kristine's 40th birthday. The dancing went all night under candelabras draped with wildflowers; my hair smelled of jasmine the next morning. An incredible party, for a momentous milestone.
Change was in the air that night, wasn't it? She smiles. "Turning 40 was definitely part of this decision. I woke up one morning after my birthday and I thought 'I don't want to do this any more'. It was the most calm and clear feeling. So I've just kind of gone with it."
But why now? The store's a Ponsonby fixture, the fans are loyal, high-profile and vocal. The brand's evolved into three distinct lines; a new range every season, the Neoclassica collection of fan-favourite recuts, and Dreams Top Rock, for bridal and ball-gown special orders.
For the past few years Miss Crabb has been steadily increasing production. But for a designer as protective of her creativity as Kristine, growth has led to tension. "The thing I've struggled with is having these quite large financial pressures — a big studio, a shop on Ponsonby Rd. That's meant my conceptual ideas had a lot of pressure on them to perform commercially. And that's something I've always battled with."
The irony in her situation is obvious. Kristine's simple cuts based on ingenious geometries turned Miss Crabb into a label of choice for creatives especially; last year she designed a range of outfits for Bic Runga's 20th anniversary concerts, artist Ruth Buchanan went to the opening night of her Walter's Prize-winning exhibition in a Cinderella-blue Crabb robe recently. But after nearly two decades, the ongoing balancing act of art and commerce is taking a toll — especially while raising her three children (Henry, 6, Paddy, 10, and Frances, 11.)
"My challenge was time and resources. In order to be in this business, you have to sacrifice your family time, or time with friends. Or you go the other way, and you sacrifice aspects of your career so that you can have family. For me, I just couldn't keep going and doing both sets of sacrifices.
In fashion, you need to be working at least 16 hour days, which I have done, you know. And it's the same with having kids. This year, I felt like I achieved this really amazing sense of balance between my home life and career but I knew that it wasn't quite enough to run my business. And I didn't want to have that feeling of not doing enough."
Working in a small local industry added to the challenge, as well as the fact that all Miss Crabb garments have been entirely made here in Aotearoa from the start, an important value for Kristine, but one that came with added complications.
"On the one hand, it's probably the easiest and best way it could possibly be. This way we get to meet our suppliers and we have complete control over the quality. But every year it feels like the industry just shrinks a little bit more. Earlier this year, we were trying to find a sample machinist and we just couldn't find anyone. That's sad, isn't it?"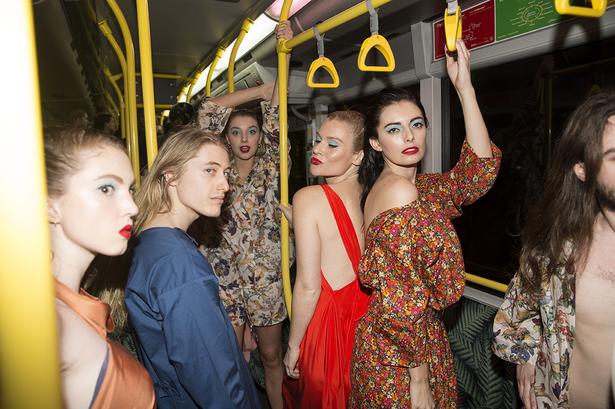 Miss Crabb's off-schedule show at NZ Fashion Week 2016. Photo / Guy Coombes

There are other double-edged swords. "[Social media] was wonderful when it started. We first got into it around 2010, and it felt like a revolution. It was straight after the global financial crisis and we were able to rejuvenate our business but it just grew and grew. With the social side, you always feel like you need to be doing more and more. I felt like 'I need to be growing my business, but more than anything, I need to be making clothes'. It's really tough doing both."

Kristine's been making clothes for more than 20 years. Before Miss Crabb, she was Non, selling from an upstairs store on K Rd called — unforgettably — Rip Shit and Bust, honing her sensibilities, perfecting her craft. Her consistent refusal to conform or compromise her aesthetic has ensured she's leaving not only a hole but a legacy.

"I think fashion is a time and a place," she muses when I ask what impact she thinks she's had on the industry. "Like, the robes. They're so mainstream now, but back when I was doing them first, it was like this whole funny thing, like 'you're wearing baggy clothes', but now it's normal."

READ: Artist Richard Orjis And Designer Kristine Crabb Front Miss Crabb Campaign

It's true — my dry cleaner even has a special button for those robes these days. But the first ones Miss Crabb made, they felt so daring, they'd swing open a bit even after you belted them. Was it a conscious decision to be risque?

"It wasn't really until after the first year that I stopped thinking 'what would people like?' and I started just making what I wanted. My dream clothes. That was when it started becoming successful, when I started forging Miss Crabb, because I just thought, 'Stuff this. I'm just going to make some really buzzy robes and some real baggy dresses' and then you know, it just started happening."

Miss Crabb will release one last mini-collection (My Own Private Idaho comes out tomorrow) and special orders will continue up until she closes. The store will stay open until March, selling the last two collections, as well as the Neoclassica range of signature pieces.

 
They're all around us as we talk this morning, a forest of Crabb creations past and present, hanging off purple screens designed by Ruth Buchanan. For the past couple of weeks, Kristine and her team have been photographing the archive, and sharing on Instagram — a parade of deceptively simple dresses with romantic names — the Summertime, the Sovereign, the Witches . . . Soon these will be memories and museum pieces. Literally. Auckland Museum is acquiring her archive for future generations.
What does she have to say to all the bereft Miss Crabb fans?
"Sorry!" It comes out as something between a laugh and a sob. "Sorry and thank you! I love you all. And Miss Crabb always has been a state of mind, so never fear!" I think I know what she means by that — it's the look you give a woman at a party when she's wearing Crabb and you are too. It's a complicity, an acknowledgment of a shared sensibility, a million miles from the horror of turning up somewhere in the same outfit. And the impact of that Miss Crabb state of mind has stretched beyond aficionados.
"I love what we've created, a new way of dressing, something that's much more fluid than when we started out. Because back then, it was so much more cookie-cutter. Trend-based, sizeist, ageist."
It's true. Nowadays many local designers do free-size, but for a long time Miss Crabb dresses were the only high-end frocks you could get that were one size fits all. They've always been perfect for pregnancy and post-partum; my best friend wore her Sovereign in labour and I have a Rise dress that is passed around my friends during their pregnancies.
FASHION WEEK: Miss Crabb, Las Vegas and a Link Bus
It's no surprise, Kristine designed them while she was having hers. "I was going through all that, having my children and thinking 'okay it doesn't matter what your body is doing', all these changes. There's such a need at that time for a sense of glamour. A need to feel like it doesn't matter what's going on, that you can be beautiful. And then pregnant women started buying my clothes, and I got to bring that part of myself and my own experiences into the work."
What memories will she take with her? "Oh everyone. All the amazing people. Just being able to do this, to make the clothes and to have such an amazing audience. That's just so, so cool. I never would have guessed this was even possible. That's the thing — here I am, a girl from the country, all my family down on the farm, and here I am, rubbing shoulders with these world-class, amazing people through my job. It just buzzes me out. It's been incredible."
Share this: