The Styling Duo Behind Fresh Fashion Label Entire Studios Are Redefining The Puffer Jacket
Stylists and friends Sebastian Hunt and Dylan Richards aim to create a wardrobe for the times with the launch of their new label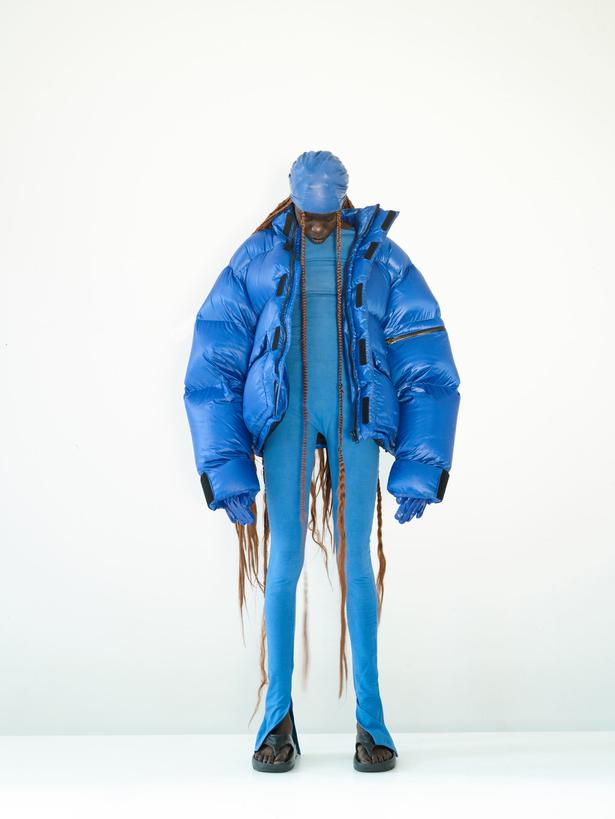 Monday Oct. 19, 2020
Whatever the season - whether it's a wet winter in the North Island or sub-zero temperatures in the South - New Zealander's are well prepared for yo-yoing weather forecasts thanks to our predilection for reliable outerwear and our general sense of preparedness - be it a raincoat or an oilskin coat. 
One of those outerwear stalwarts - the puffer jacket – has come full circle over the years, shaking off its outdoorsy roots and into the realm of high-fashion. 
Invented in 1936 by American outdoorsman and inventor Eddie Bauer as a solution to a near-death experience from hypothermia during a fishing trip, the puffer has come a long way since. 
During the 50s, American couturier Charles James rendered the puffer jacket into a voluminous, silken opera coat.
Sub-cultures like the Italian 'Paninaro' youths wore a uniform of multi-coloured puffer jackets to highlight their love of American sportswear and consumerism during the 80s and early 90s.
In 2016, Demna Gvasalia's debut as creative director at Balenciaga cemented high fashion's segue into streetwear - in particular, a red puffer jacket worn skew-whiff, with a sequin skivvy and black dinner trousers - became one of the several definitive moments in fashion of the last decade as we said goodbye to the 2010s, before the look quickly spilled down onto the high street.
Close to home, a  fresh contender enters the market with a stylistic perspective, taking the humble puffer to another level.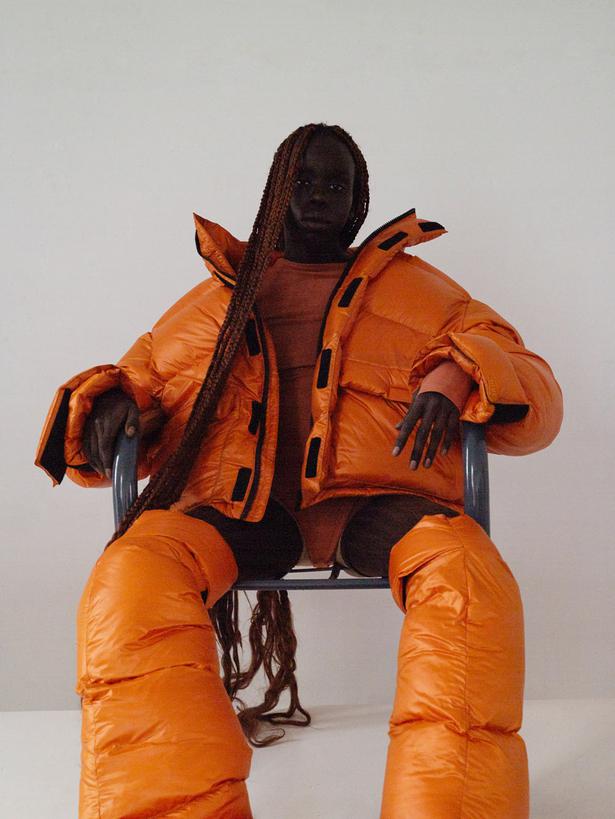 Launching this week, Entire Studios, a new fashion label founded by friends and styling partners Sebastian Hunt and Dylan Richards, was formed with the duo's love of fashion, design and youth sub-cultures in mind. Conceived pre-Covid when the pair were living in L.A, returning to New Zealand during lockdown was a hurdle they were determined to overcome.
"We had already invested a lot of our time and money, and were adamant we would complete what we had started" says Sebastian.
"We aren't typically the type to drop out when situations get tough, even though this year has been an extremely tough one on ourselves and - of course - everyone else too. By returning home to New Zealand under lockdown, we had a lot of the creative time in our home studio to fully immerse ourselves and focus on the work - something we didn't have the chance to do in L.A. Fashion has always been art to us, bringing us contentment, inspiration, and joy - we also wanted to keep ourselves busy while creating beautiful content for people to enjoy during these hard times."
In a year that has seen several fashion businesses fold or re-assess its offerings in order to weather the storm of the pandemic, brands like Entire Studios enter the market at a time where fashion is going through significant change, and by launching with one type of garment in three key color-ways it's an opportunity to address the conscious consumer's formula - buying less and choosing well.
READ: Fashion Insiders Discuss: How Will Covid-19 Affect The New Zealand Fashion Industry?
"This brand is a reflection of us, and outerwear is a huge factor in our personal wear, especially being in New Zealand," says Sebastian. "The puffer is always an exciting piece for styling and we wanted to start small to introduce ourselves to the audience. We love playing with shapes and silhouettes when working with clothes, and as we said - outerwear is something that easily elevates a look and can easily be incorporated into any current wardrobe."
"While the puffer jacket is a commonly found piece, our PFD puffer is utterly unique in silhouette, proportions, the particular level of padding we chose, and the fact it upholds our four brand pillars of quality, design, functionality, and accessibility. It isn't in our nature to put out any work that we aren't extremely proud of in full, but we love the puffer's exaggerated silhouette. Although very oversized, we have chosen for the jacket to be slightly cropped with longer arms, paying a lot of attention to the proportions. With all of this in mind, it's still very comfortable and light to wear."
"We are very proud of this jacket and so glad it will forever be the piece Entire Studios launches with."
The pair, who have styled and worked with some of the world's biggest names including working alongside Kanye West and Kim Kardashian-West and styling award-winning choreographer Parris Goebel, have built on this experience to create Entire Studios. 
Cottoning onto Instagram earlier on in their careers, they've cultivated a following drawn to the pair's specific aesthetics.
READ: How Track Pants Became 2020's Breakout Wardrobe Star
"It has always been a dream of ours to have our own brand that was a true reflection of our complete vision. Being stylists we always felt something was missing when working with clothes and weren't ever 100 percent satisfied with what was available, despite having access to a range of brands. We were always telling each other "aww, I wish this was like this" or "I wish we had this in this colour" etc.
After years of styling and brand creative consulting, we realised that our skillset and industry knowledge placed us really well to start our own brand. Quality, design, functionality, and accessibility needs are the four pillars of our brand's foundation. In our experience, many brands will meet one of those criteria, but then the others are sacrificed - an oversight and missed opportunity for the industry to elevate itself."
Can you talk about the launch collection and why you chose to launch with a select number of colourways? What is the significance for you in terms of the colour selection? 
We originally mapped out a full collection, but after a couple of roadblocks, we decided it would be best to do a more considered and edited drop.
After seeing the immediate response online to the puffers, we decided to drop the PFD Puffers in three colourways. The PFD Puffers were our personal favourites, so went with our gut while also using them to test the waters. Before coming in too big, we want our growth to be alongside our audience, and spend time getting to know what our audience enjoys so we can be safe and push the boat out a little further each drop.
We would rather the brand slowly unfold to deliver our exact vision, rather than compromise our creative integrity, especially and that is our driving motivation. When playing around with the colours the turmeric, gunmetal, and Persian blue really spoke to us - they worked well together and we also felt they fit different personalities. We're currently working on a much bigger range for the next drop, which we're excited to share with Viva readers when the time comes.
Since you both started in the fashion industry, you've both worked across several different mediums, including styling. What do you love about the process of design and putting together a clothing label?
Styling is always something we loved and felt always came very naturally to us. Whether it was styling friends, clients, or the interiors of our home.
Starting a brand is very exciting for us, as we have the full creative control from start to finish. Shopping has always been a big part of our work. This includes reference shopping, where we buy vintage or used apparel or anything that would serve as inspiration for a garment. It could be because we liked the colours, use of trims, shapes, fabric etc.
We shop for all different elements when reference shopping, as this is usually our first step in the process, along with pulling together vision boards. To most, our reference wardrobe might look like a junkyard, but each individual item offers something unique, which is why we have it in there.
READ: Kerby Jean-Raymond Of Pyer Moss Has Been Given A Major New Role At Reebok
We'll then do 'style outs' on a model using the reference pieces, analyzing the way the fabrics, cuts, patterns etc. all pair together to create a fuller vision of what we imagine the line looking like. Then we can start playing around on photoshop with colors, shapes, texture and so on, making notes and adjustments.
It's been incredibly fulfilling and satisfying to be in control from start to finish. We love taking an idea in our heads and going shopping, styling, photoshopping, and refining, then passing that final idea to our production team. They'll build the tech packs onwards, leading to us being able to hold a physical sample in our hands we can style and create content with.
How would you personally style the puffer jacket? 
Personally, for us, the PFDP is lightweight to wear and super chill - our uniform is to typically wear it with nylon pants and sweatshirts. Honestly, it's almost impossible to make a bad outfit when throwing the puffer on.
The design is the leading feature of the puffer, but we also had to make sure it was practical. With a 650 loft fill and duck down, the PFD puffer can be worn in the snow too - wear-tested by Sebastian himself in Vancouver's -10°C earlier this year. Outerwear has always been essential when it comes to our styling work - it is guaranteed to add an element of intrigue and finesse to a look, instantly elevating a look from everyday to unique and eye-catching.
READ: What Sex Appeal Means to Dylan James Richards
What elements of sustainability have you both considered with this new collection?
As a new brand, there is obviously a lot to learn. Our goal is to be sustainable, ethical and low impact - we've started on that journey by making the best clothes we can, so they will live long lives. Our jackets are made from quality fabrics that are made to last, and our manufacturers are certified with the Responsible Down Standard.
All of our packaging - poly bags, garment bags and mailer bags - at Entire Studios is all plant-based, compostable material too. and we have brought on a sustainability advisor, Bernadette Casey from The Formary, to make sure we are taking the right steps from the start.
READ: How The Formary is Reimagining Textile Waste
What design elements are you most proud of with the puffer jacket?
Although very oversized, we have chosen for the jacket to be slightly cropped with longer arms, paying a lot of attention to the proportions. With all of this in mind, it's still very comfortable and light to wear.
We are very proud of this jacket, and so glad it will forever be the piece Entire Studios launches with.
You've included several of your key muses for the look book and this debut – can you tell us a bit about your relationships with these muses?
The casting was something we spent an extreme amount of time considering. Individually, they all have something very special to them and are all extremely different. However, as a collective, they complement one another and work really beautifully together. The models we used for the lookbook are all close friends of ours, or people we have previously enjoyed working within New Zealand.
READ: Get To Know Instagram Influencer Zara McKenzie
Is New Zealand an important market for you?
Yes, every market is important to us. New Zealand especially, because it's both our home and where we started our careers.
We would love to see New Zealanders emulate the international style scene by wearing entire studios. We grew up in New Zealand, and both our brand and careers have started here. We were constantly looking overseas for our inspiration, and we now want to inspire other New Zealanders and upcoming talent. Whether that's through wearing our designs, or being inspired from our story. We especially want local talent to know that it is possible to get your work seen on an international scale, because we know first-hand that it can feel near impossible being on this side of the world. Distance isn't a barrier to creativity.
Growing up who's personal style did you both relate to and why?
Our personal style inspiration didn't necessarily come from any particular individual, but it was drawn from different iterations of design - architecture, cars, furniture, landscapes etc.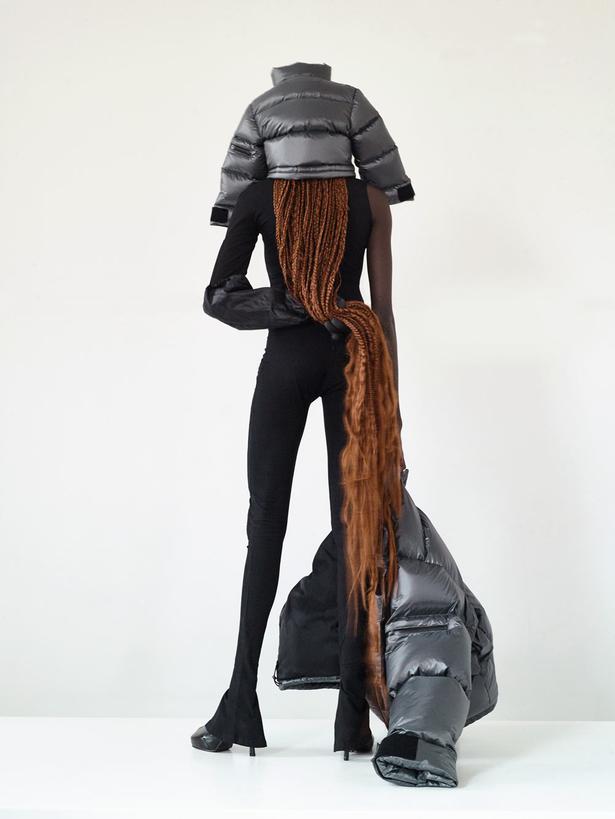 We often come back to mid-century modern and postmodern references, which we've really carefully curated in our home so we constantly feel inspired. We have always naturally gravitated towards imaginative forms and bright colours, which the PFD puffer really exemplifies. Imagination is a key part of all style and design, and offering chances for individuals to dream up their own scenarios and possibilities is what connects us to our pursuit of aesthetics like Richard Neutra's Bauhaus-modernism.
READ: How The Bauhaus Movement Changed New Zealand Design
The peak of that aesthetic was driven by the era's obsession with outer space, and reflected in the designs. Being two young boys in New Zealand, it was always important for us to imagine beyond our immediate landscape, creating our own space race. We strongly believe that design and culture are a perfect marriage, balanced in how they both complement and inspire each other. This approach is how we've created our personal and entire studios' aesthetic.
What is it about each other's worth ethic do you both admire?
We've been best friends for over 10 years now. As soon as we met, we knew we wanted to work as a duo and quickly discovered our complementary strengths. Obviously, we have our disagreements - as any strong-minded humans do - but we always find a balance between what each of us want.
Any conflict that arises is there for a reason and serves to deepen our understanding of why we should or shouldn't go ahead with something. As we both have the same goal, we know that our disagreements are all motivated by wanting the best for the brand. In equal partnership, we develop the artistic design of the brand's overall feeling, and where we want it to go.
Sebastian: Dylan pilots a lot of the design side with my support
Dylan: Sebastian leads a lot of the management side with my support.
This style of working brings us together to focus on how best we can make our clothing the strongest and most commercially viable designs.
What are you currently listening to (or what were you listening to during the conceptualizing process/design process)? What are you reading or watching?
We recently made a good playlist for Commune Salon which is usually playing in the studio
Sebastian: I'm watching The Real Housewives of Beverly Hills for the first time
Dylan: I'm watching Queen of the South - for about the 22nd time.
What has been the best advice given to you and by who?
We have valued all the advice we have been given over the years, and it is so hard to pinpoint just one person and their advice exactly. However, from all the people we've worked with, the lesson that has stuck with us the most is staying true to yourself and your vision.
What are your plans for the rest of 2020 and 2021?
We are wanting to reflect on the past year and think about what lessons we want to take forward. Building the foundation of the brand was a steep learning curve, especially on how long and drawn out all of the processes are.
Our goal is for the next year to be fully immersed in Entire Studios, designing, producing, and shooting content. At the moment, we're working on drop two so we can launch that in January 2021. We will definitely let Viva readers know more about the range as we can start to share it.
- Pre-orders are now available online now, with new styles, colourways and drops delivering in the coming months. Entirestudios.com
Share this: