Ethical Living: The Label Everyone's Talking About
The buzz in Manhattan last week surrounded an ethical label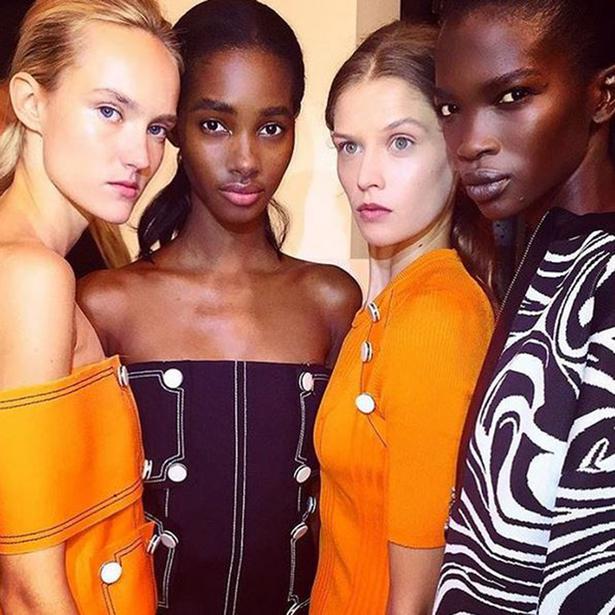 Monday Sept. 21, 2015
It is rare for a New York Fashion Week fête – by nature, all champagne, acrobatic pole dancers and shrimp kebabs – to accommodate a poem. Rarer still for the poem to be recited off the cuff, and without its chief purpose being to generate buzz on Instagram. But at 11.30pm on a Sunday evening, at a dinner given by the brand Edun at the Waverly Inn, in the West Village, an Emily Dickinson poem was being recited to a table of fashion editors.
"Wild nights – wild nights!" began Gary Jermyn, a poet, and board member of Edun, the ethical fashion brand founded 10 years ago by Ali Hewson and her husband Bono, to a chorus of cheers from the table. The volume increased when he reached the third, final stanza. "Rowing in Eden –?/ Ah – the Sea!?/ Might I but moor – tonight –?/ In thee!" Jermyn, an old friend of Hewson's ("I've known her since we were teenagers"), took special care to draw out the "Eden" – a nod to the brand whose spring/summer 2016 collection had successfully been shown on the catwalk earlier in the day. If it sounds twee, it wasn't: rather, it seemed an apt tribute to a label whose chief purpose is to forge connections between people.
"Last night was fun, wasn't it?" says Hewson, when we sit down to large glasses of water in the lobby of the Mercer hotel the next day. Softly spoken and exuding calm, Hewson admits she's feeling "a little rough around the edges" after last night's revelry, although you'd never know from her radiant, unlined face. Perhaps the sunny demeanour is down to the fact that Edun's spring collection has garnered good reviews and a positive reaction from the industry. "It had a nice energy," she says, of the show, which was held in Spring Studios, light streaming through the windows as the sun set over the Hudson.
The show cemented quite a turnaround in a company whose fortunes have been mixed. Hewson launched Edun with her husband in 2005, determined to "bring more trade into Africa", after first visiting the continent in 1985, when she spent five weeks in Ethiopia witnessing the devastation of the recent famine first hand. 
"People were starving, but they weren't defeated. They were defiant, their spirits were huge," she recalls. "It was a real eye-opener, because their personalities were shining through. We thought, what can we do?" 
Fashion seemed an obvious starting point, not least because the continent had once boasted so many cotton farmers. "Everything we'd seen that was 'ethical' in terms of clothing at that time felt like it was granola," she laughs. "One of my main points was that the clothes needed to be desirable, they had to have an aesthetic, to have great design behind them. It's not a business unless people want to buy it and wear it and live in it."
Good intentions didn't translate to sales: in 2007, the brand was bailed out by shareholders, then dropped off the radar. But in 2009 the luxury conglomerate LVMH took a 49 per cent stake. "They behaved like a big brother – somebody to lean on," says Hewson. "But they've kind of left us to find our own way." 
That independence allowed Hewson to hire Danielle Sherman, a designer whose CV includes stints at The Row and T by Alexander Wang, as creative director in 2013 – a move that took Edun from what was primarily a jeans and T-shirt business to a fully fledged fashion brand with an emphasis on laid-back luxury. These days the brand's minimalist satin crepe dresses and plissé leather skirts are stocked on Net-A-Porter.com and Matchesfashion.com. The fact that they were made in Madagascar by a team of local women is incidental.
The buzz around the brand is building once again. In April a new CEO, Julien Labat, arrived from Carven. Young, fun, and zippy, he is still settling in to New York life, but has plans to take the brand down a more youthful route along with Sherman, who heads a team of 22, working out of a SoHo studio.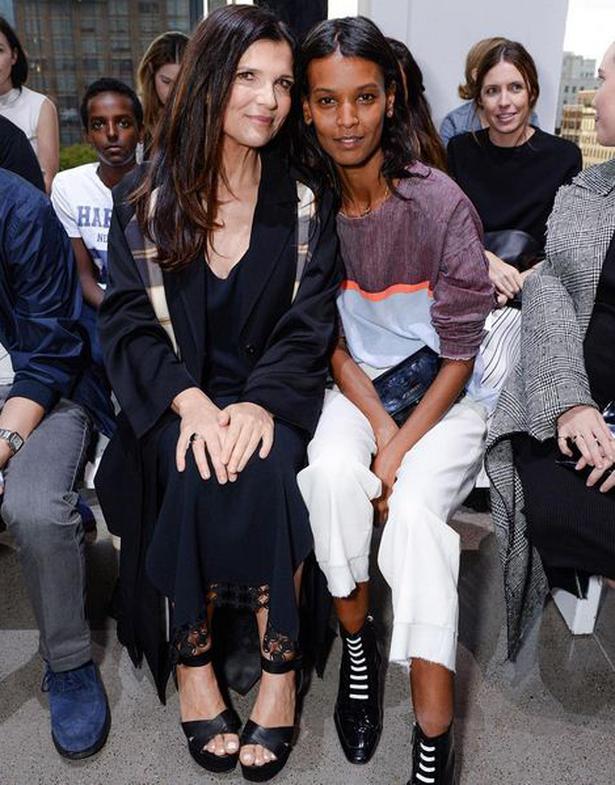 Hewson flies over every six weeks from her home in Ireland and speaks to Sherman regularly on the phone. Ninety-five per cent of the collection is made in sub-Saharan Africa, they proudly tell me, with the other 5 per cent comprising leathers made in Italy and New York. There are two main factories in Madagascar and one in Kenya; special projects have seen them collaborating with jewellers in Niger and Tanzania. All the money is ploughed back into the company. "We're not at the point where we are falling over profits," admits Hewson.
Sherman, petite and six months pregnant, joins us to explain her starting point for spring. "I was interested in the Kuba people, an incredible group based in central Africa who are known as 'people of the cloth' because of their textiles." Audience members at the show were shocked into attention by the sound of Kuba drums keeping the beat as heavy, cropped wool suits came down the catwalk, embroidered with tassels and macramé fringing made in the Madagascar factory; followed by a navy blue cardigan with a twizzled edge inspired by the hems on traditional Kuba dress; and a magnificent crochet dress with tasselled edges. Also new this season were bags, hand-crafted in South Africa in neat, square, messenger shapes.
Absent from the front row, but still involved, was Bono. Hewson drily remarks that his first priority is "the day job" – i.e., the small business of being a rock star. "He is a good sounding board for lots of things. He's a great encourager, a huge believer in Danielle, he gets what we're doing." 
Also supportive are her daughters, Eve, 24, an aspiring actress, and Jordan, 26, who has just completed a masters in poetry and creative writing. Both were present at their mother's dinner last night. "Make sure she has a good time," they counselled as they sailed out of the venue, citing a need for "beauty sleep" as a valid departure.
Where to from here? "We want to expand the business. It's about growing trade, and helping people have sustainable jobs, so that they can send their kids to school, for instance, because they know they're going to have employment. The more we can grow, the more we can trade in Africa. That's the mission," says Hewson. "But it does start small," Sherman chips in. "One of the factories we work with in Kenya produces all of Edun on one floor in a small workshop of four people. The goal is that, one day, the whole factory can produce for us." 
As a parting shot, with a hint of a smile, Hewson says this: "We are one world, one people. Everybody has to recognise that and we have to help each other out in times of crisis. You can't turn your back." 
Then it's back to talking about shoes. "I'm a flats girl," says Sherman, gesturing at her flat mules from the pre-fall collection. "Oh, no, no, I always need a heel," replies Hewson. "I can cycle in my platforms."
- The Daily Telegraph
Share this: