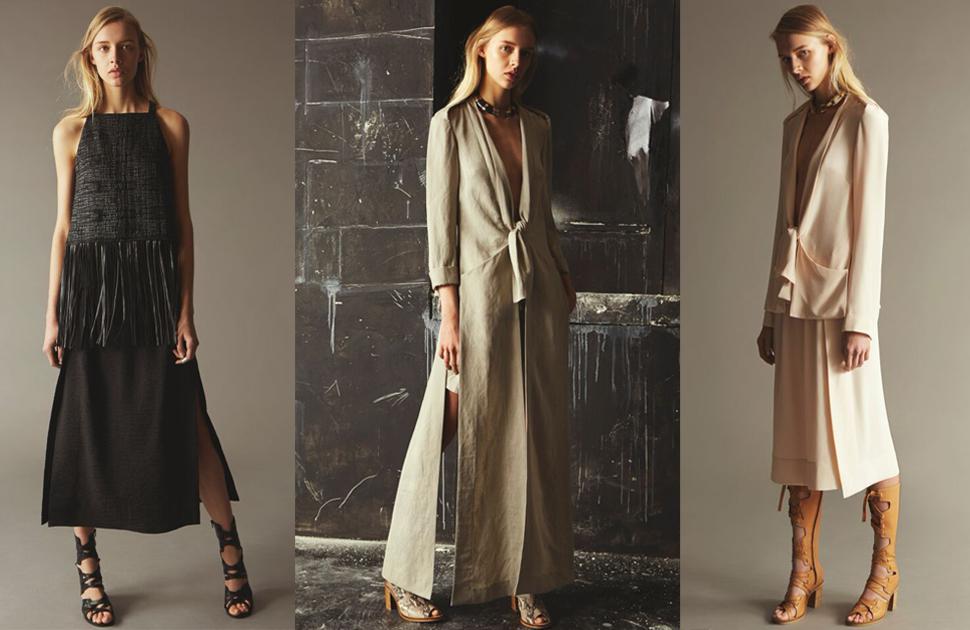 Ethical Living: Keeping Up With Kit
The founder of Willow is about to launch new, sustainable clothing brand KitX
Monday June 29, 2015
Have you heard? Kit Willow is back. After parting ways in 2013 with Willow, the label she founded  in 2003, the Australian designer is embarking on a new journey with her new, sustainable brand KitX. The first ready-to-wear collection, available from July, is void of the hippie aesthetic that usually defines such ethically minded efforts and, instead, focuses on creating sustainable garments with an emphasis on thoughtful design and quality fabrics. 
"I strongly believe in a better world through the simple mantra of making women look and feel beautiful without harming our precious planet. Everyone can win," explains Willow. Think organic cotton in smoky charcoals, muted mushroom tones and tender pinks, blended with lacing details and thick fringing. 
We talked to the designer about what we can expect from her first collection.
When did you first become interested in the topic?
I have always been interested in the topic, just not well educated on the impact decisions I was making were having on the planet and people.
What inspired you to create a sustainable clothing line?
I met this incredible man called Jochen Zeitz, who brought to my intention that over 70 per cent of the cost to the environment in fashion comes from the materials. That blew me away. I started researching cotton, viscose and leather, and the statistics of damage to water and communities are astounding. It's simply not feasible to continue to pollute in fashion, as the population grows and the rate of damage continues, we will find ourselves with scarce precious resources very quickly. Fashion is the second biggest polluter in the world and most of this comes from the agriculture in cotton, chemicals used in generating finished textiles and dyes and enormous landfill of unwanted clothing.
Are you transparent in the way your garments are manufactured?
We are  in the process of auditing our manufacturers to ensure they comply with [the] KitX code of conduct. This information is transparent if requested and I am very happy to share sustainable material suppliers with other designers.
How well do you know your supply line?
Most of the textile manufacturers are coming through a consultant who provides sustainably produced materials. The key is understanding the process of textile development from agriculture to fabric roll and then you can make the most well-informed decisions.
You previously founded another brand, Willow. This time around, what have been the challenges you have faced in creating an ethical and sustainable line?
Starting KitX has been completely smooth, I have to be honest. Heart and soul creates a special brand with a meaningful connection with the customer. Where that heart and soul lies is where the connection to the customer will flourish.
What are you hoping to achieve by creating an ethical and sustainable product?
It's as simple as creating true seductive style that has minimised harm to the planet through sourcing consciously.

Tell us about your new collection, what can shoppers expect?
The "No1" collection is about creating desirable high frequency-wear modern pieces, as comfortable as they are chic, as easy as they are special.
KitX will be available from Kit.com.au and Seletti boutiques throughout New Zealand from July.
Share this: