Ethical Living: The Lessons I Learned from Reality Trip
Anna Lee's appearance on the TV3 show changed her life forever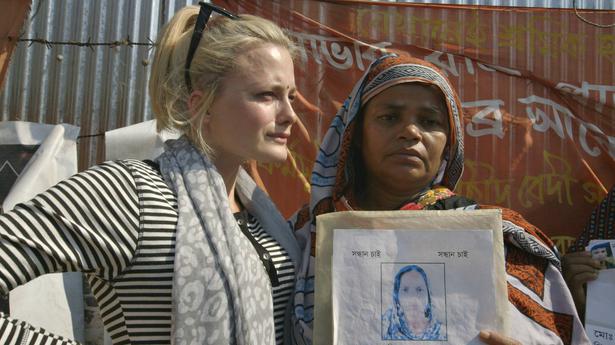 Monday July 27, 2015
You may have seen TV3's Reality Trip, dependent on your bedtime and feelings towards the hostile world of reality television. Every Monday night for the last seven weeks, I've been on-screen exploring parts of the developing world with four others, learning first-hand where the products we often mindlessly consume come from.
Through stints putting together computer parts or planting bananas in the Philippines, to picking kilos of tea for hours on end and precariously mining gems in Sri Lanka, I discovered the colossal global concern with our obsession of obtaining the new, and our excessive consumption of food, products and fast fashion.
Tonight's final episode is particularly special to me, looking at the garment industry and showing what it is really like for garment workers on the supply chain. The emotional and challenging few weeks that we spent filming Reality Trip changed my life forever. Here, a few things that I learned:
THE IMPORTANCE OF TRAVEL
When you remove yourself from the safe confines of our privileged Kiwi land, you're able to see what a tiny place you occupy in the world. I'm not talking about a leisurely week in Fiji, a tequila-fuelled jaunt through Mexico or a whirlwind trip through Europe. I'm talking about fully immersing yourself in another culture and embracing the traditions, smells, history, food and people.
If you are privileged enough to be able to do so, go somewhere unique and relatively untouched and discover. Explore the good, the bad, the smelly and the ugly. It may not be as relaxing as sipping cocktails poolside (or acquiring as many likes on Instagram), but you'll come home with a whole new outlook on life.
NEVER STOP LOOKING AT THE BIGGER PICTURE
It's extraordinarily easy to get trapped in a mind-numbing Monday to Friday, 9-5 cycle of wake up, work, eat, sleep and repeat, or become fixated on diminutive details in everyday life. It's important to remind yourself that a new pair of Nikes won't change your life, it doesn't actually matter what Kim Kardashian's new hair colour is and so-and-so's divorce isn't the be all and end all of life. Life's too short to let yourself get caught up in trivial concerns that don't matter in the scheme of things, when millions of others are stuck in a cycle of slave labour, or can barely afford to live in a slum.
EVERY ACTION HAS A CONSEQUENCE
While buying a top from a fast fashion chain store or buying the cheapest product at the supermarket may seem like nothing to you, for the people making, plucking, mining or producing your product it's a very different story.
Spare a thought for the people behind the label. If you can, or when you can afford to, buy something local and support local businesses, or buy from businesses who support sustainable fair trade and have ethical production lines.
READ: What's The Real Cost of Fast Fashion?
BE GRATEFUL FOR WHAT YOU HAVE
As a society, we are conditioned  always to want more. Through filming Reality Trip, I learned some of the happiest people are not those who have the most, but those who fill their lives with friends, family and value the little things in life.
• Reality Trip, tonight on TV3 at 10.45pm.
Share this: