A Tour of Europe's Best Fashion Exhibitions
Dior's 70th anniversary inspired a custom-made European holiday for NZ Fashion Museum founder Doris de Pont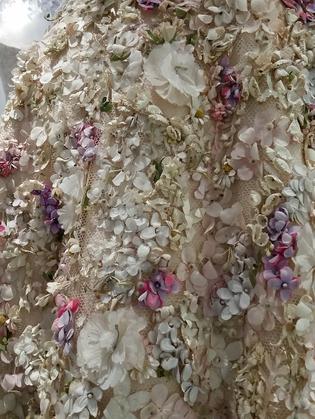 Christian Dior has left a long legacy in the New Zealand fashion story because of original Dior garments made and sold here by Gus Fisher and his company El Jay for 33 years.
Dresses, suits and coats turn up regularly in op shops and on Trade Me. And, yes, they are original Diors — line-for-line reproductions of the exact same designs generated in Paris and shown to buyers in the salon at 30 Avenue Montaigne.
The story of this connection and history were at the heart of the New Zealand Fashion Museum's first exhibition in 2010, Looking Terrific: The Story of El Jay.
2017 is the 70th anniversary of the establishment of the Christian Dior fashion house and it is being marked with a grand exhibition at the Musee des Arts Decoratif in Paris. It was also the inspiration for me to take a fashionista's holiday in Europe.
Luckily fashion exhibitions are very fashionable at the moment and, alongside Dior, there were other enticements in London and Amsterdam to extend the itinerary. My husband is Dutch, as is my heritage, so Holland is our base in Europe and the Amsterdam Museum offered the first exhibition on the schedule.
When I lived in Holland in the late 1970s and early 80s, Puck & Hans was the edgy label catering to those involved and engaged by the creative industries. The label, its stores and its history has many parallels with our own Zambesi.
GALLERY: Go Inside Cristian Dior's Castle
Life partners and business partners, Puck and Hans even have a daughter who is a fashion photographer and her contemporary images are included in the exhibition.
They were established in 1967 in the Hague and their star rose steadily as the business expanded to include shops in Rotterdam and Amsterdam. At these, they stocked Puck's designs as well as a curated selection of other fashion luminaries of the day, such as Kenzo and Jean-Paul Gaultier.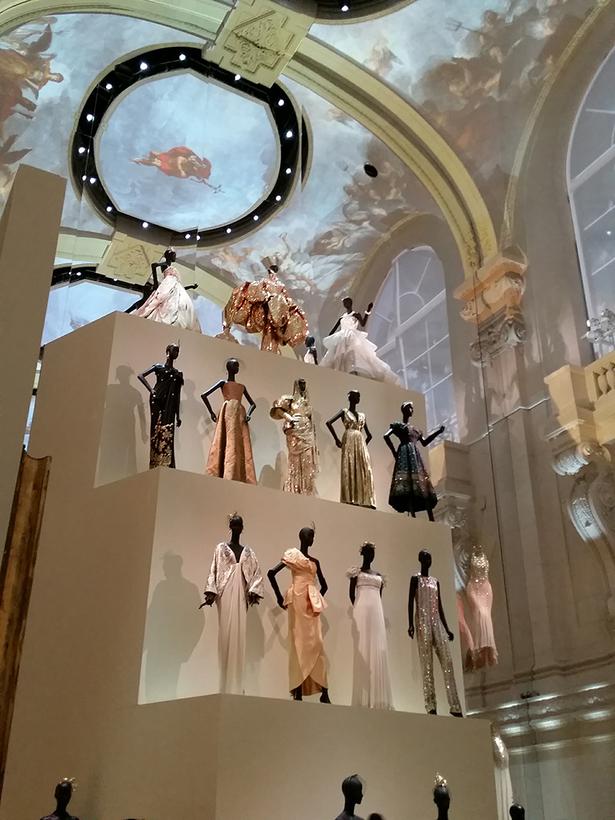 The store designs and windows were Hans' domain. Working with curator Maarten Spruyt, they have drawn on their own pictorial and clothing archives and the wardrobes of their former clients, for this survey exhibition, Puck & Hans: Couture Locale.
This aspect really resonated with me as this is the modus operandi of the NZ Fashion Museum. With clothes that have endured the test of time, a little worn or with cigarette holes (from the days when smoking was still fashionable), some of the fun and exuberance of the original experience is passed on to a new audience.
Themed groupings are inventively styled, including shoes, accessories and wigs, sometimes two at a time on one model to capture that big hair of the 1980s.
With a window dresser's eye and using shop mannequins including replicas of the original "ragdoll" style mannequins that they made and used in late 60s and early 70s, the exhibition captures the beguiling qualities of these clothes and the enduring pleasure that can be found in them.
READ: Reggae's Influence on Fashion
The final room depicts a last supper with Puck and Hans at the centre, the embroidered and appliqued table cloth a creative solution to the museum's requirement to protect the surface of the 17th century table, is a tribute to all those who worked with Puck and Hans over their 30 years in the business.
And just like a great meal shared with friends, you leave the exhibition sated with sensory pleasure.
My last fashion tour in Europe coincided with an exhibition and symposium at the MoMu, the Fashion Museum in Antwerp. Titled Game Changers: Reinventing the 20th Century Silhouette, it looked at Balenciaga and the impact of his designs.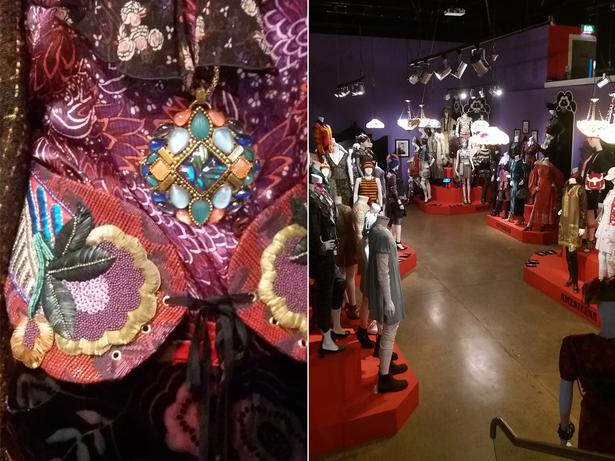 Having seen that, an ordinary tourist might say, "Oh I've seen Balenciaga" and not need any more, but not me. I love nothing better than to see more of the same and how it is not the same.
With a Balenciaga exhibition in Paris to come and a free day available in the schedule, I decided to go and see Balenciaga: Shaping Fashion at the Victoria and Albert Museum in London (and catch the Anna Sui show at the Fashion and Textile Museum too).
Curated from the V&A's own collection, Balenciaga: Shaping Fashion occupies the two floors in the somewhat cramped central core of the costume court and marks the centenary of his first fashion house in San Sebastian and 80 years since he opened in Paris.
READ: Celebrating New Zealand Music's Fashion History
He is often called the designer's designer, and this show presents the portrait of an artist, a sculptor of cloth, who through his mastery of tailoring created new forms structured around the body.
Entering the downstairs space the visitor is greeted by a green dress and cape that looks like a stack of puffballs. The exhibition is presented in an array of glass-fronted display cases. Some garments rotate alongside an x-ray image that reveals their internal construction and in one instance a pin inadvertently left behind by a seamstress.
A vitrine of black dresses illustrate some of his experimentation with new shapes and proportion and includes the balloon hem (1951), the sack dress (1957) and the baby doll (1958).
Balenciaga's mastery of materials is evident in his pieces in gazar, a crisp silk fabric developed specifically for him: the fabric of the puffballs at the entrance and the black wide-winged cocktail dress that features on the cover of the exhibition publication.
Surface texture and sophisticated embellishment are highlighted in pieces such as a simple but refined tweed suit with bracelet-length sleeves or the short ombre-effect pink evening coat, the colour graded effect achieved through the careful application of sequins.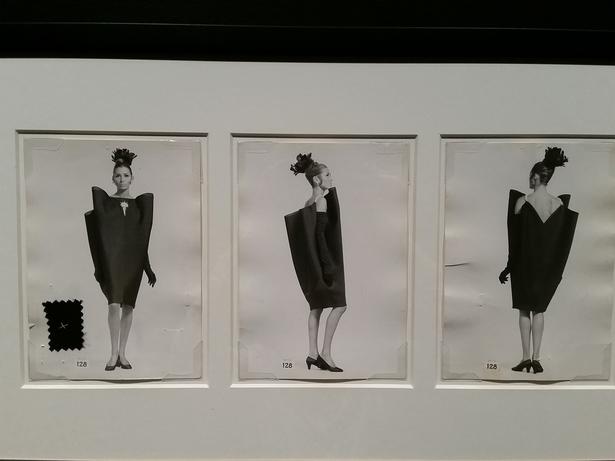 While this part of the exhibition presents a masterclass in design and construction, the airy upstairs space is given over to garments by designers who worked with or were inspired by him, including Givenchy, Nicolas Ghesquiere and Rei Kawakubo.
The inclusion of this Japanese designer, who first showed in Paris in 1981 spotlights a shared exploration of form, proportion and material.
READ: Comme des Garcons Renders Fashion's Future
In spite of the rich content on offer I felt short-changed because the glass forms a barrier, flattens the material and depriving the visitor of being able to "feel" the clothes with their eyes. I wanted to let these creations breathe.
Across town at the Fashion and Textile Museum, Anna Sui could also do with some breathing space. The main gallery has plenty of height and no glass but the visitor is overwhelmed by the sheer volume of garments, some 130 in a room of less than 100sq m.
These are not just any garments but the richly textured, highly patterned, multi-layer and hand-crafted effusive expression of the Anna Sui aesthetic. The first exhibition of a living American designer at the museum, it boasts a catalogue by New Zealand-born international fashion commentator, Tim Blanks.
Established in 1981, the Anna Sui star rose to prominence when she became a favourite with supermodels Naomi Campbell and Linda Evangelista, who modelled in her first runway show in 1991.
Curated into themed groups such as Americana, Grunge, Fairy Tale, Rock Star and Hippie rather than chronologically, the ensembles are arranged in tiers of up to four levels.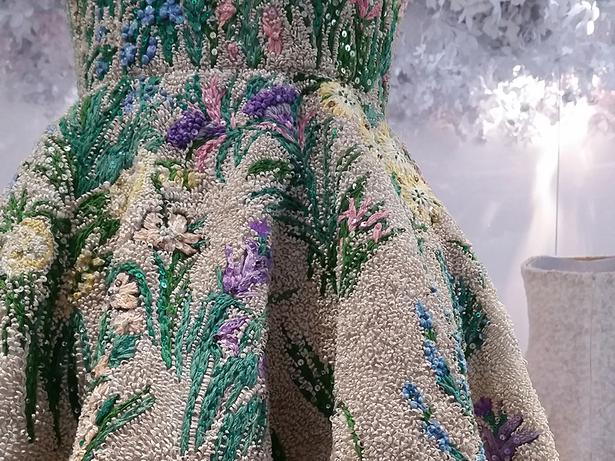 This stacking has become something of a feature in fashion exhibitions recently but it does mean that the top row delivers little more than an idea of the idea.
My mobile phone camera proved a good way to enjoy this exhibition, visually cutting out the noise of the dense display to focus on the rich detail, fine handwork and surprising juxtapositions that are so much a hallmark of her label.
Display cases of her boots, bags, perfume and makeup line, her mood boards and the incorporation of her own mannequins with their 1920s faces completed a portrait of this quintessentially New York, independently owned label.
And, so to Paris and another version of Balenciaga and of course Dior.
Balenciaga: L'oeuvre au Noir, is a fine synergy. Curated by Olivier Saillard and Veronique Belloir of the Palais Galliera, it is presented at the Musee Bourdelle, the house and studio of the sculptor and former teacher of Giacometti, Antoine Bourdelle.
Two black half garments on calico tailor's forms sit atop spindly legs in the main hall as a counterpoint to the weighty sculptures.
GALLERY: Inside the Princess Diana Exhibition
In a day-lit space, the garments are inside tall wardrobe-like black boxes raised on more spindly legs and with a heavy blackout curtain in front, inviting the visitor to lift the curtain and peer inside at one of Balenciaga's sculptural pieces.
In glass cases the museum's busts share space with his dramatic hats. Entry to the exhibition proper is through a gallery of original sketches and photographs taken for copyright protection and downstairs into the basement. Here all is black, well almost.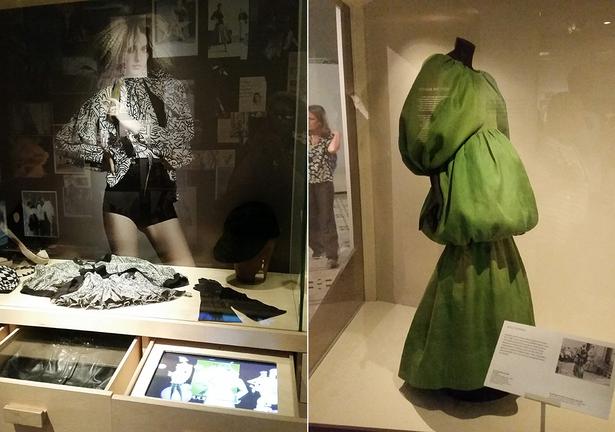 Displayed on tailor's forms and without a glass barrier, some 50 garments are grouped to highlight themes such as brilliant black where sequins, silk embroidery, brocade and gloss finishes add lustre.
Another group shows the rich palette that black can provide by juxtaposing matt and satin materials. The works with laces and dense embroideries of glass beads and sequins reveal the designer's Spanish heritage and inspirations, as does a strapless evening dress and bolero, heavily embroidered with a flash of red in the sleeve and at the hem.
Black makes colour take a back seat to structure, form and volume, the sculptural quality that makes this exhibition and venue such a perfect match.
Christian Dior; Designer of Dreams was certain to be a blockbuster so before I left New Zealand I had contacted Olivier Gabet, the MAD director, Musee des Art Decoratifs (some abbreviations for museums work better than others).
Lucky I did because when we arrived at opening time there was already a queue the length of the building and snaking around the corner. We bypassed this and were welcomed by one of the exhibition hosts, a fashion student from Lyon, who escorted us to the exhibition entrance and left us to immerse ourselves in this world of dreams that is a sprawling homage to the man and his enduring legacy.
The exhibition is spread over 3000sq m with more than 300 haute couture gowns, 100 works of art, thousands of white flowers that hang like wisteria from the ceiling to deliver a magical experience that engaged me for hours, left me speechless and now has me gushing to anyone who will listen.
The exhibition is comprehensive — from Christian Dior's early history as an art school graduate who opened a small art gallery representing contemporary artists, including Picasso; designing and sketching for fashion designers like Robert Piguet and Lucien Lelong; through the designers to the newest Dior designer, Maria Grazia Chiuri.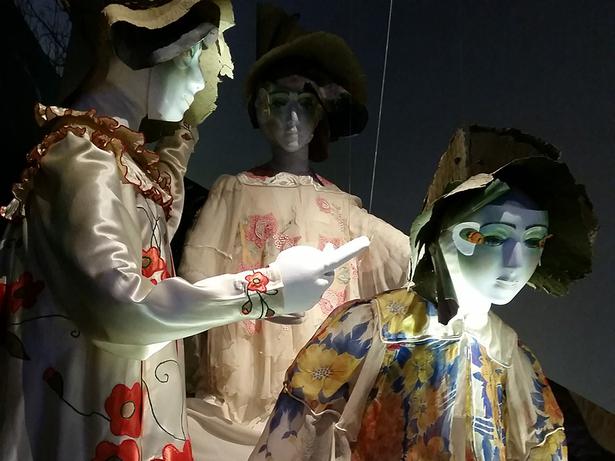 It culminates in a lavish ball in the Grand Hall of the museum, attended by seven decades of Dior gowns while all around in a fairy tale scenography and soundscape designed by Nathalie Criniere, digital mapping recreates Dior's sketches, the baroque paintings from the Palace at Versailles and a shower of sparkling gold that dusts the room.
The total experience was a curatorial career highlight for me and here a few personal treasures including the Bar suit — on its own in a glass case that allows you to see the stitching on the hand-made buttons and the slight wear damage on the hem of the jacket. It's an incredibly intimate encounter with an object that is such a celebrity.
READ: What to Know about Maria Grazia Chiuri, Dior's Artistic Director
Also, a pink faille evening dress titled Opera Bouffe with the back of the skirt an enormous rosette and a white cotton pique ball gown with ivy decorations and a velvet belt, both timeless but in fact from 1956 and 1950 respectively; the floral Miss Dior dresses created for the perfume advertising, the first in 1949 covered in tiny fabric flowers and the most recent in raffia and Swarovski crystals made just this year; the fresh simplicity of the trapeze-line Canada coat designed by Yves St Laurent in 1958; and the youthful wearability of Raf Simon's pairing of a Swarovski-encrusted shift over an embroidered bodysuit.
To mark this anniversary the House of Dior has shared its collection between Paris and an exhibition, The House of Dior: Seventy Years of Haute Couture, opening in Melbourne at the National Gallery of Victoria on August 27. I will be there.
• Delve into New Zealand's own fashion history and archives at Nzfashionmuseum.org.nz
Share this: