Eva Chen on How Fashion Became Friendly
Catwalk shows were once for elite insiders. Now, thanks to Instagram, everyone's invited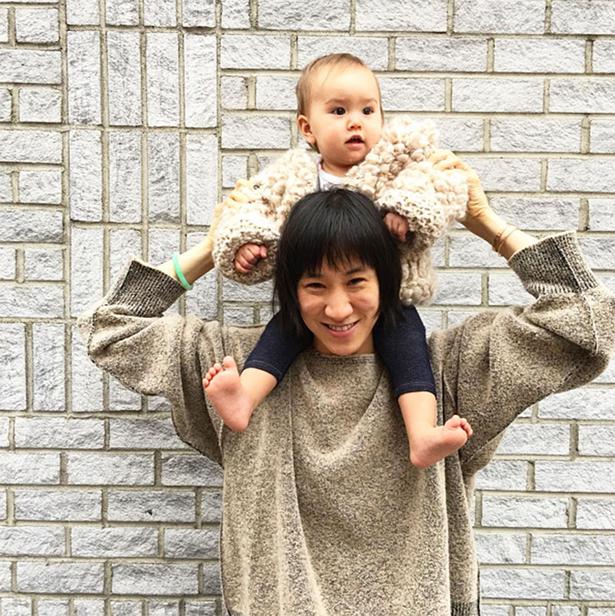 Wednesday March 9, 2016
Eva Chen is not what you'd expect from someone who Instagrams a lot of photographs of their expensively shod feet. Then again, what did you expect?
Social media, of which Instagram is currently the fastest-growing platform, has been accused of encouraging many evils, the most dismaying of which appears to be self-obsession. "There are a lot of people on Instagram desperately trying to keep up with the Joneses," concedes Chen, somewhat quaintly.
These days those people are probably more interested in keeping up with the Kardashians, or perhaps with Chen herself, whose fringe-y bob and penchant for wearing striking, furry (or "Big Bird" as she calls them) coats, have garnered her 548,000 followers and counting. "But the best thing, if you want to carve a niche for yourself, is not to do that."
The 36-year-old Chen knows all about carving a niche — and what that means in 2016. Fifteen years ago she was studying pre-med at Johns Hopkins in New York, during which she slipped in a six-month stint at Oxford and met her future (British), husband. A brief pause when she interned at US Harper's Bazaar led to a radical swerve in which she became a beauty editor, albeit one who hardly wears any make-up.
By the time she was 34, she was editor-in-chief of Lucky, a peppy Conde Nast magazine crossed with a shopping digest that, given what was going on in a parallel digital universe, was probably about two decades too late. It closed last year, and other magazines must surely follow. Who needs a subscription when you can find all the interiors/beauty tips/fashion inspiration you need online and on Instagram?
Fortunately for Chen, she's a digital natural who, by her own admission, "had experimented with just about every social media that came along". Within weeks of Lucky's demise, it was announced that she would be joining Instagram as head of fashion partnerships. Clever Instagram. Even cleverer Chen. One could call her the Anna Wintour of social media.
Her delight in her unexpected career path motivates her new mission. "I never expected to be in the room," she says, referring to her wonderment, still, at being at the McQueen show in London, or backstage at Gucci in Milan.
"I was going to be a doctor and for me it's the inclusiveness of Instagram that is so appealing — that sense that the velvet ropes are coming down. You could be an 18-year-old girl in Tokyo wondering how you could ever break into fashion or beauty, so you follow your favourite designer or editor, see what their day comprises, where they go, who they meet, how they do it... If I were setting up my own label today, I would definitely do it through Instagram."
She would say that, of course. But nascent labels such as the bag designers Mansur Gavriel or the make-up artist turned beauty brand mogul Charlotte Tilbury have gained phenomenal traction (and revenue) via their Instagram presence.
Chen's Instagram role is not necessarily to recruit yet more users — although she did recently sign up Donatella Versace to the platform. "Most of the fashion community are already using it," she says. "My job is more about helping people tell their stories in ever more interesting ways."
She could be likened to the creative controller of a TV station. To what end though? Social media experts expect that Instagram will eventually develop technology that allows browsers to click and buy items they see on the site.
Chen, maintains, however that "it's more about creating narratives than directly selling product. Instagram was initially launched as a community for artists and photographers. If you look at the brands on there who have the most meaningful engagement, it's not the ones saying, 'here's our new bag, and it's on sale now.'
It's smaller ones who take you on a journey with them — like Paula Cademartori [a Brazilian handbag and shoe designer] who takes pictures of flowers or beautiful wallpaper that she spots on her way to a bunch of business appointments in New York".
The site is evolving tremendously fast. When it launched, just five years ago, early users would post blurry shots with minimal or no captions. "At fashion shows everyone put up an identical shot of the same outfit, often with someone's head in the way."
Instagram acquired its own voice soon after people began to flee the bear-pit of Twitter. Although celebrity feeds attract their share of vitriolic comments, the tone is generally warm and fuzzy. Instagram employs a 24/7 community team (everything is about "community" on Instagram) to ensure offensive posts are deleted. Chen asserts: "It's normally other users who ask someone to take something down."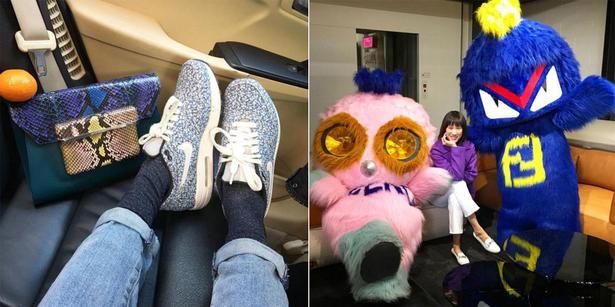 Captions can be witty and on point, semi-literate but well meaning, or long and learned. Pictures are aspirational, glamorous and increasingly sophisticated. True there are thousands of cringingly embarrassing feeds from narcissists who possibly need to see a shrink.
But Instagram has also become an invaluable source of new and old art work, interior designers and architects, recipes, crafts and special interests (slow-motion dog grooming videos anyone?) ... as well as encouraging a much broader definition of beauty than mainstream women's magazines ever have. There are plump women, seventysomething women and women of all ethnicities embraced for their style.
What's fascinating about Chen, with her analytical brain and her passion for documenting her daily outfits and cosmetic usage (she may not wear eye-shadow but she's a huge consumer of lip balm) is that she embodies a very modern sensibility when it comes to self-promotion and invading her own personal life. She has no qualms about posting pictures of her baby daughter, Ren, "although I try to only put up one of every 10 I take of her. She's such a huge part of my life, it would be strange if I didn't include her".
What elevates the pictures Chen posts of herself is the humour, warmth and self-deprecation of her captions. Often they have been taken by one of the legions of street style photographers who follow her every eye-catching outfit. A recent favourite showed her standing outside a fish and chip in London.
"I love that juxtaposition of glamour and reality," she says. She packed 12 coats and six suitcases for her trip with Ren to Europe for the shows this season, only two of which were Ren's. Yet despite all the coats, she still underestimated the cold and ended up borrowing an animal print one from Erdem — a typical Chen detail that both heightens her glamour while making it seem endearing.
Perhaps a permeable approach to privacy is the price of success on Instagram. Perhaps too, that sense of leaping over the velvet ropes is partially illusory. For all that Chen advocates authenticity and originality, there's a tremendous amount of art direction and stage management on Instagram. It is the varnished truth as opposed to the unvarnished.
Her most famous trope — the #EvaChenpose, in which she posts a picture of her shoes and bags (plus a piece of fruit) in the back of a cab — is meticulously art directed by Chen, and requires the concentration and skills of a latter-day Irving Penn, as I discovered when I tried to do it myself.
I show the paltry results to Chen, who is graciously encouraging. "Not bad. But you need the light coming from behind your head." Chen photographs her pose on the same street every morning on the way from her home near Manhattan's Union Square to the Instagram HQ. "And you probably need to lift your feet off the seat and show more leg."
I had thought of that but wasn't convinced they were sufficiently depilated. "I make a joke in the caption about my legs when they're not at their best," she responds. "It's quite hard work getting it right initially. I'll tell you one thing, holding that leg up while you get the right shot turns out to be really good for your core." Like all the most honest and spontaneous moments on social media, #EvaChenpose isn't as easy as it looks.

EVA CHEN'S TIPS FOR TOP SHOTS
• Find your point of view. If you're photographing something that's been photographed a million times, explain why it's special to you.
• Experiment. If the lighting's bad, try video. It often picks up more detail. If an object looks better with movement, try to capture it with slo-mo or Boomerang (an app that's ridiculously easy to use).
• Don't post endless pictures of the same place. Look for the one item that sums up a story or a room.
• Try to see what's around you with fresh eyes. I get Hollywood stylists telling me they can't possibly post pictures of their offices because they're too messy, but that's exactly what other people want to see.
• Invest in a phone case with lights. Your photographs will look as glamorous as Mario Testino's.
Share this: