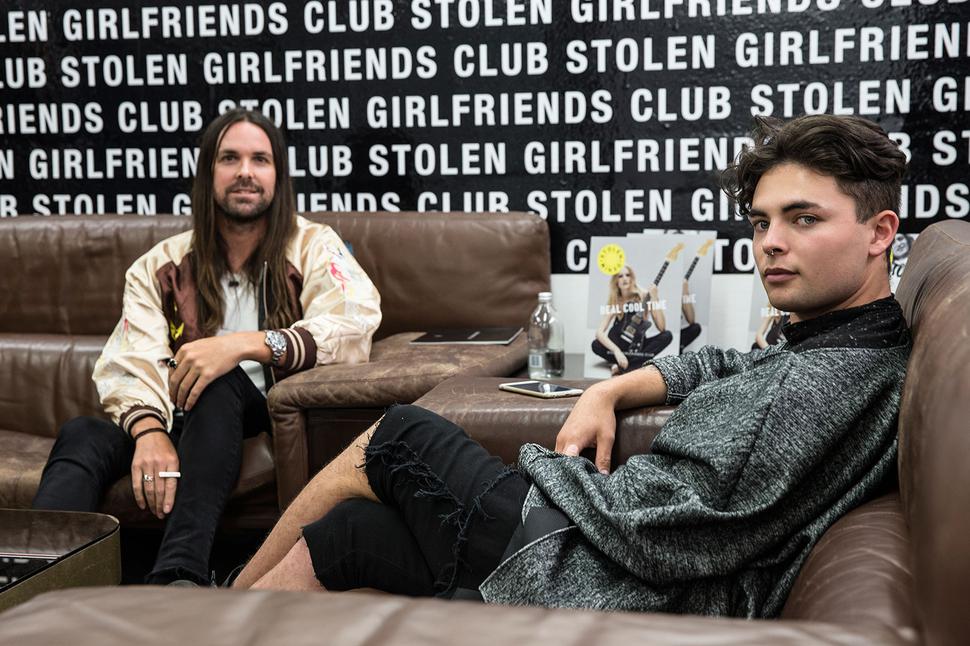 My Hero: Ezekiel Crawford meets Marc Moore
Ezekiel Crawford, 19, Slaeve fashion designer, meets Stolen Girlfriends Club creative director Marc Moore
Wednesday Oct. 28, 2015
It was A$AP Rocky's song Fashion Killa that sparked Ezekiel Crawford's initial interest in becoming a fashion designer. In the song, the rapper rattles off a long list of famous fashion labels. "I thought it would be cool to be a brand listed in a film or something like that," says the 19-year-old.
For the past year-and-a-half, the young designer, who is also studying architecture, has been fine tuning and developing his design aesthetic.
He launched his label, Slaeve, at NZ Fashion Week, showing as part of the New Generation show, and describes his label — which is made in New Zealand — as a high-end streetwear label that can be worn by both genders. "It is a label influenced by minimalism, music and art, and at the same time draws from the Tumblr demographic called pale art and photography."
The fledgling designer wanted to sit down with Stolen Girlfriends Club creative director Marc Moore, because he sees their brand as an iconic New Zealand label and one he has been interested in for some time.
They meet at Stolen Girlfriends Club's head office in Grey Lynn, with Marc walking Ezekiel through his office space where they have just finished designing the spring/summer 17 collection.
They sit down for a frank chat about local fashion, and Marc offers honest but helpful advice on an industry he has been experimenting with for the past 10 years. He explains to Ezekiel that it's essential to identify the market you are targeting. "Make sure it is here, otherwise what do you need to do, because you need to reach a certain market and have at least someone buying your stuff."
Ezekiel questions Marc on everything ­— from how to get sponsors to getting an international following with hopes to branch into the Asian market, where he sees a more like-minded approach to his style of design. "Your Stolen girl exists here in New Zealand, but I think my Slaeve man doesn't quite exist here.
I don't have the means to start overseas — all I can do is start targeting my demographic, which is probably certain parts of Asia. I need to get over to places that are more likeminded to my sense of fashion. The closest thing I see to my demographic is the Y3 kind of wearers, which is cool but I want to separate myself from that as well."
Marc, who designs for men and women, says menswear can be a difficult market in New Zealand. But he says not to be discouraged, when you know the direction you are heading in, people will support you. "If you have a passion for something people come out of the woodwork and will help, they're like 'he's going this way, let's help him go this way'," says Marc.
As the chat wraps up, Ezekiel says it has been good to find out more about the industry. Marc says: "You've got to follow your gut, though, that's probably one of the biggest lessons — there are all these people in your ear but, at the end of the day, it's you who makes all the decisions and decides where you are going. You can listen to the parts that resonate with you, but just trust your gut."

Share this: