Face to face with David Gandy
He rose to fame wearing white Speedos in Dolce & Gabbana's Light Blue ad campaign and now is the most successful male model of his generation. Andrew Glenn meets the impossibly handsome David Gandy wh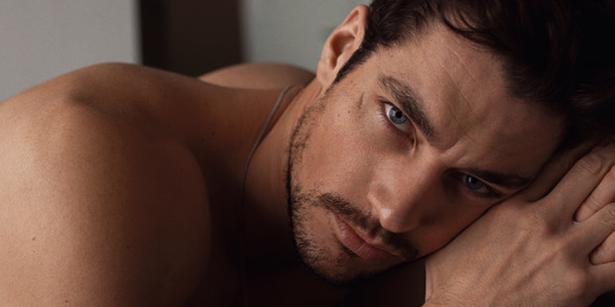 Wednesday Oct. 16, 2013
It's a stunning August day in London. Not a cloud in the sky, a perfect 25C. A serendipitous day to meet David Gandy, possibly the world's only true male supermodel whose chiselled looks have graced many an ad campaign, perhaps most famously for Dolce & Gabbana.
David and I have agreed to meet at the Covent Garden Hotel, long a haunt where local and international celebrities stay under the radar.
As he enters the stylishly low-key restaurant, the heads of four middle-aged women at a nearby table all turn in unison. Gandy has palpable star quality.
He is so impossibly handsome in the flesh it's like the human equivalent of a thoroughbred stallion, and a very well-dressed one at that. Wearing a flax-coloured Massimo Dutti raw linen blazer, a white American Apparel T-shirt, navy M&S skinny chinos and leather Chelsea boots, Gandy cuts a swathe through the hotel, more like a movie star than model.
Sitting down with him is overwhelming in terms of his physicality. As I stare at David's face I realise there's something akin to a Japanese Manga superhero; big, piercing blue, hexagonal-shaped eyes, close to the brow; long, prominent nose leading to a chiselled, square jawline that angles up to small, perfectly pulled-back ears.
At 191cm, he's taller than most models and up close - with his dark, almost black hair and bronzed olive complexion - he's like a live version of Michelangelo's Statue of David.
At a time of year in London where every other famous denizen has left for St Tropez, Ibiza or Mykonos, Gandy has stayed put. "I never really go away in August. Everyone gets out of London. It's lovely and quiet," he notes. "The weather's been spectacular this year and everyone else is in Ibiza. I've never really understood it.
Working with everyone in the fashion industry for 365 days and then they all go to Ibiza together, it's a bit of a nightmare, to be honest. That's like work to me. I don't want to see or know anyone!"
Some of you may not know Gandy, but if a picture is worth a thousand words, then I only ask you to recall the image of Gandy in nothing but a skimpy pair of white Speedos canoodling a willing siren on a small dinghy off Capri circa 2006.
Filmed and photographed by Mario Testino, the Light Blue fragrance campaign catapulted Gandy into a fashion pantheon which, until then, had been crowned only by the likes of Kate, Naomi and Cindy. With a 50-foot billboard of Gandy in New York's Times Square, the campaign earned more than 11 million online hits and, suffice to say, there were plenty of women, and certainly some men, who wished they were on board that dingy off Capri.
It was the powerful Milanese design duo, Domenico Dolce and Stefano Gabbana, who gave Gandy's career a seismic shift. "My agency, Select, orchestrated for me to be at this party I shouldn't have been at," he jokes, deigning him to meet the couple, who were immediately drawn to his statuesque, Italianate look. The rest, as they say, is history.
"I was much bigger than most models. I was tan while everyone was pale and skinny," says Gandy. It was a time when Hedi Slimane at Dior Homme ruled the runways with pale and super-thin physiques, making the "male waif" the industry standard. But Gandy's image in his skivvies sent a lightning bolt into the business of men's fashion.
At the time Testino said, "David has something of what the 80s supermodels had. He radiates health and positivity. I think he has what it takes to be very big. It's exciting because it signifies a real shift in men's fashion. The male model world is changing."
Gandy recalls, "That look [mail waif] never appealed to me. I'm a pretty normal guy, and if it didn't appeal to me who was it going to appeal to? I would go to some castings and couldn't get the trousers beyond my knee. There was something wrong about that.
There was me with what I thought was a healthy body but I couldn't fit the clothes the fashion industry wanted me to fit."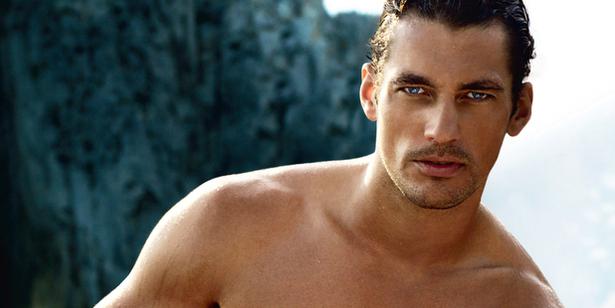 Two years ago, Dolce & Gabbana published a 280-page photographic tome solely dedicated to Gandy and all his handsome glory, and earlier this year they commissioned Testino to shoot a third instalment of the Light Blue campaign. If there was any question as to his role as the world's first male supermodel, Gandy featured in the closing ceremony of the 2012 Olympics alongside Kate Moss, Naomi Campbell, Jourdan Dunn, Lily Donaldson, Georgia May Jagger, Karen Elson and Stella Tennant.
Gandy explains to me that earlier in the summer he spent three days being pelted by rain and stones in a car race known as the Mille Miglia. His co-pilot? Yasmin Le Bon, a "super" in her own right and the wife of Duran Duran frontman Simon.
With Gandy at the wheel the couple took a 1950 Jaguar XK120 through nearly 200 Italian towns from Brescia to Rome and back. "I couldn't find anyone to go do it with me, probably on account of my driving," he says with a chuckle. "At a party, over a couple glasses of champagne, I convinced [Le Bon] to come with me."
Over the next hour that I'm with Gandy, it's soon clear that he has a passion for cars and knows a lot about them. In addition to writing a monthly column for British GQ magazine, he is restoring a 1960 Mercedes-Benz 190SL in anthracite grey with a burgundy leather interior.
"My parents had no interest in cars whatsoever, they were something to get from point A to B," he says, explaining that it was a childhood obsession with car magazines that fuelled his adult fixation. "I'm a complete nut when it comes to cars, it's a real hobby."
Being "tall, dark and handsome" one might assume Gandy is in fact Italian- or Mediterranean-born, but he was born in Billericay, Essex, and had no intention of getting into modelling until his university flatmates entered him into a competition in 2001 without his knowledge. He won a contract with Select Model Management in London, which still represents him today.
Although modelling was never his life goal, today he is the most successful male model of his generation. But he's no fool, and well aware of modelling's shelf life.
"You'd have to be pretty narrow minded to think that modelling lasts forever. You've got to be clever and brand yourself. Look at Kate Moss and Cindy Crawford. I look at Ashton Kutcher, he's been a very astute investor in Spotify and Twitter," he says.
Having worked with the likes of photographers Testino and Steven Klein, and featured in campaigns for hundred of brands, Gandy is going outside the camera lens to keep busy. Not only does he write for GQ but also Vogue.com and Telegraph Men; he also has an ambassadorial role for the British Fashion Council. He is currently working on a collaboration with Marks & Spencer.
Could Gandy be a tycoon next? He has a major stake in Wheyhey Ice Cream, a UK brand made from protein and free of sugar and e-numbers. "When you hear 'protein' people shy away thinking it's something for body builders or Arnold Schwarzenegger," he says. "The amount of crap we have in our diet with processed food is crazy. I don't expect people to go cold turkey. It's about eating healthily and Wheyhey is something that is good for you and tastes great."
When he's not busy, Gandy likes to ski or travel to remote places far from the fashion pack. "I was trekking with gorillas in Uganda and I could feel my cellphone vibrating in my backpack," he laughs, explaining how he now prefers Botswana, where there's no mobile roaming. "You realise the world does go on without your phone."
He has plans to visit New Zealand with his parents in 2014. That's not to say he hasn't enjoyed Kiwi hospitality before, explaining that Air New Zealand is one of his favourite airlines and one he frequents on the London to Los Angeles sector.
"It's a great airline. The service is impeccable. I once had a wine tasting in the LA lounge and got on the plane very, very happy."

NEED TO KNOW
Fashion advice? 
"Looking at what is best for you. I think too many people just want to follow and not be individual."
Essential items for the modern man? 
"A great suit, a great pair of shoes. Mix a cheap T-shirt, with something expensive. Accessorise it. A good watch is crucial."
Style icons? 
"Paul Newman, Steve McQueen, Cary Grant."
Stores? 
"Club Monaco. Lucky do great jeans. Reiss do great affordable clothes. M&S are doing spectacular things like three-quarter-length cashmere coats. You don't think of M&S for that."
Saville Row tailor? 
"Henry Poole."
Shoes? 
"Lanvin, when I can afford them!"
Moisturiser? 
"Tom Ford."
Car? 
"1956 Jaguar XKSS but it's about $14 million!"
Magazine? 
"GQ."
Bar? 
"Donovan Bar at Brown's Hotel where Winston Churchill drank gin and tonics."
Restaurant? 
"Eight Over Eight, it's close to my house."
Hotel? 
"Dunton Hot Springs, Colorado. "
Share this: