Fake Fur's More Fun
Fake fur and sheepskin are becoming increasingly fashionable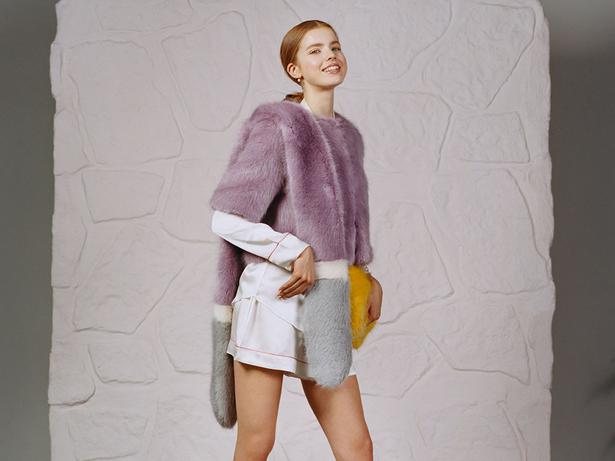 Thursday April 23, 2015
The International Fur Federation says the global fur trade has been valued at more than £27 billion ($52 billion). It is true; certain elements of the fashion industry seem to be enjoying a love affair with fur right now. Catwalks in Paris, Milan, New York and London were full of the stuff.
Some of it was fake. Sadly, some of it was real. And a surprising amount of it was sheepskin, which in Italy has been reinvented as super-soft, fluffy and light. At Fendi, a house that began life in 1925 as a furrier and has tremendous expertise in the area, many of the furs in the winter catwalk show were sheepskin (or shearling, as it's called in the US). It looked so luxurious that most of the journalists were fooled.
There is, however, still plenty of mink, fox and sable around — much of it adorning handbags and shoes, which tends to undermine arguments that its primary function is warmth. But just because there was a lot of fur on the catwalks does not mean it is enjoying renewed popularity.
Fur is a plaything of the super-rich, present because a handful of high-net worth individuals have no spending limits. A coat that will retail for upwards of £20,000 is not remotely popular. It is there for a tiny trickle of Russian and Chinese buyers. It is nothing to do with fashion.
Admittedly, fur has customarily been seen on the catwalks of Milan. But in Paris, New York and London, fur has never been so promoted as it has over the past few seasons.
And I use the word "promoted" in its truest sense. In London, where young designers with fledgling businesses struggle to produce collections in luxurious fabrics, show invitations increasingly come printed with words of thanks for Saga Furs sponsorship.
Furs are given free to designers, and they are seduced into the belief it is a passport to the luxury market. Frankly, many designers are so strapped for cash they would accept a roll of complimentary sackcloth.
The fur industry is flooding the catwalks with animal pelts to such a degree that it has become commonplace. The industry has managed to make the wearing of fur a self-fulfilling prophecy.
But if fur really was so popular with consumers, why are there fur-free policies in place at many British retailers, including Liberty, Selfridges and Topshop? According to Peta (People for Ethical Treatment of Animals): "Opinion polls consistently show that women would never wear real fur."
For every dumb celebrity who wears (borrowed) fur — show me one who has actually bought their fur coat — there is another who wouldn't wear fur if it was the last material on Earth. Carla Bruni-Sarkozy, Kate Winslet, Charlize Theron and Eva Mendes do not wear fur. Many designers do not feel comfortable using it.
Hannah Weiland's fake fur company, Shrimps, has been the runaway success of London Fashion Week since it launched two years ago. Her brightly coloured fluffy coats and scarves have made fake fur a real fashion statement. "I personally don't wear real fur," Weiland said, "so it seemed like the perfect alternative. With modern technology, there have been so many advances which mean that faux is just as soft and luxurious."
The online retailer Avenue 32 reports sales of faux fur have tripled in the past year, and that Shrimps' new season Papa Puss coat already has a waiting list, after fans of the brand Alexa Chung and Pixie Geldof were seen wearing them.
And of course, there is Stella McCartney, who recently launched her "Fur-Free Fur" campaign, which will see her fake furs clearly labelled on the outside as "fur-free". McCartney said: "I've never worked with leather or fur. It is one of the most negative impacts of the fashion industry on the earth and environmentally."
READ: Stella McArtney's Top Tips for the Environment
According to the designer, it takes 20 times more energy to produce a real fur coat than one made from artificial fibre.
In January 2011, CE Delft — an independent research and consultancy organisation — conducted a study of mink farms and found the climate change impact of 1kg of mink fur is five times higher than that of the highest-scoring textile.
The study also found that for 17 of 18 different environmental issues, such as climate change, ozone pollution, soil acidification and water and land use, the impact of fur production was much more harmful than the effects of the production of common textiles.
Raising animals for their fur also pollutes the air. In Denmark, where more than two million minks are killed for their fur annually, more than 3600kg of ammonia is released into the atmosphere each year.
So enjoy real fur, just so long as you are happy in the knowledge that the animals used to make your coat have — in the best case scenario — been farmed in a small cage and gassed or electrocuted for your enjoyment. If that thought makes you feel a little queasy, go fur-free. Fake is so much more fun.

— The Daily Telegraph
Share this:
More Fashion / Trends & Shopping