Fancy Cats and Fancy Fashion
Model Derya Parlak meets some cats at the NZ Cat Fancy National Show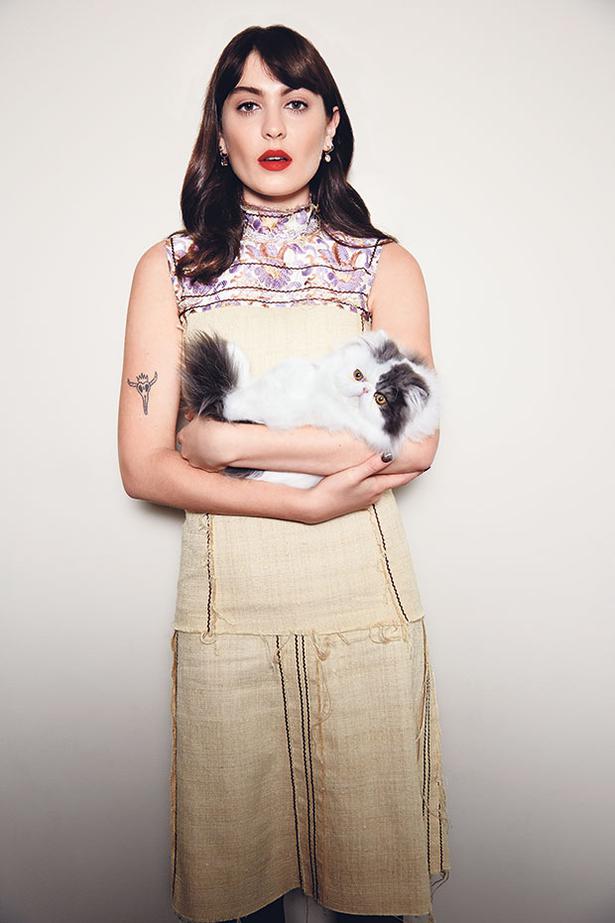 Wednesday June 17, 2015
WINDEACRES SAY NO MORE
At only 4 months old when this picture was taken, Windeacres Say No More has a big future ahead of him. Nabbing third place in the Longhair kitten round at this year's NZ Cat Fancy National Show highlights his bright future. Watch this space. Derya wears a Prada silk top, $2760, and skirt, $1300, with Swarovski earrings $89.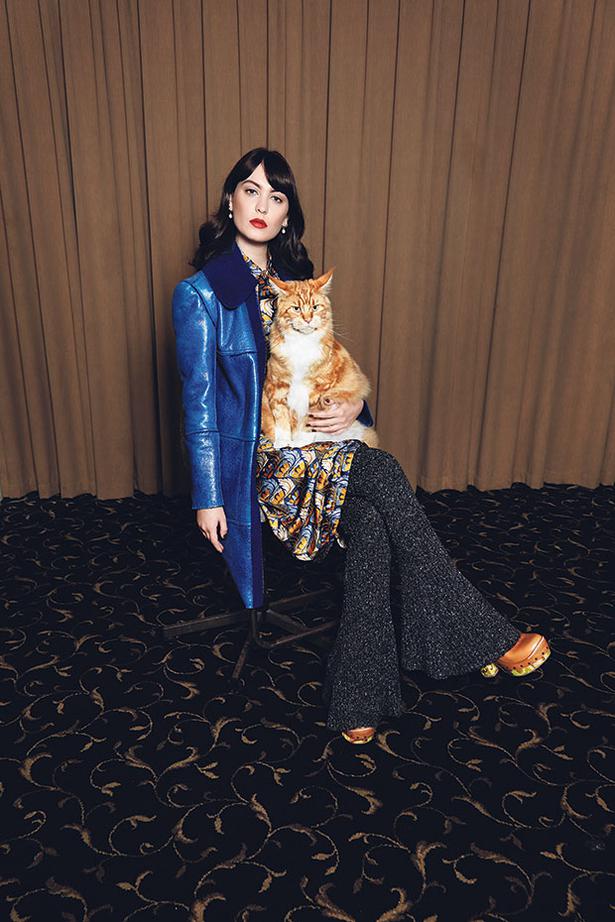 ROMAN
With a determined face and full body, Roman, the majestic 2-year-old Maine Coon, knows how to make an entrance in any room. Weighing 12.3kg and not yet fully grown, Roman's plush flame and white fur is a sight for sore eyes. Derya wears a Karen Walker patent shearling coat $4035. Gregory dress $449. Stolen Girlfriends Club pants $349. 9ct gold pearl earrings $149, from Pascoes. Prada heels $1650.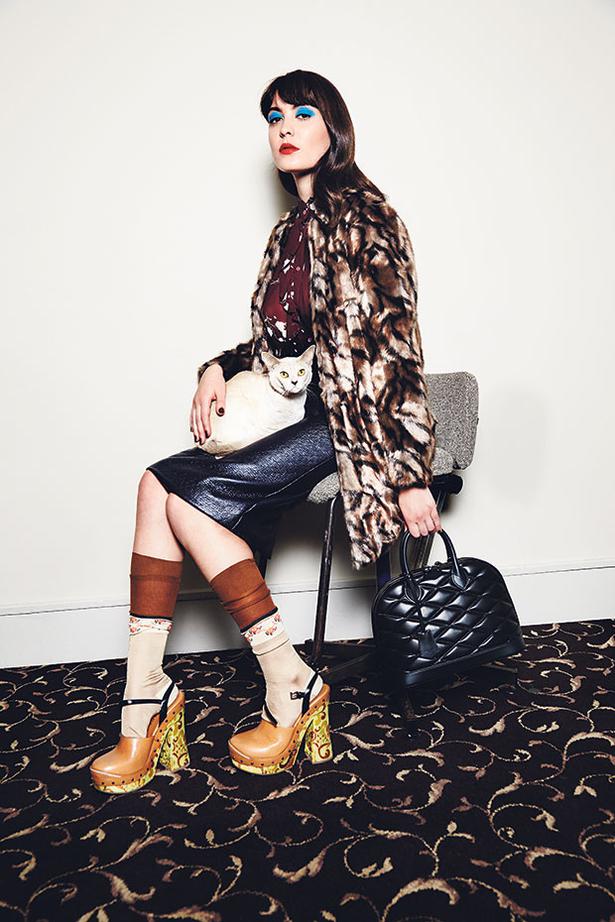 CAIRISTONA TIGERLILY
"Granny chic" and estate-inspired separates aren't complete without a loyal feline companion. Cairistona Tigerlily, a 2-year-old lilac tortie burmese cat lives up to the Burmese alumni of being famously people-oriented, smart and popular. It's no wonder she was voted best burmese in three rings and best in show in two rings. Derya wears a French Connection fake fur coat, $289.90, over a Liam shirt $199. Gregory skirt $289. Prada socks, $160, and heels $1650. Louis Vuitton 'Alma PM Malletage' bag $6650.
GALLERY: Behind the Scenes at our Fancy Cats Shoot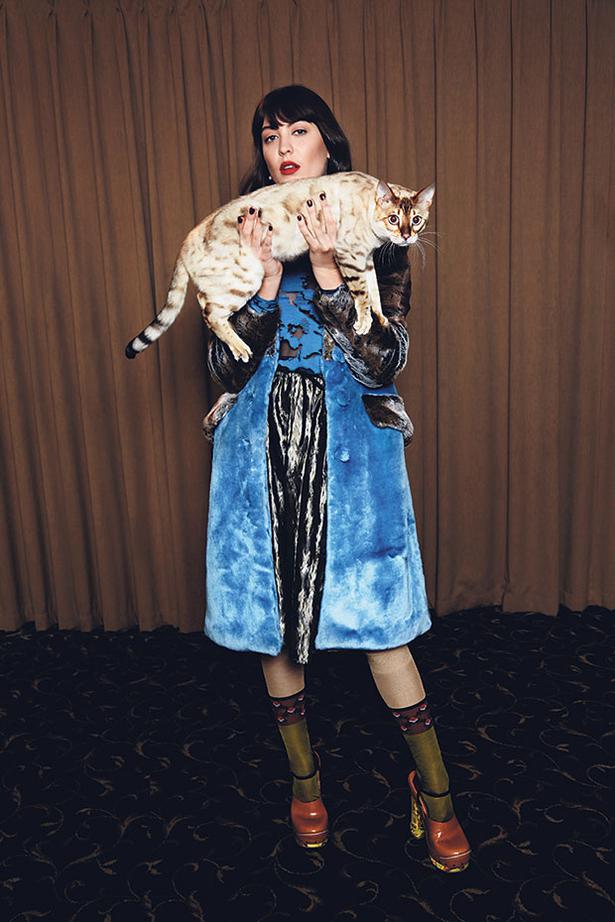 MEMPHIS
This beautiful snow spotted bengal knows that leopard print will never go out of style, particularly in a season where various hues of leopard prints are abundant. Derya wears a Eugenie fake fur coat, $975, and turtleneck $185. Juliette Hogan skirt $429. Prada socks, $160, and heels $1650.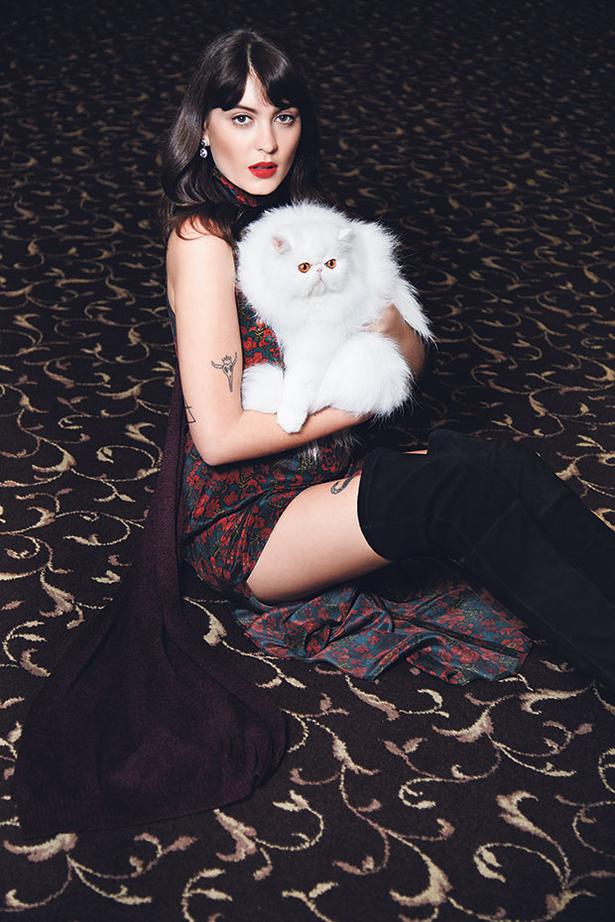 ISPISAKAT WHITE PEARL
With a name like Ispisakat White Pearl, this 3-year-old pure breed persian is the epitome of luxe. Placed first in the National Ring for the longhair cat and kitten section and highly placed in three other rings, her piercing eyes and glorious mane are her strongest features. Her snow white fur requires special attention. Why? Because she's worth it. She is a gold double grand champion after all. Derya wears a Lonely Hearts silk dress $360. Salasai merino shawl $130. Witchery boots $149.90. Lola and Grace drop earrings $89.90.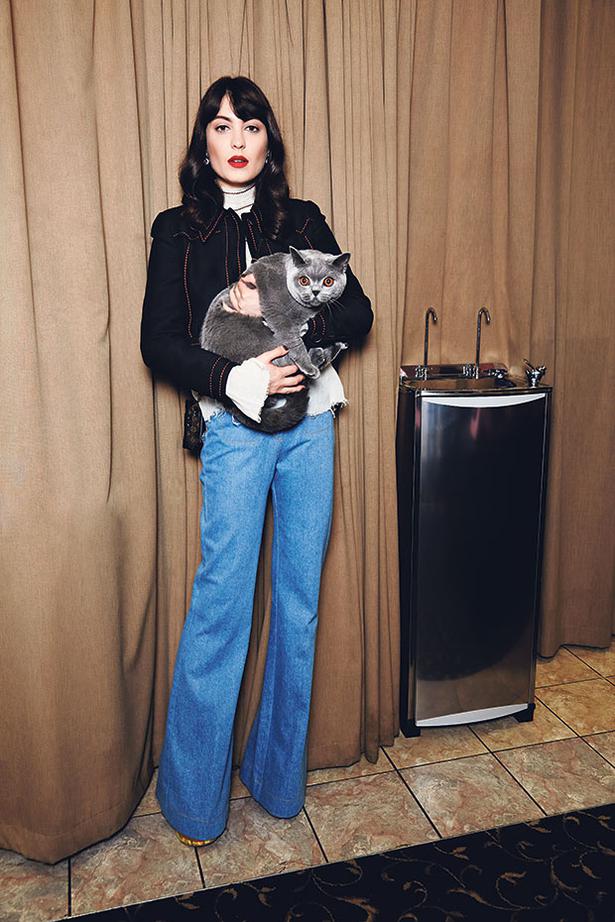 HIGGINS
Higgins dreams of world peace and fish. This strapping British shorthair competed in his first show at this year's NZCF National Show and pretty much nailed it, winning best in show in one ring, runner-up best in show in another and two top 10 placings in two other rings. Not bad for a debut effort. Follow him on Instagram. Derya wears a Prada jacket, $2930, blouse, $850, and heels $1380. Karen Walker jeans $405. Louis Vuitton Petite Malle bag $7300. 9ct gold earrings $625, from Stewart Dawsons.
MARCUS
Kate Moss who? When it comes to offbeat nonchalance, cats like seal bi-coloured ragdoll Marcus, aka Champion Newsflash Rumour's Run Riot, do it better. Awarded Best Breed of ragdoll, third best in show and a Breeders Award Merit in The National Cat Show ring, Marcus has had an outstanding show career so far at only 1-year-old. Floppy and placid when picked up, he's inherited that classic ragdoll trait that says "Whatever man". Now that's one cool cat. Derya wears a Sylvester jumper, $240, over Penny Sage top $240. Dries van Noten pants, $985, from Scotties. Stolen Girlfriends Club leather belt $149. Prada heels $1380.
 
Photographer: Mara Sommer. Fashion editor and words: Dan Ahwa. Model: Derya Parlak from Red 11. Makeup: Danielle Xi for M.A.C Cosmetics. Hair: Benjamin James from Ryder Salon. Photographer's assistant: Kingy Hsu. Stylist's assistants: Anna Lee and Danielle Clausen. Thanks to cat owners Christine and Mushfik Yeung (Tigerlily), Amanda Petraska (Higgins), Barbara Beatson (Windeacres Say No More and Ipisakat White Pearl), Kim Wylie (Roman and Memphis), and the team from NZ Cat Fancy National Show.
STOCKISTS: Eugenie, French Connection, Gregory, Juliette Hogan, Karen Walker, Kate Sylvester, Lola and Grace, Lonely Hearts, Louis Vuitton, Pascoes, Penny Sage, Prada, Salasai, Scotties, Stewart Dawsons, Stolen Girlfriends Club, Swarovski, Witchery.
Share this: