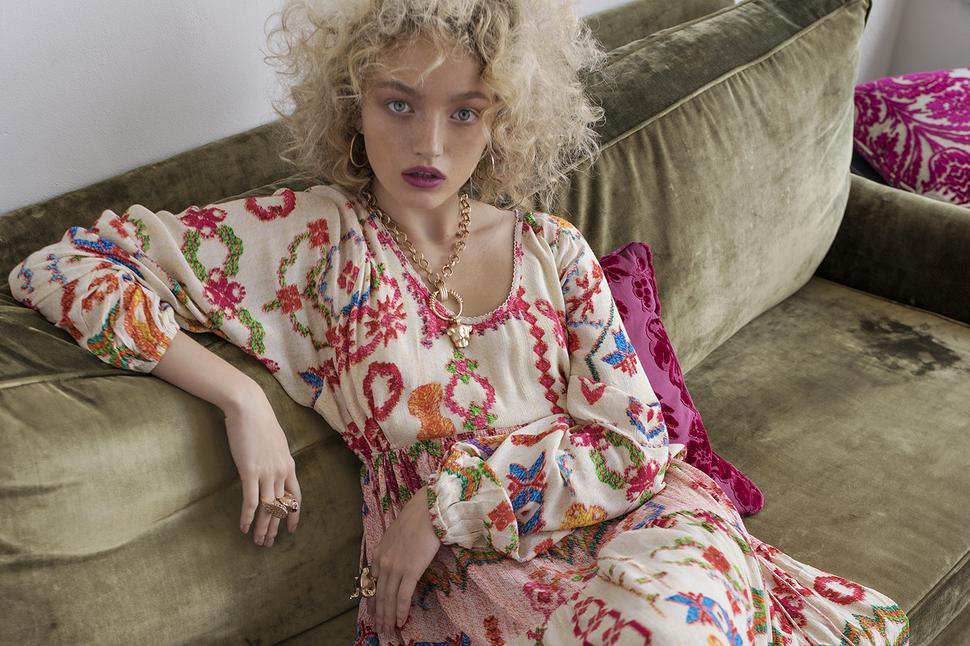 Meet The Designers Behind Label Hemant & Nandita
The creative duo behind Indian label Hemant & Nandita give an insight into their colourful life
Saturday June 2, 2018
For designer Nandita Lalwani, finding inspiration is as easy as stepping outside her front door.
Based in the colourful Indian capital of New Delhi, she and husband Hemant Lalwani have been running their clothing label Hemant & Nandita since 2003.
Known for statement-making prints and a modern bohemian sensibility, the brand is stocked worldwide in stores such as Harrods in London, Saks Fifth Avenue in New York and, now, Smith & Caughey's in Auckland.

Although their primary residence is in New Delhi, one of their showrooms is in New York, which means a lot of travelling for the couple.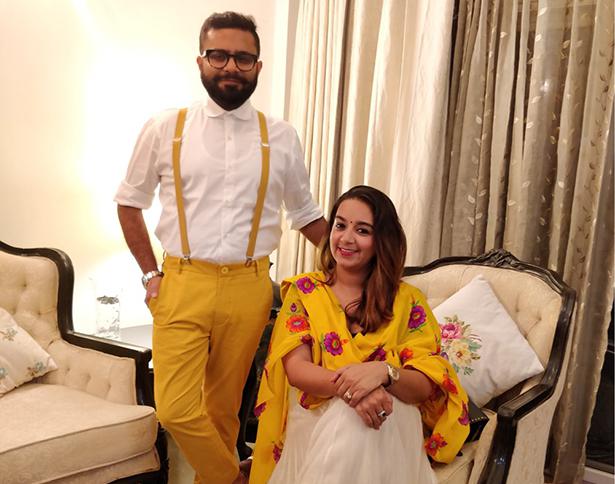 Hemant and Nandita Lalwani at their home in New Delhi. Picture / Supplied

Speaking from India on a mild and drizzly early summer's morning, Nandita cites this as one of her main inspirations when designing collections. "I love travelling to places like Jaipur - even in Delhi we have great markets we can visit to find amazing accessories and references for textiles, go to fairs and dyeing units," she says.

Travelling gives her a different creative space and vision. "We recently went to Marrakesh, which was very beautiful; it was full of things to be inspired by. There were so many colours you'd never find in India. Brown had never been our colour, but it was because of going to Marrakesh that I incorporated pink and brown into our collections."

READ: Knitwear Designer Areez Katki In Mumbai

Describing the Hemant & Nandita aesthetic, Nandita says it's a reflection of her and her husband as people.

"We're fun-loving and that's what we showcase in our collections. There are a lot of pom-poms, a lot of colours, a lot of things happening, which is exactly like me and Hemant. Too many things happening all the time — we're working, taking care of our two children (the couple has two young sons, Nabhya and Ryan), managing a factory, our home, throwing parties… it's not subtle. There are a lot of colours and elements."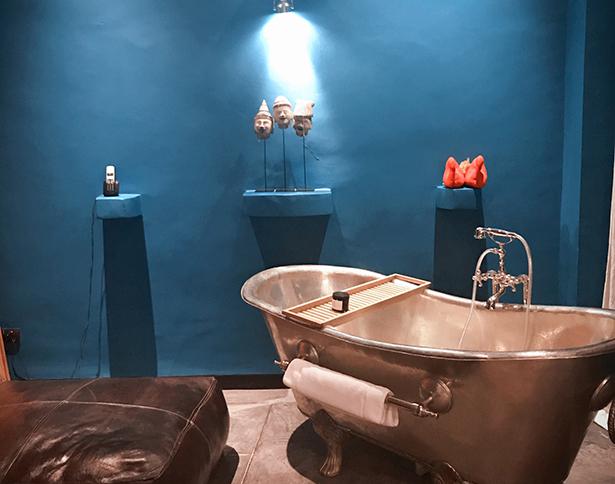 Hemant and Nandita met while attending New Delhi's National Institute of Fashion Technology. What was initially a firm friendship grew into something else, starting their label together in 2003 at age 21, and getting married in 2006.
Nandita says their work ethic was influenced early on by the professions of their families. "Hemant is from a business family and I'm from a family of doctors, so he always wanted to start his own business and I'm very disciplined."
This dynamic serves them well in their roles within the brand — Nandita manages their design team for every collection, while Hemant takes care of finances and strategies for expanding the label. "Hemant was always interested in business and I was the fairy on the cake," says Nandita, laughing.
READ: Go Inside Kirsten Tweedie of Jetset Bohemian's Home
Creating a label in their early twenties was not without its struggles but Nandita cites the support of their families as one of the pillars of their success. "I always think the success of the business is only possible because we had the full support of our families and they trusted in us.
"I was born and brought up in a small village. My father is a very positive person and I've never heard the word "no" from him or my family. Both Hemant and I want to make our families proud. My mother used to say 'if you want to be successful in life, you have to do something great because where you're from is a small place and it's not easy to get the world's attention'."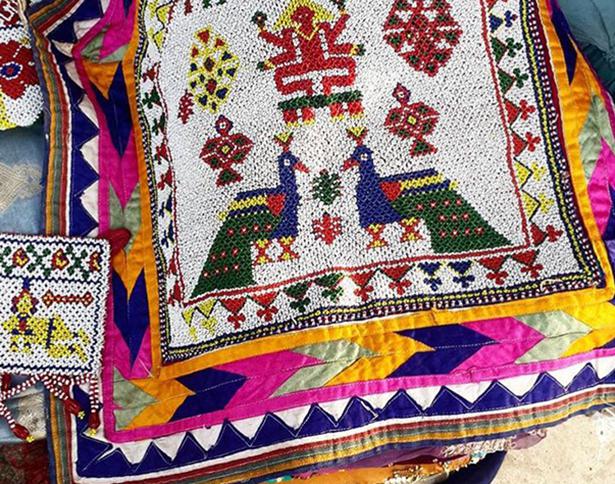 Hemant stresses the importance of goal-setting early on when it came to taking the brand to a global audience. "We were always clear on what we wanted to do and where we wanted to reach and we never diluted or changed our direction. Even, initially, when other companies were reaching out to us, asking us to do production for them, or to sell our designs to them without our label, we stuck to our vision and the hard work became fruitful."
The turning point for Hemant and Nandita came in 2009 when their brand showed at Indian Fashion Week for the first time. They were exposed to international buyers such as American store Anthropologie, which was the first to stock the label overseas.
When asked what she thinks drew buyers to the brand, Nandita says: "I think it's because we have a mix of western elements with a strong Indian influence. We are very grounded and our culture is within us — we notice what's happening around the country in terms of textiles and embroidery, colour and even architecture, and you can see that reflected in our collections. A Hemant & Nandita garment, if it's picked up on an international rack, can be easily identified as coming from a place that is full of culture and colour."
READ: 8 Fashion Films You Need To See In 2018
Indian style is steeped in tradition, she says. "A lot of things around fashion are focused on weddings. People won't think about cost — it doesn't matter how much they spend on a wedding, so that's a big thing in Indian culture." Festivals such as Diwali are also very important, with people dressing up in colourful garments to celebrate.
Hemant expands on their life outside of work. "As Nandita said, we love parties. We throw a lot of parties at home, and invite friends over. I'm a very passionate singer and dancer as well, and I go on the road, travelling with a band. Every day there has to be something planned — nothing can be boring."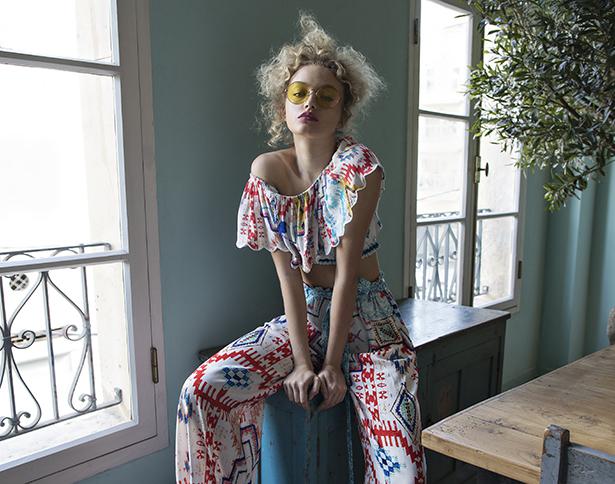 Hemant describes the different personality traits each of them bring to the business. "Nandita is a very compassionate person," he says. "Her team is very attached to her, she thinks about their personal life and how they're doing, cares about their work environment and their comfort.
And I'm the ruthless guy." He says, jokingly. "I'm the bad cop in the company — Nandita creates the balance between me and the team, she's like a ceasefire."
READ: Design Duo Amy + Eliav's Favourite Things 
Next up for the brand is setting up an e-commerce website and opening a bricks-and-mortar store in either Miami or New York. It will be the first flagship Hemant & Nandita store — the brand is now stocked only at multi-brand destinations.
The couple is taking everything in their stride, with the right amount of work/life balance.
"It's now part of my nature that I can achieve anything I want to," says Nandita. "And by God's grace I've found Hemant as a husband, and he's always taken our dreams where we want them to go. We started our business at the age of 21. It's not an experienced age, but we kept moving, so I think it's a very beautiful journey."
Share this: