Fashion Journalist Patty Huntington's NZ Fashion Week Beauty Routine
The Sydney-based 'frockwriter' shares her top beauty tips for looking her best during NZ Fashion Week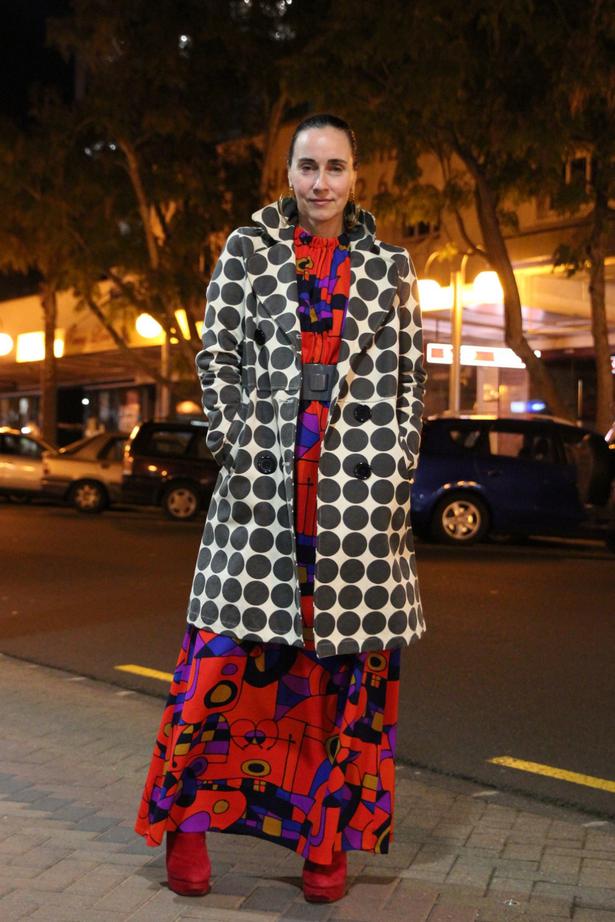 Monday Aug. 26, 2019
Fashion Week lead-in
Getting through the mountain of work I have on my story list at any one time, so that I can take a week off filing to watch and cover the shows. This particular week it has been multiple stories for The South China Morning Post and then the brief for my regular fashion segment this Sunday on the ABC's Weekend Breakfast (TV) program, talking about indigenous Australian designers at the recent Darwin Aboriginal Art Fair and also Maori designers coming up at NZFW.
READ: Model Booker Tia Woods' NZ Fashion Week Beauty Routine 
I keep in touch with my various editors, keep an eye on New Zealand news coverage of NZFW to see what is bubbling ahead of the event and maybe also chat to some NZ connections for additional inside info.
During the week itself I do rolling coverage of the shows in real-time on Twitter, Instagram and Facebook (x2) using my phone and DSLR, conduct interviews with designers, buyers and other players and look for great stories to pick up from the event.
I often wind up doing radio or other interviews during the week — last year I did a live cross just before Twenty-Seven Names' opening show into the ABC's Pacific Mornings radio program, which goes out across the Pacific region.   
Your own FW look
My Fashion Week "look" is a no brainer, so there's no planning involved — it's just my regular neutral/no-makeup makeup look that fits somewhere between zero makeup and a full TV face. Regarding wardrobe, yes I do plan ahead as obviously I am travelling over to Auckland for the event and need to take everything with me. You don't have the benefit of a closet at home to choose from when you're on the road. 
On hand at FW
Lip balm and lip gloss are usually the only things I carry with me, also a bottle of 1000mg Vitamin C tablets. I take 3000mg daily, but more if I ever feel I am coming down with anything. They really do work. Maybe also some eye drops — I wear contacts. 
Earliest makeup memories
Probably my mother's bright red Revlon Fire & Ice lipstick — it seemed so grown up and glamorous. Teenage beauty experiments included using lip gloss as eyeshadow and making my own skincare products.
Daily skincare routine
Cleanser, a facial oil, moisturiser, and then sunblock. No makeup unless I am attending an event or business meeting, then it's minimalist: concealer; a base made from a blend of BB creams and moisturiser; a very soft neutral eyeshadow or else bronzer as eyeshadow and on the cheekbones as well; eyelash curler, lash primer and mascara; lip balm and a neutral gloss. 
I use anything and everything but my absolute favourite cleanser is in fact a cleansing oil — from Shu Uemura, the first product he launched back in 1960 when he was working as a makeup artist in Hollywood (the Ultime8), otherwise just an ultra-cheap Garnier Cleansing Milk for sensitive skin.
READ: Model Mihad Falah Bashe's NZ Fashion Week Beauty Routine
As a serum I have been using Grove Extra Virgin Avocado Oil, a Kiwi product, for ages now and as a moisturiser, Nivea Crème. First launched in 1911 and then packaged in its iconic blue tin since 1925, it's essentially Crème de la Mer without the price tag — super sticky and keeps you hydrated for hours, made from lanoline and with an incredible old world fragrance with hints of rose, lavender, lily of the valley and violet. I exfoliate occasionally and use masks. Lately I've been using an MGO 400+ Manuka honey straight from the jar as a mask.
Hair and its care
Hair is easy as it's usually tied back into a chignon or up into a topknot for out and about, yoga, swimming, the gym etc. To keep it in place any hair wax, whatever hair spray I have to hand and if I've run out of those, then avocado oil.  
Last beauty buy?
MooGoo Eczema & Psoriasis Cream, for a mild skin inflammation I always seem to get in the dry winter months. 
Beauty influences
I think Carolyn Bessette-Kennedy is an eternal inspiration for a lot of people; she was just breathtakingly beautiful and remains frozen in time at the height of her youth. As much as people love to hate on the Kardashian-Jenners, I do think they've done a lot to promote that great neutral makeup look. 
Tricks of the trade
It took a professional hairstylist to introduce me to the best bobby pins in the business, at least for chignons — straight hair pins, which curiously you can't seem to find at pharmacies or supermarkets, only professional hair suppliers. When you're around beauty professionals often you can't help but absorb info from them.
My partner Kent is a professional makeup artist and very kindly does my TV makeup whenever he's available and I love some of the products that he uses, particularly Shu Uemura's Skin Perfector primer oil, which has a beautiful, fragrance and really hydrates your skin under a foundation. 
READ: Makeup Artist Blair Gamblin's NZ Fashion Week Beauty Routine
Beauty is...?
Good health and really looking after your skin. You don't need to spend a lot of money; anyone can access fantastic products at a fraction of the cost of big brands. Supermarket shelves are full of them. If you've got the budget for regular facials then great — they're relaxing, a way to treat yourself and as they say, skin has a memory — but otherwise just keep the moisture up to your skin and protect it from the sun. It's also about eating well (I'm a big believer in nutritional supplements), staying hydrated as well as fit, flexible and calm, through yoga, meditation and lots of sleep.   
Share this: