World's Charitable T-Shirts
One of our best loved Kiwi labels is working with the United Nations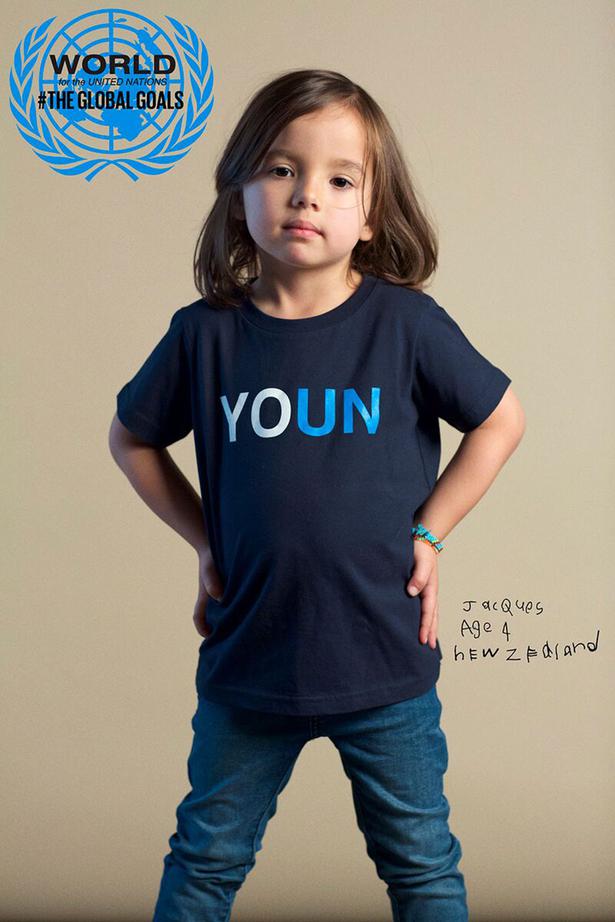 Wednesday Sept. 23, 2015
Most of us pack a few T-shirts when we travel. But when World designers Denise L'Estrange-Corbet and Francis Hooper set off this week for a 10-day trip to New York, they packed several hundred. Their new YOUN T-shirts are part of the United Nations' 17 Global Goals initiative, an ambitious worldwide campaign set to roll out over the next 15 years.
The duo behind the Kiwi brand will attend a launch event on Friday at the United Nations headquarters, attended by President Barack Obama, 100 world leaders, UN ambassadors and celebrities. One of the President's daughters will be a guest speaker, and there could be an opportunity to rub shoulders with Obama himself.
Twenty per cent of the proceeds from sales of the T-shirts — here, online and in the UN store in New York — will go to the organisation, in support of the 2015 sustainable development goals (SDGs) to end extreme poverty, fight inequality and injustice and fix climate change by 2030.
Lofty aims perhaps — insurmountable some might argue — but the campaign already has the commitment of 193 world leaders, and the publicity might of celebrities including Kate Winslet, Jamie Oliver, Kristen Bell, Emma Thompson, Jennifer Lawrence and One Direction. Now it can add another successful brand to the mix — only this one is from Downunder.
"We're an ideas company and what inspired me is what's happening in the world — the Syria situation, for instance — and everyone saying 'Why doesn't somebody do something?'" Denise explains. "Who's 'somebody'? If everyone says that, nothing's going to be done."
Calling the World contribution "One idea. One T-shirt. One goal", the idea was sparked a year ago during a conversation with a contact Denise had at the UN. Who that contact is, she won't say (she denies it's secretary general Helen Clark).
The UN is funded by its member states but that shouldn't discount it from receiving donations, says Denise. The Guardian reports that rough calculations have put the cost of eradicating extreme poverty at about $66 billion a year, while improving infrastructure (water, agriculture, transport, power) could be up to a total of $7 trillion globally.
"Everyone is limited in funds, worldwide, we all are," says Denise. "Is the UN expected to magically pick a couple of billion out of the air?"
She and Francis initially mused over designing mugs or pens, knowing they'd have to get them to New York easily without anything breaking. They also figured a large chunk of the initial market would be tourists coming into the UN store, and — being a clothing brand — it made sense to do a T-shirt.
"I know people think T-shirts have been done to death but this is different because it's global. And it's an item of clothing so universal. Even refugees are seen in designer clothing — Adidas for example. It was something everyone can wear."
The resulting T-shirt comes in two colours and in sizes ranging from kids' 0-14 as well as adults, reflecting the brand's belief that philanthropy must be learned from a young age. The hope is that wearers of the T-shirt will not only encourage their peers to investigate the Global Goals but themselves gain an understanding of the importance of helping others, simply by wearing it.
"By the time the goals are achieved, that child will be a teenager. By then the idea of philanthropy and sustainability will be in their psyche."
It's this belief — that the world's biggest problems can be solved through education and awareness — that underlies the campaign. Exactly how the goals will be met has yet to be publicly defined but for now the focus is on getting the word out. The T-shirts are a simple way of doing that, says Denise.
After working their way through several designs, Denise and Francis came up with the simple play on words — deciding on two colours to prevent indecision at the till. Although World clothing is manufactured in New Zealand, due to the scale of T-shirt production — thousands, says Denise — it made better sense to send the job to a WRAP-accredited factory (Worldwide Responsible Accredited Production) in Bangladesh.
Denise hopes Kiwis will get the message that this is one T-shirt worth buying.
"[Reaching the global goals] is everybody's responsibility. Not just certain countries or leaders of certain countries. It's all of us. Every single individual has to do their bit because there's nothing to say it couldn't happen here."

• The YOUN T-shirt, $45, is available from Friday at all World stores, and online at worldbrand.co.nz. It will also be available through selected international stockists. For more information on the 17 Global Goals, go to globalgoals.org.
Share this: