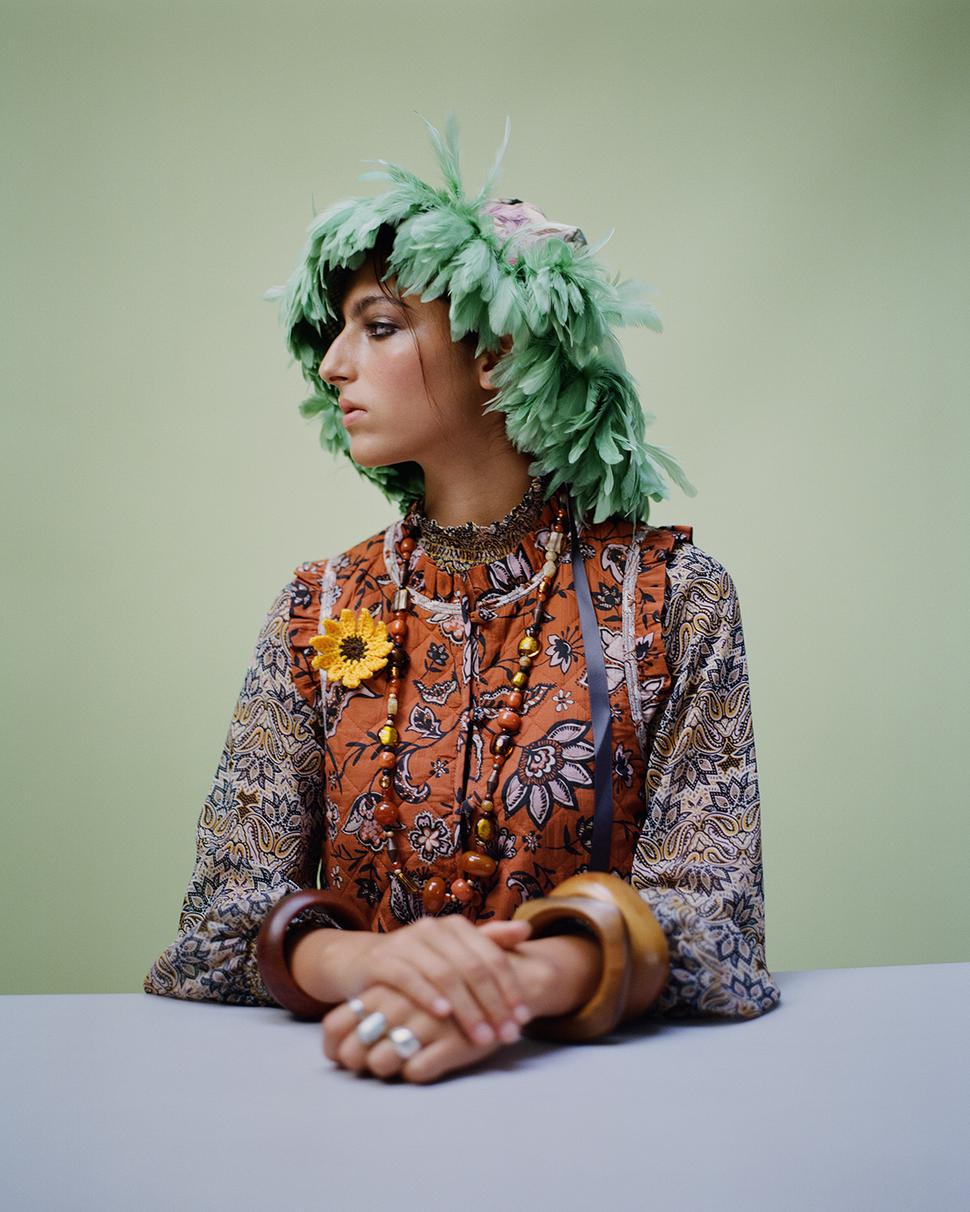 Extra, Extra! Prints Are The New Priority
When it comes to exercising a little individuality, explore the unhinged appeal of clashing designs
Saturday Aug. 6, 2022
From Bauhaus shapes to motifs extracted from flora and fauna, a rebellious attitude emerges as designers and textile creators translate their whimsical ideas into an explosion of pattern, colour and art.
Roman Empire
Tonal hues create an easy template for layering prints together for one standout look — just add accessories that nod to the natural world for maximum impact. Kate Sylvester top $259. Noa Noa vest, $262, from Dalston. Vintage beaded necklace, $175, from Liz Mitchell. Roy Mason wooden bangles, from $450, from Fingers. Crochet sunflower brooch fundraiser for Ukraine, available for a donation at Central Flea Market. Custom feather hat.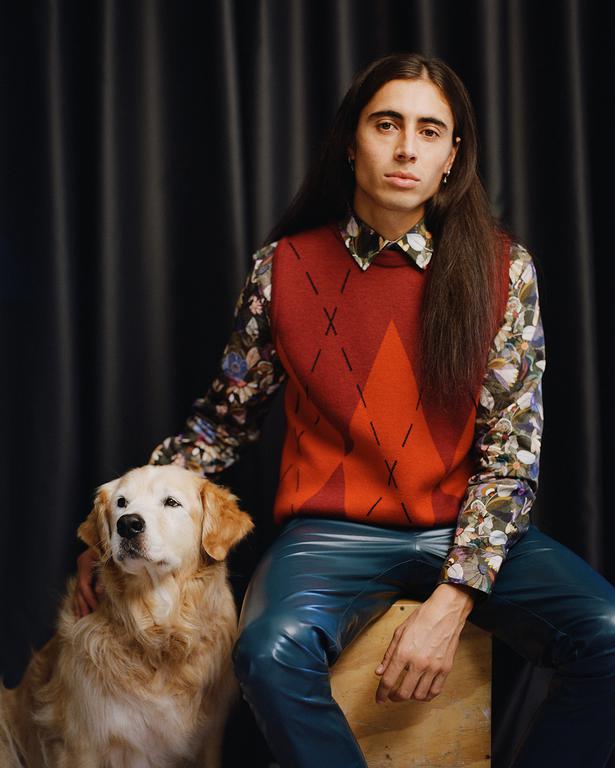 Nature Boy
The revival of a nostalgic wardrobe favourite, the vest offers plenty of options when it comes to layering — even better when it's a printed piece like this Nom*D option, $495, worn with a kaleidoscopic print Cutler & Co shirt, $208, from Fifth Avenue Menswear. Zambesi trousers $495. Silk & Steel earrings $89.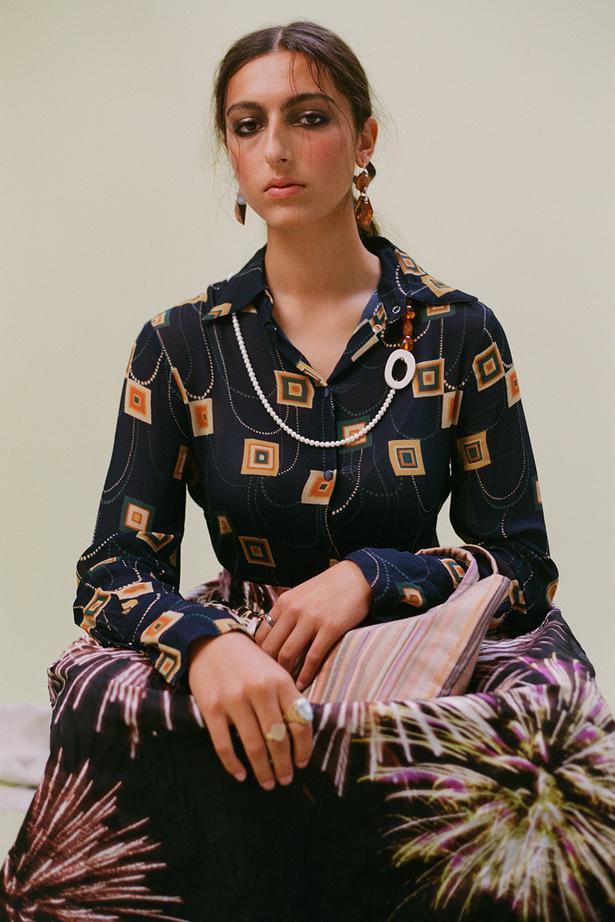 Madame Butterfly
Retro prints offer the perfect starting point when delving into an ensemble based around clashing patterns. Zambesi's geometric print shirt, $550, pairs well with another master of print, Dries Van Noten, with this firework explosion print full skirt. Exploding prints capture the rebellious essence of wearing mismatched prints. Dries Van Noten skirt, $1125, from Scotties. Maca Bernal amber rock earrings from $275. Elfi Spiewack bone coral, pearls, amber, sterling silver necklace, $500, from Fingers. Zoe & Morgan 18ct gold and pearl ring $3000. Le Van Dan bag $100.
Baroque Star
The grandiose print work of Italian luxury stalwart Versace never ceases to inspire with a commitment to its beloved baroque motifs, reinterpreted time and again. This multi-coloured number from its diffusion line is an irreverent homage to 90s excess and glamour. Versace Jeans Couture shirt, $899, from George Harrison. 18ct white gold diamond hoops, $2310 (a pair), from Walker & Hall.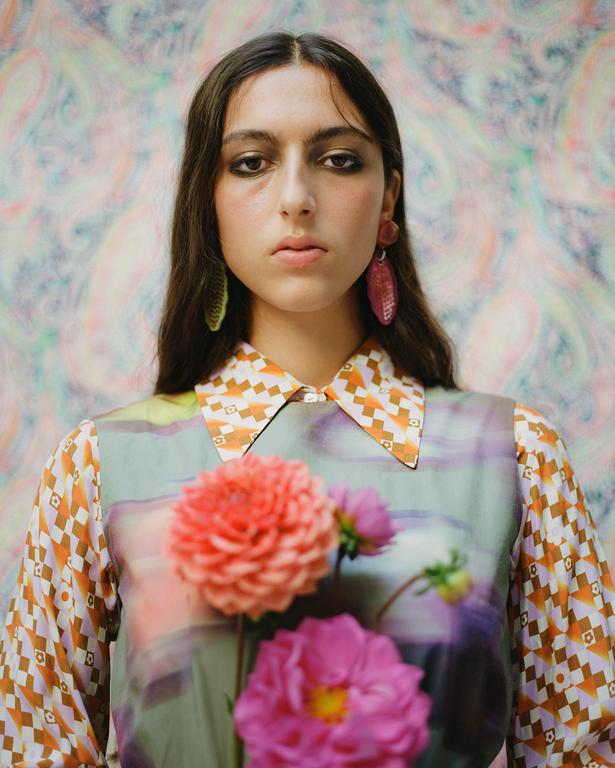 Dolce Far Niente
A sleeveless printed dress takes on a seasonally appropriate look when layered over a contrasting print shirt — try one with an exaggerated collar for the perfect throwback look that's perfectly pulled together. Twenty-seven Names shirt $390. Dries Van Noten dress, $1140, from Scotties. Maca Bernal earrings $299. Liberty Amalfi Woven Swim fabric backdrop, $48 (per metre), from The Fabric Store.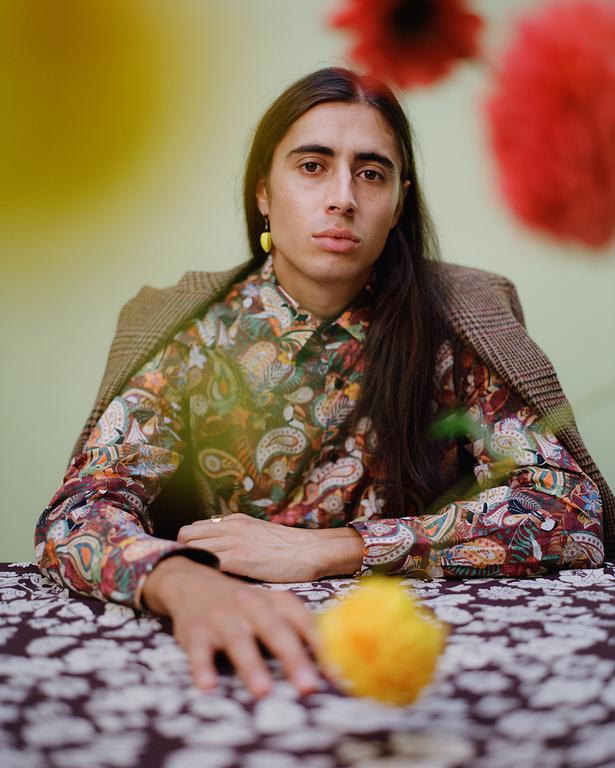 The Mix Master
Clashing prints needn't always be avant-garde affairs. Sometimes an update on a tried and true print is all that's required — like this tonal combination of a houndstooth plaid blazer from Crane Brothers $1895, with a Cutler & Co paisley shirt, $208, from Fifth Avenue Menswear, rendered in a warm, seasonal palette. Vicki Mason earrings, $245 (a pair), from Fingers. Floral print cotton/linen fabric, $32 (per metre), from The Fabric Store.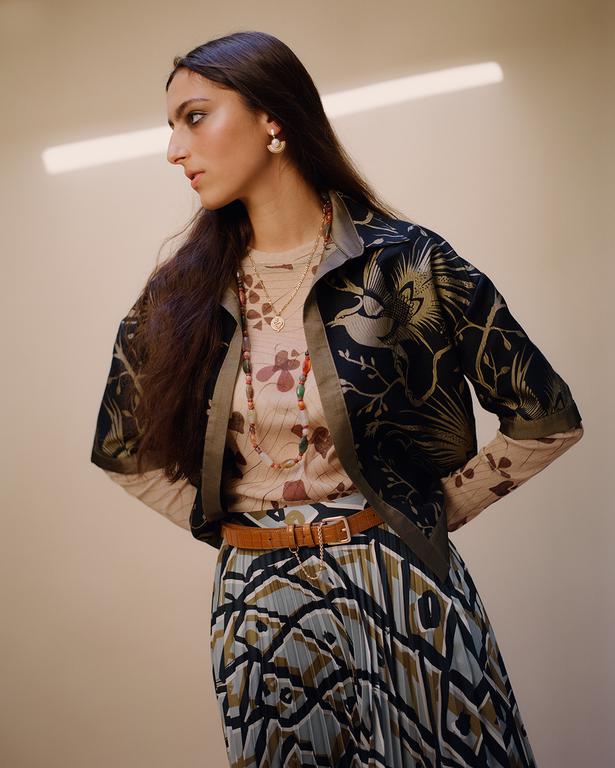 Bella Donna
The natural world continues to inspire textile designers and provides the perfect starting point for layering in homage to flora and fauna. Liz Mitchell jacket $995 and vintage beaded necklace $175. Nom*D top $240. Luna & Rose pendant $189. Zoe & Morgan 22k gold plate and pearl earrings $489. Paula Ryan skirt $495. Kathryn Wilson belt $99.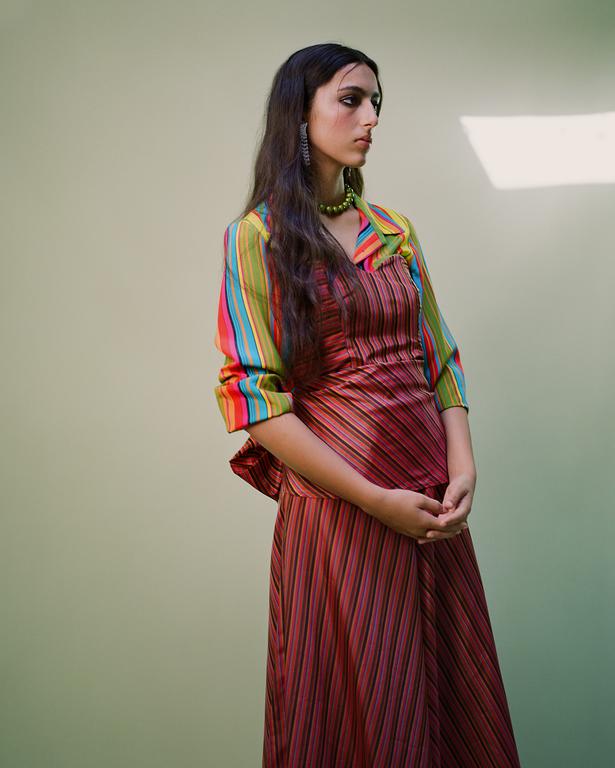 Between the Lines
Shoshamma shirt (POA). Vintage Geoffrey C cocktail dress, $295, from Love James. Kate Sylvester necklace $129. Isabel Marant earrings approx. $885.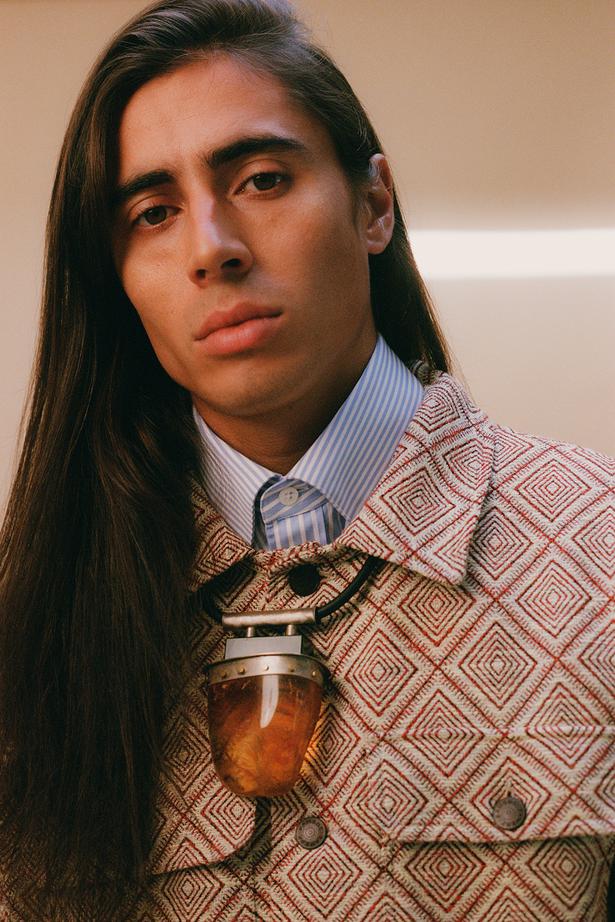 Geometry Lesson
Linear and geometric prints make a complementary union, enhanced further with the addition of organic accessories. Samsøe Samsøe jacket, $619, from Fabric. Crane Brothers shirt $445. Neil Adcock Kauri Copal pendant, $3360, from Fingers.
Photographer / Nicole Brannen. Fashion director / Dan Ahwa. Models / Mia Arlove from Unique Models and Benjamin Holmes from 62 Models. Hair, makeup and grooming / Shirley Simpson using Aleph. Fashion assistant / Annabel Dickson. Special thanks to Sonny the dog.
Share this: