Doris de Pont on Sustainable Fashion
The founder of the New Zealand Fashion Museum has been a longtime advocate of sustainable fashion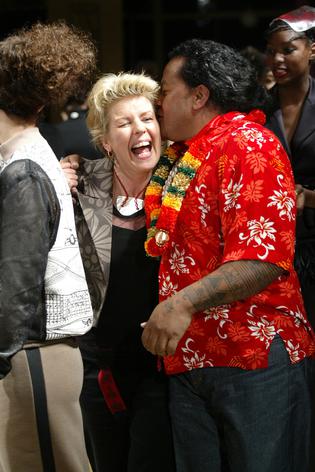 During Fashion Revolution Week, we're talking to local fashion pioneers who have been advocates for a sustainable approach to the fashion industry. Read our interview with Laurie Foon of Starfish.
Doris de Pont has been an advocate for New Zealand creativity and a conscious approach to fashion since the early 80s, when she opened her first store in Auckland.
Now a respected fashion historian, Doris launched the label DNA with Adrienne Foote in 1994, with the pair working together to create unique textile designs and screen prints. In 2002 they parted ways, and the label changed to Doris de Pont the following year – but her collaborative approach continued, working with artists such as John Pule to create signature fabric and prints.
In 2008, after retiring from fashion design, Doris founded the Fashion Museum as a way to celebrate and record New Zealand's fashion history, and currently serves as a trustee and curator. Her most recent exhibition showcased fashion history in Auckland, and in June she'll open an exhibition looking back on New Zealand fashion imagery.
Who made your clothes that you are wearing right now?
I am wearing light wool trousers I made myself and an "Intellectual" T-shirt from Jimmy D. I love that it's a sort of New Zealand fashion designer's insider joke. (Marcus van Ackermann, fashion editor at French Vogue said when asked to compare New Zealand and Australian fashion designers at Australian Fashion week, "New Zealand designers are darker, edgier, more intellectual".)
You were a pioneer locally as a designer with the environment in mind, which today seems forward thinking. What was your motivation at the time, and how did you arrive at that decision to create clothes this way?
My concerns have always been around sustainability based on delivering value. This value comes from originality and quality in design and materials which allow the wearer to build a long-term relationship with their clothes beyond a fashionable moment. I still wear some of my pieces that were made more than 20 years ago, and people regularly tell me that they still have something with my label in their wardrobe.
Young local brands like Kowtow and Maggie Marilyn, among others, are thinking more sustainably about running a fashion business. You've been there before, so what advice would you have? What should they continue to do so their beliefs are never compromised?
I know how hard it is to make your way in fashion, especially in this saturated market, so I am always pleased to see new people establishing a successful business. What they are offering the market is their personal design point of view, something that no one else has or can replicate. I would say cherish that and guard it even when there are cheaper, easier pathways on offer.
Your work as a historian and curator with the Fashion Museum is crucial to keeping our New Zealand fashion history alive. What have you discovered about our unique approach to sustainable and ethical fashion over the years? What designers have stood out for being strong advocates of this idea?
The biggest discovery for people coming to the Fashion Museum is that almost everything was "made in New Zealand", including high-end international labels like Christian Dior and Horrockses. A big shift came in the 1980s when we adopted a monetarist economic model that made consumption the goal; cheap and consumer choice trumped all other values.
Luckily not everyone bought into the disposable model of fashion and labels like Zambesi still make original, high quality garments here in New Zealand and remarkably they still employ people to sew their buttons on by hand.
How can people be more clued up when it comes to buying fashion? What should fashion consumers be mindful of when shopping?
The strongest message from me would be to buy only what you love and to show it love by having pleasure in wearing it and taking care of it. That way you will need a smaller wardrobe. You will build a relationship with your clothes, they will serve you well and give you joy that endures.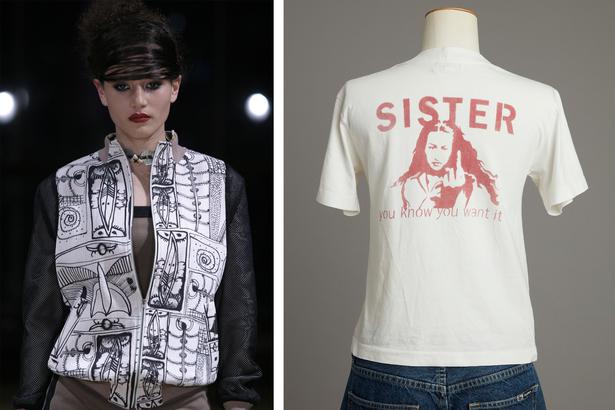 A look from Doris' Let's Gather Here collection shown in 2003, with prints by artist John Pule; a Sister T-shirt from 1995, a new addition to the New Zealand Fashion Museum. Pictures / Supplied

Why do you think Fashion Revolution Week is important?
Because we have enough landfill and too little of what fills our hearts. Fashion Revolution Week is an opportunity for people who think about what they wear and to consider what is valuable. Is it just about newness, shopping and acquisition, or is about the life experiences that we have wearing clothes that we know are made with passion and care?

One of my favourite collections of yours was in collaboration with artist John Pule. Why was art so important to your work as a designer, and did you always find it natural to work with artists who also had a strong sense of the environment and mother nature?
When I returned to New Zealand from my OE in Holland in 1984 I was looking for a way to create original work, including sourcing original textiles. One strategy was to work with artists to generate these. Early collaborators were Robert Franken, Rudy van der Pol and Adrienne Foote with who I later established DNA. I found that many visual artists had concerns similar to my own around the exploration of identity and giving expression to that.

Called Let's Gather Here, the collection that incorporated the art of John Pule merged his perspective as a Niuean immigrant with my own Dutch heritage just as the culture of migrants have always mixed, enriched and generated a new and unique identity.

The New Zealand Fashion Museum's upcoming exhibition Flash Back also focuses on identity and how the work of our fashion photographers have helped us to articulate our identity through images of ourselves.

Can you tell me about some of your favourite pieces from the Fashion Museum's archive? Why are these garments are special to you in terms of being environmentally aware?
The richness of its archives comes from the stories that accompany the garments. Because we do not have our own physical collection, our storytelling is largely done through the garments held by private individuals who have kept a much-loved piece of their own or from the family.

One recent addition is a Sister T-shirt. People don't usually ascribe much value to T-shirts, considering them disposable, often sourced from Bangladesh and purchased for under $20. They come and go, so we were delighted to find someone who had kept this plain white cotton T-shirt with the screenprint on the back that she bought originally in 1995 from Kate Sylvester's shop, Sister.

Share this: