Conscious Fashion Pioneer Laurie Foon on Fashion Revolution
As an early adopter of eco-friendly and sustainable fashion with her label Starfish, designer Laurie Foon paved the way for fashion with a conscience in New Zealand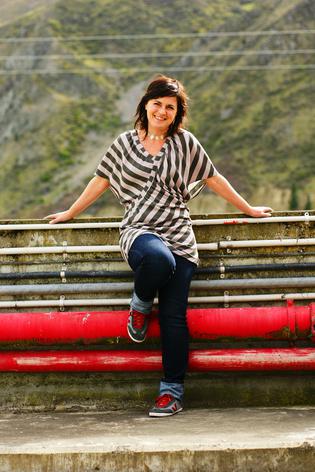 It's Fashion Revolution Week, an opportunity for consumers from around the world to ask questions to find out the origins of their clothes, and for makers to show better transparency.
The week falls on the anniversary of the Rana Plaza factory collapse in Bangladesh, which killed 1138 people and injured many more on April 24 2013. The global Fashion Revolution movement aims to encourage consumers to use the hashtag #whomadeyourclothes - and brands, designers and producers to respond with the hashtag #imadeyourclothes, as a demonstration of transparency in their supply chains.
While it's a week to put the hard questions to the fashion, apparel, textiles, accessories and footwear industries, it's also a reminder of the cost of producing clothing and its toll on people's lives and the environment.
The call to action has prompted several designers to be take more responsibility with a growth in sustainable brands since then, and the grading of brands in the annual Ethical Fashion Report has encouraged makers to participate and run better businesses in the process. However, such efforts can often be hampered by designers looking to greenwash and disguise unethical practices on the pretence they are being transparent, but are not.
Close to home, some designers have long been advocating transparent supply chains and more sustainable ways to run a fashion business - like Wellington-based pioneer Laurie Foon, whose now defunct label Starfish (1993-2013) was ahead of its time. (Te Papa has recently started to catalogue the Starfish/Foon archive)
"I think these are exciting times for a brand to carve a niche space before it is normalised," says Laurie, who is now the Wellington regional co-ordinator for the Sustainable Business Network.
"In fact it is nearly too late. Consuming, designing and producing responsibility are now another expectation. When we had Starfish, our customers expected us to have an ethical commitment in our production and decision making."
It's Fashion Revolution Week. Who made your clothes that you are wearing right now?
I am very excited to be wearing a Starfish dress - made in New Zealand - from the Seven Sisters collection that I recently scored from my favourite shop, Ziggurat in Wellington. I can't say who made this dress but we had a few great factories with many skilled people back in the day. It is made from a New Zealand woven and dyed organic cotton.
Why is Fashion Revolution Week important?
Because lest we forget! It is good to think about who made our clothes as we are not connected to this process anymore. We have come a long way from when our mothers used to make them for us or the tailors down the road who used to make them (where I started in my fashion career).
Do we know what conditions our clothes were made under? Do we care that we will wear a garment once and then bin it because we can get another just as cheap, and the old garment will end up in landfill with millions of other garments?
The problem is we have become disconnected from the process, that the resources and labour used to make the clothes are precious and we are having a massive impact on our climate with our fast fashion habits. In New Zealand it's much the same story: Ministry for the Environment figures show 100 million kg of textile waste is thrown into the country's rubbish dumps yearly.
You were a pioneer locally as an eco-fashion designer with Starfish - today it seems forward-thinking. What was your motivation at the time?
The motivation came because I couldn't bear not knowing where the fabrics for the clothes we were making were coming from and what impact the production of them was having on the environment or how the people that made them were being treated. I needed more traceability behind what we were doing.
We had made a stand to stay New Zealand-made since the 90s, when the unions were being phased out. This always felt right for our label as our values were based on telling New Zealand stories. We loved working with the people we worked with - they were always a big part of our team.
However, the inspiration always came from Anita Roddick of The Body Shop, as she had run her business exploring ways they could have a positive impact on the communities that made their products, and it was also a strong voice for the environment. Now she was ahead of her time!
Then we found other labels like Patagonia and Veja Fairtrade trainers and decided that if they could make their garments responsibly, we could go on that journey too.
There are several young local designers and brands now who are thinking more sustainably about running a fashion business, such as Maggie Marilyn and Kowtow. As someone who has been there before, what advice do you have? What should they continue to do so their beliefs are never compromised?
I think it is one of those places of knowledge and awareness - that if you are genuine in thinking about the impact your brand's production actions are having on our world and other people's wellbeing, you can't go back and you can always improve.
I think [it's about] being transparent and honest with yourself, your team and your customers about what you can do. We always said, 'there was no perfect but there is better'.
Tell us about the work you do with the Sustainable Business Network - your role, and what initiatives you've implemented to make people better consumers when it comes to buying clothes/fashion.
Part of our work is promoting smart business ideas, and helping connect businesses with others to speed up the process, providing inspiration by sharing their stories and helping systemic change take place.
One of the projects we work in is the circular economy, which aims to design waste out. The types of businesses we are working with include The Formary who are working with massive corporate uniforms suppliers to find a solution to re-use the fibres, and the Oversew Fashion Awards, which are about redesigning secondhand clothes to give them give them new value - this is having a big impact through schools. And Space Between, who are designing upcycled collections from NZ Post Uniforms. One of my favourite brands is Little Yellow Bird who are becoming experts in supplying ethically made uniforms for small/ medium businesses. There is no shortage of exciting initiatives going on right now.
How can people be more clued up when it comes to buying fashion - and what do you think we should be doing as consumers to be mindful when it comes to shopping for clothes?
There are some great apps that can help as a clothing guide for labels that have been accredited, like Conscious Consumers - who are now starting to accredit clothing labels - and Good On You, which gives clothing labels a rating.
Also do your homework. The Ethical Fashion Report just came out. But really, I think if we all sent one email to ask the brands we love what their ethical policies are that would be a good starting point.
All brands need to respond to customer requests. The more we ask, the more the label will need to think about how to respond. Consumer demand will change everything, but to [ensure] this, our part of the picture is that we have to demand.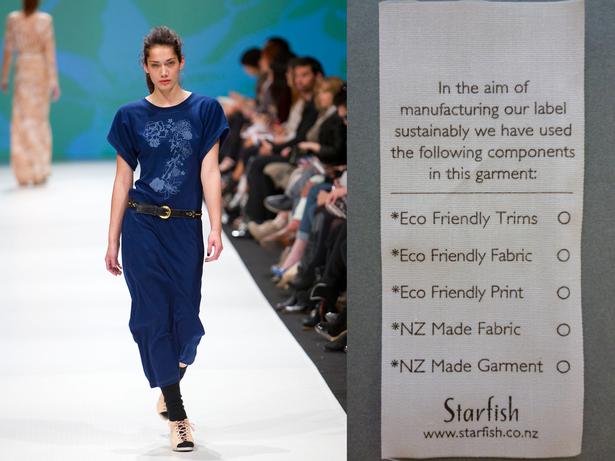 What other brands - not just fashion- do you see who are doing positive things in terms of being eco-conscious and ethical?
The brands that make me excited are really working with this market of "carers". I love the way that All Good and Karma Cola are being received in London, and they are pumping money back into the community in Sierra Leone that supplies the cola nut. Did you know there is not a smidgen of cola nut in Coke? How did we let that happen?
Wellington Chocolate Factory are doing an amazing job of developing a great product, with a story that is having a positive impact on the communities that grow its cacao beans and even looking to grow them more locally in the Pacific. And Blunt Umbrellas make an item that is here to stay. Hallelujah - longevity is cool again!
Tell us about some of your favourite pieces from the Starfish archive, and why these garments are special to you in terms of being environmentally aware?
There are many! But I think often the best designs were also about the fabric they were made out of.
I get a lot of people still telling me how their Starfish clothes have lasted - and I'll bet you the garments they are talking about were made out of New Zealand-made fabrics. I know because I am still wearing these garments too.
I think for sure though, the Hemp satin dress shot at Lake Tekapo was a favourite. I really loved thinking about trying to get the most eco-garment onto the red carpet. I'd nearly kill for pretty much anything from the Seven Sisters collection. I am so proud of that when I look back on it: great designing by Barry Betham, great fabric prints by local textile artist Greta Menzies, and the fabrics, well, they were to (eco) dye for.
Be inspired by the good things in life. Sign up now to receive emails from Viva, and twice a week you will be sent the latest news, profiles, videos, fashion shoots, competitions and more.
Share this: