Fashion Revolution Week: Educate Yourself with These Stories
To mark Fashion Revolution Week we're bringing you the best in conscious fashion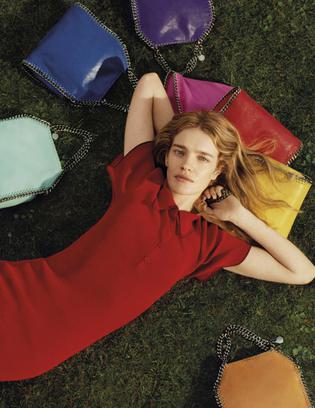 Fashion Revolution Week is marked every year in April, surrounding Fashion Revolution Day on April 24, which coincides with the Rana Plaza collapse in Bangladesh in 2013, considered one of the deadliest garment factory accidents. Fashion Revolution aims to bring about change in working conditions for the people who make the world's clothes and accessories. Take a look back at some of the best in conscious fashion below, and stay tuned for more great reads throughout the week.
1. Fashion Revolution co-founder Carry Somers talks about her mission to reconnect consumers with the people who made their clothes and why she's passionate about rediscovering the ethical fashion industry.
2. Follow Stella McCartney's lead and embrace her tips for protecting the environment.
3. Environmental journalist Lucy Siegle has written two books on ethical fashion and founded Green Carpet Challenge and the Observer Ethical Awards — read how she became such a pioneer.
4. The many inspired ways of thinking more about what you put on your back have also provided plenty of inspiration in pop culture. Be inspired by these moments of mindful dressing.
5. Discover new online store Well Made Clothes, which is making it easier to shop consciously by providing information and the ability to buy well-designer and ethical garments.
6. Read about the dirty side of bleach-white cotton, and learn how to be more aware of what you're buying.
7. New Zealand's own Kowtow is exemplary when it comes to proving ethical can be stylish — read how founder Gosia Piatek does it.
8. Discover the ethical clothing brands you really ought to know about and support.
9. What does it take to be a garment worker? See if you'd be up for the job.
10. See who joined the fashion revolution last year, and read how you can get involved every year on April 24.
11. Dress well with the help of stylish and conscious dressers — Damaris Coulter, of Auckland restaurant Coco's Cantina, shares her top tips for opshopping, and sewing expert Sarah Lancaster offers some ideas for mending your own clothes.
12. Simone Cipriani of the United Nations is a key voice in the ethical fashion movement, and talks to us about greed and shares four things consumers can do to shop and dress more ethically.
13. Although it can be hard to find ethical fashion, it's even harder to find ethical basics like socks, T-shirts and underwear. Discover the labels that are changing that.
14. Leather and denim are style classics, but it's important to think about the impact of both. Journalist Lucy Siegle examines the ethics behind leather, while conservationist Mark Angelo asks, how dirty is your denim?
15. Be inspired by these three great books promoting sustainability, conscious consumerism and the effects clothes have on women.
16. The True Cost is one film you can't miss, highlighting the ethics and environmental costs of fashion and exposing society's excessive clothing consumption. Read our interview with director Andrew Morgan and watch the trailer here:
Share this:
More Fashion / Features & Profiles