Looking Back on 20 Years of Fashion Shows
Alix Browne talks about her new book 'Runway: The Spectacle of Fashion', which explores the history of the catwalk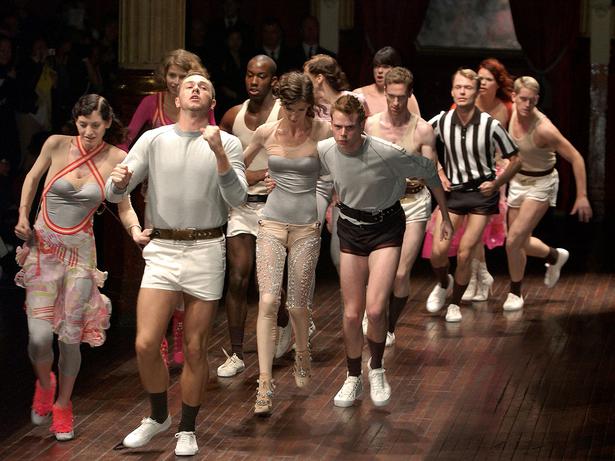 Sunday Dec. 4, 2016
Alix Browne's first fashion show was in 1994 in New York: the classic Isaac Mizrahi show at the centre of the fashion documentary Unzipped. The designer, she recalls, was determined to stand out. Supermodels Linda Evangelista, Christy Turlington, Amber Valletta, Helena Christensen, Cindy Crawford, Carla Bruni, Shalom Harlow, Naomi Campbell and a young Kate Moss paraded the runway in fabulous fur and sequins, while a transparent backdrop laid bare the behind the scenes chaos backstage.
That show - "a true spectacle" - opens Alix's new book, Runway: The Spectacle of Fashion, where she explores and celebrates the myriad ways designers have presented their clothes - from early invite-only, intimate shows that have rarely been seen to today's full-on fashion-show-as-entertainment.
"Since I first started attending the shows more than 20 years ago, I always thought they were under-appreciated as a creative medium unto themselves - much more than a vehicle for showing clothes," explains Alix, who is currently the features director of W Magazine and teacher in fashion photographer at the School of Visual Arts.
More than 100 shows feature in her book, from Helmut Lang's stripped-back early 90s shows to Chanel's epic extravaganzas today, although Alix says, it is not a greatest-hits compilation. Rather, she chose to put the spotlight on those designers who rate the presentation of fashion as highly as they do the design of the garments, from Alexander McQueen to Raf Simons, Martin Margiela to Marc Jacobs. "I wanted to show the incredible range of the approaches designers have taken over the years."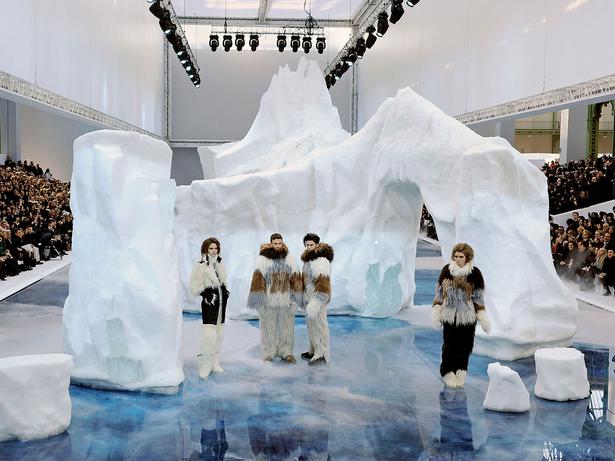 Why do you think fashion shows are important?
I don't know if important is the right word as it implies a certain level of necessity and certainly the role and the necessity of the fashion show is up for debate right now. That said, I think some shows - particularly the ones I have included in this book - stand as a meaningful and legitimate form of creative expression.
Fashion shows are traditionally invitation only. Why should a consumer - someone who may not ever be invited to a show - care about a designer's vision for a show?
Well, before the internet and the explosion of social media, only a privileged few got to experience the shows. Even images of them were hard to come by in traditional media outlets like fashion magazines or newspapers that covered fashion.
Today, pretty much anyone can see the shows streamed live or shortly thereafter - in some cases the public can even buy a ticket. The fashion show has become a form of entertainment, on par with performance art pieces or even, as Karl Lagerfeld likes to point out, rock concerts.
How would you compare shows today - the focus on the business of the front row, for example - to those held 10 or 15 years ago?
I don't think it's a question of now versus then. The shows haven't really changed all that much - they have just become bigger and more extravagant versions of what they were.
The book features shows that have rarely been seen, whereas today many are essentially created to be captured for Instagram. What's your take on the "evolution" of the fashion show in this sense - the "you had to be there" versus today's all-access, all-angles approach?
As I mention in the intro of the book, the digital age has definitely changed the way fashion is delivered and accessed and not necessarily for the better. But this is true for all kinds of information and I think the recent US election is a very good example of that.
But back to fashion … One issue that has come up, most recently with Marc Jacobs's spring collection [where models wore dreadlocks, and the designer was accused by some of cultural appropriation], is that audiences are very quick to respond to things they see on the runway without considering what they mean in a larger context.
Another journalist asked me what I thought about Alexander McQueen's "Highland Rape" show. Yes, it was a violent show, but the message was not aggression toward women. McQueen was presenting a metaphor for what had happened to his native Scotland.
If we are going to take fashion seriously as a cultural medium, and in many cases it deserves to be taken as such, we need critics or other informed individuals, to put what we see on the runways into that cultural context.
WATCH: Tim Blanks Looks Back on Alexander McQueen's "Highland Rape" show:
What are your thoughts on the discussion around whether fashion shows are "still relevant"?
I think that discussion is similar to the one over print versus digital. Are magazines relevant? I don't need to see some nice clothes go down a runway. You can get that same information from style.com. We used to call those "moving market appointments". But if a designer has bigger ideas about the world, which can be gleaned only from the experience of the show, then perhaps the show is justified.
In the book you examine both the spectacles and more intimate shows that can have equal impact but may not translate as well in a photograph. Which do you prefer to attend?
I sort of agree with Raf Simons on that one. You can impress people with a blockbuster show, but not sure you can touch them emotionally.
What do you think makes a show stand out, and become iconic years later?
I think the shows that stand the test of time put forth ideas of which clothes were just one aspect of the overall spectacle.
The shows of Margiela and McQueen are frequently named as iconic. What do you think it was about both designers' approach that had such an impact?
Both were showmen in their own way and both had a larger world view that played out in their runway presentations.
Are their any designers today who you think equals them in their approach to the runway?
Yes, there are many: Thom Browne, Viktor and Rolf, Raf Simons, Marc Jacobs...
What has been the best, or most memorable, show you've attended?
It's hard to choose just one. But I will put this out there: after September 11, I got on a plane to go see the spring 2002 collections in Milan and Paris. I felt very conflicted about being there, looking at clothes, at a time like that. But I remember sitting in the Hussein Chalayan show, and starting to cry because I was so thankful to have something beautiful to look at. When I went back to look at images of the clothes they were nothing like the image I had of them in my mind. But the feeling of being there still lingers.
Is there a more recent show, say from the past year, that has stood out for you?
I love the charm and simplicity of the Molly Goddard show, which I have included in the book. It gives me hope for fashion.

• Runway: The Spectacle of Fashion, $149. Published by Rizzoli, distributed by David Bateman NZ.
Share this: