The Most Powerful Fashion Pets to Know
The top 10 influential and powerful fashion pets that are moving and shaking things up right now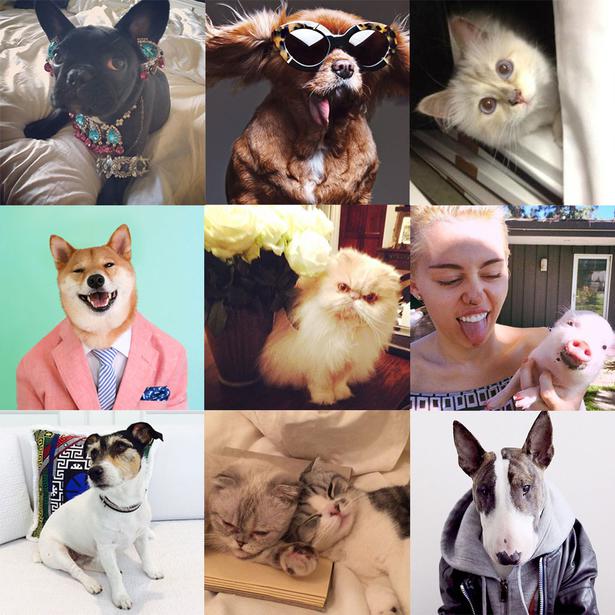 Tuesday June 16, 2015
1. Choupette Lagerfeld (Siamese)
Owner: Karl Lagerfeld
Karl Lagerfeld's beautiful Birman is a force to be reckoned with. As an editorial favourite, Choupette has graced the pages of V magazine and Vogue and is probably the only cat in the world that has her drinking water specially blended for her using a cocktail of Swiss, German and British water from Colette's uber-chic Water Bar in Paris. Read our interview with her in Wednesday's issue.

2. Pumpkin Coddington (Persian)
Owner: Grace Coddington
Fashion director for US Vogue Grace Coddington is well known for her love of cats and one of her dearest, the fluffy Persian Pumpkin, has been the source of inspiration for many of Coddington's whimsical illustrations, along with a special Vogue shoot with model Karen Elson. In 2012, Pumpkin went one step further than most celebrities and had a designer handbag named after him. The limited edition Pumpkin Papier tote from 2012 was designed by Coddington's friend Nicholas Ghesquiere during his tenure at Balenciaga.

3. Bodhi (Shiba Inu)
Owner: Yena Kim and David Fung
Dressing better than most men, Bodhi has his own popular fashion website, mensweardog.com, a recently released book, The New Classics, and has an Instagram following of 202,000 (follow him @mensweardog). He's appeared in campaigns for Coach, Ted Baker, American Apparel, Brooks Brothers, Salvatore Ferragamo to name a few, dressed in menswear, a fun on-the-side project his owners said was to poke fun at the seriousness of men's style pictures on Tumblr. That hobby has since grown. Bodhi now earns up to USD$15,000 ($21,000) a month. Ca-ching!

4. Audrey Versace (Jack Russell Terrier)
Owner: Donatella Versace
Donatella Versace's dog is named after actress Audrey Hepburn. Versace recently admitted in an interview with UK Grazia, "If anybody's my boss, it's Audrey". With an enviable wardrobe to boot — quilted tartan coats with gold buttons and black cashmere sweaters — this pampered pooch is living la dolce vita.

5. Asia Kinney (French bulldog)
Owner: Lady Gaga
With 110,000 Instagram followers (@MissAsiaKinney), a wardrobe to rival her owner's and daily spa treatments, Lady Gaga's French bulldog Asia is set to become even bigger with the announcement last month that she will be releasing her very own pet product line very soon. Watch this space.

6. Toast (King Charles Cavalier Spaniel)
Owners: Josh Ostrovsky aka The Fat Jew and Katie Sturino
Rescued in 2010 from a puppy mill, Toast's signature protruding tongue is the result of having rotted teeth removed from her mouth. It's proved to be a signature trait with the fashion-savvy dog modelling in the pages of Lucky magazine and posing for Karen Walker's latest eyewear campaign. With friends like The Man Repeller's Leandra Medine and Alexander Wang, this New York native has paid her fashion dues and become one of the most influential fashion pets in the world. Toast also has 255,000 followers on Instagram (@toastmeetsworld) where she likes to share snaps of herself dressed as Princess Leia and wearing sunglasses from her extensive collection.

7. Neville Jacobs (Bull Terrier)
Owner: Marc Jacobs
He's featured in Jacobs' new BookMarc campaign with billboards across the US to promote the designer's bookstores and has an Instagram following of 137,000 (@nevillejacobs). He's rubbed shoulders with influential fashion figures like stylist Carlyne Cerf de Dudzeele, hairdresser Guido Palau and supermodel Christy Turlington, and gets along with pretty much any other dog in town.

8. Bubba Sue
Owner: Miley Cyrus
Paper Magazine's viral-friendly covers have made a huge impact in the fashion world and this month's cover story of singer Miley Cyrus and her beloved pet pig, Bubba Sue, cements her role as the most powerful pet pig in the world. The porky pet recently partied with Joan Jett and has become an unofficial mascot for Cyrus' nonprofit organisation Happy Hippie Foundation, supporting homeless and LGBTQ youth. Now that's power.

9 and 10. Meredith Grey Swift, Olivia Benson Swift (Scottish Folds)
Owner: Taylor Swift
Swift's cats are famously named after two TV characters: Doctor Meredith Grey after Ellen Pompeo's character on Grey's Anatomy and Mariska Hargitay's Law and Order: SVU detective Olivia Benson. Kitty Benson featured in a campaign for Keds to celebrate the launch of Swift's latest album, 1989, and both have their own specially embroidered cat travel bags for when they're on tour. Fancy.
This week at Viva we're celebrating animals - the influential, the kind that keep you company, and the ones in need. To raise money for the SPCA we've launched The Pet Project, asking local designers and artists to donate and create special items to be auctioned off to the highest bidder. We'll donate all of the proceeds to the SPCA, so get bidding!
Share this:
More Fashion / The Latest