Fashion Week Beauty Essentials
11 fashion insiders share their must-haves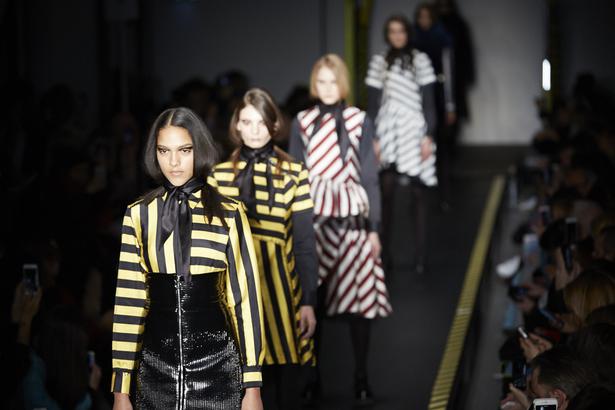 Wednesday Aug. 19, 2015
Jaime Ridge of Symmetry PR, PR manager
A fresh colour and trim from my gorgeous hair dresser Hala from Wolf & Wolf salon, is one of my many beauty essentials that will get me through Fashion Week this year. Hala always manages to ensure my hair looks fresh, lush and modern - that's why I love her!
Aimie Fiebig, makeup artist
Fashion week is all about going from day to night, and quick. My go to product is Elizabeth Arden lipstick in 'Red to Wear'. You can dab it on your lips with a touch of lip balm for a natural look or layer it to create more of a polished statement. Feeling tired? Smudge a little on the apple of your cheeks to brighten up your face.
Chloe Delamore of CC Communications, fashion week PR manager
M.A.C Face and Body foundation and M.A.C Soft and Gentle highlighter – gives me a reliable glow despite the late nights and early starts. That and lots of water!
Adrian Hailwood, fashion designer
I always have a good dollop of Dermalogica's Daily defence face moisturiser (with SPF15) slapped on and it feels great on my skin, it's one less thing I have to worry about during a busy week…Sun burn is not my friend.
Anna Caselberg, stylist for the Choose Wool show
Nars' bronzer/ highlighter South Beach has flecks of gold and can be used for an instant healthy glow and definition on cheeks.
Michael Beel of Buoy Hairdressing, hair stylist
My beauty product essential for Fashion Week is L'Oreal Infinium Hairspray, not only for the models and creating the hairdos but for myself. I've got long, floppy hair on top at the moment and it stops it falling in my eyes if I'm wearing it out or scraped back into a tight man-bun. Brushes out without any residue and leaves hair feeling soft and supple. Water is also my friend ...  doing back-to-back  shows, and when  you're in the thick of it, you sometimes forget to even breathe so having a bottle of water by my side helps keep that  Champagne headache at bay.
Katie Melody Rogers, 62 Models booker
Petalhead Daily Dose face oil day and night —  it's free of all nasty chemicals and  smells delicious. I also can't live without M.A.C Mineralize Skinfinish Powder — so good for touch-ups during the day — and Stilla black liquid eyeliner. Slightly shiny and really black, it lasts all day and night! 
Shuai Zhang, fashion designer of ITZME
With all the things that need to be done before and during my show, anything that helps my beauty regime become easier and happen with less fuss is perfect. I'm loving Wella Professionals Elements Conditioning Leave-In Spray – it feels so lightweight and it's de-tangling, I use it on towel dry hair and I'm good to go.
Ashlee Tulloch, 3 News reporter
"When I was 12 my dad took me to the supermarket to buy face moisturiser because he told me it would help my skin as I get older and prevent wrinkles. I've been a face moisturising addict ever since! My skin tends to be on the drier side, and as a reporter, when I travel it only gets worse. So I swear by Kiehl's Facial cream Intense Hydration. Plus they do cute baby sized jars which are so good to travel with and have in your handbag rather than lugging around a big container. There is nothing worse than thick foundation that goes on like war paint in my opinion. so M.A.C face and body foundation gives a nice sheer coverage with dewy finish. And Hurraw lip balm Coconut or vanilla are my faves. I keep one of these in my wallet because I use it so many times a day. Can't go wrong with organic raw ingredients either."
Rosie Kelway, Viva writer
My fashion week essentials revolve around what I can carry in my handbag and what is going to give me the biggest pick-me-up. A squirt of 'Gypsy Water' perfume by Byredo Parfums, a swipe of M.A.C lipstick preferably I will dig out either 'Snob' or 'Fleshpot', a spray of Redken's 'Pillow Proof' dry shampoo to freshen my hair during the day. And, my all new favourite for when I get home after a long day are the Garnier Micellar Extra-Gentle Cleansing Wipes which just hit the market.
Natalie Cantell, model, blogger, street style star
I'm in love with Butter Elixir face and body oils, it's my favourite thing to put on my skin. I like being low-admin so little prep, like tinting your eyelashes, goes a long way. Illuminating-but-not-sparkly products are my favourite, the 'Living Luminiser' by RMS is a cult buy, they're a really beautiful organic beauty line, and I love Mecca's 'Lit From Within' Illuminating Primer. When I'm having hair and make-up done, my job is mostly just to look after my skin and hair and do my best to keep everything hydrated when I'm traveling. I use the new Kérastase Thérapiste range, which is so good with helping my hair cope with all the blow drying. I have a no make-up policy when I fly, and I love coconut oil. For everything. On my lips, in the ends of my hair, rubbed into my cuticles, on my feet, in a cup of hot water when I'm on a plane or before bed, just for everything and all the time.
Share this: