Classic Moments from NZ Fashion Week
We round up the most memorable shows and moments in New Zealand Fashion Week's 14-year history.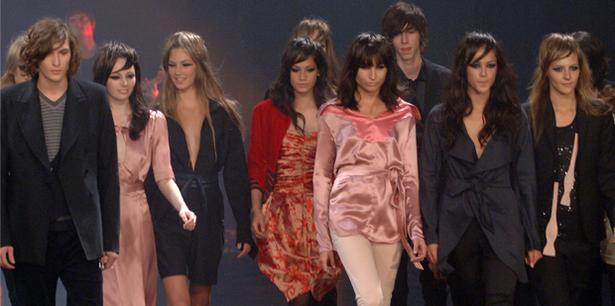 Monday Aug. 18, 2014
It's been 14 years since New Zealand Fashion Week first hit the Auckland Town Hall, giving the local fashion industry a platform to promote their coming winter collections. Viva has been there each year to witness the highs and lows, the show-stoppers and the spills. Although some are best forgotten, certain shows stand out for their beauty, buzz or just plain memorability. As we countdown to next week's shows, we look back on 10 occasions to remember.
1. Zambesi's exuberant St James Theatre showing in 2005 (above). The ultimate expression of their slick rock-star appeal, with glorious raspberry pops against skinny, black silhouettes, and models stalking to the front of the stage as Pluto rocked out.
2. The early years at the iconic Town Hall, with a central city buzz and a sense of excitement around a burgeoning industry. The crowded location felt intimate, and the international press delegates were top class - think Hilary Alexander for theDaily Telegraph and Colin McDowell for the Sunday Times.
3. World's 2003 show at the Northern Club proved seniors with style could work the runway. A year later, it was drag queens at The Ara Taimau Lodge, the oldest Freemason's lodge in the country.
4. Miss Crabb's show at Pony Bar, a cheeky off-schedule show with a guerilla spirit. Held in the early hours of the morning, the party-hardy atmosphere captured that pre-recession era when the industry was full of fun and excitement.
5. Last year's Underground installation which had an off-schedule feel to it, and created a welcome buzz around young designers again - with the likes of Eugenie, Kowtow and Jessica Grubisa showing.
6. Unusually located shows, like Huffer's Princes Wharf runway outing, complete with a fishing Ali Williams; Gubb & Mackie's navy base show, which all the delegates boarded a ferry for; and Stolen Girlfriends Club's DHL depot presentation, which delightfully disintegrated into a roaring party.
7. The weird and wonderful - and sometimes awkward - world of installations. What to do, where to look, where is my front row seat? Think Karen Walker's jewellery launch in 2003, Lonely Hearts' video installation in 2009 and last year's Salasai show/installation. 
GALLERY: NZ Fashion Week Memories
8. When fashion and celebrity combine it's ridiculous but memorable. World's 2011 live finale of New Zealand's Next Top Model, Nicky Watson's half-naked outings for IPG and Hailwood, and of course, in 2009 there was Pammy. 
9. The adorable Trelise Cooper Kids shows - any or all of them. Whimsical sets, confused and sobbing (or shyly smiling) kids and a yummy mummy audience - most of whom had at least one of their own to applaud.
10. Kate Sylvester's shows are always highlights - for the clothes, the soundtracks, the settings and the intricate themes. 2005's emotional Stop your Sobbing collection with its haunting soundtrack and "wall of tears" is still talked about in fashion circles. Everyone is anticipating her return this year, with a collection called Tartt - after writer Donna Tartt. We're looking forward to this year's take.
Share this: