Fashion Week show report: Kate Sylvester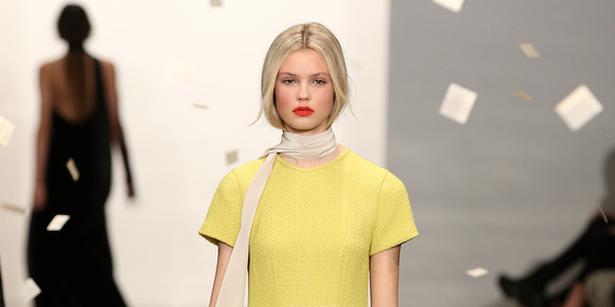 Friday Aug. 29, 2014
Who
Kate Sylvester, with one of the most anticipated shows of NZ Fashion Week having returned after a 5-year hiatus. The designer, who is also celebrating 21 years in business, closed the trade element of the event on Thursday night.
What
Classic Kate, in all its sensibly sexy, nonchalant charm. The designer looked to the writer Donna Tartt and her books The Secret History and The Goldfinch for inspiration, having read the latter over her summer holiday. 

Sylvester has a serious bookish bent, and often cites books and writers as key to her collections: from 2000's Catcher in the Rye collection to her current in-store collection sparked by reading The Luminaries. For autumn/winter it was Tartt and her evocative descriptions of her characters' dress, with Sylvester taking some literal inspiration from the author's lines: billowing coats and white dresses, starchy shirts, "a wisp of silk in a forest of black wool".

"She just made it so easy," explained Sylvester backstage before the show.

Menswear was the basis of the collection, hence the pretty boys on the runway alongside Sylvester's bookish babes (the designer is, sadly, not yet relaunching her menswear line). That boy-girl idea sums up the collection, with slouchy lingerie sitting against prim A-line midis, and louche velvet gowns and skirts with slits up the leg against her signature boyish suiting.
A classic palette - white, black, grey - contrasted with the colours of the goldfinch: gorgeous blue leather, vibrant red paisley and the ultimate show closer, a gorgeous acid yellow dress.
Where
At the Viaduct Events Centre. Sylvester and her partner and the brand's creative director Wayne Conway always surprise with their runway sets or backdrops: this year it was to come midway through the show, with confetti made from chopped up book pages raining from above. Lovely.
We liked
This collection was a summation of what we love about Kate Sylvester. After 21 years, Sylvester knows her brand, and this collection reiterated that confidence, with every signature she has developed still feeling fresh: suiting, lingerie, faux fur, stripes, leather and lace. Sylvester shares similar brand values to Miuccia Prada, with this collection pieced together with a similar primly subversive bent.

Even the hair and makeup was all Kate Sylvester - red lips and natural, straight hair, a reference to the designer's own personal beauty look.
The music
Sylvester always has the coolest soundtracks, with this show opening with a voiceover reading lines from Tartt's first novel, The Secret History before segueing into four songs from The Jesus and Mary Chain - another Kate Sylvester signature.
See highlights from the show below.
Share this:
More Fashion / The Latest