Fashion Week show report: Stolen Girlfriends Club
Dan Ahwa reports from the show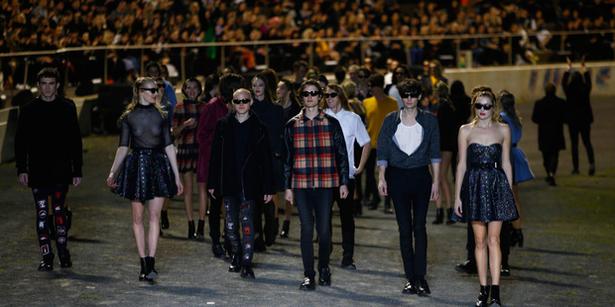 Wednesday Aug. 27, 2014
Who
L'enfant terrible of fashion week, Stolen Girlfriends Club.
What
Tough leather motorcycle jackets, tricked up denim separates and 90s party dresses make an appearance within the collection entitled 'The Guilty Ones', building on the brand's signature subversiveness and love of youth sub-cultures. Described by creative director Marc Moore as "Twin Peaks grunge", the collection also highlighted more sophisticated offerings such as fully fashioned knitwear, sleek workwear totes and boxy wool tartan coats that would work seamlessly into a professional wardrobe come next season.
Where
Offsite at the the Western Springs Speedway Stadium. Sitting on the bleachers as models walked past in the glow of stadium lights created the perfect Twin Peaks haze.
We liked
The more polished presentation that came through with styling, hair and make up.

Not so much...
With a big show comes big financial support from corporate sponsors, but the blinding glare of a row of Mini cars at the entrance was an eyesore to be greeted with. Nevertheless, that seamless connection between Mini and the location of the speedway means one very happy sponsor.
The music
Nice and loud. Particular favourites included music from Glass Candy and Pixies.

Beauty note
Working well with the wet look hair provided by Redken, the make-up keyed by Kiekie Stanners from M.A.C Cosmetics was flawless. High shine skin and orange-red lips gave models a mysterious looked that touched on that other favourite SGC muse, the Helmut Newton woman. A particular focus of course was the dark allure of Laura Palmer Twin Peaks girls. "The girls looked beautifully haunting, but also with a bogan David Lynch side. Slightly mysterious. The key feature was a super glossy overdrawn orange-red lip" explains Stanners.
Trends spotted
Embellished denim, knit dresses and jumpers (especially the yellow), patches on jackets.
See highlights from the Stolen Girlfriends Club here:
Share this: