What Next for Net-a-Porter Founder Natalie Massenet?
The founder of the e-commerce site has said goodbye to her baby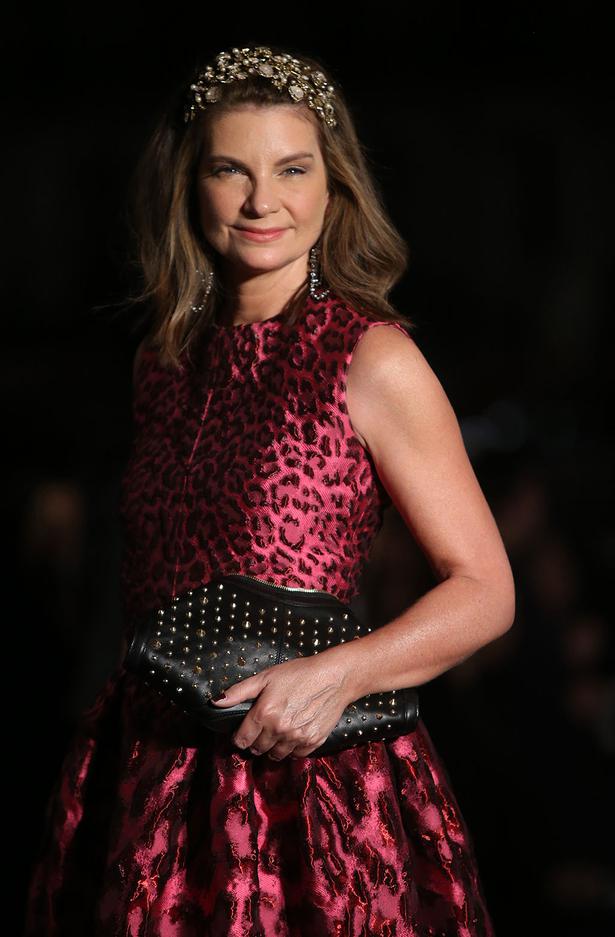 Wednesday Sept. 9, 2015
Natalie Massenet, the one-time fashion editor turned symbol of what a female multi-millionaire entrepreneur looks like in the 21st century, is not a quitter. But last week, before Net-a-Porter's merger with Yoox.com was finally due to complete, she did precisely that, announcing she was leaving the global luxury fashion e-tail phenomenon she founded from her mews house in 2000 — a business so bound into her identity that her own Instagram account is called "nataporter".
Her "abrupt" resignation will have surprised no one in the industry. The union with Yoox was always going to be an interesting marriage. Think Lady meets the Tramp — with complications. Net-a-Porter, a British luxury retailer, sells £2000 Fendi handbags and Valentino dresses from a glossy website that, visually at least, resembles the lovechild of Vogue and Selfridges and provides same-day delivery with all the trimmings.
Yoox.com is an Italian online discounter that sells past seasons' stock from a host of labels, from the prestigious to the obscure, and places rather more emphasis on piling it high and significantly less on making the purchasing process a visually uplifting experience.
But the main difference, as the hard-headed analysts are fond of pointing out, is that though gorgeous-looking Net-a-Porter has always struggled to turn a profit, posting £27 million in losses in 2012, £23 million in 2013, and £10 million in 2014, scruffy little Yoox has made a fortune almost from inception — also, coincidentally, in 2000. Its founder, Federico Marchetti, also has a sideline in designing and operating the websites of many leading fashion brands, for which he receives handsome dividends and invaluable meta-data on luxury spending habits.
Inevitably, however, even in the business journals, it's Net-a-Porter that has nabbed a disproportionate amount of attention. That's largely thanks to Massenet, a good-looking, one-time model-turned-stylist. Despite the American accent (she was raised in Los Angeles), she's three-quarters British, a bit French and Welsh. However, she seems overwhelmingly American.
Charm, persistence and monumental amounts of self-belief (bolstered initially by repeated readings of The Power of Now, a modish tome about seizing the day) were Massenet's original assets. "Positivity," she once told me, "is like a muscle: keep exercising it and it becomes a habit."
Shortly before Net-a-Porter launched, she must have been flexing those muscles big time when she visited all her old journalist contacts — I was one — to present her vision for a virtual retailer that would enable time-poor, credit-card-rich women to shop the most desirable labels from their desks.
It's fair to say the initial reaction was, at best, quizzical. Whatever a female entrepreneur was meant to look or sound like in 2000, she didn't fit the bill. She was too fashionably dressed. She wasn't only demonstrably sweet, she also seemed vulnerable. When she worked at Tatler she'd occasionally retreat to the fashion cupboard in tears. "Jane [Proctor, then editor of Tatler] didn't get her taste and was pretty horrible to her," says one former staffer.
To be fair, the brilliant but mercurial Proctor could strike fear into many of her staff. The difference was that Sweet Natalie demonstrated hints of inner steel combined with dollops of quirkiness. "I wasn't remotely surprised when she started trailblazing," says her immediate boss at Tatler, Harriet Mays Powell. "She was quiet and very shy back then, but she was always fascinated by technology."
She "left" Tatler, was turned down for a job at Vogue and her styling career wasn't exactly on fire. No wonder a sign in a NatWest window along the lines of "So You Want to Start a Business" resonated.
She set about persuading her husband, financier Arnaud Massenet, to help find investors. There was one small problem: in 2000 there was no culture of buying luxury clothes from a website. Didn't you need to try them on, feel the quality, be seduced by the touch? Boo.com, an online venture in 1999 selling mainly affordable — but high fashion — clothes, had famously crashed, burning through $135 million of venture capital in just 18 months.
Massenet had a relatively paltry £1.2 million in seed money, although after the implosion of the first internet bubble, even that placed her securely ahead of the handful of small "luxury fashion" websites that were launched around that time. A year later, nearly all had gone out of business. That Net-a-Porter didn't is a testament to the determination and — overused word but, in this instance, justified — vision, of Massenet and Carmen Busquets, a Venezuelan serial internet entrepreneur with flamboyant taste and one of Net-a-Porter's founding investors.
Style mattered, too. Massenet wasn't only having to overcome the quizzical response of the fashion press, but also the horror of high-end brands, convinced that making their products available online would destroy their mystique. To this day, Chanel, Prada and Celine still resist selling their clothes on the internet.
Massenet began with a handful of brands — young upstarts like herself, such as Anya Hindmarch — and proceeded to make a splash at fashion shows, initially by dressing fabulously well, smiling and emitting an inviolable aura of success (see Power of Now's teachings).
"I remember thinking, 'I'm not sure if this will work, but I really believe in her'," says Hindmarch. "That sort of sums it up, really. Her pioneering ideas are second to none but she also combines and delivers them with huge style, enthusiasm and positive energy. And she's a team player. A pretty once-in-a-lifetime set of skills, really."
The number of labels coming on board jumped exponentially each season — as did sales. "We finally knew we had a business about five years in," Busquets told me, "when the number of sales from people we didn't know exceeded sales to our friends and friends of friends."
Massenet was the perfect ambassador for the brand — photogenic, media-savvy and full of sparky ideas: for the Outnet.com, Net-a-Porter's stylish discount sister site that enabled it to sell old stock, for MrPorter.com (for men), Net-a-Sporter (a section of the site dedicated to the booming gymwear market).
A former journalist, Massenet knew a good news pitch. Following Lehman Brothers' crash in 2008 and the temporary halt in luxury spending, Net-a-Porter immediately announced that, for those who requested, it would deliver guilty purchases in anonymous brown paper packaging.
The flow of initiatives created some 2500 jobs, with state-of-the-art distribution centres in New York and Hong Kong, enviably glossy offices and generous pay packages. In 2010, Richemont, the Swiss-based holding company that also owns Chloe, Cartier and Van Cleef, acquired a majority stake in Net-a-Porter, in a deal that was reported to reward Massenet with a personal fortune of £50 million.
Yet almost before the ink was dry, there were rumblings that all was not well. Although Net-a-Porter had become by far the biggest source of revenue for many designers, it was extremely expensive to run. The launch last year of Porter, its ultra-glossy magazine, was viewed by many as a very personal indulgence. "Don't forget," says one insider, "Natalie is an editor who never achieved her dreams on magazines."
When Richemont announced the merger of Net-a-Porter with Yoox.com, its chairman, Johann Rupert, commented that the changing retail landscape meant it was now a game for "the big boys". If the comment rankled, it didn't show. Massenet maintained a sphinx-like gaze at all times. But that, too, has irked some former colleagues, who saw her as increasingly aloof.
The fact is that, until recently, Massenet appeared to very nearly have it all — two teenage daughters, beautiful homes and thriving careers. (She's also chairman of the British Fashion Council, a pro-bono but immensely influential and time-consuming role.) "I'm naturally lazy," she once told me. "That's why I take on so much."
Following her divorce in 2011, she also has a handsome boyfriend — Erik Tortensson, one of the founders of Frame, the cult denim label. She even seemed to be taking her 50th birthday in her stride — with a lavish party in Positano this summer.
Now she has walked away from what she sometimes called her third child. "As for my own future," she said in a characteristically upbeat statement last week, "my entrepreneurial drive is as strong today as it always has been, and my passion for innovation will continue to be my greatest guide in business."
"I'm sure the extra £100 million she apparently now has will help," commented one rival retailer. Doubtless so. But as all mothers know, it's always hard saying goodbye to your baby.

— The Daily Telegraph
Share this: