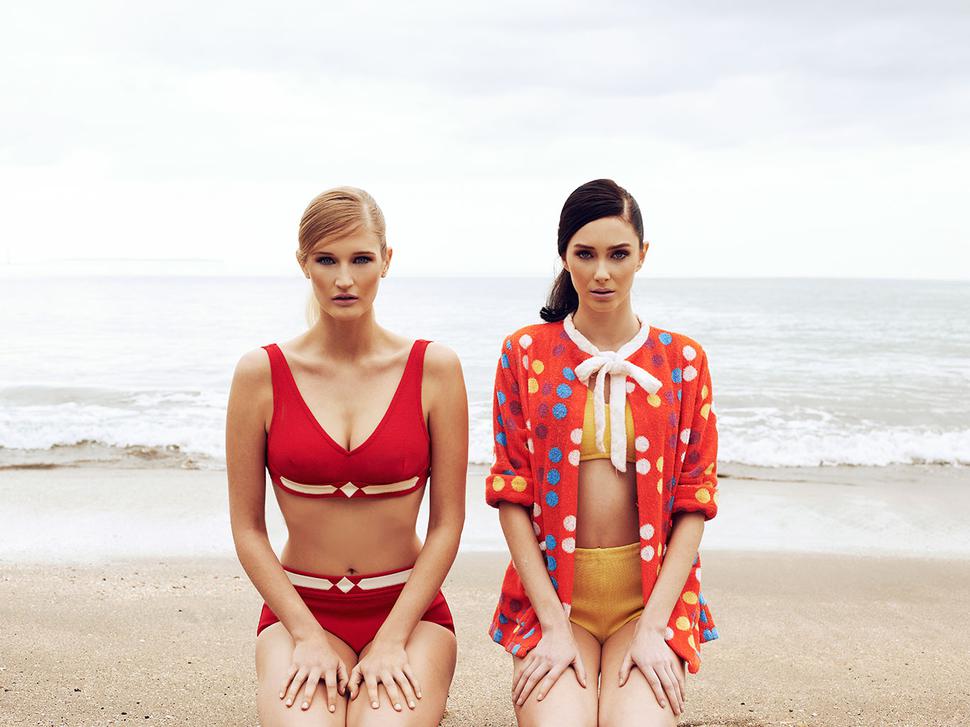 Why We Love the Beach
A new exhibition charts how the beach has informed our approach to dressing
Wednesday Oct. 14, 2015
If asked, most people will be able to detail what the swimsuits of their youth looked like: mine was a star-printed one-piece with pink ruffles around the hips; Karen Walker had a navy and white costume with big cut-outs on each side; and former beauty queen Lorraine Downes had a blue bikini with white frills on top, which she wore during summer at Mt Maunganui.
Given that no one in New Zealand lives more than 130km from the coast, it's hardly surprising that we are so immersed in beach culture and that our time there is so memorable – holidays are spent at the family bach (or a friend of a friend's), togs replace knickers as the undergarment of choice and grains of sand find their way onto the floor, into the bed, and every other crevice possible. Learning how to swim is as much a rite of passage as learning to drive.
Kate Sylvester, who creates swimwear every summer (and first wore a home made Hawaiian-print bikini), says beach culture is reflected in our everyday wear.
"It's intrinsic to our cultural identity — the reason our natural style is so casual is that we'd all rather be at the beach."
What we wear is well considered — it needs to cater to our swimming, surfing, lying or playing needs — but it also dictates what our everyday attire looks like, which is the focus of a New Zealand Fashion Museum exhibition opening at the Maritime Museum this Saturday.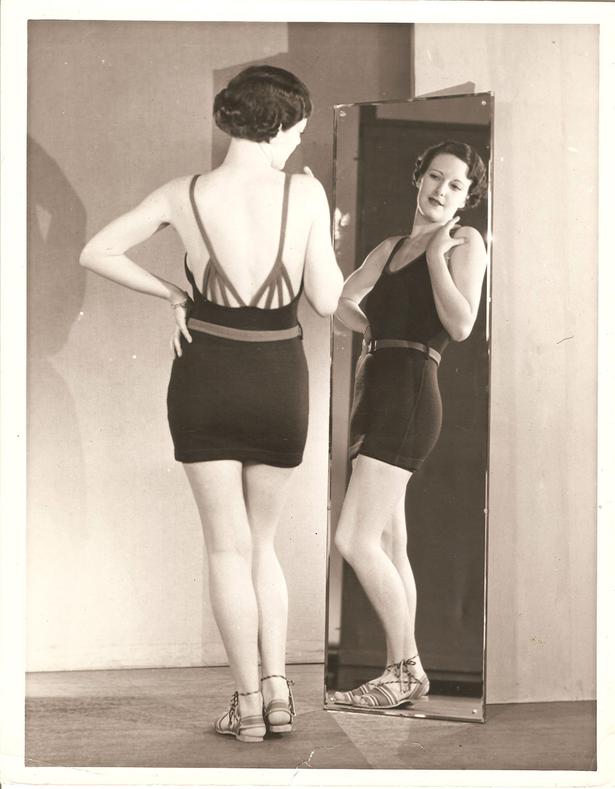 Created by NZFM founder Doris de Pont and fashion consultant Dianne Ludwig, At the Beach: 100 Years of Summer Fashion in New Zealand actually spans 115 years, from around 1890 to the present day, but that's beside the point. The crux is that our relationship with the coast has had an impact on our national identity: relaxed in attitude, casual in dress.
"It's almost like New Zealanders have this feeling that the beach is a bit of a birthright, and it's a place we go for pleasure and relaxation," says Dianne. Her first suit took the form of a pink triangle bikini, bought from a beach boutique in Orewa.
"Our fashion in some respects mirrors that, because it does kind of sit between formal and informal."
Ludwig references a look from Karen Walker's current resort collection, which combines a floral loose-fitting T-shirt with a short navy skirt and oversized frames — an outfit that would look just as at home on the beach as at a cafe on Ponsonby Rd.
That way of dressing is reflective of the beach itself — it doesn't have the formality of the city, nor the looseness of the water, says Doris, whose first suit was a little woollen number with a teddy bear on the front. "It's an area where you can do things your own way, the normal rules don't apply.
"New Zealanders are sort of like that — we don't like to obey the rules for dressing or behaviour, we're a little bit on the edge and a little bit outside with how we approach things."
Looking at how the swimsuit shrank over time, Doris says, we can see the change in morality. The exhibition begins with the combination suits of the Edwardian era: cotton bloomers with little sailor tops that weighed the same as a bag of sand when wet.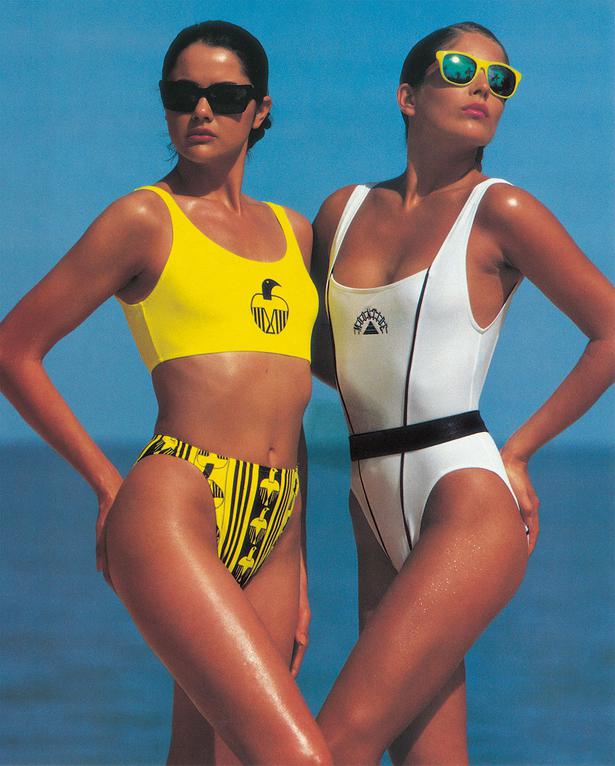 In 1910, Lane Walker Rudkin developed a two-piece consisting of a short-sleeved V-neck tunic and knee-length shorts, known in New Zealand as the Canadian suit — prevailing decency regulations meant the body still had to be covered from shoulder to knee.
Although women had achieved universal suffrage some 20 years before, it wasn't until the upheaval of World War I that their roles started to change. As well as having careers and drivers' licences, by the 1920s women were also playing sport, which meant they required clothing with less constraints — including swimwear. Enter the maillot or sport togs — one-piece sleeveless suits with short legs — advanced by European designers such as Coco Chanel.
A scantily-clad Brigitte Bardot in the 50s film Manina, the Girl in the Bikini was a turning point for swimwear, and although it caused outrage at the time (probably also because Bardot was 17 during filming), by the late 60s the masses were following suit, and by the 70s the swimsuit was at its skimpiest.
Through film, New Zealand had paid close attention to swimwear trends, and by the time the 80s came around, local companies Expozay and Moontide were putting New Zealand swimwear on the map.
Doris says this was the most pivotal moment for beach culture in New Zealand, because the beach became high fashion.
"Fashion models and swimwear models were historically, and even today, quite different people, but in the 80s they were one and the same. I'm thinking in particular of our NZ supermodels like Rachel Hunter, who was on the cover of Sports Illustrated, and Lorraine Downes, who was Miss Universe. So it was then that those things came together, when high fashion looked like the beach."
Those glamour years may be in the past, but our modern-day success lies in the hands of brands such as Lonely, which has carved out a new approach to beach dressing and is stocked in nearly 30 stores locally and internationally.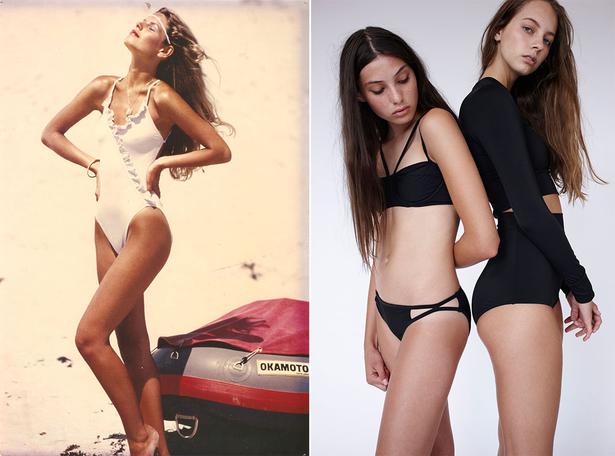 "Lonely is the new form of how our fashion industry is now," says Dianne. "It's not about having it made here, it's about having great ideas and design and being able to put that firmly on the international stage."
Lonely designer Helene Morris says as with their successful lingerie brand, they don't tend to look to other swimwear brands for inspiration. "This helps give us our unique point of view," says Helene, whose first swimsuit was a yellow terry towelling halter neck made by her mother.
"We also love to bring lingerie detailing into our swimwear designs, including delicate strapping and rings."
In keeping with our need for practical beach designs, Helene says comfort and fit are always important when designing garments that have to be functional. "I love wearing our Lonely rash vests with high-waisted briefs. I like to cover up and am often at the beach for hours building sandcastles with my kids."
Although the exhibition explains how beach culture has had an influence on our fashion choices, it also goes deeper in offering a theory for our nation's attitudes as a whole.
Dianne says the relaxed nature of the beach has helped define our egalitarian, anything-goes society. "It's a great leveller, and that's one of the things I really love about the beach," says Dianne. "It doesn't matter who you are or what you do, you can still access it and enjoy it just as much as the person who might own the million-dollar property at Omaha Beach."
Which, naturally, would leave more time for deciding what to wear, relaxing and creating those long-lasting memories.

• At the Beach: 100 Years of Summer Fashion in New Zealand, October 17-February 8 2016. Maritime Museum, Cnr Quay and Hobson Sts, Auckland.
Share this: