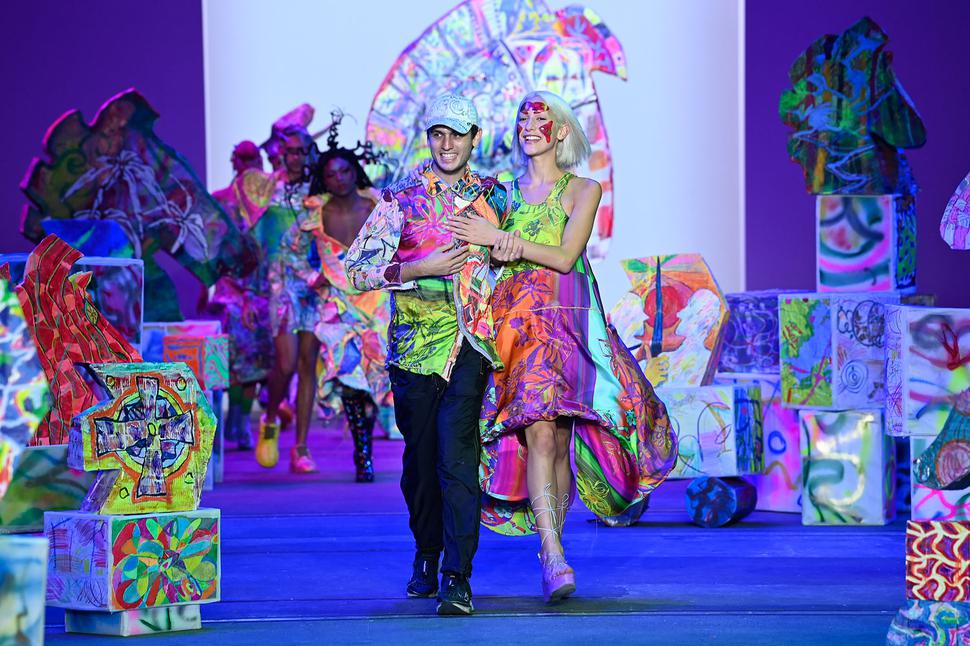 Our Favourite Highlights From Afterpay Australian Fashion Week 2021
Fashion director Dan Ahwa returns to Sydney to witness a progressive chapter in the event's 26-year history
Friday June 4, 2021
A new naming rights sponsor, a commitment to (finally) showcasing and celebrating First Nations fashion designers and a handful of new, radical design talent marked this week's Afterpay Australian Fashion Week as one to remember.
As the pinnacle event on the Australian fashion calendar, this year's first in-person international fashion week since the pandemic struck over a year ago operated under strict health and safety rules as Melbourne returned to lockdown only a week ago.
This year also put the spotlight on fashion's ongoing desire to be part of the wider cultural conversations affecting the industry.
Additional panel discussions looking at issues facing the industry today and an acknowledgement of the retail industry's current state, were just some of the key topics of conversation being had during the week.
Such conversations provided plenty of opportunity to re-think what a fashion week means right now and how vital it is for these events to look ahead to the future given the radical changes from the past year.
This includes the initiative of IMG's 2021 'Changemakers' — a collective of leading names in Australian fashion actively engaging in this year's schedule of events from runway shows to panel discussions and more, bringing their desire for progress to the table.
Those names included photographer Daphne Nguyen, multidisciplinary designer and artist Jordan Gogos, model and ambassador Nathan Mcguire and New Zealand's own top model Manahou Mackay, who is making a name for herself in Sydney fashion circles.
Manahou's inclusion as part of the Wonder Women talk about representation in the fashion industry was a highlight, joining a panel that included Inprint magazine's creative director Meghan Kapoor, disability affairs officer Lisa Cox and IMG model Bree McCann.
Natalie Xenita, the vice-president and managing director of IMG Fashion Events & Properties, Asia Pacific, says it was a proud return to form and a fresh opportunity to signal to other global fashion weeks of what can be done safely. 
"AAFW is a momentous occasion to showcase the unmatched creative talent of the Australian fashion industry to the world. This season's incredible schedule of designers, fashion events and programming will strengthen AAFW's position as the leading fashion event in the region and the global destination for resort collections."
While every designer can be lauded for their tenacity and passion given the fresh challenges the industry is facing at the moment, here's a handful that piqued our interest during the week.
The first official runway show on the schedule took place on Monday with the debut presentation of Australian-British talent and Central Saint Martin's alumni and proved to be a strong signal to start the week off with a fresh name like this.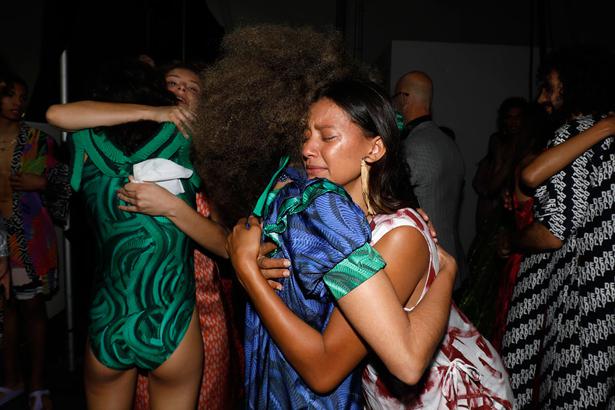 Trippy staging at Gallery Two in Carriageworks — a patchwork of giant carpet squares covering the runway and backdrop. NZ model Georgia Fowler closed the show wearing a full-length floral print gown that had a subversive twist — a pillowy hemline and voluminous mutton sleeves, amplified by an over-the-top, Valley of the Dolls-style hairdo. 
A collection that challenges the status quo, has a signature handwriting and can easily be broken down for the shop floor, an inspired start to the official schedule.
Always a highlight on the schedule, designers Luke Sales and Anna Plunkett decked Carriageworks with a vintage carousel, the duo presenting two new lines that utilised dead stock and preloved vintage. Whimsical, fantastical and joyful, standouts included voluminous tiered gowns and a patchwork mini dress worn by one of our favourite models from the week, Shimma Marie.
The New Zealander made us proud with an intimate presentation held at the Centennial Park Homestead, and Amano restaurant's private dining room in Auckland. Presenting a film directed by Duc Thinh Dong and produced by Lauren Barge, the capsule collection was filmed against a rural backdrop at The Range in Byron Bay. Entitled A Brave New World, Maggie was inspired by the act of breaking bread with loved ones as we face life's challenges united and with a sense of optimism. 
WATCH: Maggie Marilyn's A Brave New World directed by Duc Thinh Dong
"I came across an image shared by Laura Jackson, founder of Hoste London and long-time supporter of Maggie Marilyn, which seemed to perfectly capture the optimism I was feeling — despite everything — of what a new year and fresh start could hold. 
The image depicted a group of friends gathered outside around a long dining table on a warm summer's evening. Breaking bread, laughing, storytelling and enjoying each other's company. There was a lightness I was immediately drawn to and it reminded me of the simple pleasure that comes from dressing up and sharing a meal with your favourite people."
READ: Highlights From Maggie's Collection Photographed By Melbourne-Based New Zealander Dan Roberts
4. First Nations Fashion and Design (FNFD)
While Australia has a long way to go compared to New Zealand when it comes to amplifying and supporting indigenous creativity and First Nations businesses, it was a step in the right direction to see this first-time inclusion on the official schedule.
The historic runway presentation brought tears to the eyes of guests and featured a sculptural installation of native Australian florals and grasses by Libby Emerson of e SQUARED Design; and a medley designs from labels you need to know including Grace Lillian Lee, AARLI, Amber Days, Nungula Creative, Sown in Time, NGARRU MIIMI and Clair Helen.
Models included top model and FNFD ambassador Charlee Fraser.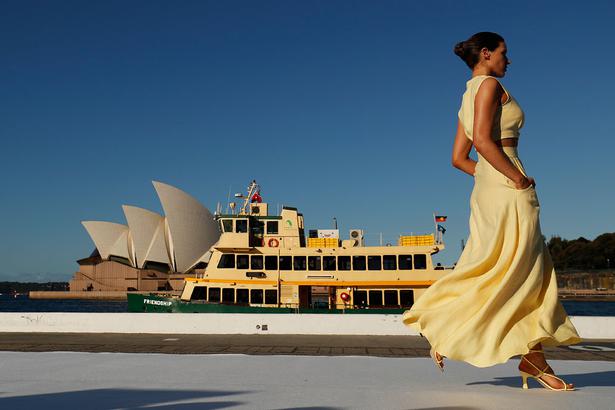 Pieces from Aarli Fashion, Rukaji from Mankaja Arts and Ngarrumiimi by Lillardia Bridges-Houston's collection played a vital role in the official opening ceremony at Carriageworks on Monday at the Welcome to Country ceremony, recognising, for the first time, that the week's events were taking place on Gadigal land. These recognitions continued throughout the week as the designers on schedule made a more concerted effort to acknowledge indigenous land. 
"This has been a decade in the making," said Ms Lee, of the initial conversations to stage an Indigenous show. "Fashion is a great way to learn more about our people and our stories, to invite conversation and allow us all to grow. The point is to start to grow a self-determined, economically sustainable industry. This is the beginning."
Highlights from the group showcase include the artful silk print dresses by Ngali, featuring artwork by Lindsay Malay of the Warmun Art Centre on Gija country.
Designer and artist Paul McCann's work was also a detailed showstopper - a green gown adorned with golden gumnuts was proudly worn by Aboriginal artist, activist and personality Felicia Foxx.
Let's hope these conversations and awareness raising extends beyond the week.
If there's one name to remember from Fashion Week it's this one. As Viva contributor and top fashion editor Georgina Safe explained during the week, Jordan is a name to watch. The man behind his multi-disciplinary brand, Iordanes Spyridon Gogos (named after his pappou), uses deadstock materials for his designs that include fashion, furniture, and sculpture. The Parsons School of Design graduate has a playful approach to his work, exploring traditional methods of craft, from patchwork to applique. 
It was also great to see the 26-year old celebrate colour and joy with a distinctive Greek flair that honours his heritage, incorporating his yiayia's yarns in the garments to launching a Trojan horse as his logo.
A recent endorsement from Vogue Australia's creativity edition featuring Gemma Ward and photographed by New Zealander Derek Henderson included pieces from the designer, marking an already promising start for this exciting new name, who started his label as a true design response to Covid. 
Jordan transitioned from designing furniture craft with his Gogos brand, to working with textiles as an experimental, non-gendered and innovative approach to sustainability.
Walking the runway was New Zealander Harry Barclay and one of the most stylish people of the week, local style star Jack Huang.
Collaboration was key to this presentation, with a collective of 25 designers
Such a multidisciplinary approach to design is the perfect way for brands to experiment and benefit from a cross-pollination of ideas. An exciting and utterly creative designer who reminds us that yes fashion is all about the bottom line, but in a world of homogeneous looking clothes, originality and creativity will always pave the way for the industry to truly progress.
A playful breathe of fresh air from the sea of slick and sophisticated Bottega Venetta inspired looks (the brand is 'hot' in Sydney) parading outside Carriageworks.
It could not have been more Sydney than this: Set along the dockside of the Overseas Passenger Terminal at The Rocks, a white runway shone in the afternoon glow as the Sydney Opera House and the glistening harbour provided a picturesque backdrop for one of the more commercial collections on our radar. A great, colourful resort-inspired fashion collection from a brand founded by Dale McCarthy and designed in partnership with creative director Karla Clake.
Christian Kimber flanked by his models a part of an intimate presentation at popular restaurant Chin Chin. Photo / Supplied

The collection's block-coloured pieces included sunny yellows, crisp black and hot magenta hues. Textiles were innovative, including a GRS recycled polyester wool, a GRS recycled cotton/linen blend, and Better Cotton Initiative sourced cotton.

If there was ever a way to celebrate resortwear with a fresh, minimalist perspective that everybody could enjoy, this was it.

An intimate dinner held at popular Surrey Hills eatery Chin Chin was the perfect spot for a Tuesday evening dinner from the Savile Row trained menswear designer. Focusing on classic hallmarks of menswear with modern finesse, highlights from the presentation included a stunning taupe suede jacket and knit polo shirts.

The designer himself wore a smart double-breasted tan blazer and spoke as part of a panel discussion with the owner of luxury department store Harrods, Mary Poulakis, and managing director of Capri Holdings, John Mutton, about the exponential growth of luxury fashion in Australia. 

The designer's knack for understanding a professional man's wardrobe covers smart and casual options in an elegant and uncomplicated way - perfect for guys right now who require flexible clothes for increasingly flexible dress codes.

Whether it was a lightweight overcoat layered over a relaxed blazer or a knitwear slung over the shoulders (Italian menswear hallmarks are a staple here), these were perfect designs for men today needing the perfect middle ground between traditional tailoring and the increasing need for casual attire.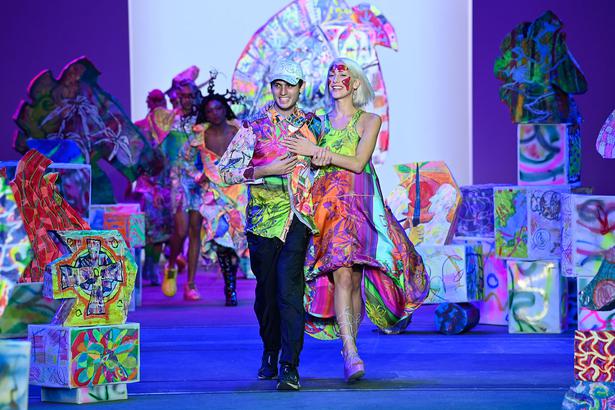 Designer Jordan Gogos and model Manahou Mackay following the Iordanes Spyridon Gogos show. Photo / Getty Images

Great to see this menswear inclusion on the schedule and the salon presentation, intimate dinner and panel discussion provided the perfect inspiration for how designers can speak directly to their community outside of a traditional runway show.

An early morning start at the stunning Tamarama beach for another debut from the buzziest new brand from Australia, founded by Richard and Emma Jarman, winners of the coveted National Design Award earlier this year. 

Tranquil resortwear, breezy tailoring, swimming briefs made with recycled polyamide and an opening shirt inspired by the peachy hues of 20th-century painter Milton Avery made an impact.
A beautifully presented collection as models strolled along the beach — editors sitting a stone's throw away from the incoming waves took in the fresh morning air and models waded through the sea. 
HONOURARY MOMENTS AND MENTIONS:
The Suites
The trade showrooms at Carriageworks is actually one of the few places where guests can go for some respite. Low-lit, peaceful and a chance to catch up with smaller brands who might not have the need to do a full-on runway show but still like to have a face-to-face presence with guests and delegates. It was a good opportunity to catch up with two brands on our radar — Bird & Knoll and the crisp daywear from Palma Martin. 
Carla Zampatti tribute
Former foreign minister Julie Bishop paid tribute to the iconic Australian designer who sadly passed away earlier this year after sustaining serious injuries in a fall at the opera in late March. She was honoured on Monday with a runway named after her at Carriageworks events space.
Speaking at the poignant tribute, Carla's daughter Bianca Spender, a fashion designer in her own right, spoke at the event. "A classic runway show still reigns supreme as the most compelling way to launch the creative vision of a collection. Mum was aware of this, and continued to be motivated to showcase her designs on the runway more than 110 seasons on."
READ: Legendary Australian Fashion Designer Carla Zampatti Dies Aged 78
Share this: