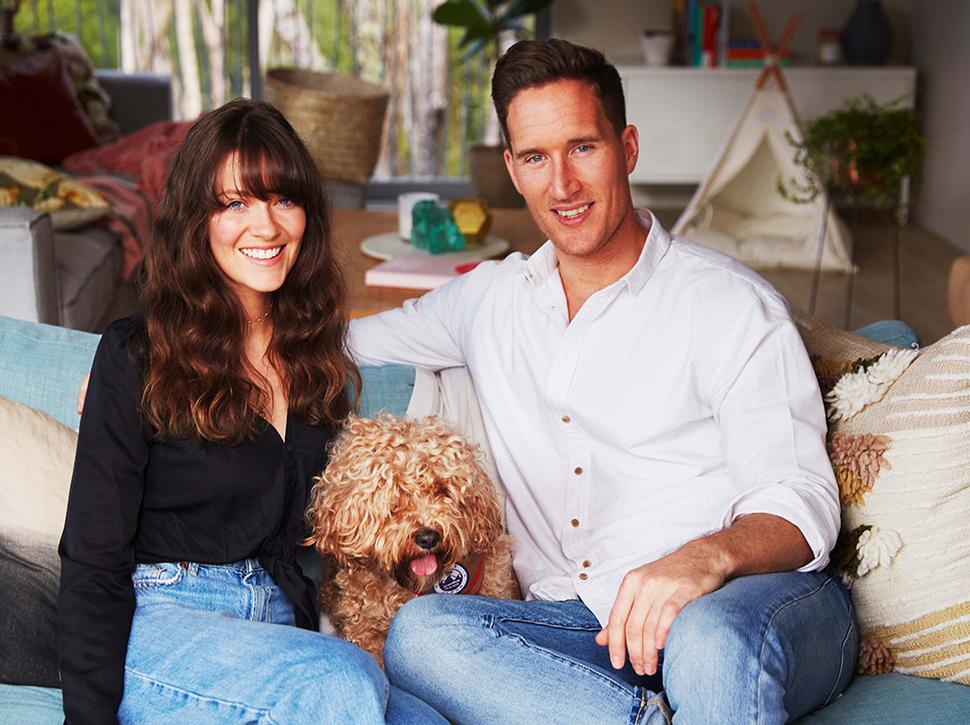 Favourite Things: Camp Cloon Founders Ryan MacPherson & Jocelyn Closs
The couple behind the Kiwi pet merch company share their favourite things including their cavoodle Clooney, quality design and all things canine-shaped
Saturday Aug. 11, 2018
There's not much a pair of puppy dog eyes can't sell.
Add a mop of ginger curls and stylish dog apparel to that and it's an irresistible combination that's seen local brand Camp Cloon sported by four-legged friends worldwide.
Its founders, couple Ryan MacPherson and Jocelyn Closs, launched the range in 2014 after being unable to find quality wares for their new family member — a cavoodle pup named Clooney.
"We couldn't believe how kitsch and overpriced pet products were," says Jocelyn. "That's when we thought it'd be fun to make our own."
READ: Get Your Paws on These Cute Accessories to Mark The Year of The Dog
Ryan, who previously worked in advertising, and Jocelyn in fashion at Karen Walker and Superette, were just the creative duo to take on the booming pet industry, which was an untapped market in New Zealand, they say.
"Globally, people spend more than $100 billion annually on their pets. They're part of the family and often no expense is spared," says Ryan. "We both grew up with beloved family dogs, and that's just it, they're family."
The couple combined their skills to create a fresh take on typical, cliched pet ware, drawing inspiration from the outdoors and the urban environment of New Zealand for everything from hoodies to collars. They also make matching human beanies, T-shirts and candles.
"We wanted to create a range of products with the same level of detail and quality you'd expect when shopping for yourself," says Ryan.
READ: The Best Dog-Friendly Cafes in Auckland
Charismatic Clooney provided the idea for the name and became the campaign mascot. "Clooney's like a little cub scout. As a puppy, he turned our house into his own campsite, so Camp Cloon just stuck," says Jocelyn.
You can also find hints of scout culture across the designs — think checked neckerchiefs, and a signature pup tepee and bed — a nod to Jocelyn's Canadian roots. The couple met when living in the same student residence when Ryan was on an AUT exchange in Toronto. "Jocelyn was literally 'the girl next door'," he says.
The brand has been a hit overseas, selling to Australia and the US, with retailers in London, Japan and New York. Getting Kiwis on board the styling craze has been a little more difficult. "Interestingly, the New Zealand market is not as strong for us. It seems Kiwi canines haven't embraced the dog-ware scene as much as our furry friends overseas," says Jocelyn.
Clooney's active following on Instagram was pivotal in getting the brand name out there, and Instagram celebrity The Fat Jewish helped entry into the American market. He shared his dog wearing Camp Cloon with his more than eight million followers.
"Instagram played a big part in growing Camp Cloon, especially when we were a bit ahead of the pet clothing and tepee curve. They don't call it Dogs of Instagram for nothing," says Ryan.
READ: Which Crazy 'Dog Parent' Are You?
The self-confessed workaholics say they never expected to venture into the pet industry, but it has evolved naturally. They also own design studio Kanook, which makes digital goods for local brands.
"Camp Cloon is now more than we ever imagined. The key for us is to have fun with it. If it wasn't fun, we wouldn't be doing it," says Jocelyn.
Whatever they're doing, camera-loving Clooney is never far behind, says Ryan. "He's like a little emotional vitamin and without him, life would be a lot less fun." 
OUR FAVOURITE THINGS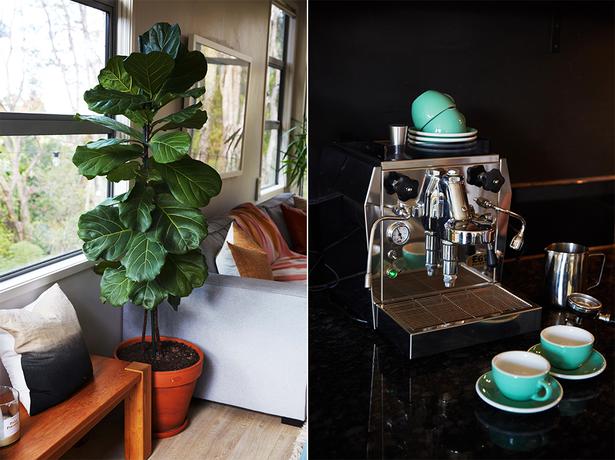 1. Frank the Fiddle Leaf Fig
Initially, he was only a couple of feet tall, but after four years he's really grown. We've been nurturing him ever since and he's already taller than Jocelyn.
2. Rocket Espresso Machine
This is the best thing we've ever bought. It never fails to deliver, and consequently has taken our coffee addiction to dangerous levels.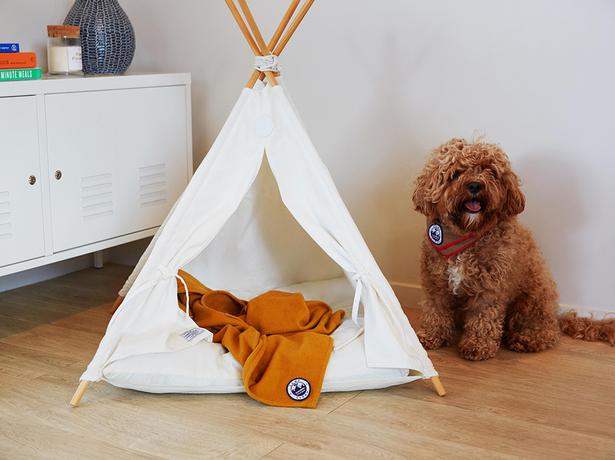 Pup Tent Tipi. Photo / Rebecca Zephyr Thomas

3. Pup Tent Tipi
The official residence of Clooney, the cavoodle behind our brand, Camp Cloon. Despite the leather patch detailing, hand-sewn workmanship and being lined with a cotton-covered cushion, most days he prefers the couch — or one of our pillows.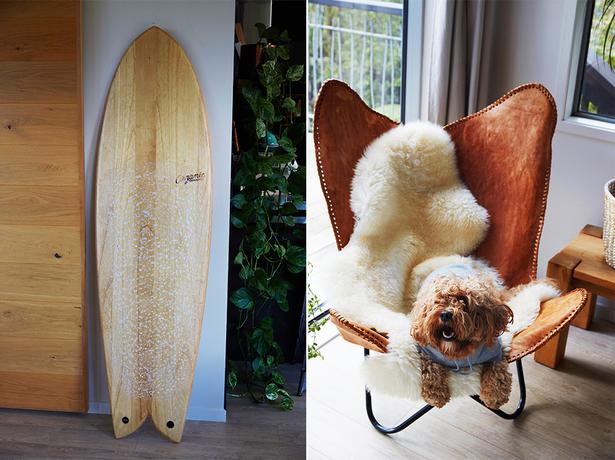 (From left) Fish Surfboard by Organic Dynamic; Leather Butterfly Chair. Photo / Rebecca Zephyr Thomas

4. Fish Surfboard by Organic Dynamic
It's a fun little board to surf, and the fact that it's made using New Zealand paulownia and recycled polystyrene is awesome. It's on display because it's too nice to have hidden.

5. Leather Butterfly Chair
The chair is made from super-soft leather that you can really sink into. On a rainy Sunday, with a coffee and book, this chair is the best place to be.
Share this: