Favourite Things: Emporio U Boutique Owner Ute Bohnert
A stylish scout of high fashion, Ute Bohnert looks for classic pieces and quirky statements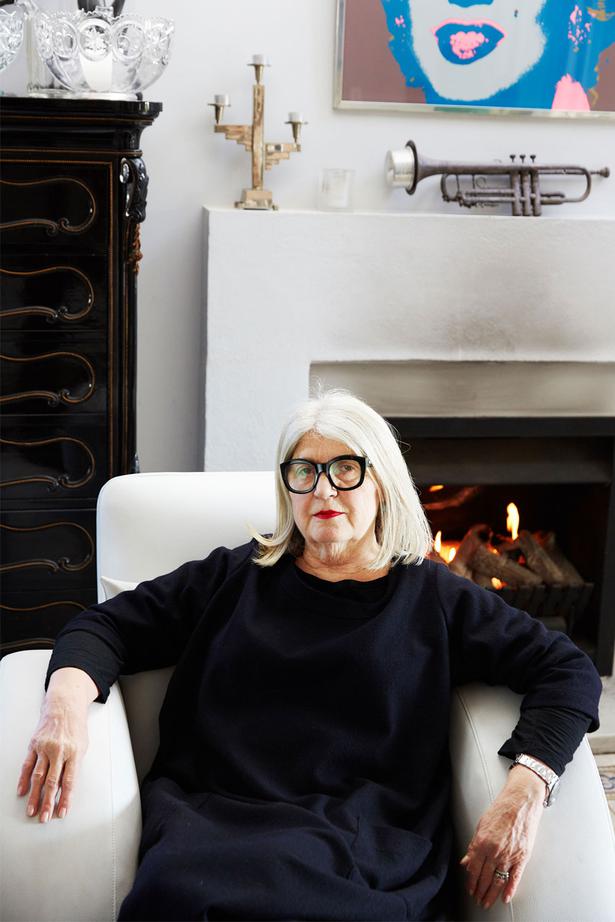 Saturday Aug. 18, 2018
Bohnert has been selling vintage wares at the bottom of a set of unassuming stairs on High St. "I'm in the cellar," she says. "But my customers, they know I'm here." Surrounded by treasured labels such as Dolce and Gabbana, Celine, Gucci and Prada, her designer recycle boutique, Emporio U, is a dizzying place for fashionistas.
Originally from Bonn, the picturesque German town famed as Beethoven's birthplace, Ute first came to Auckland in the 1980s. "I knew I wanted to stay after six weeks, but the food was terrible," she laughs. "And there was only one clothing store called Hullabaloo, but it was the most amazing shop."
READ: How To Make Vintage Fashion Feel Current
The fashion lover knew straight away she wanted her own store, opening in 1995.
Over the years, through friends and word of mouth, Ute has gathered an enviable black book of sources who pass on their high-end wares, all in top nick. She's never needed to source overseas and in doing so spares any outrageous price tags. "It was very hard to get really high-quality designer items when I first started," says Ute. "But it's amazing what's coming in now."
Unsurprisingly, she has a loyal following for her stylish selection. "I have such lovely customers. Some come in twice a week and check out what's in store or sometimes they come only to talk or to listen to classical music," she says.
As one of the longest-standing stores on High St, Emporio U has seen retail change dramatically around the city. "When I first started there were all these interesting boutique shops. Then the rent rocketed and nobody could afford it so they all shifted out. Now chain stores open but they soon close because nobody can afford the rent. I could never afford to be upstairs with the size of my shop."
READ: Where To Shop Vintage & Secondhand Clothing
Yet, she remains unswayed by the influx of fast fashion and says investing in quality is the only way to shop. "The cut, the style, it's incomparable. I have customers come in and tell me about a jacket or dress they bought from me 15 years ago and they still wear them all the time."
Ute has no plans to retire any time soon and still gets as excited as ever by the daily jackpots. "I love it down here. I just received these amazing Louboutin shoes and Prada handbags all from the one customer.
"I'm not a person to dress up. I like other people to dress up and my customers let me advise them. It's the best thing seeing them walking out happy."
MY FAVOURITE THINGS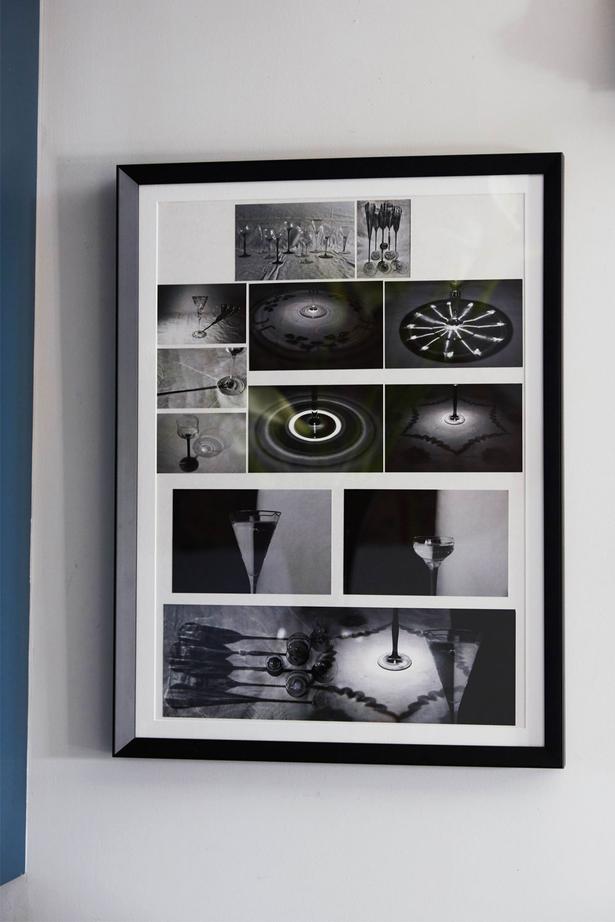 1 Glass photographs
This photo collage was made by my granddaughter for her photography class two years ago. She's so talented and played with the light and shadows of my collection of antique glassware. I love it.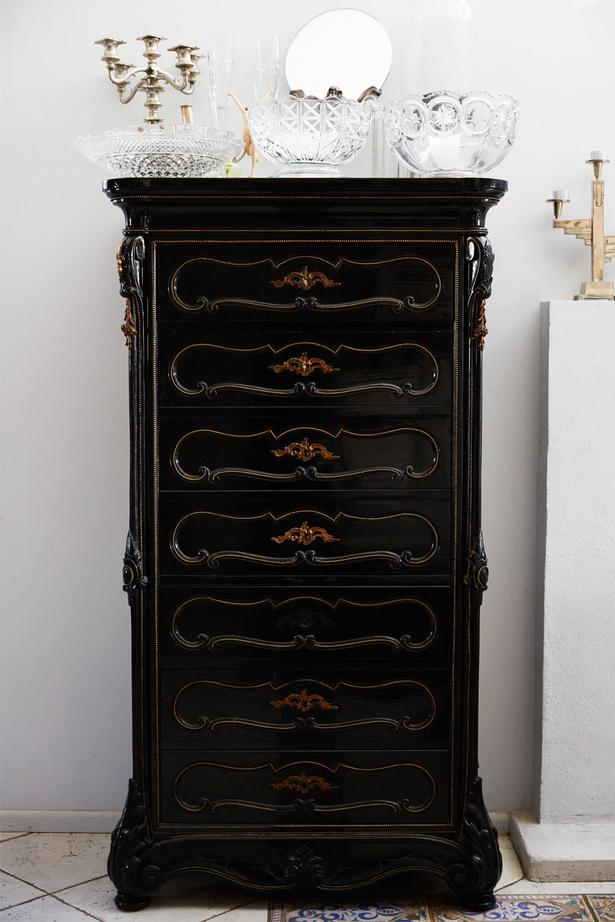 Chest of drawers. Photo / Rebecca Zephyr Thomas

2 Chest of drawers
This black chest of drawers was inherited from my grandfather, it's from the late 1800s. My father gave it to me and took the rest of my grandfather's collection to the museum. I was 10 years old then and don't even want to know what he gave away. Luckily, my mother hated it, she said it was like a "black coffin", so I got it, which was great. I just love black lacquer and the whole 1800s style. It's classic black and white.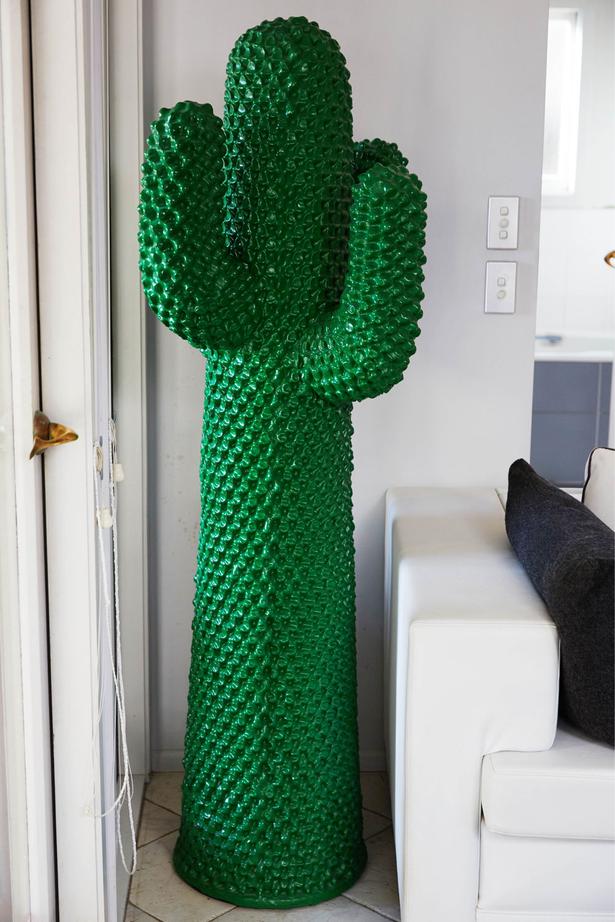 Cactus sculpture. Photo / Rebecca Zephyr Thomas

3 Cactus sculpture
I first bought one of these in 1970 from Gow Langsford and still have it in my bedroom. It's so old now though, the colour has faded, and the cat has scratched all over the base. So, I decided I needed a new one for the living room and bought this, again from Gary, four years ago when they had it back as a limited edition. It's such a fun sculpture and something different. It really brings the garden into the house.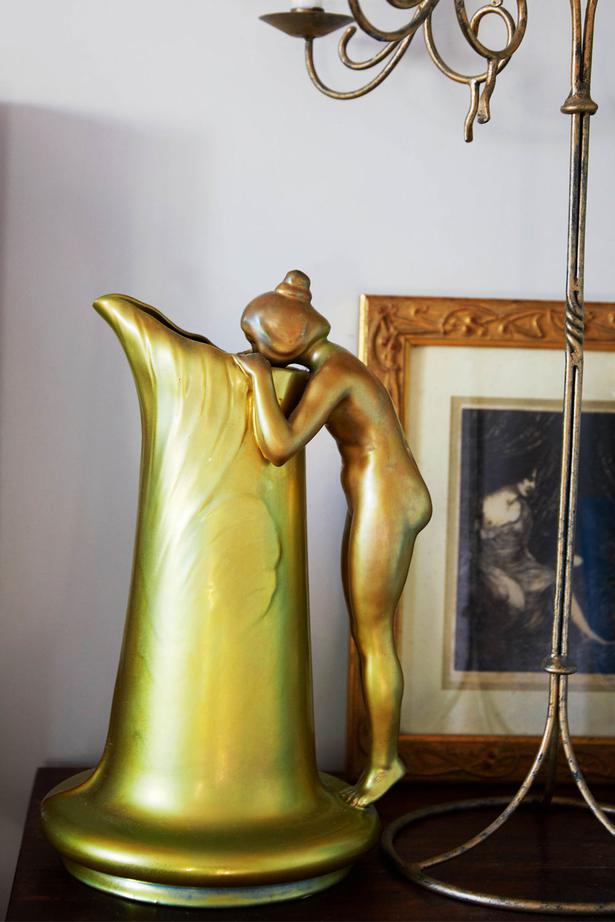 Vase. Photo / Rebecca Zephyr Thomas

4 Vase
I bought this vase in 1969 in Bonn at the flea market. I love the elegant shape of it. To me, it looks like a lily plant and she is looking inside. The style and the colour of the gold is just beautiful too.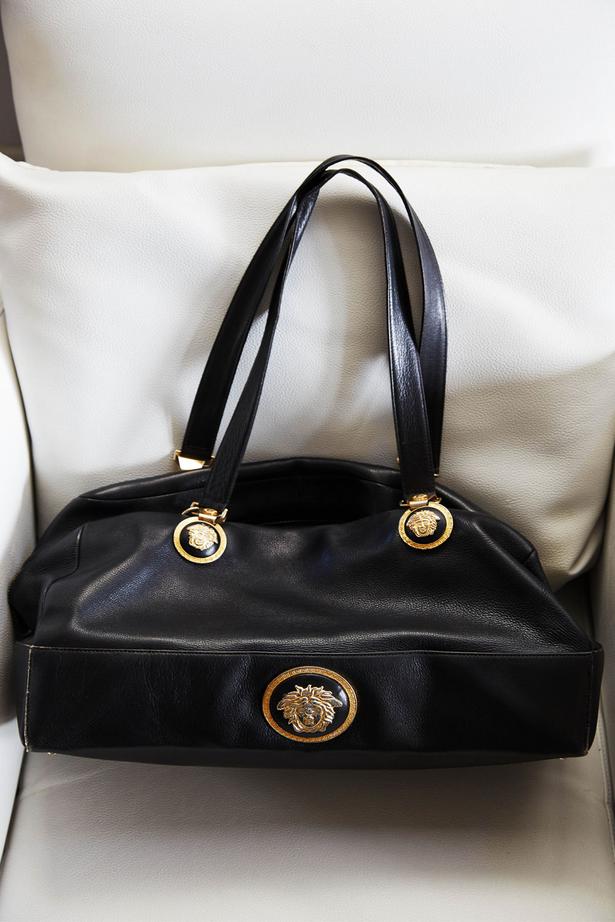 Vintage Versace bag. Photo / Rebecca Zephyr Thomas

5 Vintage Versace bag
This came into my shop and I fell in love with it instantly. I quickly decided it was not for sale and that I simply had to have it for myself. The leather is so unbelievably soft to touch. Normally, I don't like gold this showy but this bag is just so elegant and classic.
Share this: