Feminism is not a Trend
From slogan T-shirts to 'empowering' suits, Zoe Walker wonders how fashion's recent embrace of feminism can move beyond buzzwords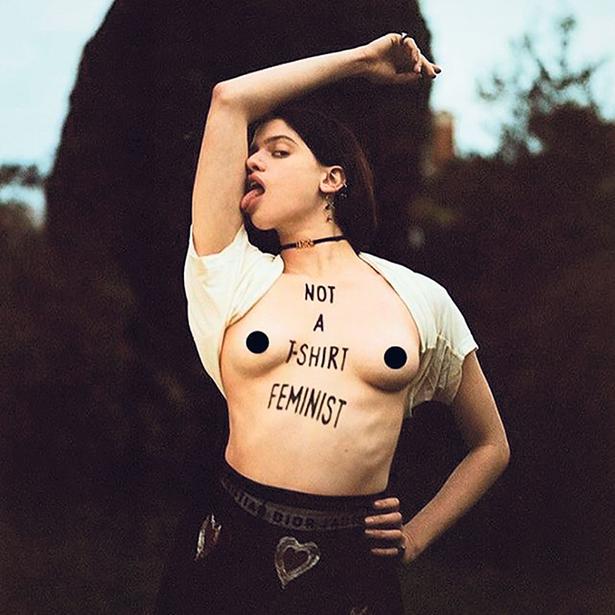 Wednesday March 8, 2017
After 10 years working in fashion and women's media, it is all too easy to get wound up about some of what I read and see in my industry. A feminist-themed trend page (feminism is not a trend), the phrase Girl Boss (be a boss), an Instagram hashtag used to promote and sell a new collection (please don't), a fashion show that features only two (sometimes none!) non-white models — all can evoke a surge of anxiety and fury.
But it was not rage but an eye roll when I first saw Dior's "We Should All be Feminists" T-shirts last year, emblazoned with the title of Chimamanda Ngozi Adichie's inspiring TedX talk; brought to the attention of the masses in 2013 when it was sampled in Beyonce's own feminist manifesto track Flawless.
Very quickly, the T-shirts were being equally embraced on Instagram and criticised for cashing in on a political movement; part of a wider fad for feminism merchandise. But, as the saying goes, at best fashion can reflect society and the world around it — and with today's increasingly politically engaged consumer, it would be irresponsible for a designer or brand not to be engaged.
Sure, there are authentic examples of the fashion industry and designers celebrating women (Stella McCartney's joyful show finales with genuinely happy models dancing; Christian Siriano's ongoing commitment to diversity). But how can fashion — an industry largely driven by women, from the consumer to the creator — embrace this "new wave" of feminism, but go beyond the superficial?
This idea of brands selling empowerment to women is not new — much has been written about "femvertising" and "marketplace feminism", in a much wider context than the fashion industry.
In her 2016 book We Were Feminists Once: From Riot Grrrl to CoverGirl®, the Buying and Selling of a Political Movement, Andi Zeisler asked what it means when social change becomes a brand identity — something that can easily be applied to what is happening in fashion right now.
"Feminism's splashy arrival at the centre of today's media and pop-culture marketplace, after all, hasn't offered solutions to the movement's unfinished business."
All the way back in 2014, feminism was being labelled "fashion's favourite buzzword", with Karl Lagerfeld and Chanel accused of exploiting feminist politics with their faux protest show finale ("cynical, money-grabbing, slightly empty, the kind of thing in the 90s we called 'co-optation'" wrote online magazine Jezebel at the time).
It's worth noting that today's sentiments somehow seem more genuine and urgent; unsurprising given the political landscape the world now finds itself in.
Politics was the biggest conversation on and off the runway at New York Fashion Week last month, from the Council of Fashion Designers America's bright pink pins supporting Planned Parenthood to Prabal Gurung's finale parade of T-shirts bearing slogans like "I Am an Immigrant", "Our minds, our bodies, our power" and "The Future Is Female".
The designer told Vanity Fair that the T-shirts were directly inspired by January's Women's March, which is credited with igniting this "new wave".
"In the good old days, fashion was an escape and a fantasy, and all of that is gone," Prabal said. "The world we live in is so uncertain, people are really taking to action. I think what fashion has is a responsibility to provide not an escape, but a reality. An optimistic reality."
He too was criticised by some for cashing in, but it's those Dior T-shirts that have become the most high-profile — and controversial — symbol of fashion's feminism fad; largely because of their $800 price tag, but also for the lack of diversity in how they were presented (on a cast of largely young, white, thin models).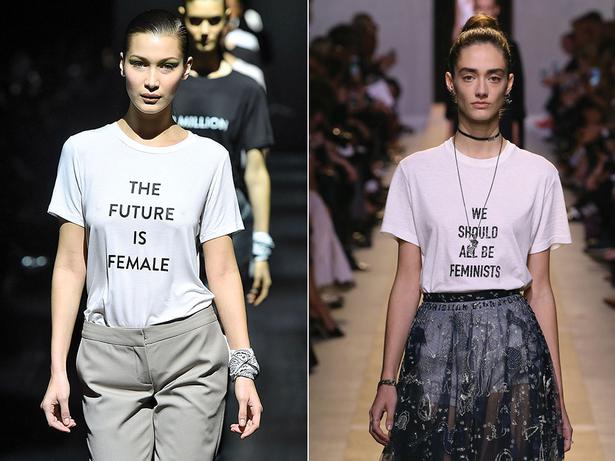 Following the Dior show, model Lily McMenamy posted a topless photo to Instagram with the words "Not a T-shirt feminist" written on her chest (pictured above); while actress and activist Rowan Blanchard wrote on Twitter that she hoped the money made from the T-shirts would go to Planned Parenthood or the Audre Lorde Project, a New York centre for gender variant people of colour.
Possibly hearing that criticism, Dior is now putting its money where its mouth is by donating a portion of the proceeds to Rihanna's charity, the Clara Lionel Foundation. (The singer is a 'face' of the luxury brand).
Chimamanda herself, whose words appear on the T-shirts, spoke passionately to the Guardian recently about their symbolism of feminism as a "trend", and her irritation at being accused of taking equality mainstream.
"This idea of feminism is a party to which only a select few people get to come: this is why so many women, particularly women of colour, feel alienated from mainstream Western academic feminism. Because, don't we want it to be mainstream?
"The creative director of Christian Dior is obviously a woman of some privilege. But does it then mean she doesn't have gender-based problems in her life? Because she does. Does it mean she doesn't have this magnificent rage about gender injustice? Because she does. Wanting to use that slogan — was it going to make the world a better place? No. But I think there's a level of consciousness-raising and a level of subversion that I like."
The Business of Fashion's #TiedTogether campaign is another fashion industry project using visuals for "consciousness-raising" — white bandanas worn and shared on Instagram. The goal is to reach 10,000 Instagram posts, with $5 for each post to be donated to the American Civil Liberties Union and the United Nations High Commissioner for Refugees.
The campaign has received very high profile support on and off the runway from the likes of Tommy Hilfiger, Raf Simons and Gigi Hadid. At the most recent Dior show in Paris, white bandanas were left on guests' seats, printed with another line from Chimamanda's manifesto: "Feminist: A person who believes in the social, political and economic equality of the sexes".
Valentino went a step further, with creative director Pierpaolo Picciolo creating a special white bandana to be sold in selected Valentino stores — 100 per cent of the sale price to be donated to the ACLU and UNHCR.
The counter-argument to any cynicism about all of this is, of course, that doing something is better than doing nothing and anything that gets people talking about feminism, equality and politics has to be a good thing. But though much is made of the empowerment of the women wearing the T-shirt, what about those who made it?
As Australian ethical online store Well Made Clothes wrote on the release of their gender equality tote (made by women who have been saved from Kolkata's sex slavery industry), "we want to declare our support for this movement with feminist merch, too, but we also need to make sure the women making our feminist merch are being treated fairly".
The fashion industry has always been a powerful platform, but the challenge for designers is to go beyond superficial slogans and symbolism, and encourage something more. "In fashion, visuals often speak louder than words," explained the Business of Fashion of their #TiedTogether campaign.
What happens next season, and the season after that? Let's hope even more action.
Share this: