SPONSORED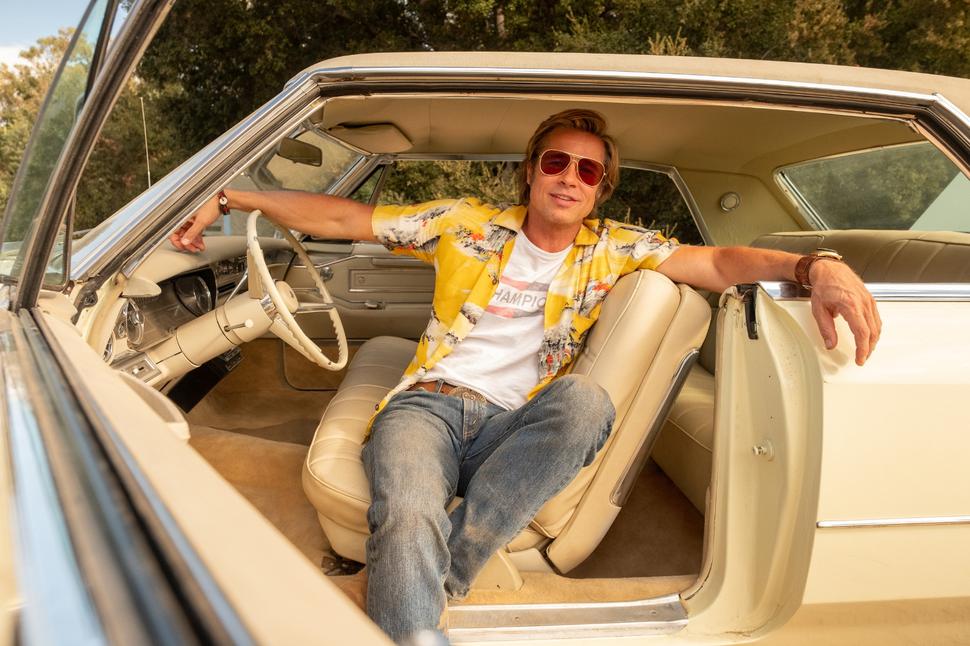 5 Minutes With Arianne Phillips, Costume Designer For Once Upon A Time In Hollywood
Viva chatted to Arianne Phillips about dressing some of the biggest names in Hollywood in Quentin Tarantino's newest film
Wednesday Aug. 14, 2019
The 1960s were a time of great change. It was an era synonymous with the rise of counterculture and the revolution in social norms around clothing, music, drugs and sex.

The 60s went down in history as one of the most divided and tumultuous decades. There were wars, assassinations, rousing speeches and scandals surrounding mass murders linked to the occult.
A film that perfectly captures this period in time is Quentin Tarantino's ninth directorial execution, Once Upon A Time In Hollywood.
Set in 1969 Los Angeles and loosely based on true events, the storyline juxtaposes real people including Sharon Tate, Bruce Lee and Steve McQueen, with fictional characters, played by a star-studded cast.
Naturally, it wouldn't be a Tarantino film without a little 'hit 'em up' bravura, but this time rooted in issues that aren't dissimilar to those we face today — expectations unmet, hopes dashed and the realities of getting older.
The plot follows two fictional characters — a washed-up TV cowboy Rick Dalton (Leonardo DiCaprio) and his long-time stunt double, Cliff Booth (Brad Pitt), as they navigate an industry that's progressed without them.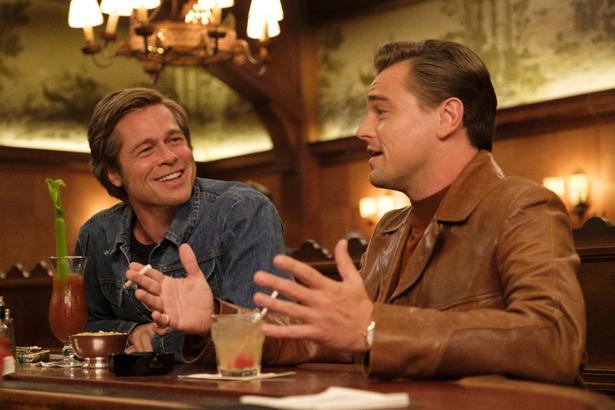 The film is given a dose of reality by including real-life producer Marvin Schwarz (Al Pacino), and up-and-coming Hollywood star Sharon Tate (Margot Robbie) who bolster the narrative as it traverses multiple real and fictional storylines in homage to the final moments of Hollywood's golden age. 
Viva chatted to the woman charged with bringing each character to life through their wardrobe – Arianne Phillips. The twice Oscar-nominated costume designer has worked on a number of Blockbuster films such as Girl, Interrupted, Walk The Line and One Hour Photo, but this was the first time the designer had witnessed a little Tarantino magic.
This was your first time working with Quentin Tarantino. How did this compare to working with directors on previous films?
This was the first time I had ever read a Quentin Tarantino script, which read like prose, like a novel. It was very rich, and the characters were beautifully developed. I know that he is a writer-director, but it was a big surprise to me to read a script with so much detail and so much life to the characters on the page, because most film scripts are more like outlines describing action and plot.  The beautiful thing about Quentin's scripts is he goes into great detail to describe so many aspects of his characters, from what music they listen to, to what food they eat, to what car they drive, and of course what they are wearing. They are very layered and rich. So for me, there was so much inspiration in Quentin's writing and in his work. The writing itself is on a whole other level from any other project I have ever worked on.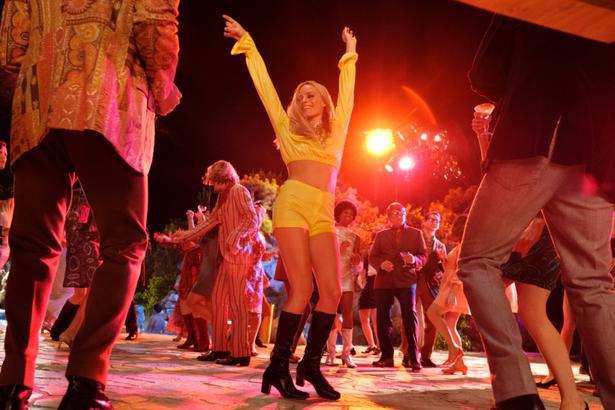 What was the first step after reading the script?
Well of course many conversations with Quentin, because when I read a script, I always have questions. I had meetings with him to understand what he is thinking about a particular scene or character, or the arc of a character and the story. Quentin gave me a wonderful list of references which included television shows and films to watch. He owns an incredible movie theatre in Los Angeles called The Beverly Cinema. Once a week during prep, he had screenings for the crew and he showed films that were shot in Los Angeles around 1969, when our movie takes place. That was really incredible. Prepping Quentin's movie was an immersive experience. We were getting to know each other, not just Quentin, but Barbara Ling, the production designer, Bob Richardson, the cinematographer, Chris Call, the prop guy. We were all cross communicating, sharing information, references, and research. We would come together once a week, have pizza and popcorn at the movie theatre and watch films together. 
Where did you source the clothes? Did you make many of the costumes or did you go thrift shopping?
It was a mixture of things — I always prefer to mix. We made a lot of costumes and we also had a lot of vintage pieces, as well as vintage fabric that we made into costumes. We also rented vintage costumes from costume houses like Western Costume, the big costume house here [Los Angeles]. We made versions of what Quentin had scripted. It's always important to find vintage clothes as well, so you can feel that fabric, the real 1960s fabric, and to see the cut of it. Sometimes, you just can't replicate it; you need to have the real thing.
It's the responsibility of the costume designer to bring each character to life. How did you achieve this with Leonard DiCaprio's character Rick Dalton? Does he have any key costumes?
There are two aspects to Rick Dalton: there's Rick Dalton behind the camera and Rick Dalton in front of the camera. We created his costumes as an actor on the various TV shows that Rick Dalton was in, we also did a few photoshoots where we created poster art for the movie posters in the movie. Rick Dalton's character is a bit out of sync with contemporary Hollywood in 1969, which gave me an opportunity to be thoughtful about how he would dress off camera, and how Rick wanted the world to perceive him.  I think key aspects to his costumes are definitely his leather jackets. In most of Quentin Tarantino's movies, you can see the guys wearing unforgettable leather jackets. And Rick Dalton doesn't disappoint on that level.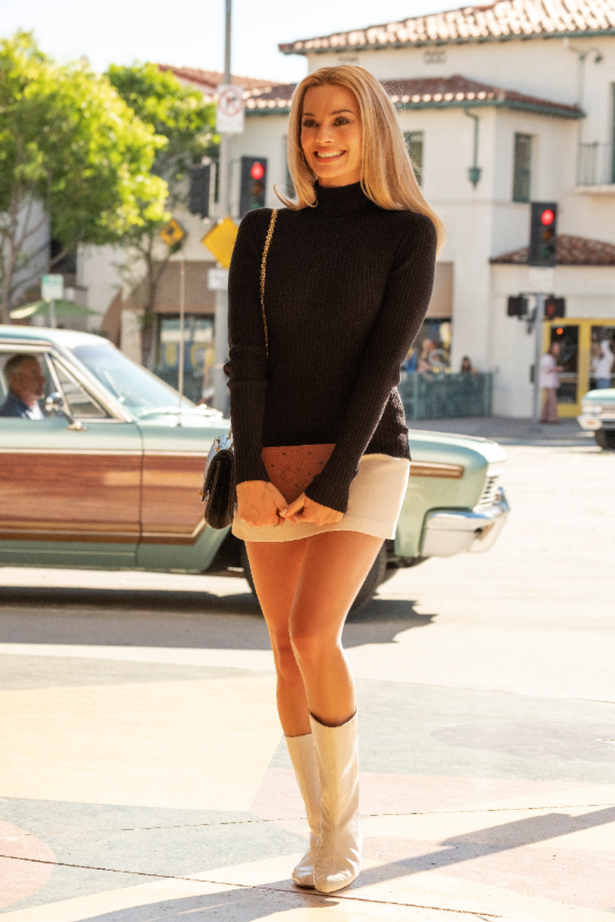 What about Cliff Booth? How did you differentiate between the two characters Rick and Cliff, because they belong to different classes in Hollywood?
Cliff is a stuntman; he is not a movie star. He is in support of the movie star, so that had to be reflected in the clothes he chose. He doesn't have the presentational relationship to the world that Rick Dalton does. A key part of Cliff Booth's costume is his belt. His belt buckle was a buckle that I happened to find, and which signifies the Stuntman's Association. Back in the 1960s, if you were a member of the Stuntman's Association, you could get one of these buckles. So, I found one and we were able to make duplicates of it. 
Your other challenge was to recreate costumes for real characters, like Margot Robbie's Sharon Tate. Did you feel a bigger responsibility dressing real characters?
The script is such a love letter to Sharon, and I really felt that responsibility. Quentin, Margot and I wanted to be respectful and honour Sharon. She was known for her style. She was often photographed and very well documented. Lucky for us, Sharon Tate's sister, Debra Tate, was a consultant on the film so while we were making the movie Debra was preparing an auction of some of Sharon's clothes and jewellery. Debra and I spent time together, and I was able to see Sharon's clothes in person and touch them. Debra was kind enough to loan us a couple of pieces of jewellery that belonged to Sharon: a ring and some earrings. Margot actually wore them in the film, which I know was special for her, as it was for me.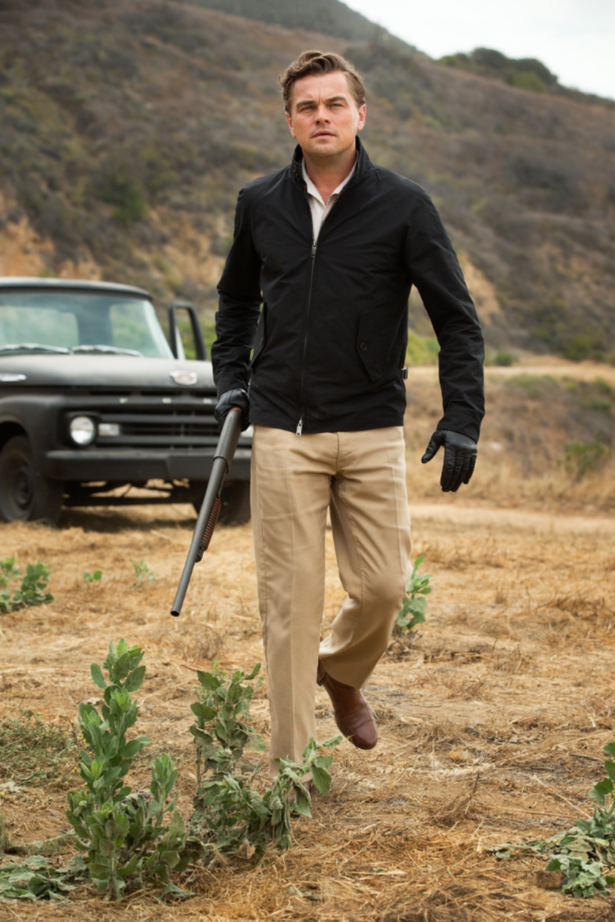 Once Upon A Time In Hollywood is in cinemas Thursday August 15.
Share this: