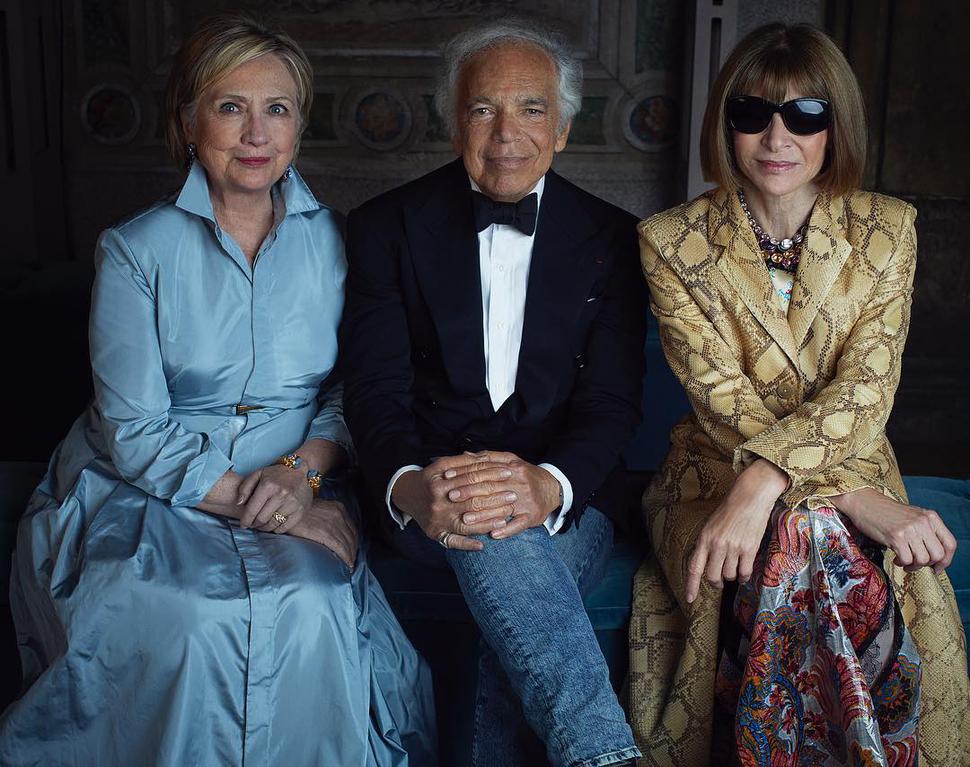 From Clinton To Kanye, Stars Come Out For Ralph Lauren's 50th Anniversary Show
The event was a who's who of Amercian fashion, entertainment, business and politics
Monday Sept. 10, 2018
It's not every night you almost brush shoulders with Hillary Rodham Clinton  AND Oprah Winfrey or find yourself staring at a man who looks just like Tony Bennett — and is, in fact, Tony Bennett.
Ralph Lauren's 50th anniversary show, set by a lake in Central Park, was always going to be big. This is the man who gave Americans a set of aesthetic aspirations that tapped into their 20th century hopes and ambitions — but it had unexpected heart as well, not least because all the celebrities, there had genuine connections with the label.
It was a who's who of American entertainment, society, business, design and politics. Tony Bennett, Sheryl Crow and Kanye West, Robert de Niro, Jeff Koons and Pierce Brosnan, Martha Stewart, Stephen Spielberg and Jessica Chastain; Anne Hathaway, Blake Lively and Priyanka Chopra....plus a roster of designers who came to pay homage, including Carolina Herrera, Diane Von Furstenberg, Michael Kors, Calvin Klein. Tory Burch and Tommy Hilfiger.
It was hard not to feel nostalgia for the days when New York fashion week shimmered with starry names who collectively dressed the world. 50 per cent of the above are no longer leading their own houses.
READ: Ralph Lauren's Most Stylish Quotes
But Lauren, aged 79 still is. Despite recent travails — dips in revenue, shedding of staff and stores and question marks over the relevance of his glossy, waspy advertising to millennials — Ralph Lauren is still relevant, as the spectacular show that preceded dinner suggested.
Featuring 170 models, including children, it covered the themes that have recurred throughout his half-century, from Duke of Windsor-inspired tweed suits, tartains, patchworks, native American weaves and that easy luxurious fluidity he has always championed on the red carpet.
Elements were spliced and mixed with a gung-ho approach that has been missing in recent shows and more age and ethnically diverse models. Sure it was still life through a highly polished Ralph Lauren lens, but as Oprah noted in her tribute to him, he "inspired Americans to value an elevated sense of beauty, "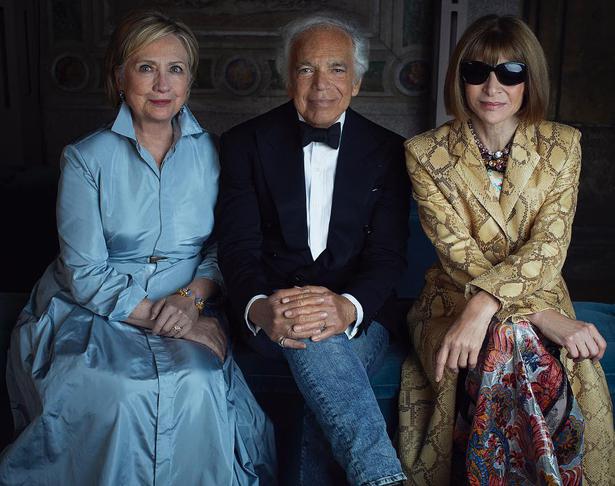 (From left) Hillary Clinton, Ralph Lauren and Anna Wintour during the 50th Anniversary Show. Photo / @ralphlauren

She also recalled that it was Ralph Lauren's fluffy towels that set her on the scent of success. She saw them in a friend's bathroom, she said in a pre-dinner speech which may have lacked the political fire of her Golden Globes oration but had its heartfelt moments. " I decided that if I ever made any money I'd get me some of those Ralph Lauren towels".

It was also Ralph Lauren's trouser suits that helped Clinton finally find her sartorial mojo.

READ: The Rise Of The Polo Shirt

There was a strong democratic tinge to the top table: Anna Wintour next to Hillary Rodham Clinton (for whose presidential campaign Wintour raised millions of dollars), Graydon Carter, former editor of Vanity Fair and outspoken critic of President Trump; Oprah who has been talked up as a possible future candidate for the White House; Huma Abedin, a vice chair of Clinton's campaign....

Mrs Trump, the current First Lady, who wore a pale blue Ralph Lauren suit at her husband's inauguration, was not present.

— The Daily Telegraph
Share this:
More Fashion / The Latest