Wear A Wardrobe Inspired By Wabi-Sabi Aesthetics In A Tranquil Colour Palette
From voluminous silhouettes to tranquil colours, discover the beauty of the perfectly imperfect in Tokyo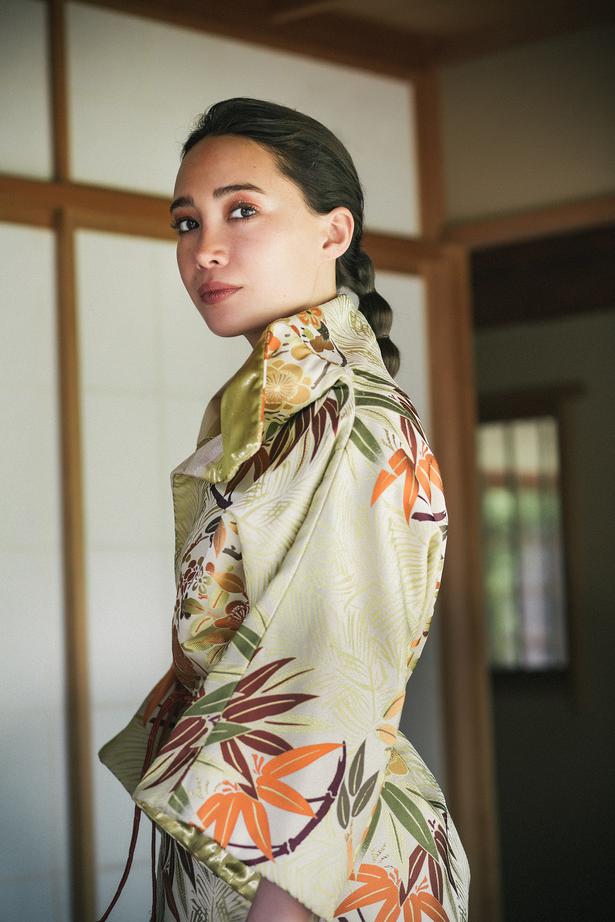 Friday June 21, 2019
Tokyo native Nagisa Chauveau whisks us away from the hustle and bustle of the city for peaceful respite at Otaguro Park and its elegant tearooms, wearing a wardrobe inspired by traditional wabi-sabi aesthetics. Garments that wrap and envelop, voluminous silhouettes, and a colour palette that inspires a sense of tranquillity for mind, body and soul.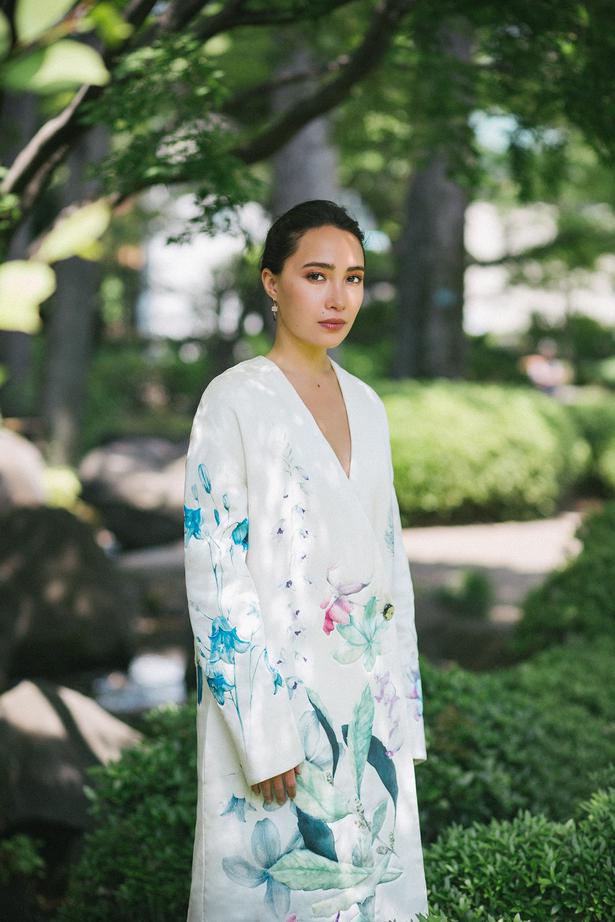 GARDEN ESTATE
Slow fashion has a place in today's wardrobes, and for a truly edited closet, consider the elegant offerings from local designer Rory William Docherty. By appointment and created to last, his collections define what luxury should be right now — well-made, timeless and highly desirable. Finding a home in the quiet calm of Otaguro Park, this hand-embroidered quilted silk charmeuse coat features a watercolour print by the designer, $3060. Wallace Rose 14ct gold rough rose quartz and labradorite earrings $139 (worn throughout).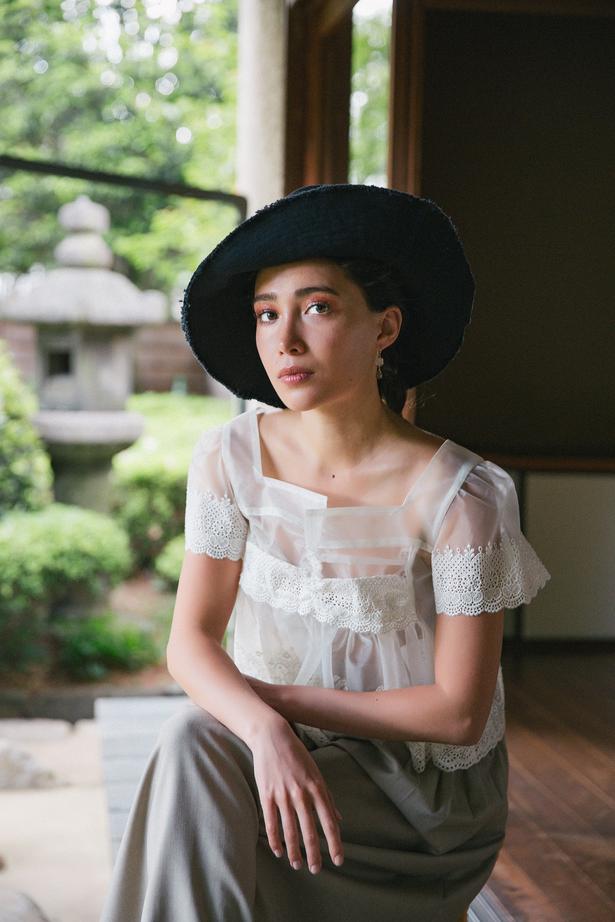 PURE & SIMPLE
Tokyo's hub of vintage outlets are a treasure trove of Japanese designers both past and present. For expat New Zealander Lily Gibson, living in Tokyo has inspired her edit of vintage pieces, available from her online store Super Mizu. Vintage lace Comme Des Garcons top $469, worn with pleated trousers by Rory William Docherty $1033. Marle sun hat $70.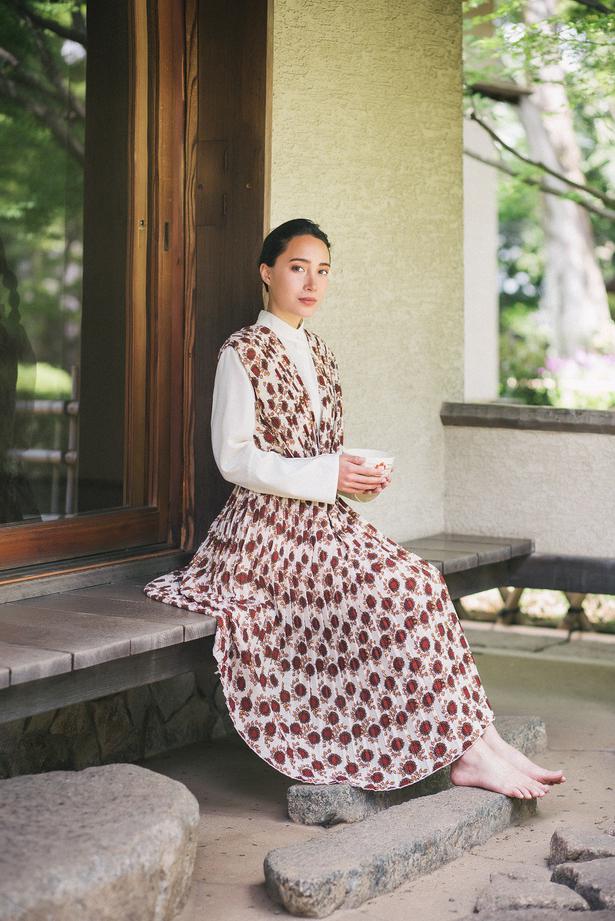 WAY OF TEA
The traditional Japanese tea ceremony or "chanoyu" dates back to the 9th century, and is a cultural institution upheld today, with each aspect of the ceremony and the way tea is served performed in a very specific way. Mindfulness advocates will understand — the very act of a tea ceremony demonstrates the power of being present. Nagisa wears a shirt by local sustainable brand Mina featuring recycled hemp buttons and adjustable button-up cuffs, $325, underneath a pleated print dress by Wynn Hamlyn $785.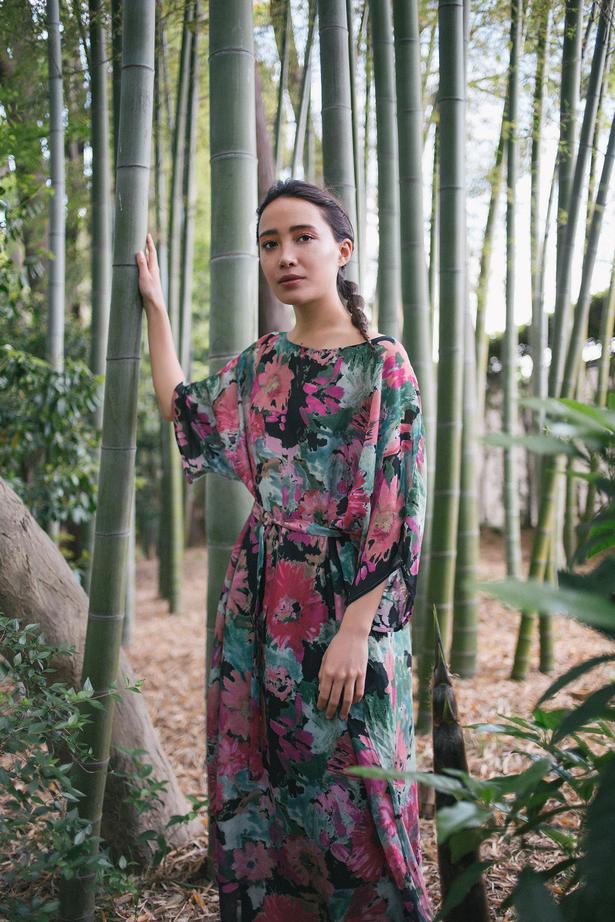 NATURE'S WAY
The Japanese folk tale The Tale of the Bamboo Cutter (Taketori Monogatari) tells of a princess from the moon, Kaguya, who was discovered as a baby inside the stalk of a glowing bamboo plant. Among towering bamboo branches, Nagisa wears a free-flowing Widdess dress $329, featuring a painterly floral print and a simple tie belt.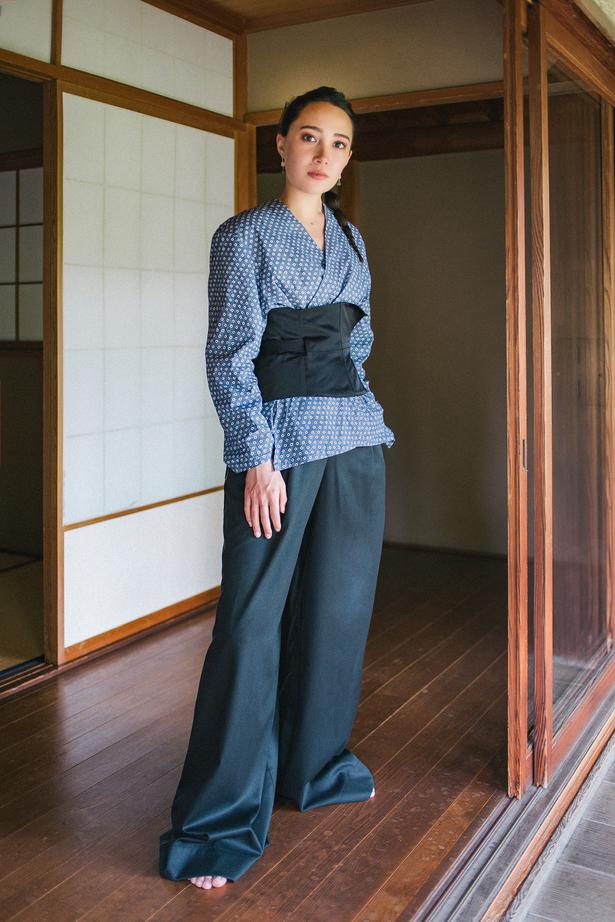 PERFECT PLACES
Wellington-based designer Yuka Maud moved to New Zealand in 2004, and under her label Otsu, the Kyoto College of Art graduate has continued to create collections inspired by the organic hallmarks of Japanese design. Functional and beautiful, this elegant wrap top, $363, made in New Zealand from 100 per cent cotton, is an easy wardrobe addition to be worn all year round. Matched with an obi belt by Mahsa $280 and a voluminous pair of trousers from Rachel Mills $399.
Photographer / Babiche Martens. Fashion director / Dan Ahwa. Model / Nagisa Chauveau. Hair and makeup / Peko Kanesaka. Shoot assistant / Johanna Thornton. 
STOCKISTS: LizMitchell.co.nz; Mahsa.co.nz; Marle.co.nz; MinaForHer.com; OtsuMagic.com; RachelMills.co.nz; RoryWilliamDocherty.com; SuperMizuStore.com; WallaceRose.co.nz; Widdess.co.nz; WynnHamlyn.com;
Zambesistore.com
• With special thanks to Cathay Pacific for flying the Viva team to Tokyo in style. CathayPacific.com
Share this: