How Game of Thrones is Influencing Fashion
The greatest spectacles are not on the catwalk but on our screens, thanks to big-budget costume dramas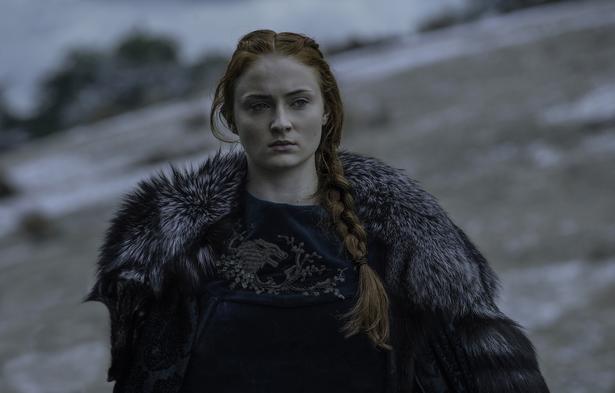 Monday July 17, 2017
"Fallen kings, defeated by a fearless and heroic sisterhood. Bright and brave warrior queens they were, are, and forever will be." You'd be forgiven for thinking you'd tuned in to a medieval fantasy, but not so — these were the notes handed out to journalists at designer Elie Saab's haute couture show in Paris earlier this month. He couldn't have made the plotline any clearer: Game of Thrones, the television epic that returns to the box this week (Sky Soho and Neon from Monday July 17) has found a place on his mood board.
Since the show first aired in 2011, parallels have been drawn between Game of Thrones and, say, the revival of folksy appliques at Dolce and Gabbana, or the wave of Roman gowns at Valentino and Alberta Ferretti. Most would say that the influence was subconscious, but a few brands, like Helmut Lang, have declared more literal interpretations, with Manish Arora even playing the theme song as his catwalk backing music in 2015.
Fans obsess over the visually rich, fictional world rendered by British costume designer Michele Clapton and the army of embroiderers, jewellers, seamstresses and armourers that she employs to clothe the Seven Kingdoms. Their costumes provide a subplot, highlighting a character's power or weakness, as well as distinguishing tribes, status and climate.
Perhaps most importantly, they define characters that are worthy of being placed on pedestals as fashion plate, both by viewers in search of escapism and by designers. "Costume is always a fundamental device to present a character's personality," says Michele Carragher, the principal costume embroiderer, responsible for crafting the micro-details that we salivate over in HD. Working with Clapton, she "will discuss a character's backstory, traits, and personal journey within the script and this will all go towards influencing my design".
For those in need of a recap of the key fashion players (well, the ones not yet slaughtered) we have Daenerys Targaryen (played by Emilia Clarke), the Mother of Dragons draped in plisse goddess gowns and statement torque necklaces.
Then there is Winterfell princess Sansa Stark (Sophie Turner), who has grown into a strong, scorned woman with a wardrobe of power capes to match. And for Cersei Lannister (Lena Headey), queen regent of the Seven Kingdoms, only the richest embroideries and gilded corsets will do.
But as much as the catwalks will reference the series, Carragher says that haute couture fashion embroideries also inform her research, along with architectural decoration and vintage textiles. Her exquisite efforts could certainly be compared with the levels of workmanship found in Parisian ateliers.
"Daenerys's 'dragonscales' can take between three and 10 days each, and Sansa's wedding dress took 10 days," reveals Carragher. "I always like to incorporate hidden meanings and metaphor within my designs." Look out for trapped birds or bleeding lions the next time you press pause.
Eliza Higginbottom, the show's jewellery designer, was first asked by Clapton to create a sculptural necklace for dragon queen Daenerys in season five, and has since made dozens of unique pieces.
"There has been a major response to the pieces we make for the show, so we set up a sister company selling replicas," Higginbottom tells us - she and her business partner Yunus Ascott launched a sub-brand, MEY, in collaboration with Clapton last year, so that fans can shop from the screen. The key to success is that these aren't gimmicky souvenirs, but fine jewellery pieces. "The Daenerys Drogon Neck Sculpture is our best seller, despite the price point," she adds — at £1900 ($3395), it's a serious investment. The team worked closely with Emilia Clarke to make sure the design struck the right chord.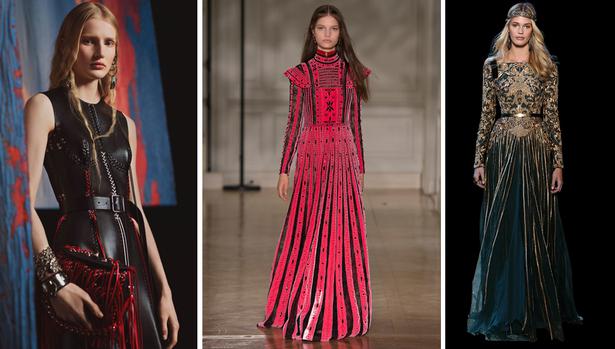 According to fashion search engine Lyst, Game of Thrones is now so influential that searches for Grecian dresses, bodices and capes all increase when a new season airs. Of course, this is not the first time that we've become infatuated with a TV show wardrobe; and with huge budgets being redirected from the big screen to the small, the fashion spectacles are only getting better.
"I think there will always be an inherent relationship between the two industries," says Joseph Altuzarra, who happens to have been watching another Clapton-clad show, Netflix's The Crown, at the same time as he was drafting regal designs for his autumn collection. And with a reported budget of £100 million for the production of the first series, it's no surprise that the visuals should be inspiring.
As well as being informed by what he's seen on screens, Altuzarra has had the chance to reverse roles, designing pieces for character Claire Underwood on House of Cards. "Sometimes it's the characters of films that inspire me, such as Sailor and Lula in Wild at Heart [for his spring 2017 collection], sometimes it is the overall mood," he adds. "There's a transformative power to the medium that I'm drawn to — fashion allows for the wearer to engage with different parts of their personality."
Vogue contributing fashion editor Bay Garnett agrees that "fashion is all about characters". Garnett cites Gucci, Kenzo and Givenchy as labels that love to create heroine-like figures on their catwalks and thinks that Dynasty, Cheers and Twin Peaks are among the now-retro shows that are most frequently referenced.
"The prom queen, the kooky weirdos, the 50s pin-up — Twin Peaks had something for everyone and quite often the personalities were so strong that they were like caricatures," she says. "The originality is why designers still reference these shows."
If you are still unsure whether Game of Thrones could stand up among the greats, consider this; Lyst confirms that they now see a spike in searches for the entire Daenerys look every Halloween. Surely that's the final test for any TV show hoping to achieve cult fashion status; will it be immortalised as fancy dress?
— The Daily Telegraph
Share this: