Georgia Alice Currie's Winning Designs
Local designer Georgia Currie is one worth hanging on to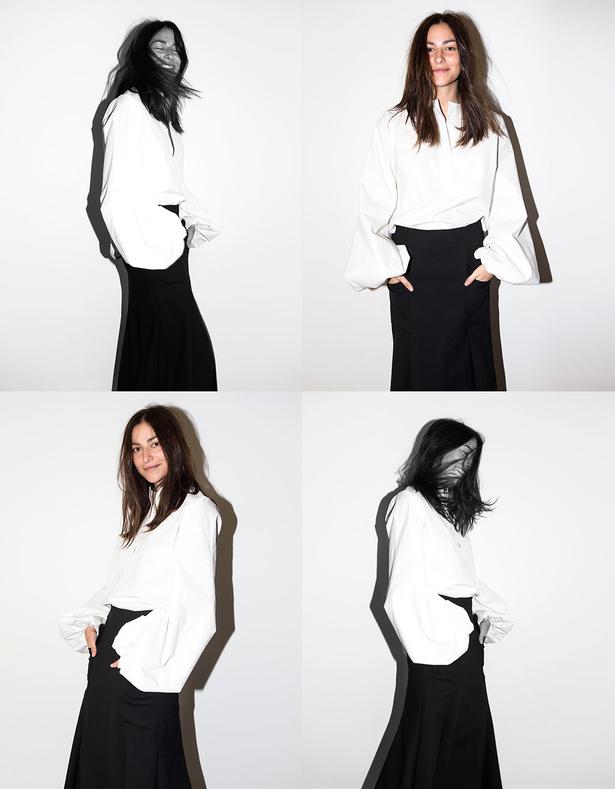 Wednesday Nov. 25, 2015
Does Georgia Currie have any Australian blood? I only ask as a precaution, because it feels our friends across the Ditch could lay claim to the 26-year-old New Zealander any minute now.
You see, the Australians picked up on her label Georgia Alice soon after it launched, and the country has become her biggest retail environment, while fashion editors and bloggers there seem to fawn over her and her effervescent designs.
Although Georgia did live in Sydney for two years, there aren't any close Australian relatives, she assures me, nor does she have a secret passport stashed in her back pocket.
But Georgia was also just named Elle Australia's emerging designer of the year, which meant toasting her success among some of the industry's shiniest in Sydney last month.
"It was a pretty glam event, but I just wore a T-shirt," she says from her lofty warehouse studio in Auckland's Eden Terrace. "Because I just really wanted to make sure I was comfortable."
That seems like a very Kiwi sentiment, and it's what forms the backbone of Georgia's brand: the idea of taking something very casual — like a T-shirt or boyfriend jeans — and mixing it with something over-the-top or unusual. Take her latest collection Moto, which lands in stores early next year — the lookbook features a grey marle tracksuit with a big black belt cinching the waist.
"As much as I love my simple and minimal stuff, I think if you're a designer and you're creating ranges, they have to be aspirational, and there has to be elements that make people feel good."
Georgia had a humble upbringing in Christchurch, where she lived until she was 15 before pursuing a ballet career in Australia. After realising that wasn't for her, she moved back to New Zealand to study fashion design at CPIT.
"I loved growing up in Christchurch, and I'm quite glad that I did because it's a little bit boring and it's quite conservative, so I think that's what's driven me, perhaps, to do something that's really creative. And because I haven't been overexposed to anything and I'm really hungry."
READ: Solange Knowles Wears NZ Fashion
It was that ambitious appetite that saw her move to Auckland before launching her label in 2012, where she immediately picked up five stockists for her first collection, Imperial.
Though she's quick to credit her success to others — her PR company in Sydney, friends in the industry who backed her or the power of social media — it's obvious Georgia has been equally influential in her own fate. She talks about reconciling and import tax with as much ease as she does fabric or Instagram.
"The most important thing is branding. If you can get people to feel what you want them to feel, and get them to understand your vibe, and what you want your brand to put across, then you will be successful."
Georgia creates 30-40 pieces for each new collection, although she's been told she needs to be doing at least 50 skews, which she's dubious about. "I want to be happy with every garment, and when you start doing pieces in lots of different colourways, it dilutes ideas, and then it dilutes the range.
"I look at the amount of collections on Vogue Runway, and the whole thing with Raf Simons leaving Dior because he's overworked, and people are just pumping out ranges. How many ranges do you need a year? Everything is getting so fast.
"I have a lot of respect for Liz of Eugenie, for that very reason. The fact that she makes things at a pace that is suitable for her, and because of that produces ranges that are really incredible."
Though she's resisting the urge to churn out bigger collections, Georgia has made the decision to send some of her production, which has largely been made in New Zealand, offshore, like so many local designers before her. The move isn't about saving money, she says, it's about smoothing out the production process as demand for her collections get larger.
"For me, as long as I know the factories and they're being good, I believe you can get good quality and bad quality anywhere. Even in New Zealand."
The accolades aren't stopping for Georgia, either. This week she's being lauded for her achievements at a Moet & Chandon event, one of a handful of Kiwis noted for having had an outstanding year. They're all signing a six-litre gold leaf bottle of Moet & Chandon, worth $30,000, which will be auctioned off for charity CanTeen.
And if 2015 was a good year for Georgia (not to mention Solange Knowles wearing one of her dresses), she's already thoroughly focused on the next — she plans to hire more staff, is eyeing up growth in Asia and the United States, she's picked up major online stockists Farfetch and Shopbop, and has a range of footwear up her ethereal sleeves.
Which, wherever she ends up next, is even more reason to try and keep her as our own.
Share this: