Get the Holiday Look: Gwyneth Paltrow in The Talented Mr Ripley
Look to Gwyneth Paltrow's wardrobe in film The Talented Mr Ripley if you're in need of some holiday style inspiration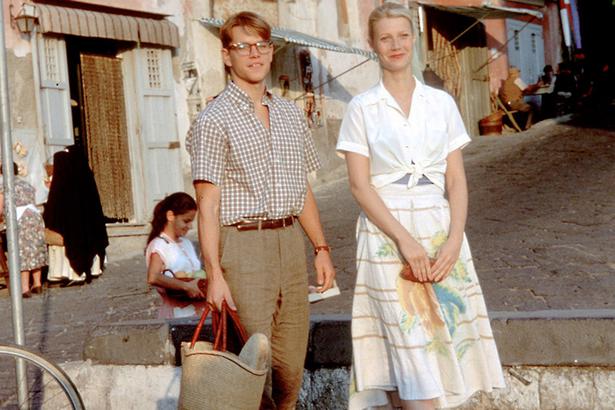 Friday Dec. 30, 2016
Set in Italy in the late 1950s, The Talented Mr Ripley is a film that will have you dreaming of a holiday in Europe.
Gwyneth Paltrow, who plays female lead Marge Sherwood, sports a crisp 50s wardrobe – complete with A-line skirts, espadrilles and not a spot of black in sight. This film serves up style inspiration for anyone that is a fan of all that is feminine, polished and free. Follow these tips and you'll be away sailing in no time. 
Silhouette
A circle skirt and knotted shirt are the building blocks of this look that is all about the waist. Don't forget to layer your swimsuit underneath, leaving your buttons undone to let it peek through – try out a structured bikini top and high-waisted bottoms in a vintage print.
Fabric
Cotton is key to keep you cool and looking crisp. Pick sun-bleached pastel shades such as peach, powder blue and mint green. Throw in some subtle floral prints for good measure. 
Accessories
Top off your outfit with preppy pieces. Wrap a silk scarf around your ponytail, lace up a pair of Superga tennis sneakers and throw a market bag over your shoulder.
Attitude
Pretend you're on a yacht in the Mediterranean sea or swinging your way down a cobblestoned back-street.
Shop the Look


Share this: