Get To Know Artist Kiri-Una Brito Meumann
The stylish Melbourne-based artist shares her love of art, travel and fashion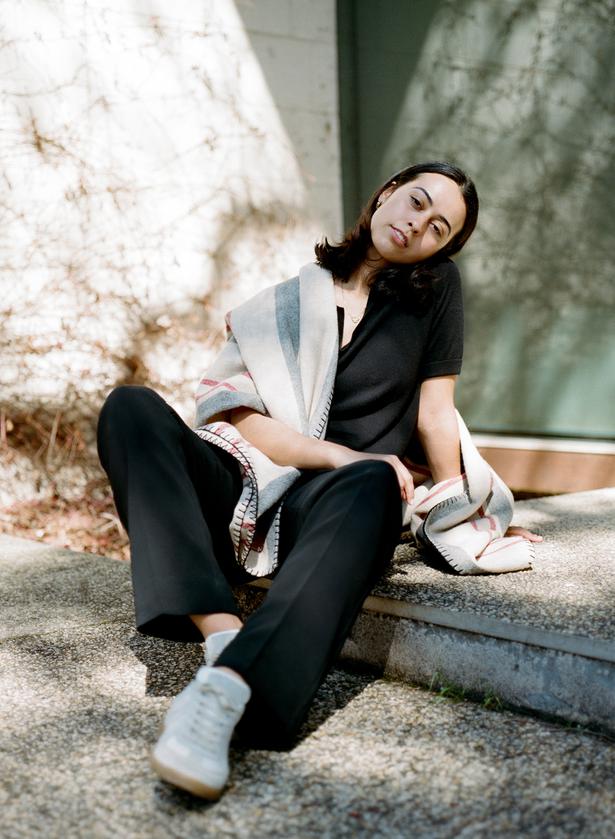 Tuesday Nov. 20, 2018
Melbourne-based multidisciplinary artist Kiri-Una Brito Meumann is an artist on the rise. Creating a range of works that explore a diverse range of themes including the representation of female bodies on social media, her large-scale works and point of view caught the attention of A$AP Rocky in 2014. The game-changing moment is well-documented, with Kiri heading to A$AP's home in New York to install one of her final works from high-school after he left a comment on her Instagram account "Your vision is dope."
While the endorsement is an incredible accomplishment for the young artist, opening up doors and exposing her to new audiences, we're confident she's got much more to offer the world, showcasing her graduate collection entitled 'Cadeira and A Self Portrait' this week at the Victorian College of the Arts (VCA) in Melbourne. What's particularly exciting is Kiri's love of fashion, expertly combining her artful approach to dressing with her love of art, acquiring a thoughtful collection of fashion much like an art collector would.
"I have a lot of pieces that I love. But probably my all-time favourite is my Rei Kawakubo x Louis Vuitton bag. It has holes in it and looks insane to anyone who doesn't know." Balancing a stylish hybrid of fashion, art and design, Kiri has already amassed a loyal following from art lovers and the fashion industry.
We meet Kiri in Shanghai at the Yuz Museum to preview the launch of The Artist Is Present conceived by Gucci's Alessandro Michele and curated by Maurizio Catellan, and find out what she thought of the exhibition from an artist's perspective — the perfect excuse to find out what else she has on the horizon.
WATCH: Gucci Spring Summer 2019 In Paris
Tell us about your latest work as part of your graduate collection at VCA.
I've just finished making two artworks titled: A Self Portrait, and Cadeira. They are being exhibited together with one work inside the other. It is an interactive installation piece that invites the audience to take a seat inside and experience the work. It's been a really big project for me and I'm super excited to see how people interact with it and what experiences people take from it. 
What are your thoughts on how the fashion world and art worlds often intersect with its ideas? 
I think in all creative fields, not only creative industries but other industries there are ideas that intersect. Being human means there are things innately interesting to us. So I think it is definitely important to see how different creative outlets express a similar idea — yet so differently. 
Where did your love of fashion come from? What does fashion mean to you and this idea of self-representation? 
I've loved fashion since forever. I actually think it all started from watching films growing up. I find that now when I dress I'm often thinking of a character or type of person I would see wearing it. I love being able to represent all the different parts of me through the way I dress. It doesn't need to be one look forever; it can change all the time. You can embody your mood with a different style every day.  
Who are your personal style icons?
I love the Phoebe Philo era of Celine. That was a woman I wanted to embody. The Olsen Twins are iconic, and Miuccia Prada. Also so many characters from movies I love for outfit inspiration.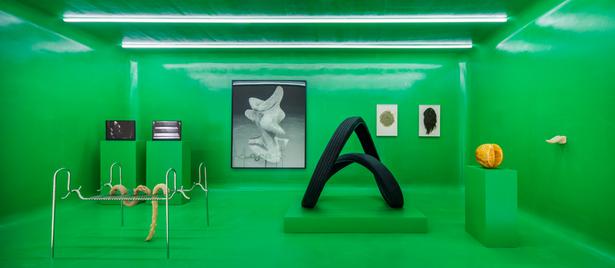 We've just seen Maurizio Cattelan and Gucci's 'The Artist Is Present' exhibition in Shanghai. As an artist yourself, what was the main takeaway for you seeing an exhibition like this first hand?
It got me thinking about appropriation and copying in an entirely new way. This was for me a very special moment, being confronted with new ideas and ways of thinking and this is exciting to leave a show that gives you a new perspective on the topic. The part that really made it for me was how each exhibiting room transported you to a different place and gave you a new understanding or take on appropriation. Visually it was spectacular also being able to walk from one room to another and be in a completely new visual environment.  Having such a wide range of artists involved, we were able to see a diverse range of work. There was literally something for everyone.  
READ: Rare Images Of Biggie And Tupac Capture Another Side To Hip-Hop
What were some of your favourite artworks from the exhibition and why? 
I have a few favourites. I loved how Superflex in collaboration with Nezu Aymo made an exact replica of the bathrooms at the Council of the European Union through looking at selfies taken in there. When you went inside it really looks like a very average bathroom but the people who would use the actual bathroom are some of the most important political people in Europe.  
Visually I fell in love with room 11 and the green space that was designed to place all the artworks in. The artists in this room were Nevine Mahmoud, Hannah Levy, Nina Beier, Matt Johnson, Jon Rafman. I also loved room 9. It looked like a store/ art gallery gift shop. Inside it featured a number of artist's work. I particularly loved the playfulness of Aleksandra Mir's Shanghai postcards featuring the word Shanghai across images of other cities from around the world.
WATCH: The Artist Is Present: Maurizio Cattelan and Gucci
What are your thoughts on the theme of the exhibition? Does copying have a place in the art world? 
Absolutely, I think in every industry there is an element of copying or appropriation that goes on. So this exhibition really brought to light how copying something can actually make it new. For me, I think what changes these works from banal copies is the conceptual meaning or reason for the copy. That is what distinguishes it as a new work. 
READ: An Art & Food-Filled Tour Of Rome With Gallerist Danae Mossman
As the exhibition was in Shanghai, tell us about what you love about the city.
Shanghai is such an exciting city. I have loved the experiences I've had there so far. My first time there I was so surprised; I had a completely different image in my head for what it was going to be like. I can't wait to go again and see more.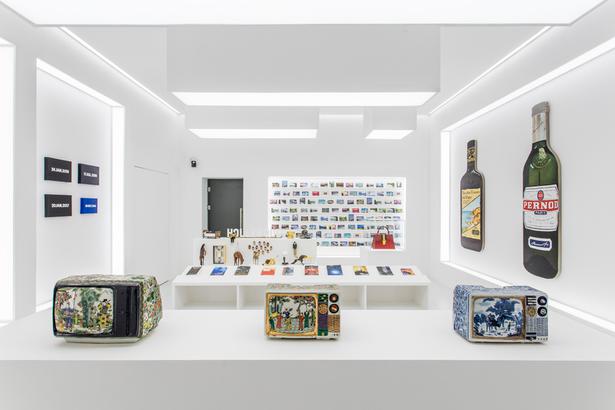 You're an avid traveller, even setting up a separate Instagram account documenting your travels around the world (@kiri.una). What do you love about travel?
Travelling is something I have to do regularly to keep my sanity haha! I also travel to stimulate my mind and learn. I'm the kind of person who researches where they're going and finds all the galleries, buildings, restaurants, shopping I want to go to before I get there.  It's amazing the things you can experience or see just by doing a bit of research. I think travelling is integral for us to grow as people.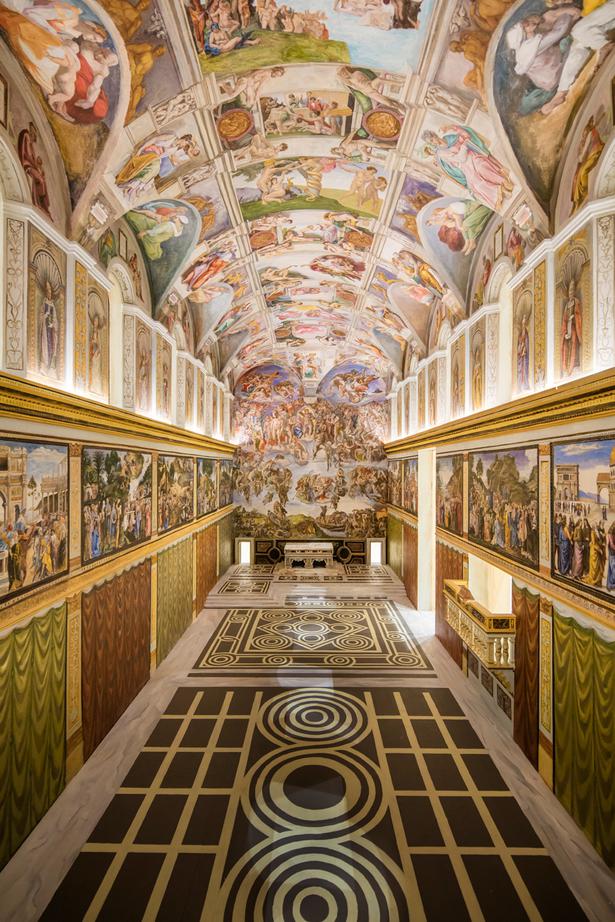 What is your travel routine?
Before I go anywhere I always research places of interest. I love putting all these locations onto a Google map so when I get there you can look at your map wherever you are and see if there is anywhere you've marked down that's close by. And on the flight, I like to bring moisturiser and something to clean my face. I also always bring a facemask that covers your mouth and nose so I'm not breathing all germs. I know it sounds a bit much but seriously you don't want to get sick when you arrive!
READ: Inside The Waiheke Home Of Artist Gabriella Lewenz
What's inspiring you right now? 
I'm always interested in how people are interacting with art today. This is something that continues to interest me. But in terms of inspiration, I think I get inspired from anything that strikes me. It's hard to pinpoint one thing right now. 
What do you think could be done better to support Australian artists in general?
I think there is amazing work being made in Australia. Even though we are all connected through technology, being so far away from the international mecca's of the art world makes it very difficult for Australian artists to thrive internationally. I'm not sure I know how to improve this. More people travelling here would be great and for us to have better representation in the big name locations for art. We need the rest of the world to see Australia not only for kangaroos but also for the great creative work that comes out of here. We need a re-brand! Haha.
Cadeira & A Self Portrait by Kiri Una-Brito Meumann is showing as part of the VCA Graduate Exhibition in EB Myer, Dodds Street, Southbank. Tuesday November 20 — Sunday November 25 between 11am-3pm.
Share this: