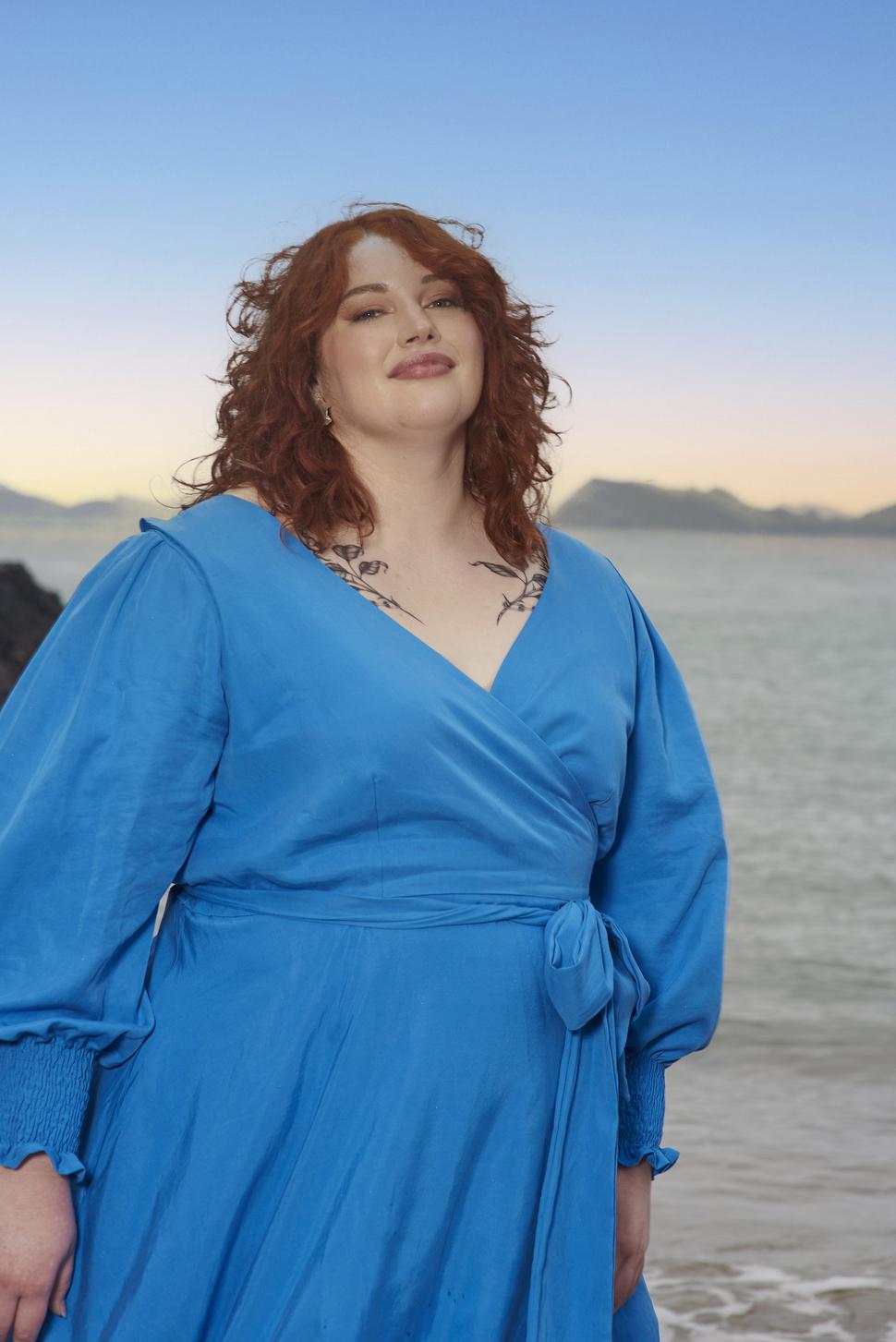 The New Guard: Zara Parmenter's Fashion Label Billie Zinzan Is A Celebration Of Slow & Joyful Clothes
We talk to the brands that have launched during the pandemic and learn how they're adapating to what people want to wear now
Tuesday Nov. 2, 2021
As part of a new series, The New Guard meets the brands that have launched during the pandemic to learn about how they're navigating and adapting to the changing attitudes of what people want to wear and buy right now. First up, we meet a designer who caught our attention with her bright and beautiful designs and artful jewellery. Get to know Zara Parmenter from Billie Zinzan.
Northland-based fashion designer Zara Parmenter is taking things back to basics with her made-to-order model, offering a bespoke label that places an emphasis on colour, slow fashion and listening to her customers' needs. 
Also launching with a size offering that goes beyond a size 18, Zara acknowledges there's still much to fine-tune in the sizing department. She believes that everybody should be able to enjoy well-designed clothes, and while some brands have been slow to get things right, Zara believes the key is to listen and learn. 
"Sizing is such a tricky thing to navigate; there is no one-size-fits-all approach, even for brands that only offer up to a size 14," says Zara.
"If brands are looking to expand their size offering, the most obvious thing is to seek out people who fall into this category — and talk to them. Listen to their pain points and take the time to really understand what issues they face regularly, and try to solve those things in particular, rather than simply making larger sizes. At the end of the day, the best solutions come from lived experiences."
It's a promising start for the new label, inspired by her great grandmother Sybil Margaret Zinzan — lovingly nicknamed Billie — who was known for her sewing talents and tales of fabric piled high on the dining table, ready to sew pyjamas for the war effort.
"You would never find Great Gran without something occupying her hands," says Zara. "Whether it was sewing, crocheting, knitting — she was always creating, which is something we share. She aspired to do everything to the best of her ability, taking the time to learn and elevate her skills so she could offer the ladies (who came from all over) quality and beautiful dresses made by her in Pukekohe. It's a trait I like to think I'm continuing on with my new label Billie Zinzan."
Growing up on a dairy farm with a very close-knit family, Zara has always been a creative soul, taking her interest further into her tertiary years at Massey University in Wellington and launching her first label, Eric and Billie, after graduating.
"I like to think of it as the first chapter of my brand. It was such a whirlwind, a huge learning curve and just the most fun, exciting time."
Following her partner to the UK on an OE, Zara subsequently found work as a garment technician for a short stint before landing a design role in central London with a high street supplier.
"There was a lot of travel involved, both for inspiration and factory visits, which was a real highlight. It was an eye-opening few years where I learned all the ins and outs of mainstream fashion production, behind the smoke and mirrors. There's something to be learnt from every experience and I definitely learnt a lot while I was there."
An understanding of a mass consumer is what sets Zara apart from other smaller brands starting out right now, and is evident in her thoughtful and inclusive approach to creating silhouettes and designs that work with different body types. 
In the brand's playful new campaign, Zara's cousins Summer and Skye feature along with Zara's close friend Nicole, playfully wearing the pieces from the collection on the beach. 
"I always wear things that make me happy, even if that means wearing a hot pink frilly maxi dress to the supermarket or alone in my studio, because it feels good — fashion should be about having fun. I like to think that women can come to Billie Zinzan and feel like they have the freedom to embrace their fun-loving colourful side because, at its core, the brand is about celebrating life, colour and the magic that is in each of us."
Talk us through fabrics, as they play a major part in comfort and style for all shapes and sizes. What are some of the key considerations here when it comes to selecting your fabrics?
I've focused heavily on using Tencel and linen. They're both such versatile and durable fabrics, with Tencel having beautiful drape and linen with its wonderful structure. Making sure the fabrics wash and wear well is also a top priority, so that whatever piece you buy, you can be safe in the knowledge that it will still look good when you've washed it over and over again.
You can't have a conversation about fabric and fashion without acknowledging that the production of fabric comes with environmental considerations. There is hardly a brand out there that is doing everything perfectly and it's no exception here; this is where Gran's trait of doing your best to learn and elevate your knowledge kicks in. It's a process — one which I will constantly try to improve.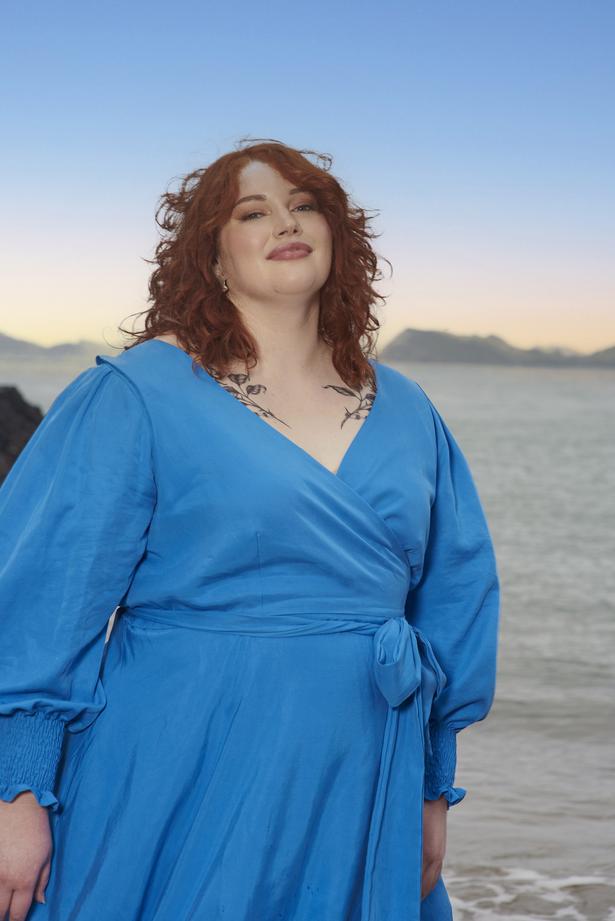 Billie Zinzan operates (for the majority) on a made-to-order model to help reduce overproduction. Scraps are upcycled into accessories and fabrics are sourced with as much consideration as possible to make sure as a brand, Billie Zinzan has as small a footprint as possible.
So tell me about your approach to made-to-order. When it comes to custom making, it takes a lot of listening to the needs of your clients. How do you work with clients on a personal level? How do you make them feel at ease through the process, particularly for those who aren't so confident with their personal style?
I think it's important to acknowledge that if someone is coming to you for a custom garment, it's a privilege; they're entrusting you with something that can be very personal.
Often through the custom process, women are sharing with you their body insecurities, but also telling you how they would like to feel, so it's all about listening to them, stepping into their shoes, making them feel comfortable, and really encouraging them to see all the amazing things about themselves that everyone else can see.
We're all unique, which is beautiful and something I think we need to celebrate more, so I will always do my best to help women embrace their own beautiful individuality.
Talk us through the concept of the 'convertible' and how this approach to custom design is so much more relevant to the way people are dressing right now.
After moving from one side of the world to the other and back again (with a whole lot of travel in between), I found myself evaluating my wardrobe and how it served me.
I had SO MUCH STUFF but each garment kind of had one job, like this top is for work, this top is for going out, etc. I de-cluttered, didn't buy anything new for a year and tasked myself with trying to wear old things in new ways.
In the process, I found myself thinking how cool it would be if some of my favourite summer dresses had sleeves for the winter that I could add on rather than just layering things underneath. It also meant that I could have "more", with way less clothing taking up space in my wardrobe.
I ultimately wanted less stuff, but for the pared-down wardrobe to work harder for me across different areas of my life; something I think a lot of women can relate to.
We're all trying to buy less and choose well, so to me it's a no brainer to design things that people can get real value from, especially in this uncertain climate where you're not sure whether you'll be wearing your new dress at home or out in the world.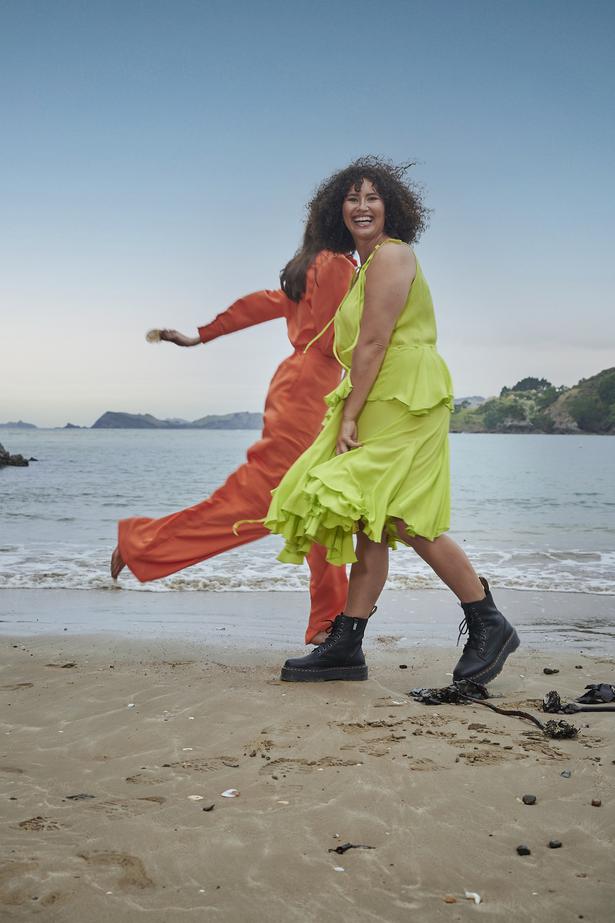 Speaking of uncertain climates, like most businesses during Covid, there have been various challenges faced. What has been the biggest challenge in creating your brand during a pandemic?
The pandemic actually played an integral part in pushing me to launch my own brand again. It was very much a 'now or never' window of opportunity, so I entered into building Billie Zinzan, knowing that it would require some creative problem-solving and maybe a couple of extra obstacles to overcome.
Since launching, and through lockdowns, I've missed the face-to-face interaction with customers at my stall. You can't beat having that one-on-one time with people to get their feedback, so I'm looking forward to meeting and seeing everyone again soon!
Colour plays such an integral role to our moods, now more than ever, and has made the brand stand out for embracing colour. Why is colour so important to you as a designer?
Colour can transport you. It can conjure a memory, spark a daydream to a far-flung destination or lift your mood so you can conquer your day. When I'm designing, I'm always drawing on a feeling as much as visual inspiration, trying to capture that essence, so colour is essential.
Especially at the moment, bold colour feels like a bit of escapism. Like, how do you capture the electric energy that hangs in the air on a Mediterranean summer's evening, when the night lies before you full of potential? To me, that speaks of blazing oranges, streaks of pinks and beautiful azure blues as much as it does billowing silhouettes with cheeky cutouts.
And to complement everything, your jewellery is also a lot of fun too. Talk us through the thinking behind the Billie Zinzan jewellery.
I started making jewellery when I lived in the UK as a creative outlet alongside my work. I love that jewellery allows people to make an outfit their own, so the pieces I create are usually one-offs or a part of a very limited run. Most of my earrings are created from polymer clay. It's such a great medium to get stuck into — like a kid with Play-Doh — and just have fun. There's a certain freedom that comes with clay because it can be endlessly manipulated until you're happy with the outcome, rather than committing to cutting fabric.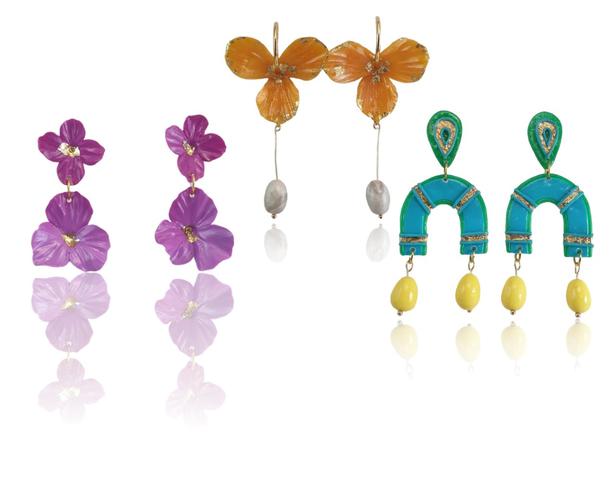 A lot of my inspiration comes from the process of play — mixing colours, creating random shapes, and experimenting with different ways of assembling the components — but I also draw a lot on natural forms, like petals.
What are some of your personal favourite pieces and why?
I love the Zaza dress for its versatility, it's a piece that will just keep giving year after year for all kinds of occasions. For the every day, I absolutely live in my Jules trousers and Sums shirt. They're so comfy, they lend themselves to both lounging and meetings and I love that they're in colours that always lift my mood.
Being based in Northland must come with so much inspiration and allow you the time to be inspired by the region. Talk us through what this means to you as a creative person.
It's so beautiful here, it's hard to not be inspired. Around every corner there is a stunning vista, textures to be inspired by or the amazing colours of saturated sunsets. Living in Northland also means a much slower pace of life, which I love — a complete 180 after the constant buzz of life in London.
I find it difficult to be truly creative if I'm stressed or running around like a mad thing, so the peacefulness of life up here means I actually get the time to sit and drink in this inspiration, let it brew, then let my mind wander and explore new possibilities.
* If you have a new fashion business or label that has launched during the pandemic, contact fashion director Dan Ahwa at dan.ahwa@nzme.co.nz.

Share this: