Getting real: A fashion designer's unique perspective
Fashion designer Lise Strathdee has found herself at home in the remote outpost of Kohukohu in the Hokianga where she can indulge all of her passions.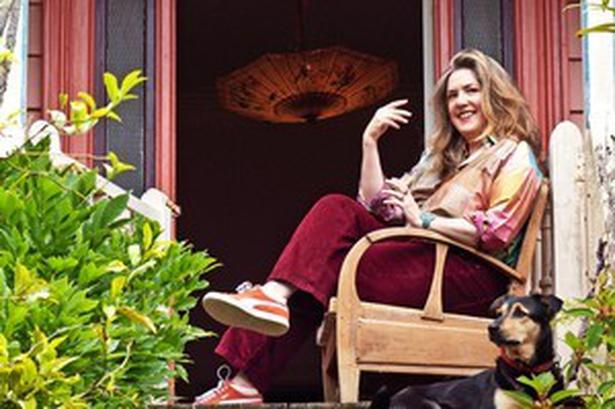 Tuesday Dec. 6, 2011
Lise Strathdee stands at her front door and calls out "hello" as if we're already old friends. This familiar, sunny openness is something I soon discover she exudes with all her interactions. Dressed in a soft, washed khaki shirt and a simple relaxed, long brown linen wrap skirt, she looks effortlessly chic in the creative way she has chosen to tie it. This re-worked military style is one of her looks, and seems fitting in her frontier town of Kohukohu.
Yes, it is surprising to find someone like fashion designer Lise Strathdee living on the Hokianga which, even to locals, is an outpost. But then, the Hokianga is full of surprising people and unconventional creativity.
For the past six years, Strathdee ran the design store Outpost Hokianga; a moveable feast of luxury goods, intelligent books, art, clothing and retro, a tourist attraction and "poetic exercise", it was one the most stylish places in the sleepy little colonial town of Rawene.
But then Rawene has quite a few stylish places - again perhaps surprising in the back of beyond. This summer, her pop-up shop Temporeal will be an installation inside the Kohukohu Village Arts gallery.
The gallery is a short wander down the road from Strathdee's stylish Floyd Cottage home where we are talking.
Strathdee is engaged, intent on expressing the multitude of ideas teeming around in her head. The stories tumble out, names and places are mentioned and then the conversation swerves and accelerates in another direction. The first most New Zealanders knew of Strathdee was in 2004 when the famous Italian magazine Case da Abitare ran her stunning, 80-page feature on new Pacific style in New Zealand.
It was hard to understand how Abitare was so current with design just emerging here. The art direction and images were poignantly beautiful. They both captured and forecast a post-colonial style.
Yet the edition also created its own aesthetic with a European eye. Who on earth was the person who had put this together? In Italian?
Born in London of New Zealand parents, Strathdee grew up bilingual in Italy and went to school there and in New Zealand. She speaks fast and fluently with much Italian gesticulation and expression. Her trans-national accent is hard to pinpoint: Italian intonation with an almost Southland burr on the r's.
She attended Milan's famous Istituto Marangoni, graduating in 1984 aged 19 with a fashion and textiles diploma. Her first job was at Fiorucci, then New Delhi where she designed a collection for the European department store market.
The following year she landed a job as Romeo Gigli's left hand and worked for six years as his creative design assistant, handling accessories, embroideries, knitwear, fittings, textile research, show casting, and heading the press office. In those heady times, as his career took off, Gigli was based in a loft above a Renault workshop at Corso Como 10 (today's fashion mecca is run by Gigli's former partner Carla Sozzani).
"They just dropped so much responsibility on my shoulders, in my early 20s. It was sink or swim." She swam.
"Not only did I hire Alexander McQueen to work for Romeo but I also took him under my wing at one stage and he was living in my flat. I even used to cook for him. Bless his little socks."
As we wander historic Kohukohu, Strathdee provides a steady commentary on its architecture and inhabitants. From time to time, her devoted cattle dog-cross Gina takes off and all hell breaks loose, Italian style. Gina too is bilingual - the storm of commands is furious, passionate, loud and then just as quickly, resolved. You realise this level of emotion is nothing out of the normal.
It's hard to encompass Strathdee's career, the ranges and labels she's designed for. When she mentions the names Armani, Bertolucci, Fellini, it's from personal experience. Her own fashion label, Cactus & Rose was "a phenomenal success" - within two years they were selling alongside high fashion labels around the world. When the label closed, Strathdee set up her own consultancy in London, casting Gigli's Paris shows and designing for other fashion manufacturers.
In 2002, she and partner Claudio Annicchiarico travelled to New Zealand on "sabbatical". In Bali they'd met the editor of Case da Abitare who was interested in seeing photographs of New Zealand's way of life.
Strathdee and Annicchiarico were driving through Kohukohu where Strathdee had heard about a majestic kauri villa for sale. "There was no intention to buy. But once we saw it we couldn't get it out of our minds. The Hokianga was completely off our radar. But intuitively we both felt this is a place we could spend some time in."
They bought the grand 1889 Pink Villa (with cottage attached) lived in it for six weeks, then returned to Europe. Strathdee came up with a proposal, was commissioned by Abitare and in 2003 returned with an Italian photographer. She handled the whole job - styling, budget, writing, commissioning Kiwi photographers and writers - working in Milan and Kohukohu.
Annicchiarico knew that it would be hard earning a living here. Strathdee's clients were not going to follow. "Both my partner and I had other lives in Europe and we had businesses that were successful so let's say that we arrived in New Zealand not completely skint. Otherwise it wouldn't have been possible."
For the first three years, they commuted between hemispheres. The last six-week job turned into four months, setting up Liberty of London's design studio. "Next I knew I was flying to Milan ... back in my old life." Liberty had offered a job. "The amazing thing was I didn't even say 'I'll think about it'. I turned it down.
"Okay, I'll be getting paid a lot of money but I'll be in the traffic every morning and screaming down the phone to get the bags up from Italy ..." She laughs.
"That's it, I can't do two lives any more."
Strathdee commuted to Auckland as contributing editor at Urbis magazine, staying with friends or in backpackers.
"When I was in Italy I was used to having drivers pick me up at the airport, and it had to be three star if not four star. That was the world I was living in. A backpackers would have been out of the question."
For the past five years, she has commuted to teach forecasting, styling and design at Massey University's College of Creative Arts in Wellington. This year she has also studied for a post-graduate diploma, Skyping for crit sessions, ordering books online.
She is exhausted from a strenuous end-of-year and relieved to be home again. Down at the local takeaway bar, she tries to cajole a fresh flounder for the Auckland journalist, clearly very familiar with both proprietors and all the customers. Strathdee juggles another role too - as the powerhouse press officer for the Hokianga Tourism Association. She passionately promotes Hokianga's unique culture - voluntarily, like everyone else on the association.
"For a yuppie like me it was the first time. Fashion, it's me, me, me ... it's completely self-centred. Here ... people have to just chip in, you do something for the greater good."
How do you promote the Hokianga? "The same as you do a fashion brand. It has to become hip. So, get it into the mainstream magazines and that's what we started doing."
After Abitare, a London fashion journalist had recognised Strathdee's name. "I hadn't seen this woman since the 80s when she had flown down to Milan for her fittings for her wedding dress."
The resulting story about people escaping fashion and setting up enterprises in far-off places appeared in the London Financial Times in January 2008, with a fashion shoot of Strathdee's young neighbour modelling a dress in gumboots in the mud, and a quote from Strathdee, "Time to get real".
A year later a story came out in Time magazine, describing Outpost as a "global cutting-edge boutique". Suddenly there was local and international profile.
Strathdee's values and ideas about fashion were changing even before she came to the Hokianga. "Collections that sell 50,000 to 60,000 pieces a season, it's great, but are you just making lots of little clones?"
These days she's more interested in the fusion of art-fashion-retail-tourism; when buying a one-off is more souvenir and conversation.
"To me fashion is a love and an addiction. It's something I've had in my blood since I was 15. I love going into a fashion shop. When it's a good fashion show the hairs on your arms stand up.
"But I just can't be that person that fashion wants you to be. I can only be who I am and that's a different kind of fashion person."
Floyd Cottage
There's a concrete pad at the front of Floyd Cottage where you can imagine former patients being driven up. But that's almost all that might be left of this disused veterinary surgery-cum-garage across the road from Kohukohu's old town hall.
The building, on the street frontage of Lise Strathdee's beautiful old acre of garden, came with the Pink Villa and has been converted into guest accommodation.
"The cottage is somewhere for friends and family who travel from afar to come and stay ... we had Claudio's nephew and his friend out from Milan in October and my uncle is visiting from Kuala Lumpur this week.
"And then we rent it out as holiday accommodation - up here you soon learn that every dollar earned counts."
When not occupied, the cottage is Strathdee's design retreat where she has full expression and can enjoy its simplicity, style and finish.
The Pink Villa is un-renovated, a much more sprawling European affair, sumptuous - even cluttered - with the belongings of several lives and the contents of a large studio, office and shop when Strathdee moved Outpost Hokianga out of Rawene earlier this year.
The cottage showcases some of Strathdee's design influences - textiles, terracotta, pottery and stone, mossy Balinese Buddhas, sleek modern lines, Kiwiana that isn't kitsch - done on budget and imagination.
"For the final push we had who I call the zen builder - Brian Crooks, a guy who's been living here forever and done most of the work on most of the houses and he's the calmest man you could ever meet. Claudio and I would have big ... you would say divergences of opinion ..."
A sleeping area is separated by L-shaped walls without doors, to keep an open flow and sense of space. The bathroom door is a floor-to-ceiling slider made up from lacquered woven bamboo matting on a frame.
A double stainless steel sink bench in the open, stone floored bathroom is now inset with a raised porcelain hand basin.
Kitchen benches and a desk on castors are laminated plywood. Two wooden water skis make cool bookshelves. There are good books, a stack of collectable fashion magazines, CDs to listen to, pens and maps in the writing desk, a comfortable chair for the last of the sun. Covered wooden decks with nice wide planks provide shelter from sun and the area's heavy rainfall. You could sit here forever, gazing at the cultivated old garden, dropping into Hokianga time.
Share this: