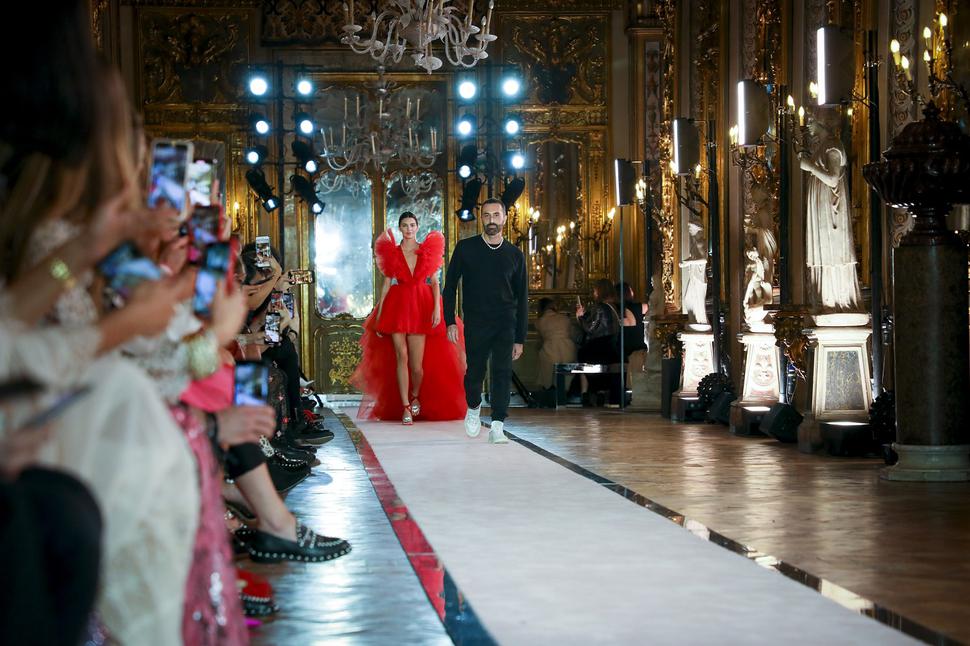 Go Big Or Go Home: Inside The Glamorous Giambattista Valli x HM Runway Show In Rome
From a Roman palazzo to your wardrobe — the Giambattista Valli x H&M collab is here. Prepare to shop
Thursday Nov. 7, 2019
He's renowned for his dreamlike tulle dresses and intricate embellishments, for dressing the elite one per cent who can afford haute couture and celebrities who want to stand out on the red carpet. He's known for bringing a "ghetto attitude to expensive girls" and now Giambattista Valli is making fashion headlines by teaming up with H&M.
READ: Viva's Fashion Team Road Test The Giambattista Valli x H&M Collection
The master of Parisian couture has joined a long and impressive list of collaborators that stretches back to 2004 when Karl Lagerfeld was the first to bring his aesthetic to the high street, soon to be followed by the likes of Erdem, Versace, Balmain and Isabel Marant. Such partnerships play a vital part in keeping the Swedish brand's story relevant; its market always on the hunt for the new.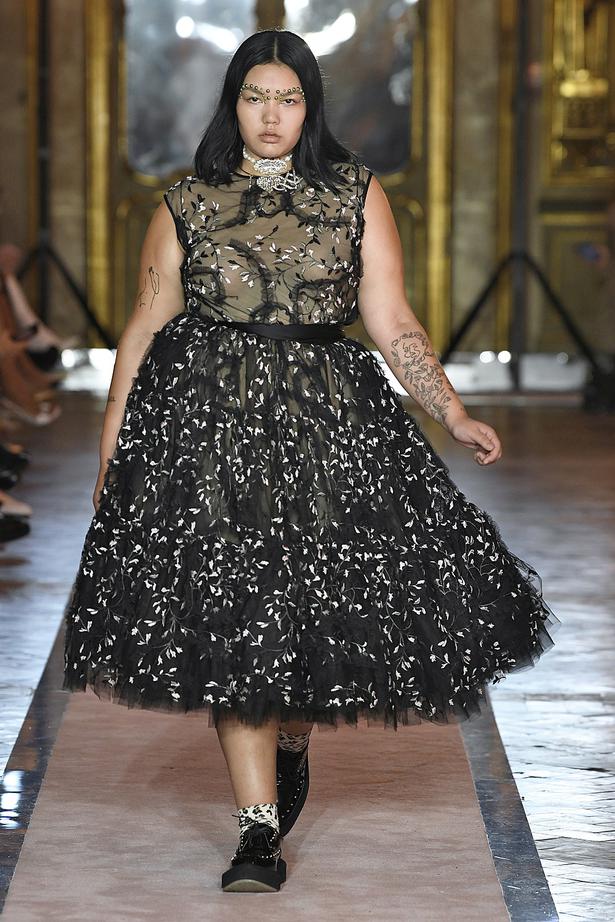 For this campaign, H&M teased the collection in May at the amfAR Gala in Cannes, France. Valli and H&M's creative director Ann-Sofie Johansson walked the red carpet with a posse of too-cool-for-school influencers including supermodel Kendall Jenner — the face of the campaign — Chinese singer and DJ Chris Lee (Li Yuchun), Grammy Award-winning performer H.E.R. and Italian actress and socialite Bianca Brandolini D'Adda. To add to the hype, just a handful of limited-edition pieces were released first, with the full collection now launching worldwide.
Two weeks ago more than 300 media and influencers were flown into Rome. From a rooftop that looked over the soaring domes of the Eternal City, Valli — dressed in his trademark black trousers and sweatshirt, pearl necklace and dark glasses — held court at a press conference. Born and raised in the rarefied circles of papal nobility, he studied at the Istituto Europeo di Design of Rome, as well as Central Saint Martins in London, and held roles at Fendi and as creative director of Emanuel Ungaro, before launching his own label at the age of 39.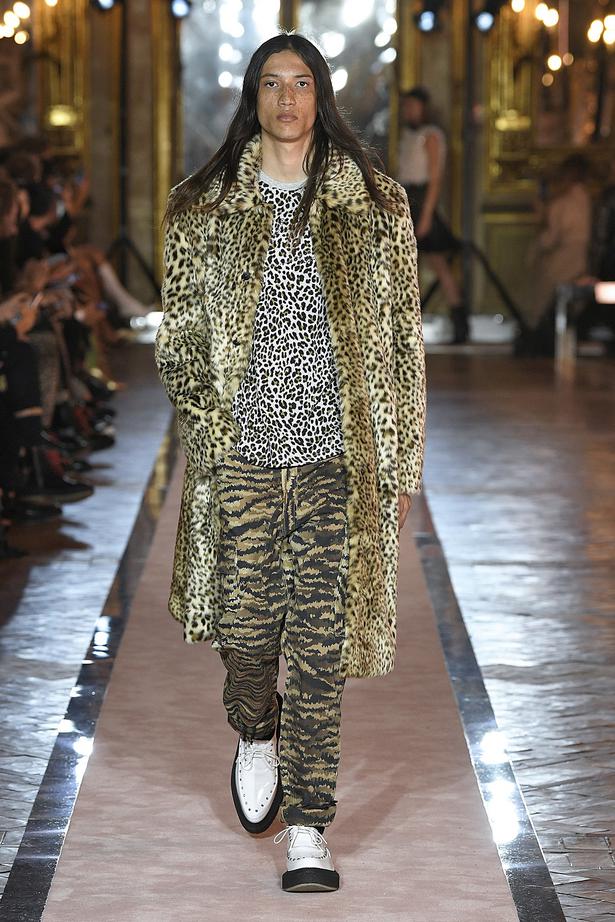 His success sees him cleverly walk the tightrope between the world's elite and the pop cultural conversation. He has more than two million social media fans thanks to cool moves like Lena Dunham wearing his pyjama-top gown at the 2014 Emmys or when his vast cloud of pink tulle put Rihanna in the paparazzi's lenses the following year. His nonchalant glamour mixes cultures and expectations, the sweet with the tough. He is the perfect match for H&M.
READ: What Is Big Dress Energy? Get To Know Fashion's Powerful New Trend
"We have a little wish-list of designers that we admire and would like to work with," Johansson says when asked about the partnership. "We think about the timing, being able to surprise the customers. Coming after Moschino [the brand's last collaboration] it's nice to show Valli because it's completely different. He does beautiful, glamorous and timeless pieces and that is what we were looking for. That is right for now. He is also very much into diversity and inclusivity, and that is what H&M is about. It has to be. Fashion reflects the world and the world is diverse."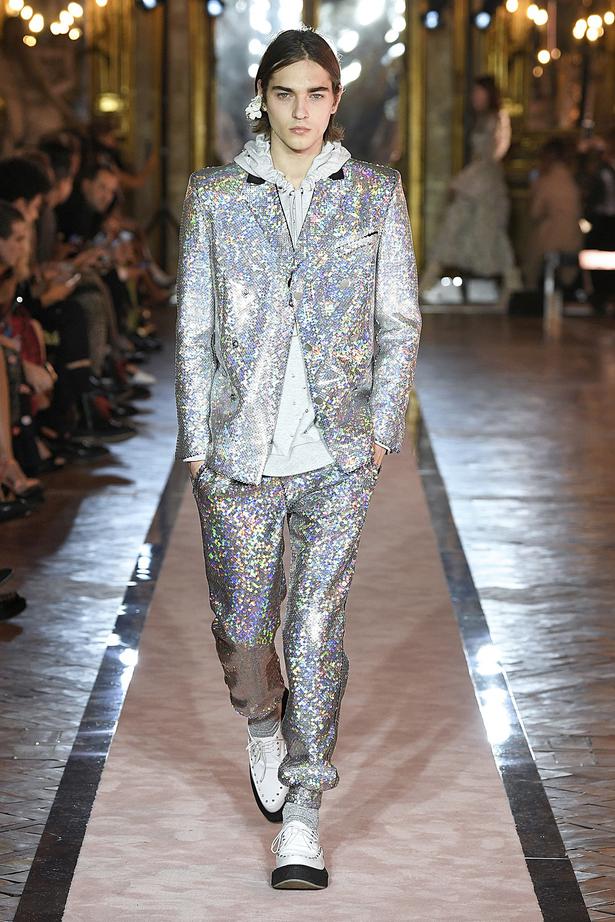 Later that night the fashion crowd gather at the Palazzo Doria Pamphilj — a private gallery where more than 400 paintings from the 15th to the 18th century hang in a series of grand rooms with hand-painted walls and soaring gilded ceilings. Here among works by Caravaggio, Velazquez and Bernini the world press sees the full 60-piece Giambattista Valli x H&M collection for the first time.
Go big or go home, Valli told British Vogue, after his S/S 2019 haute couture collection floated down the runway in Paris, and tonight he doesn't fail to deliver with his trademark frills, oversized silhouettes, ruffles and embellishments.
Jenner opens and closes the epic show, first in a pale pink tulle minidress, and to close, in the signature piece — a bright red mullet-hemmed tulle gown. In-between, models chosen from an open street casting weave their way through the palazzo in clashing textures and silhouettes — from faux fur leopard coats to ruffled blouses, embroidered cocktail dresses, to sequinned suits and diamante-embellished hoodies.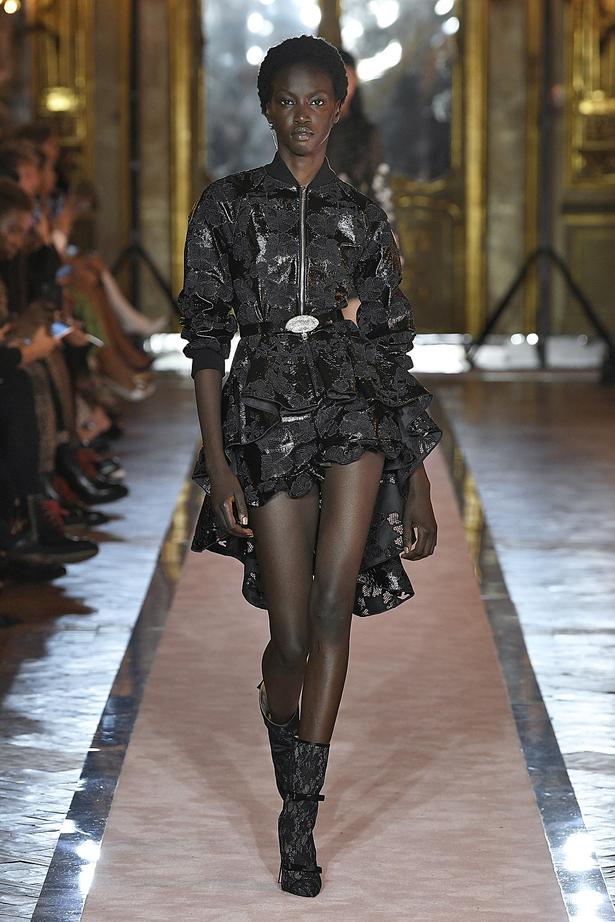 Valli says he approached the edit exactly as he would his couture collections although it is the first time he has designed menswear. "I wanted 'him' to be going into 'her' wardrobe. Like Kurt Cobain wearing dresses on stage. Not the tradition of the woman taking from the man's wardrobe. In the collection, there is no man, no woman — it's very fluid, anyone can wear it any way they want to. It's a state of mind, not physically who you are. It's about an attitude and it's about versatility, being able to play with fashion and find new ways to express yourself. In this collection you have a gown mixed with a skater's tracksuit. Anything is possible."
WATCH: Behind-The-Scenes With JessB and Giambattista Valli X H&M
The night ends with the after-party at the Grand Hotel Plaza. Ibiza-based DJ collective CircoLoco — with special guests Seth Troxler and Peggy Gou — drives up the excitement with modern, hard-edged techno that bounces off the gilded arches of this elegant ballroom; the juxtaposition perfectly summing up this exciting collection.
• The Giambattista Valli x H&M Collection hits NZ stores today.
Share this:
More Fashion / The Latest