The Unstoppable Rise of Gigi and Bella Hadid
Two of this year's top models happen to be sisters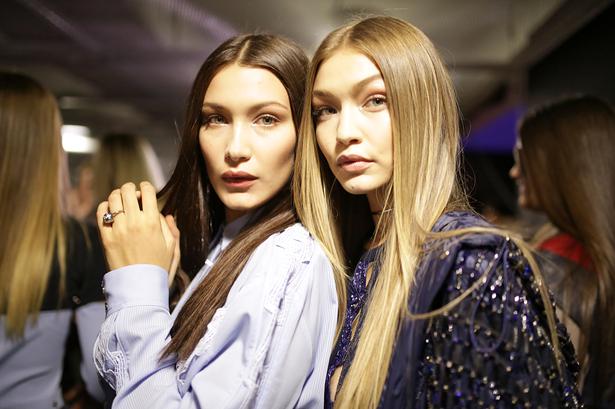 Saturday Dec. 24, 2016
It was billed as the battle of the genetically blessed sisters; two of the hottest fashion models of the moment, born just 18 months apart, going head to head for the title of International Model of the Year. Earlier this month at the Fashion Awards - the industry's Oscars, held at the Royal Albert Hall - it was 21-year-old Gigi Hadid who walked away with the catwalk crown, beating her younger sister, Bella, 20.
And as the victorious sibling posed in a shimmering silver jumpsuit, another sleek blonde, in a figure-hugging blue gown, rearranged Gigi's trailing cape - her mother, Yolanda, 52, a former top model herself. The Hadids might well be the most beautiful family you have only just heard of.
Ask anyone under the age of 25, however, and they are likely to feel intimately acquainted with the model sisters. Gigi, who is blonde, with an exotic, feline aesthetic, commands 26.4 million followers on Instagram - a global reach well beyond that of many Hollywood stars - while Bella, the edgy brunette, boasts 8.4 million.
Gigi in particular is catnip for the paparazzi, thanks to her relationship with singer Zayn Malik, formerly of the British boy band One Direction, and her close friendship with pop star Taylor Swift. But both girls have soared to the top of the style pack without putting a well-shod foot wrong.
READ: Gigi's Beauty Essentials
Along with their younger brother, Anwar, 17, (who is now trying modelling too), Gigi and Bella were born and raised in Los Angeles. Their father, Mohamed, is a Palestinian property developer who worked in Tunisia, Syria and Greece before moving to the US: his net worth is now estimated at more than $100 million US.
In a tried and tested union of wealth and beauty, Mohamed married Yolanda van den Herik, a Dutch model and It Girl, in 1994. Raised on a farm in Holland, she had worked in Paris, Milan, Tokyo and New York before moving to LA and retiring from the catwalk. Gigi - real name Jelena - was born just a year later.
The couple divorced in 2000 but the family remained close; it was, reportedly, Mohamed who introduced Yolanda to her second husband, the multi-Grammy-winning musician, composer and producer David Foster - who has worked with Whitney Houston, Jennifer Lopez and Madonna - whom she married in 2011 (they separated last year).
Yolanda is best known these days for starring in reality TV show The Real Housewives of Beverly Hills. She was a favourite among fans, but contracted Lyme disease, a bacterial infection spread by ticks, in 2012, prompting her to leave the series earlier this year.
"Yolanda admits that she has always been pretty strict with the girls," says a family friend. "As a result, they are both extremely nice, very straightforward, level-headed and sensible with money, and they have inherited their mother's sense of humour."
READ: Meet the Front Row Millennials
Said friend got to know the Hadids when they lived in Malibu, the exclusive beachfront LA neighbourhood which is also home to Jennifer Aniston and Leonardo DiCaprio, and she recalls a star-studded dinner party five years ago.
"Yolanda was still married to David, and there was an incredible guestlist, including Barbra Streisand and Donna Summer, who got on the piano and played. The girls were brought up in that sort of environment, so they are completely at ease with fame."
Gigi was signed as a child model at just two years old and modelled for Baby Guess but stopped in order to concentrate on school. In spite of the family's money, the girls attended a local state school. Both girls were keen equestrians; Bella had hopes of taking part in the 2016 Olympics, but had to give up competing in 2013 as she, too, contracted Lyme disease.
The girls began modelling in earnest after leaving LA to study in New York: Gigi first, in 2013, to study criminal psychology at the New School, while Bella followed the next year with a photography course at Parsons School of Design. Both put their studies on hold after their careers took off. It was not, however, all plain sailing. Upon moving to the East Coast, Gigi struggled to get signed and was criticised for having curves - which she has revealed was the result of hypothyroidism, a slowing of the metabolism which can lead to weight gain - instead of the usual waif-like model frame.
Gigi made her New York Fashion Week debut in February 2014, and quickly landed a campaign for Tom Ford's eyewear. "As a former model herself, Yolanda has passed on to her daughters all the things to watch out for," says the family friend. "She's told them what a brutal industry it is."
By May 2015, Gigi had graced the catwalk for the likes of Marc Jacobs, Chanel and Michael Kors, and, last December, she featured for the first time in the Victoria's Secret Fashion Show, viewed as the benchmark of success for any model worth her salt.
READ: The Biggest Fashion Moments of 2016
She has continued her seemingly unstoppable rise, gracing the cover of US Vogue, walking down the Bottega Veneta catwalk hand in hand with Lauren Hutton - one of the biggest moments of Milan Fashion Week - and launching her own collection for Tommy Hilfiger.
Bella's New York Fashion Week debut came six months after her sister's, in the autumn of 2014; she has since walked for Balmain, Chanel and Diane von Furstenburg. Last month in Paris, the sisters appeared in the Victoria's Secret show together, with their glamorous mother cheering them on from the sidelines.
Yolanda herself has more than two million followers on Instagram, and has recently relocated to New York to be closer to her daughters. She also has a memoir out next year about her battle with Lyme disease. All of which invites the question of which shrewd fashion label will be the first to sign up the self-confessed #ProudMommy to model again alongside her gorgeous girls?
— The Daily Telegraph
Share this: