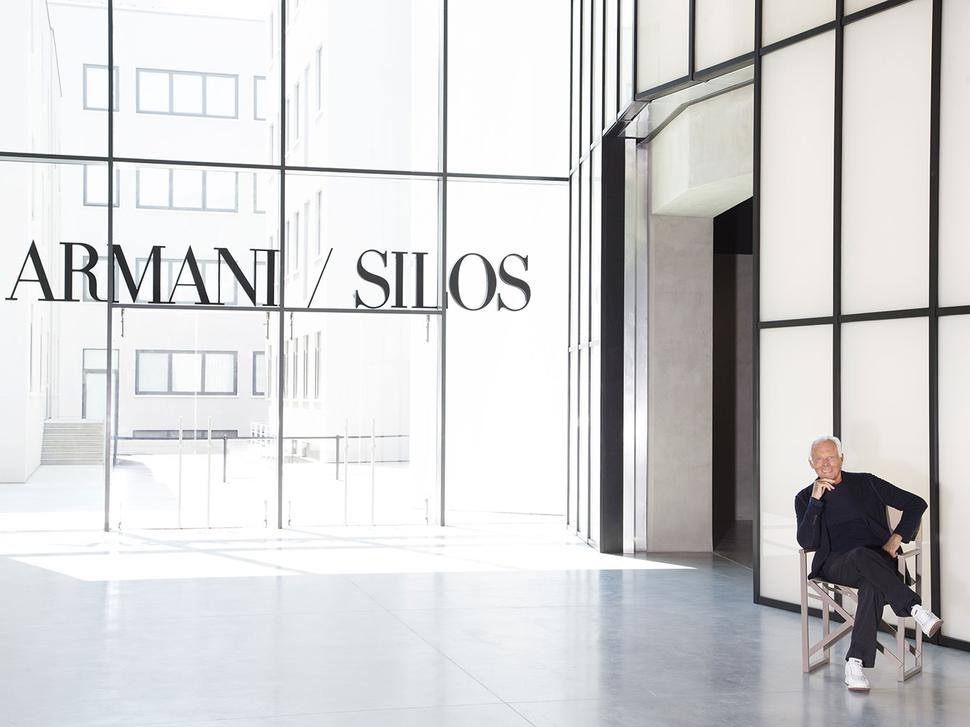 How Giorgio Armani Stays Relevant
Iconic designer Giorgio Armani is being celebrated with a permanent exhibition space in Milan
Wednesday Jan. 27, 2016
A deconstructed beige suit worn by the high-class escort Julian (played by Richard Gere) in the 1980 film American Gigolo hangs on a mannequin. Its relaxed blazer sits languidly on the form, a reminder of how such a deconstructed approach to tailoring went against the norm at the time.
It's an outfit that signifies mobility and ease, exemplifying its designer's motivation for wanting to "unstuff" the way people dressed, in an era still dominated by razor-sharp Savile Row tailoring and a middle-aged population still wearing the structured shapes of 60s Courreges and Mary Quant.
Nearby a floor-sweeping velvet coat worn by Sharon Stone to the 1996 Academy Awards takes on a Victorian elegance away from the glare and flash of red-carpet politics. A sharp-shouldered Samurai-inspired gown favoured by the outre aesthetics of Grace Jones peers back in an ominously lit area, evoking marvel and menace. A black-and-white cocktail dress featuring an enlarged portrait of the designer, his signature mane of silver-white hair and steely gaze set against a deep Mediterranean tan, beckons you in.
Welcome to the Armani/Silos. These iconic looks are just a small selection of some 600 outfits and 200 accessories that have been carefully curated by the designer himself, Mr Giorgio Armani, in celebration of his 40th anniversary last year.
As one of the world's greatest living fashion designers, Armani's archive is unsurprisingly timeless. Opened in May 2015 on the same day as the launch of the universal exposition Milan Expo, the Silos is situated across the road from the Armani headquarters on the leafy Via Bergogne.
It is organised along the lines of a basilica, without the usual architectural frippery, for this is, of course, the church that Armani built, and the designer's preference for clean-cut minimalism extends to the exhibition space with its black painted ceilings, grey cement floors, and climbing staircase in his signature shade of greige. Its uncluttered aesthetic is surprisingly not stark, but cosy, giving it the mobility needed for Armani to refresh the exhibition every six months.
The structure is impressive. Designed by Mr. Armani himself, the Silos sits on what was originally the granary of a major international company, a renovated update on a building constructed in 1950 and amassing 45,000sq m across four levels. It faces the opposite side of the Armani Teatro, designed by Japanese architect tadao Ando and home to the label's runway shows each season.
"I bought this area in 2005 to make new offices, but when I saw the Silos I realised it was a special building and could be the ideal place to exhibit my creations. It was a place that didn't only make a perfect backdrop for my work, but also had its own identity," explains Armani. "I wanted my pieces to be the real focus of attention, so I preserved the same arrangement of space, a simple, almost industrial structure that wouldn't distract visitors.
The architecture of the Silos reflects my aesthetic vision, which applies to everything I do. It has a rational shape, and I chose to emphasise order, rigour and functionality while respecting the original nature of the building. For example, I kept its curious original shape, which resembles a beehive. I liked this as it is a metaphor for industriousness."
The designer's attention to detail is scrupulous and his popularity in Italy exceeds the country's senior politicians, because in a volatile economy, Armani is someone the people can still trust. While other luxury houses contest with answering to investors, Armani is still in the driver's seat of a business that, as of 2014, generated a staggering revenue of US$2.73 billion ($4.23 billion).
The boy from Piacenza has come a long way. "It is a place where I was born and where I spent my childhood, but Milan is the city where I have chosen to live and work for many years now," says the 81-year-old. "Milan has welcomed me, understood me, and always inspired me.
It is a proactive, dynamic and constantly changing city, and these aspects have had a strong impact on my work, which is very clear in the Silos. At the same time, the Silos has given Milan a space where people can see fashion as the art of creating real things, and not just glamour. It provides a concrete vision, which is very Milan-style."
GALLERY: The Most Iconic Giorgio Armani Looks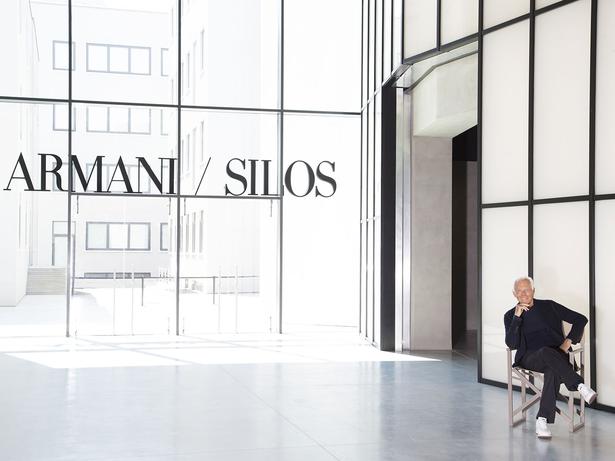 In the midst of unsettling times in the industry — Raf Simons and Alber Ebaz leaving Dior and Lanvin, Karl Lagerfeld's reported tax evasion woes, Balenciaga's radical appointment of relative newcomer Demna Gvasalia — Armani remains steadfast as the king of his empire. The Silos reaffirms this lofty position, and along with brands like Prada and Versace, Armani is experiencing a renaissance period of appreciation from millenials who are looking to connect to brands that can bring its rich history into the brave new digital world.
Fashion's longstanding contribution to the Italian economy also comes at a time where Italians have been working through recent austerity measures. "In terms of the economy and society, fashion plays an unquestionably important role; it actually drives the economy," explains Armani.
"When I started out, 40 years ago, the fashion system was still in the bud, especially in Italy. Everyone was much more naive, and perhaps more enthusiastic. There was growing excitement crackling in the air, and we fashion designers were so busy trying to conquer new areas and inventing a new way of working, that we didn't really think we were doing something that would prove so important for our country."
Armani's ability to evolve while staying true to the brand's DNA has been an important part of his longevity. Julian's sporty wardrobe in American Gigolo is an early example, the majority of his looks created by the designer
Its easiness encouraged a sense of freedom in a time that saw conservative power taking over the free world via Reaganomics and Thatcherism, widespread discourse around sex as the Aids crisis grew and pornography entered the mainstream, the tail end of second-wave feminism, the increasing number of women in high-powered positions, and the changing attitudes faced by an upwardly mobile generation — this was a generation that desired a wardrobe reflecting the rapidly changing world around them.
That evolution is evident in the collections that make up Armani's world, including the two main lines Giorgio Armani and Emporio Armani, to the casual Armani Collezioni, Armani Exchange and Armani Jeans.
The haute couture line, Armani Prive, although not featured in the exhibition (it only celebrated its 10th anniversary last year), continues to be a popular go-to for red carpet dressing, an arena that Armani has cultivated through his strong relationships with celebrities and brand ambassadors such as Jessica Chastain and Cate Blanchett (who famously bought an Armani suit with her first pay cheque from drama school).
Add to that the Armani Casa homewares, beauty and fragrance lines, Armani Junior, the designer's many philanthropic endeavours, contributions to sports, the arts, and curating the Silos, and you're left wondering what time he has left to come up with ideas.
Four decades of those ideas have been grouped for the Silos, as opposed to grouping in chronological order, allowing Armani to highlight how those concepts have informed his collections over the years.
"It was actually very hard to choose the pieces to be put on display and to exclude others, because each of them has a special story and I feel equally attached to all of them. My aesthetic grows increasingly eccentric as you move up from one floor to the next, and then it blooms into a section devoted to embroideries and light on the top floor."
On the very top level of the Silos, a comprehensive digital library is a constant work in progress. Archival photographs and videos of campaigns, runway shows and red carpet appearances accompany every look in the exhibition, updated and accessible via high-tech touch tables and video screens. It's an impressive library that captures a lifetime's work that a new generation of fans can enjoy at the touch of a button.
"Compared to existing museums and foundations dedicated to fashion, I wanted to introduce and promote the use of content through a digital archive. In particular, I thought about young people, with a view to encouraging their creativity," Armani explains.
"I have always been fascinated by what technology can offer us and allow us to achieve, in every way and in every field, and I think that the 'digital world' is now an important part of any job. For example, through digital technology and social media, the picture of an outfit worn by a star can go around the world in just a few seconds; this has a huge impact on the taste of consumers, and it affects their purchasing choices.
"However, I confess that I prefer more discreet, unobtrusive forms of technology; to my mind, there must be a real, solid idea behind any expression. And I also believe that, in fashion, it is still crucial for customers to be able to see and touch products in physical stores."
Retrospectives can often feel stuck in their own past, but the Silos manages to sidestep this with an archive that still feels relevant 40 years later. "When I created the Silos, I wanted to stage a retrospective of my work.
This idea came to me as I was thinking that the brand's 40th anniversary could be the right opportunity to reflect on my long career path and how it was influenced by changes in customs and society. I thought that bringing clothes, accessories, bags and technical drawings together in a single space, as an archiving project with a particular, personal perspective, would be a concrete way to turn the past into a basis for progress."
As the fashion world waits to see how luxury's current shuffles will unfold, how social media will continue to influence consumer buying decisions and how the new generation of designers will manage increasing pressure to meet the demands of its corporate responsibilities, Armani's staying power and ability to evolve at his own pace has never been more significant.
"I think what should change is precisely this overly fast pace. Today's fashion industry requires designers to churn out ideas and collections at breakneck speed, but invention and quality take a long time. My solution is continuity; I evolve at my own pace, because this is what the women and men I dress expect from me.
I like quiet elegance and understated style. This is what I am committed to and my goal as a fashion designer. I always try to create looks that reflect and complete the wearer's personality, which don't look like a disguise and feel comfortable. I think these are the features that customers appreciate the most."

ARMANI/SILOS: THE FACTS
• A permanent exhibition space in Milan curated by Giorgio Armani.
• The exhibition is an overview of 40 years of the designer's career, including 600 outfits and 200 accessories from Armani collections from 1980 to the present.
• The selection is divided up by themes that have inspired Armani: daywear on the ground floor, exoticism on the first floor and colour schemes on the second floor. The third floor focuses on the theme of light.
Share this: