Fashion and Activism at the Golden Globes
Robin Givhan on the all-black red carpet at the awards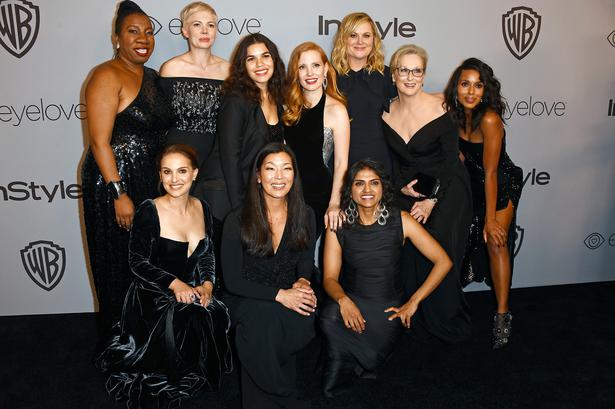 Tuesday Jan. 9, 2018
It was basically an all-black red carpet at the Golden Globe Awards, which meant that visually, it was rather monotonous.
There were lovely gowns, chic trousers and the occasional ensemble that left an indelible impression and did what the best red carpet dressing is intended to do, which is to leave you with the sense - true or not - that the star in question has an eye for a creative, daring gesture and is therefore more interesting because of it.
The women and men of Hollywood wore black in support of Time's Up, an initiative aimed at combating sexual harassment and supporting gender parity across a multitude of industries. The goal was to replace the red carpet fashion conversation with one about gender equity and workplace safety. And mostly, it did.
GALLERY: The Most Interesting Looks from the Golden Globes 2018
But the initiative is in its early stages and so there is not so much to say about it other than it exists. And so that important information was disseminated again and again by everyone from Meryl Streep to Sarah Jessica Parker and Reese Witherspoon, as well as by the various grassroots activists who'd been invited to come along as their plus-ones.
It may have been Streep, because of course it would be Streep, who would offer the most quotable comment. "We feel emboldened in this moment to stand together in a thick black line dividing then from now."
But it was Debra Messing, one of the first women down the red carpet, whose words had a particularly biting ring. The Will and Grace star was wearing a black, sparkly tunic over black silk trousers. And when she stopped for the standard interview with E! Entertainment, she quickly made it clear that she had come to speak her mind.
Why was she wearing black, asked Giuliana Rancic. She was wearing black to show solidarity with women who have been marginalized and harassed. She was wearing black to underscore the need for gender parity in a broad swath of industries. And, by the way, she was not pleased at all to discover that even E! Entertainment, whose microphone she was speaking into, pays its female broadcasters less than its male ones. Take that!
The plan to wear black trickled out slowly. First it was a suggestion, then it was part of an orchestrated multi-point fundraising and sensitivity raising platform. Then it became an all-inclusive, everyone wear black even-you-folks-watching-the-red-carpet-at home in your pajamas. It was a protest and then a sign of solidarity and then, well, no one quite knows exactly where it's heading. The year is young.
A smorgasbord of activists were invited to walk the red carpet with several of the stars most involved in the Time's Up initiative. Streep was accompanied by Ai-Jen Poo, from the Domestic Workers Alliance, Michelle Williams walked with Tarana Burke who planted the seed for the #MeToo social media movement, and there were other leaders focused on the lives of Latina women, Native American women, farm workers and so on.
"We believe that people of all genders and ages should live free of violence against us. And, we believe that women of color, and women who have faced generations of exclusion - Indigenous, Black, Brown and Asian women, farmworkers and domestic workers, disabled women, undocumented and queer and trans women - should be at the center of our solutions," the activists said in a joint statement. "This moment in time calls for us to use the power of our collective voices to find solutions that leave no woman behind."
The words on the red carpet, sometimes repetitive, often vague, occasionally halting, still managed to bring attention to the issue at hand. But what about the attire?
Attire can speak powerfully and eloquently to all sorts of issues, but the decision to wear black on the red carpet comes with a unique set of baggage.
OPINION: Wearing Black is No Way to Take a Stand on the Red Carpet
This was the red carpet on which fashion is not supposed to matter. Or perhaps fashion was to matter more than ever. It was a red carpet filled with activists and hashtags, sheer dresses, jet beading, sheer chiffon and lots and lots of borrowed jewels. Specifically, it was filled with custom-made dresses crafted by design houses just for the occasion. And mostly, they received no on-air credit.
Messing, for instance, was wearing a custom ensemble by Christian Siriano. But when she stopped for her big interview with E!, Rancic grandly announced that she would not be asking Messing "who she was wearing." And Messing responded with an audible sigh of relief and a "thank you," because being asked to acknowledge the designer who collaborated with you on the evening is such a terrible burden.
Parker, whose pop culture fame is, in part, due to her relationship with the fashion industry, did not mention that she was wearing Dolce & Gabbana on E!. Kerry Washington did not name drop Prabal Gurung. Laura Dern didn't give Giorgio Armani a shout-out.
Fashion got tangled up in activism. And it was never really clear, never quite explained, why mentioning fashion was taboo. Even the color choice was a bit of a muddle.
Amber Tamblyn wrote in an essay that wearing black was not about mourning. It was an awakening. But Rosario Dawson said wearing black was to symbolize "the death knell has struck on abuse of power."
Eva Longoria said the all-black Golden Globes was because now was not the time to twirl and pose in the name of fashion. If so, why were celebrities still subjected to the E! glam-bot, which was like high-definition, slow motion objectification?
Were actresses, who know that all eyes are on their red carpet walk, taking advantage of the power of fashion and bending it to their will? Perhaps. But why change one's attire in response to sexual harassment?
To a great degree, red carpet dressing is a pretty lie. There's nothing spontaneous or organic or particularly "real" about the images that come from the red carpet. It is a fantasy. Beautiful public relations for everyone concerned.
Maybe the decision to stay mum about fashion on the red carpet was an over-correction. But there were lessons in the way a couple of design houses handled the situation. Marc Jacobs announced that it had dressed Tracee Ellis Ross and included a statement from Ross explaining her aesthetic choices, that read, in part: "I wear black today as a 'we' not as an "I", as a celebration of our collective power as women, as an embodiment of sisterhood, solidarity and the work being done to create structural change."
And Calvin Klein, which dressed Sarah Paulson and Millie Bobby Brown, acknowledged its creative contributions in a statement while also announcing a financial contribution to the Time's Up legal defense fund.
Fashion can best be weaponised when it's allowed to speak boldly and loudly. Not when it's muffled.
- The Washington Post
Share this: