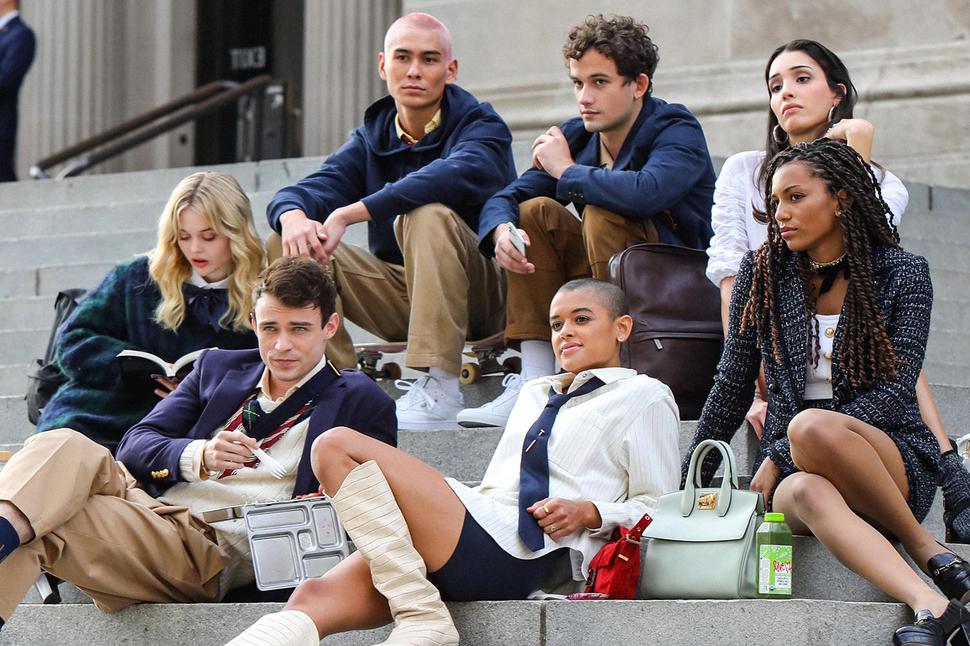 'Gossip Girl' & The New World Order Of Self-Expression
Costume designer Eric Daman reveals how he recreated the series for a new generation
Monday Aug. 30, 2021
Nine in ten Generation Z consumers believe companies have a responsibility to address environmental and social issues, said a McKinsey report in 2019, the same year which HBO Max (home to Succession and Big Little Lies) announced a reboot of the 2007-12 hit teen drama, Gossip Girl, centred around wealthy world of New York City teenagers.
A mysterious blogger by the name of Gossip Girl holds an Orwellian lens to these spoiled teens of Manhattan, sharing their secrets, blackmailing them and haunting their every move online. The show aired a year after Twitter was launched, when real-world gossip morphed from traditional Chinese whispers into a traceable trail on the world wide web.
Kristen Bell is back to reprise her role as the voice of Gossip Girl, but the blogging days are over: this time, the character will haunt the Upper East Siders on Instagram, via an image, video or reel.
The millennial sartorial codes of the original Gossip Girl were clear: preppy headbands and tights, high fashion brands such as Zuhair Murad, Oscar de la Renta and Ralph Lauren. It showed a polished, good girl image that belied the hijinx chronicled in the series. Soigne soirées and members clubs are the standard for Manhattan's elite and that means dressing the part. It's their mother's vintage Chanel paired with heritage tweed blazers from Veronica Beard and Isabel Marant.
The plot is still centred around the prestigious fictional school of Constance Billard, based on the reputable $56,750-a-year private girls school, Nightingale-Bamford — the same institution Cecily von Ziegesar, the author of the books the series is based on, attended.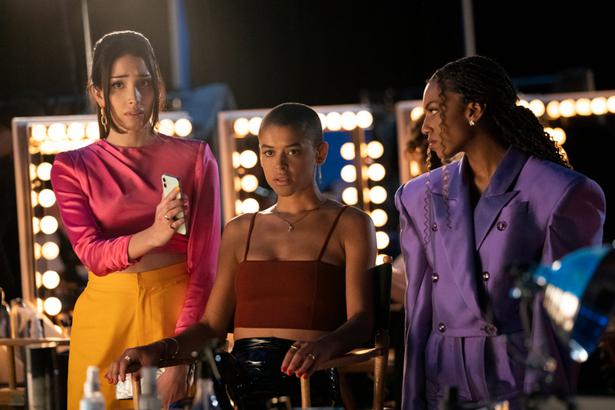 But these days, Gossip Girl is just as much about image-making as it is about scandal — one misstep by the mini one-percent and they're cancelled.
While the revisited version follows the same template for designer items — from Louis Vuitton's Capucine to Jacquemus' Le Chiquito, it trainers by Balenciaga and Alexander McQueen, it puts more emphasis on new, young designers such as Zeynep Arcay and Laquan Smith.
Unlike the previous generation, this lot aren't afraid to jump on the subway and thrift beyond the realms of the Upper East Side (an act Blair Waldorf, a sacrosanct Manhattanite, would find heinous).
Rich kids these days like to consider themselves 'woke' — and the new show suffers from the lack of kitschy outrageousness that the original peppered in. "There is a new mindfulness and inclusivity awareness that has surfaced," says Eric Daman, the costume designer who orchestrated the sartorial world of the original and new Gossip Girl. "They dress to reflect their views and are not defined by old-world values. They are progressive in thought and express that in the way they dress. They make individualistic choices as opposed to fitting in and being 'normal'. A new world order of black sheep, if you will."
READ: How The Costume Designer For 'The Panthers' Dressed A Movement
What is unchanged is that everything the cast is wearing has already been sold out — the show's extreme shopping power, which originally shot Tory Burch to international fame, remains.
Exquisite fit is a thing of the past, suggests Daman. "Oversized meets micro proportion play is a key look here in NYC," he says. "The opulence comes in the form of XXL luxury sportswear paired with midriff-baring crop tops, barely-there dresses and coveted high power sneakers." The show protagonist Julien Calloway (played by Jordan Alexander) channels through an oversized Stella McCartney bomber jacket (£1,425) and Louis Vuitton Papillon 26 barrel bag from 2005, currently fetching up to £1,893 on resale sites.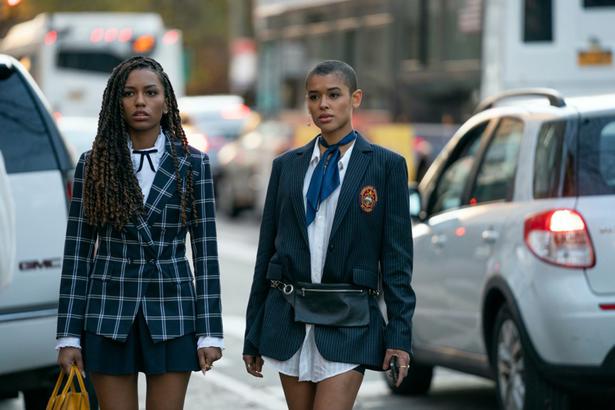 The new characters are a pack of socially aware teenagers that are comfortable enough throwing away archaic values for fluid pairings. Max Wolfe (played by Thomas Doherty), a young chiselled Alain Delon-like archetype with gay parents is the sexually fluid playboy of the posse that sees no gender boundaries when it comes to fashion. In one episode he wears a women's white lace Paco Rabanne button-down shirt, that looks ahead of the pack rather than gaudy.
In another episode, Calloway walks in a reimagined Christopher John Rogers show — championing the black American designer whose real-world fans include Michelle Obama and Rihanna. Global fashion search platform Lyst has seen a 152 per cent increase for Thom Browne's men's skirts since January and a 24 per cent year-on-year surge for Christopher John Rogers.
Though the Gossip Girl universe is fictional, Daman was inspired by real super-rich kids. "Kaia Gerber and the Hadid sisters were big inspirations, but I also looked to Adut Akech, Valentina Sampaio, Kendall and Kylie Jenner, Tamika Fawcett, Sofia Richie, Hailey Bieber," Daman says, also referencing New York street style.
READ: Award-Winning Costume Designer Jenny Beavan's Punkish Twist In 'Cruella'
The real-world teens ruling the sidewalks of Fifth Avenue are much more demure in their taste than the woke characters of new Gossip Girl. There's Araminta 'Minty' Mellon, the 18-year-old Jimmy Choo heiress, whose Instagram logs her holidays and friendships, lacking the dictatorial curation of career influencers. Her clothes aren't instantly identifiable even to the trained eye — her key pieces could pass for old season Prada or eBay gems.
Vice President Kamala Harris's 22-year-old stepdaughter, Ella Emhoff, who resides in Brooklyn, nowhere near Central Park, takes the same laid-back approach in colourful pieces that she's knitted herself. It's more politically correct to mask your wealth, after all.
"The cool kids in New York do a lot of vintage shopping, so you'll see a lot of mixing and elevated vintage," explains Liana Satenstein, a New York-based luxury closet consultant. "There's more self-expression, which is interesting, because when I was in high school everyone looked the same."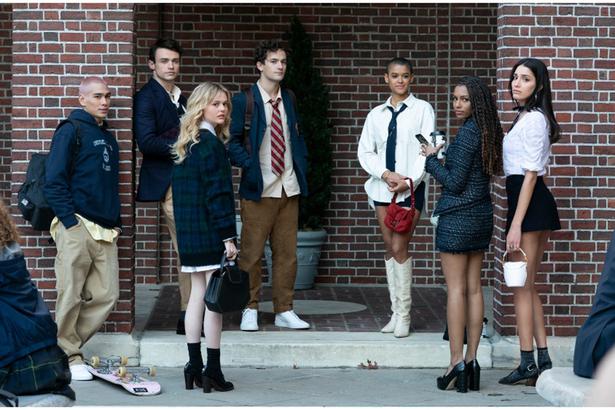 In 2021, there's a kickback against homogeneity — kids of all means want to express individuality on their social media accounts, and that's where vintage boutiques have come to find their bread and butter. "A lot of the time, you can get clothes where they [the popular kids] can get clothes, too," Satenstein says, noting that the Broadway vintage shop James Veloria, "is a democratic haven for all types of people who want good quality vintage and love fashion."
The most in-demand pieces are rooted in the nineties. Vintage nylon Prada bags, Chanel necklaces like the ones worn by the supermodels — Naomi, Christy, Cindy — and the Fendi Baguette, created in 1997 and made iconic by Sex and the City, are iconic, says Daman. Incidentally, it was on SATC that he cut his teeth assisting the costume designer Patricia Field.
"Luxury vintage is where it's at," he confirms. "These kids love to be mindful of their impact on the environment but also love a one-of-a-kind piece that is unique to them and comes with a heritage story."
The desire for slow fashion is becoming ever more influential — earlier this year, fashion conglomerate Kering acquired a five per cent stake in Vestiaire Collective, the Paris-based resale platform. Equally, early adopter Royals and socialites in the UK have been making headlines for renting clothing: Lady Amelia Windsor loans out her wardrobe on By Rotation and Carrie Symonds got married in a dress borrowed from My Wardrobe HQ.
It's a hunger for a new type of fantasy and escapism that's brought Gossip Girl back onto our screens. This time, Daman is ready to let go of the original Gossip Girl tropes and focus on the new: think Princess Diana in sweatshirts and bike shorts over stuffy skirt suit brunches in the Hamptons. Instead of eating their cake, they're sharing it.
– The Daily Telegraph
Share this: