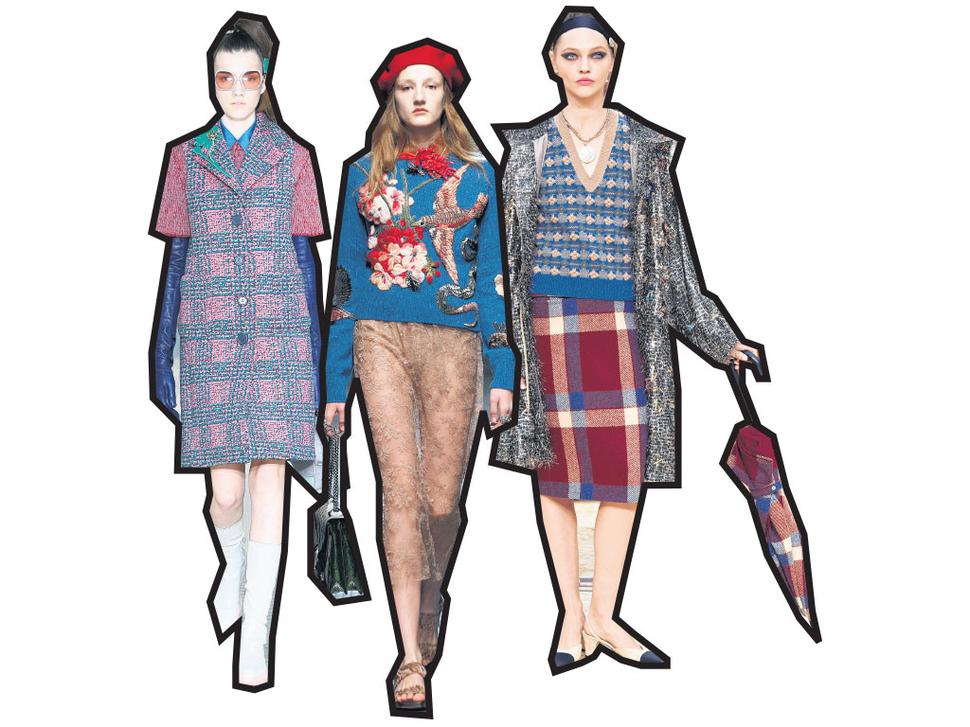 Granny Chic is Back
With older consumers spending $8 trillion worldwide, it's no surprise that sensible skirts, hair-combs and jewelled brooches adorned the shows
Friday May 8, 2015
If each fashion capital was matched up with a pet neurosis, New York would partner food (on the menu this season: bone broth); London would take footwear (flat or high? Cool or classy?); and Milan would get ageing. Baby-faced teenage models flood the Italian catwalks, while Botox floods Milanese editors' muscles. Even Miuccia Prada, Milan's foremost agitator, admits she is "not brave enough" to put older models on her catwalk: "Mine is not an artistic world, it is a commercial world. I cannot change the rules."
This, from the woman who pioneered Frumpy Fashion.
But a funny thing happened in Milan recently. All those accoutrements one would usually associate with, ahem, older generations — fusty knits, horn-rimmed spectacles, floral hair-combs with dried lilacs (dried lilacs!), sensible checked skirts, buttoned-up jackets, jewelled brooches — were everywhere you looked.
From the resolutely classic Max Mara to the formerly vampish Gucci (where the new creative director, Alessandro Michele, set about replacing power blow-dries with hair with kinks secured with vintage-looking combs; and slashed full-length red-carpet fodder with woolly jumpers), granny chic is back.
Not a moment too soon. Granny chic is needed in a world where M.A.C cosmetics is producing lip gloss in a shade it creepily calls "Underage". And Milan does geriatric glamour better than anywhere, its population having been steadily ageing for decades.
According to Istat, the Italian national statistical institute, 2014 was the year with the lowest birth rate since Italian unification in 1861. In February, Italian Health Minister Beatrice Lorenzin spoke of Italy as "a dying country", pointing out that the mortality rate also declined last year, stretching life expectancy for Italian women to 85 years, while the average man will live to 80.
Treading in grandmother's footsteps also makes economic sense. Luxury brands, blighted with increasingly sluggish sales against a backdrop of the Russian recession, a falling euro and a spending slowdown in China, are feeling the pressure.
Harnessing mature shoppers could be the answer: in 2010, consumers aged 60 and up spent more than $8 trillion worldwide, according to statistics compiled by the consulting firm AT Kearney.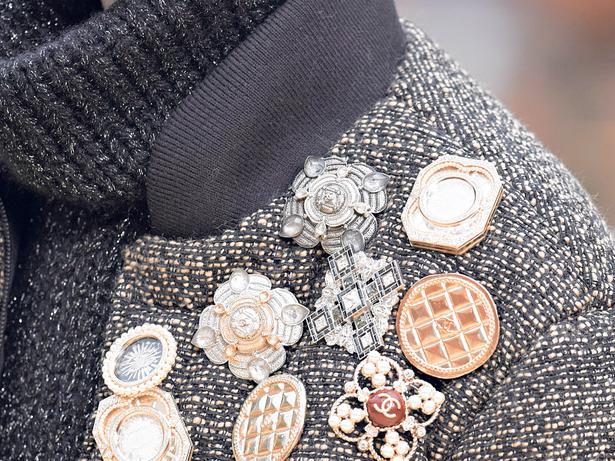 Brooches at Chanel. Picture / Supplied.

Missoni has long traded off its multigenerational appeal by exploiting the photogenic branches of its vast family tree, featuring them in advertising campaigns. The happy family shtick can stick in the throat if one's idea of familial bliss is a car journey that doesn't require pulling over on the hard shoulder to break up a physical fight between children on the back seat, but — all the more galling — the intergenerational relationships are genuine.

A couple of years ago I spoke at length to the accessories director, Margherita Missoni, 32, on the subject of her 83-year-old grandmother, Missoni's co-founder, Rosita: "My grandmother is like a second mother to me," she said. "We're very close, more than the other grandchildren.

I've inherited an orange corduroy coat with a matching skirt, very 60s, with big buttons, from Alaia, which belonged to her. Her best characteristic is curiosity and energy. There's never a time when she says no to something. It's a state of mind, saying 'Why not?' I just try to keep up with her."

Such mature exemplars have been out in force in the autumn/winter 2015 collections. Based on catwalk evidence, it would appear that the starter kit for Italian grandmother glamour commences with Max Mara's prim skirts that hit just below the knee, paired with oversized coats in sober camels, caramels and greys.

It would move on to the brooch-festooned moss green and pale pink suits and tweed coats at Prada, worn with leather opera gloves. And it would culminate with a pair of spectacles, an aforementioned floral hair-comb, a cosy Harvest Festival flower-embroidered jumper and some sensible patent loafers, all ransacked from the Gucci catwalk, which itself looked like the parading of the fruits of a juicy attic sale.

Add to that the graceful stride of the 71-year-old model Benedetta Barzini, who walked at the Antonio Marras show, and you have your formula.

For further inspiration, look to the streets of Milan, where glamorous Italian grandmothers are as plentiful as panini stands. Costanza Pascolato, the 75-year-old Italian-born Vogue Brazil contributor, is known and loved for her cropped-trousers-and-collarless-coats combos, favouring Miu Miu, Prada and Dolce & Gabbana coats because "at my age, they give polish to the look".

How to avoid the look veering into parody? Wear a sensible houndstooth skirt, but skip the seamed tan tights that some designers felt compelled to add. Horn-rimmed glasses will add an edge to your look, but don't unleash a can of Elnett on a severe accompanying hairstyle. Jewelled brooches are an easy way to tap into the trend, but make sure you mix up paste and Perspex with real jewels — the juxtaposition of real and fake is very Prada.

And if anyone questions your motives for dressing beyond your years, rejoinder with the gnomic words of the French theorist Roland Barthes, who was cited in the Gucci show notes: "The contemporary is the untimely." In other words: start channelling a hypothetical Italian octogenarian, pronto.

— The Daily Telegraph

Share this: