Get to Know Hairstylist Greg Murrell
Ryder salon founder Greg Murrell on Fashion Week, hair trends and more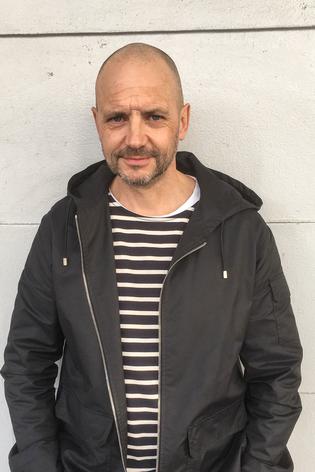 Ryder salon founder Greg Murrell and his team were behind the hair looks at Eugenie's show earlier this week, and will do the hair for World's show tomorrow night. On Sunday, the Ryder team will showcase key looks as part of the Exhibit Hair show.
How did you get into the hair industry?
In the 80s, hairdressers were some of the most interesting and creative people around. Fashion, music, women — what could possibly go wrong?
What's the biggest trend in hair right now?
Natural textured hair is making a comeback. Frizz, curl, kink, wave. The latest Dior campaign is a good example.
READ: Greg's Tips on How to Master the Blow Dry
Your best Fashion Week moment over the years?
One of the best would have been working with Zambesi when they did their show at the St James Theatre with Pluto doing the music. It had a great rock and roll vibe with the models wearing wigs. It's hard to beat the ambience of a Victorian theatre.
Where will you be eating and drinking during Fashion Week?
Oaken at Britomart is a day-to-night cafe offering beautiful food in a serene atmosphere, away from the madding crowds.
Three hair products you are loving right now?
• Davines Your Hair Assistant Blowdry Primer. A bodifier with anti-humidity protection. The foundation for a great blow dry result.
• Davines This is a Dry Texturiser. Instant non-sticky textural hold that you can reapply anytime or use to restyle your hair without washing it.
• R + Co Analog Cleansing Foam Conditioner. The perfect product if you don't want to disrupt your hair by shampooing it but you still want it to feel clean.
When you look back on your career, what have been the highlights?
The next thing that I am doing is always the highlight for me. That's what has kept me excited and sustained throughout my career. I'm not one for looking back too much. I'm always trying to do something better.
Do you have a mentor? What's the best advice they've given you?
Rudyard Kipling may have been a good mentor. If not, he at least wrote two lines in his poem If that I have always lived by: "If you can meet with Triumph and Disaster / And treat those two imposters just the same."
Five things you couldn't live without?
My beautiful family, our pet griffons, great food, good music and um, Arsenal Football Club.
Can you give us a taste of what you are doing at the Exhibit Hair show?
Ryder staff member Nicholas Macaulay is the creative director for our hair show Paradise Found, which pays homage to club cultures past and present, celebrating the intersection of performance art, fashion and gender diversity. He became fascinated after following the Instagram feeds of some club kids and performance artists attached to club scenes in NYC. Our show is an exploration of the idea of turning yourself into a walking artwork just for a night. Our team have been working away for about six months developing characterisations. The show will feature elements of performance as well as a catwalk presentation. All 16 looks in the show have individual hair, makeup and costumes.
Greg's quick and easy ideas for hair in a hurry:
• The half-pulled through ponytail. Work some Davines Dry Texturizer throughout the hair, create a middle part and lightly back-brush the roots around the crown. Create your half-pulled through ponytail and then loosen it a little by pulling it downwards. Pull a few pieces of hair out around your hairline for some dishevelled nonchalance.
• Low-slung bun. Work a smoothing product like Davines Oi Oil through the hair and part your hair through the middle into two sections. Twist these sections over each other continuously, forming a circular bun shape as you go. Fix in place at your occipital (base of your head) with some hair grips.
• A quick texture change to wavy or curly hair. If your hair is dry but looking frizzy and a bit unstyled, take a curling tong and in quick random sections wrap the ends around it. Do this all over the head and allow to cool. Then shake the hair out a little and apply Oribe Apres Beach Wave and Shine Spray to style.
Share this: